If you're looking for simple vegan gluten-free dessert recipes that are easy to make, don't call for unusual ingredients, and are DELICIOUS, then you've landed on the right page. Below, you're going to find some of the best to choose from!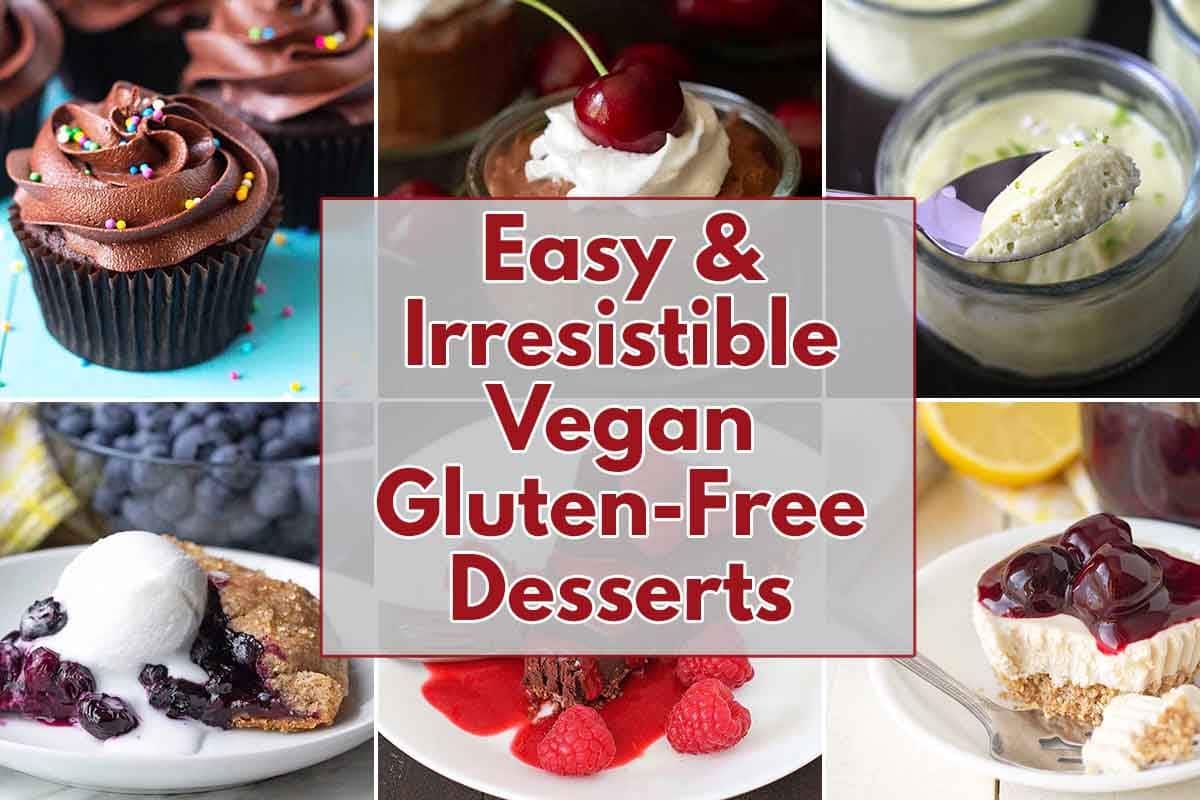 Whatever you call them... gluten-free dairy-free dessert recipes...gluten-free egg free dairy free desserts...gluten and dairy-free desserts...or just dairy-free dessert recipes, you're in for sweet treats!
Whichever you refer to them, they're ALL amazing and perfect to serve to your family and friends, any time of year, even during the holidays and on fancy occasions.
They're even nice to have for "just because" desserts...you know those times when you're craving something sweet? Something more than just vegan gluten-free cookies? The next time that happens, come on over to this list and pick something to make and treat yourself with!
Delightful Adventures has a heavy focus on sweets and desserts, so there were many recipes to choose from for this list, and you already know I love desserts, so narrowing it down was not easy (but I did!).
Are you new to vegan gluten-free baking? If so, be sure to read all of my vegan gluten-free baking tips!
In the list, I've included a wide range of recipes that will fit whatever type of celebration you have planned, from simple, all the way to fancy.
From baking recipes, no-bake recipes, flourless recipes, good old sugary treats, all the way to naturally sweetened, nut-free, and even oil-free. Like I said: something for everyone!
Cupcakes
What better way to celebrate than with an individual treat like a cupcake? All of these cupcake recipes come together quickly and they're all delicious.
Cheesecake
All of the following cheesecake recipes are mini-sized, so everyone gets their own! They're also all free from tofu, cashews, and vegan cream cheese.
Pies and Galettes
All of the following recipes (except for the chocolate tart) work well with my vegan gluten-free pie crust recipe, they're all easy-to-make and delicious, of course!
No-Bake Desserts
Don't feel like turning the oven on? No problem! You can go oven-free with the following treats.
Fruit Crisps
Using in-season fruits to make fruit crisps is always a good idea! These recipes all use fresh fruits as the main ingredient and they're topped with a lightly sweetened oat crumble.
More fruit crisp recipes...
Doughnuts
Do you consider doughnuts to be dessert? I think they make a great dessert which is why I've included them! There are many flavours to choose from and all of them are baked, not fried.
More doughnut recipes...
Everything Else
These desserts didn't fit into any of the categories above, but I needed to include them because they're all wonderful ways to fix up a sweet craving.
As you can see, there is absolutely no need for animal products and gluten to make mouthwatering desserts. I hope this list has shown you that! Which one will you make first? Tell me below!
As mentioned above, these are just some of the many easy gluten-free vegan dessert recipes you can find here on Delightful Adventures, there are many more and you can see them all here.
And keep checking back, more dessert recipes are always being added!
You can help others to find these vegan and gluten-free desserts by pinning this post to one of your food boards on Pinterest. Click here to pin it now!
FAQ
What Desserts are Naturally Gluten-Free?
There are countless desserts that are naturally gluten-free and vegan, you just have to look for them! There are lots of cookbooks and websites dedicated to sharing these types of recipes and all of the recipes listed in this post fit that label.
What Dessert Can Vegans Eat?
There are plenty of desserts vegans can eat! All of the recipes listed above are suitable for vegans.
Are Vegan Sweets Gluten Free?
Not necessarily. If it's labelled gluten-free, then you're good but if it's not, you'll have to read the ingredients list and identify anything that contains gluten.
Is Chocolate Vegan and Gluten Free?
Chocolate is naturally gluten-free but can become contaminated if it's processed in a facility that processes gluten-containing products. Ingredients can be added to chocolate to make it not gluten-free, so always read the label.
There are some brands that are made to be vegan and gluten-free, such as Enjoy Life.
If you liked this article, you may also like these…
This post was originally published on December 18, 2018, it was updated in January 2021.