This vegan apple crisp recipe is a dessert you're going to want to make multiple times, every fall (and even year-round!). Tender, perfectly spiced caramelized apples are topped with a crumbly, slightly sweet oat topping and one of the best things about this vegan gluten free apple crisp is that it's simple to make.
Serve this easy vegan dessert plain or take it over the top by serving with a scoop of dairy free ice cream!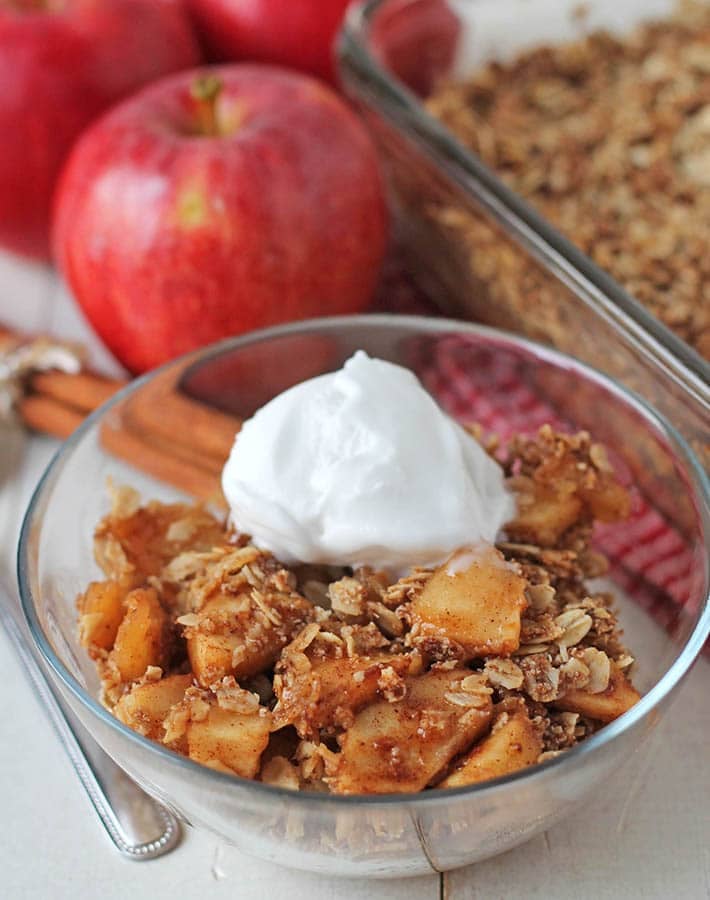 Vegan crisps are one of the best, most delicious, and easiest desserts you can make. They're warm, comforting, and not overly sweet…they're actually one of my favourite desserts to make.
I like them so much that I have several recipes on my website already, this vegan apple crisp is the latest addition to the growing collection:
Let's walk through how to make easy vegan apple crisp (that happens to be nut-free, wheat-free, dairy-free, and gluten-free) and everything else you need to know to make it!
How to Make Gluten Free Apple Crisp
(Note: I've outlined the step-by-step on how to make this gf apple crisp recipe here, but find the full recipe, ingredients, and directions at the end of this post.)
Below you will see all of the apple crisp ingredients (except for the ingredients that get mixed with the apples!).
Since this is an apple crisp recipe with oats, if you're gluten free, you'll want to make sure the rolled oats you're using are certified gluten-free. Check the label for that info.
To make the vegan crisp topping, you'll be using coconut oil instead of butter, which is what non-vegan crisps usually call for.
To make the topping it's just a matter of mixing together all the ingredients you see below on the top left.
How to Prepare the Apples
For the apple filling, I peel the apples, cut them in quarters and then slice as shown above. You want each slice to be roughly 1/8 of an inch thick, you don't want them to be too thick or too thin.
You'll then add the spices and a few other ingredients to the apples, stir, and then it's time to assemble.
Best Apples for Apple Crisp
Any apples that would be good for apple pie will be a good match for this recipe.
Apples that not overly sweet, are firm, will hold their shape, and won't get mushy after baking are ideal. Apples such as: Gala, Ambrosia, Pink Lady, Braeburn, Honeycrisp, Mutsu, or Golden Delicious all work well.
You can also use a mix of sweet and tart apples (try Granny Smith, along with Ambrosia or Gala). Using just one type of apple is also fine, for the batch you see in the pictures, I used just Gala.
Read this article for more info on the best apples for baking.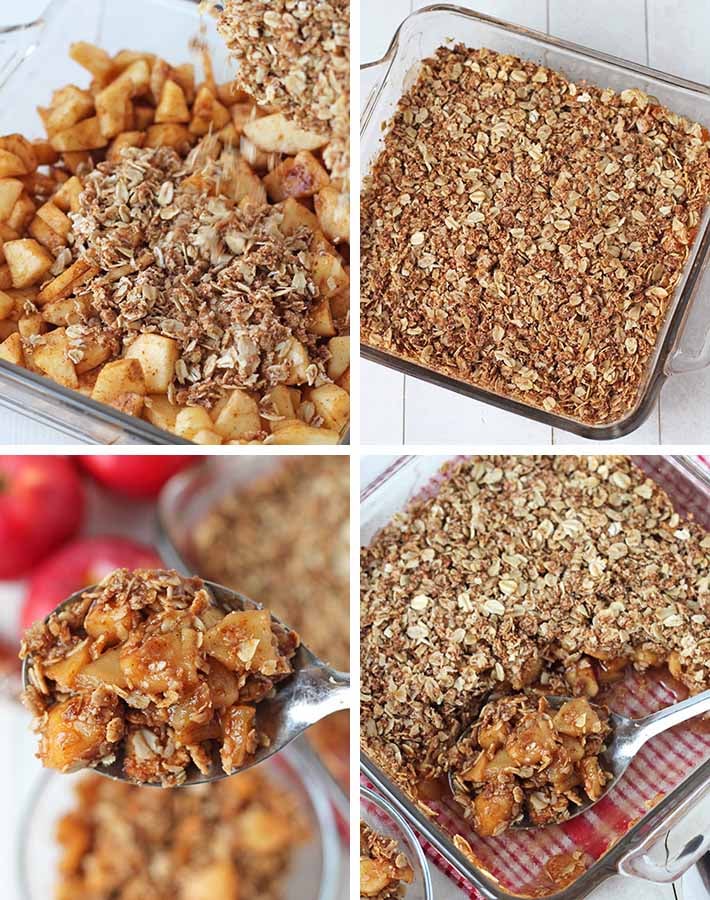 Assembling and Baking Your Dairy Free Apple Crisp
Once you've prepared the apples, add them to your baking dish (you can also bake them individually, more details on that below). Make sure the apples form an even layer and then add the oat topping, creating another even layer.
The next step is baking your apple crisp and once it's done, let it cool slightly and serve warm.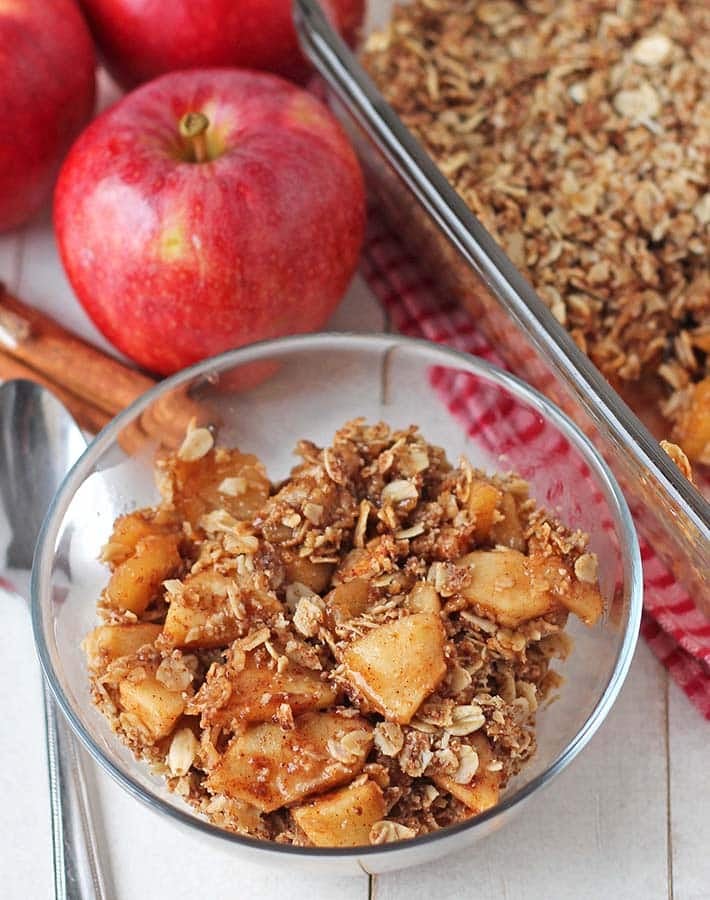 How to Serve Your Apple Crisp
Serving it plain, like in the image above, is perfectly fine and not necessary to serve with a topping since the apples caramelize with the coconut sugar and maple syrup and creates its own delicious caramel-like sauce.
BUT…if you want to take it up a notch, serve with a scoop of your favourite non-dairy vanilla ice cream, coconut milk ice cream, or with coconut whipped cream.
How to Bake as Individual Servings
In the pictures, I'm shown making the crisp in an 8 x 8 baking dish, but I also give directions in the recipe below on how to make them in individual serving ramekins.
Making them as individual servings makes things slightly quicker for serving and great for presentation. My ramekins are 8oz each and you can buy them here.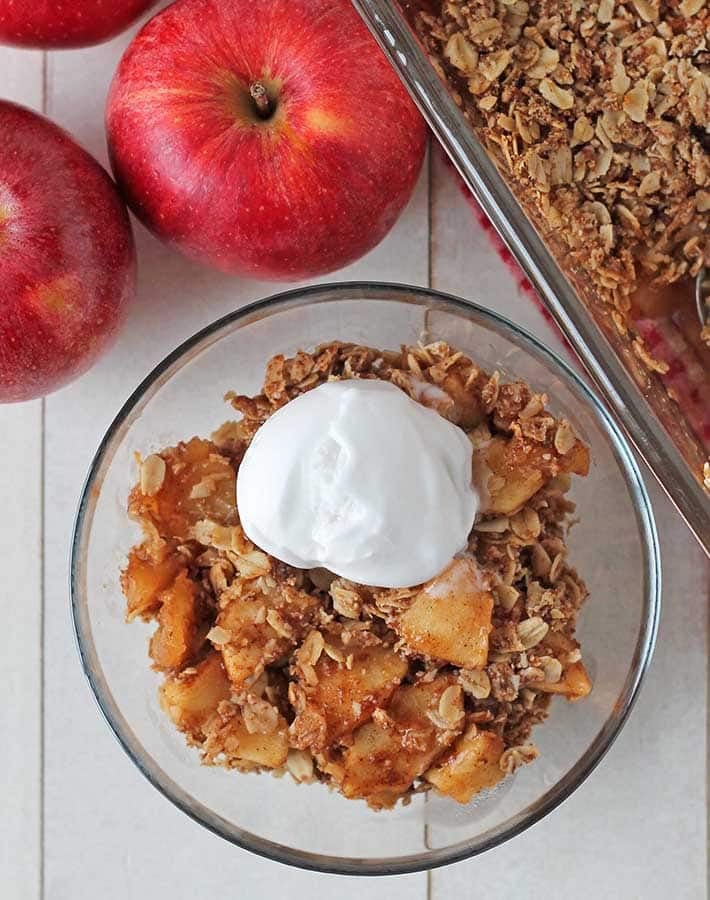 Can This Vegan Crisp Recipe Be Made Ahead of Time?
This recipe is best served after it has been freshly baked and cooled until it's warm, but if you need to make it ahead of time, go ahead and do so, but warm it up again before serving.
Another option would be to assemble everything, cover, refrigerate and then pop into the oven when you're ready to bake it.
How to Store Gluten Free Crisp
Cool the crisp fully and store in an airtight container or in a container covered with wrap in the refrigerator.
As time goes on, the oat topping will absorb the moisture from the apples, which will result in a mushy dessert. So the sooner you can serve, the better!
If you make this quick, super easy, and delicious vegan apple crisp, please leave a star rating and tell me about it in the comments below!
You can also help me to help others find this dairy free apple crisp recipe by pinning it to your recipe board on Pinterest!
CLICK HERE TO PIN IT NOW!
If you like this recipe, you may also like these other simple vegan apple recipes:
How to Make Vegan Apple Crisp