This easy, no-bake, dairy-free vegan lime cheesecake recipe contains no cashews and is also gluten-free! It's the perfect creamy, tangy, sweet dessert to end any meal.
Whether you're celebrating a special occasion or you just want to make a dessert to impress, just because, these sweet, but tangy, coconut lime cheesecakes will make everyone happy!
What will make YOU extra happy is how easy they are to make!
How Do You Make Dairy-Free Cheesecake?
(Note: I've outlined the step-by-step here, but find the full recipe and directions at the end of this post)
The first step is to make the oat crust that the filling will sit on. Once the crust is made, you'll then press it into muffin cups and then chill them while you make the cheesecake filling.
Next, you'll make the coconut lime cheesecake filling by blending all of the ingredients together in your high speed blender.
Once blended, pour the filling into each muffin cup, sprinkle with the optional lime zest and shredded coconut garnish, then freeze!
After they have firmed up in the freezer for at least an hour, they'll be ready for serving!
Easy, right?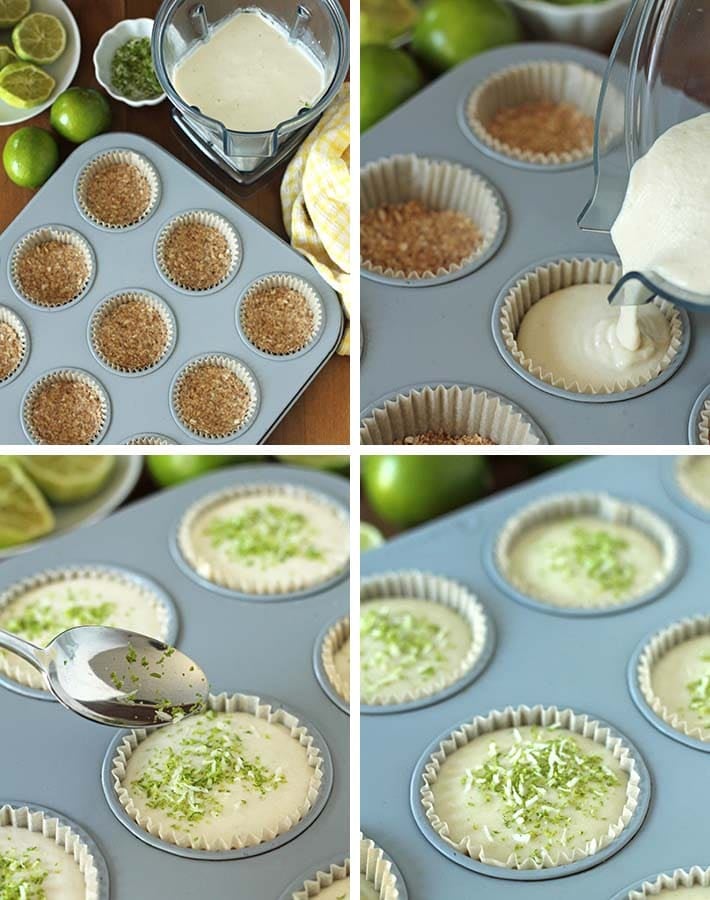 What Kind of Blender Is Needed to Make This Recipe?
You must use a high speed blender for this recipe!
You can use a food processor or a regular blender to make the crust, but a high speed blender is absolutely essential for making the cheesecake filling part of the recipe.
A regular blender is not powerful enough to blend the almonds and get them smooth and creamy, which is the texture you need for a successful cheesecake recipe.
There are a few high speed blender brands out there, but the one I own (and love!) is a Vitamix (Amazon Link).
A high-speed blender is an investment, they aren't cheap (I saved for a while before buying mine), but I use it almost daily to make things like smoothies, sauces, soups, and more!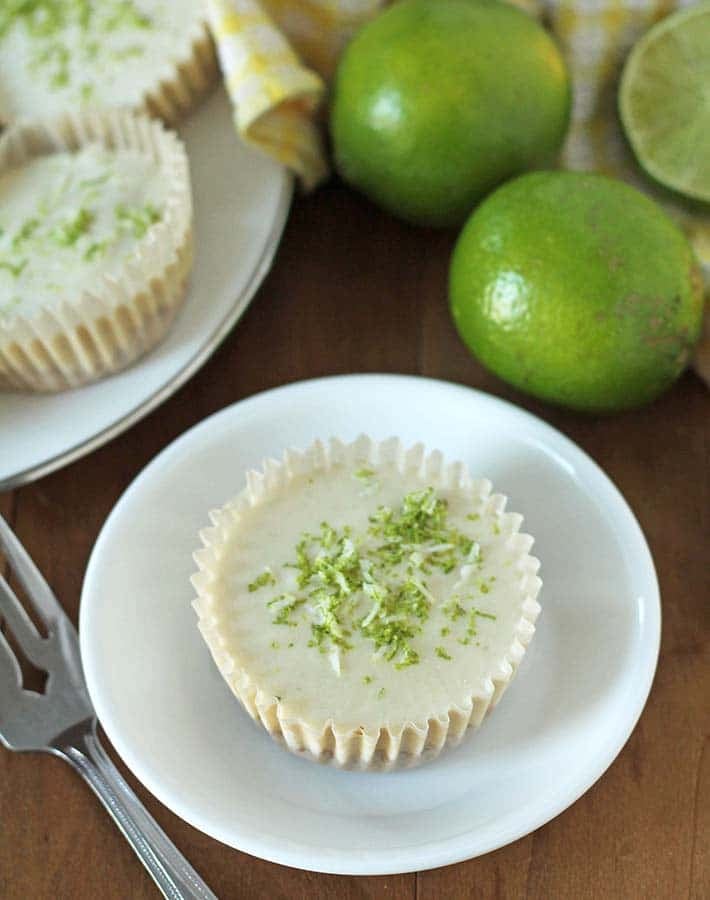 What Kind of Limes Should Be Used?
I use regular limes for this recipe, but you can also use key limes, if they are available, in place of the regular limes. This would make your recipe vegan key lime cheesecake which will be just as delicious!
How Should They Be Served?
After your lime cheesecake bites have firmed up, they can be enjoyed straight from the freezer, or you can leave them out on the counter to partially thaw for a little while before serving.
I like to eat them fully thawed but try them in different ways to see how you prefer them.
You can also top them with any of the following:
If Lime Isn't Your Thing...
This is the third vegan cheesecake recipe I've shared on the site so far. If you haven't already, be sure to check out the others:
These recipes are favourites around here, for many reasons. All of my cheesecake recipes are:
no-bake
dairy-free
cashew-free (yes! no cashews in these little cheesecakes!)
made with almonds
gluten-free
easy-to-make
delicious
Is there a particular vegan cheesecake flavour you'd like to see me make next? Let me know!
Leave me a comment below if you make this recipe or you can also post a pic on Instagram and tag me. I love seeing your photos of my recipes 🙂 And don't forget to pin this recipe on Pinterest!
If you like this easy vegan lime cheesecake recipe, you may also like these:
Vegan Lime Cheesecake
This easy, no-bake, dairy-free vegan lime cheesecake recipe contains no cashews and is also gluten-free! It's the perfect creamy, tangy, sweet dessert to end your meal.
Instructions:
To make the base:
Add the rolled oats, almonds, and coconut sugar to a food processor or a high speed blender.


Blend until the almonds and oats have broken down.


Add the shredded coconut and the coconut oil.


Pulse until everything has combined.


Divide the mixture evenly between the 12 muffin cups and press it down until it is packed down and no loose parts remain. (see picture above)


Place the muffin tin in the freezer for the bases to firm up. Chill for at least 15 minutes.

To make the cheesecake:
Add the almonds, coconut milk, lime juice, maple syrup, coconut oil, and vanilla to a high speed blender.


Blend until the mixture is smooth and creamy. You may need to use your blender's tamper to keep it going.


Remove the chilled bases from the freezer and divide the cheesecake mixture evenly between the 12 muffin cups. Smooth out the tops and if using the lime zest/shredded coconut as garnish, sprinkle on top of each cheesecake. Place back into the freezer for at least an hour for them to firm up.


Remove from freezer ½ hour before serving so they can thaw a bit. Garnish and serve.


Store uneaten cheesecakes in the freezer in an airtight container.
Recipe Notes:
1 cup of dry almonds will expand to be the 1 ½ cups needed for this recipe, so only soak 1 cup of almonds. The almonds MUST be soaked for at least 24 hours to soften them before blending.
A high speed blender (such as a Vitamix or Blendtec) MUST be used for the cheesecake part of the recipe. If one is not used, the almonds will not break down properly and you run the risk of overheating/damaging your regular blender.
Use only whole, raw almonds unsalted almonds for this recipe, NOT slivered, sliced, or roasted almonds.
Blanched almonds come with the skins off to make things a bit easier for you, but if you cannot find them, you can also use almonds with the skins on BUT, be sure to peel the skins after they have been soaked. This step is a little time consuming, so be sure to factor this into your prep time.
Full fat coconut milk will give you a creamier cheesecake.
When pressing the base down into the muffin cups, I like to use a piece of parchment paper to do it since nothing will stick to it, see picture above.
Nutrition info is based on 1 lime cheesecake made using the recipe as written and without the optional garnishes. Nutrition info is is only to be used as a rough guide. Click to learn how nutrition info is calculated on this website.
Nutrition Info:
Serving:
1
cheesecake
|
Calories:
245
kcal
|
Carbohydrates:
19
g
|
Protein:
3
g
|
Fat:
18
g
|
Saturated Fat:
12
g
|
Polyunsaturated Fat:
1
g
|
Monounsaturated Fat:
2
g
|
Sodium:
12
mg
|
Potassium:
139
mg
|
Fiber:
3
g
|
Sugar:
10
g
|
Vitamin C:
2.5
mg
|
Calcium:
10
mg
|
Iron:
0.5
mg
Did You Make This Recipe?
If so, please share a picture with me on Instagram! Tag @delightfuladventures and hashtag #delightfuladventures. I can't wait to see!