If you've never made vegan baked apples, then you must try this recipe! The apples are halved, cored, and then baked with a delicious, perfectly spiced, lightly sweetened oat filling, until the apples are tender. Prep time for this gluten free apple dessert is minimal and it makes the perfect ending to any meal.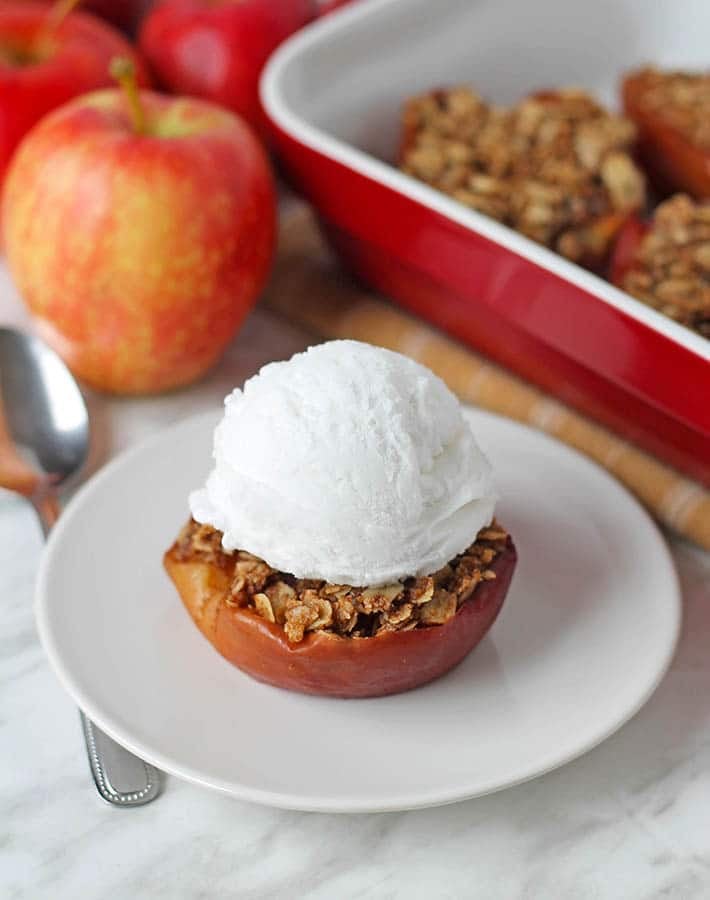 You know those recipes you can make over and over again and never get sick of? This is one of those recipes, for me.
(I think I may have started other posts like that before because A LOT of recipes fall into that category..like my pear cranberry crisp and my chocolate doughnuts...to name a few!)
This is a simple recipe that just calls for a few ingredients. It's an easy vegan dessert that's delicious, warm, filled with amazing flavours, and it's not too sweet (most of the sweetness comes naturally from the apples!)
What more can you ask for in a vegan dessert?
Ingredients for Gluten Free Baked Apples
This recipe is already vegan, but if you need to also make them gluten-free, you need to use certified gluten free rolled oats and oat flour.
So check the label before buying the rolled oats to be sure that's what you're getting. No need to get store bought oat flour, you can make it from the oats, this is how to do it!)
Other than the oats, you'll need two firm baking apples (see suggestions on which types to use below), oat flour, sugar, and spices. That's all.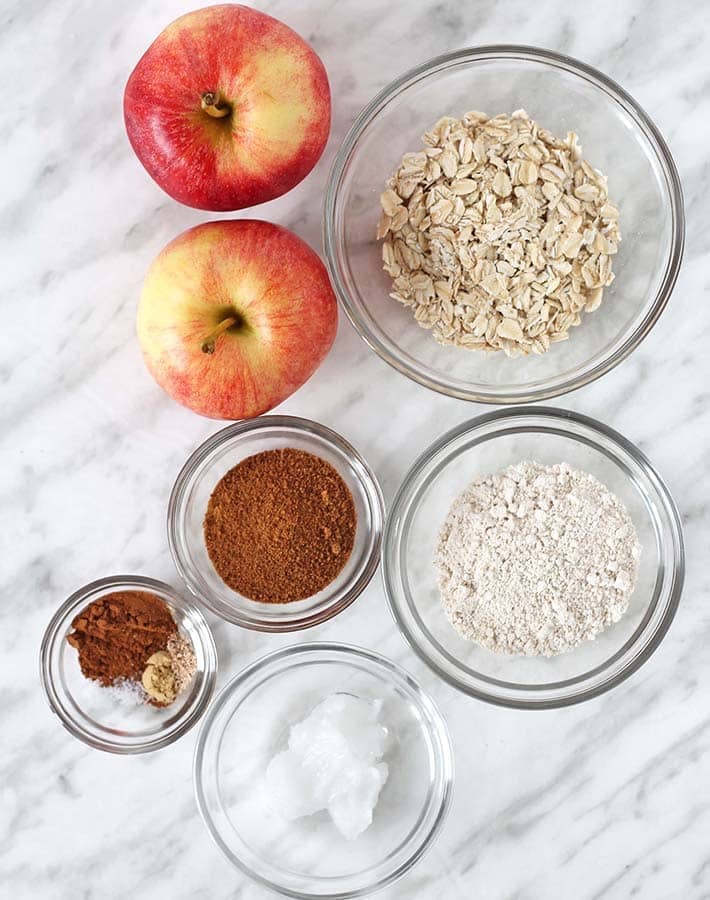 How to Prepare Baked Apples
(Note: I've outlined the step-by-step on how to make this vegan baked apple recipe here, but find the full recipe, ingredients, and directions at the end of this post.)
The first step is to prepare the oat filling so it's ready to go after you prepare your apples.
After that, you'll wash your apples, cut them in half, and then remove the cores using a melon baller scoop or a small spoon. And yes, you keep the skin on. As the apples bake, the skin will get soft and tender.
Each apple half then gets sprinkled with a little cinnamon and sugar, then topped with the oat mixture you prepared earlier. Next, it's time to bake!
You'll know they're done when you can easily slide a knife through the thickest part of each apple. Cool your baked apple halves slightly and serve warm.
Best Apples to Use for Stuffed Baked Apples
For this recipe, I always use my favourite apples for baked apples (and any apple dessert!), Gala.
If you can't find Gala, use apples that are firm, will hold their shape, and won't get mushy after baking.
The following are good apples for baked apples:
Gala
Ambrosia
Pink Lady
Braeburn
Honeycrisp
Mutsu
Read this article for more info and suggestions for the best apples for baking.
How Long Will They Be Good For? Can They Be Refrigerated?
I always serve this dessert right away, but if you have leftovers, you can store them in the refrigerator for up to 3 days.
Note that as they cool down, the skin will wrinkle and they won't be as pretty as when they were freshly baked, but the taste will remain the same.
Warm up before serving.
How to Serve This Dessert
Not sure how to serve oven baked apples? No need to spend a lot of time on this decision because no topping is needed, they're perfect on their own, as seen below.
However, if you want something to make your baked apple dessert extra fancy and decadent, then I suggest coconut whipped cream, maple caramel sauce, or a big scoop of dairy-free coconut ice cream, like I did in the picture below!
The ice cream melts into the oat topping, all the way down to the warm apple, making each spoonful absolute perfection. So I highly recommend serving this way!
(If you want to serve with a topping that's more on the lighter side, you can serve them with vegan yogurt.)
If you like these vegan baked apples, you may also like these other vegan apple recipes:
And if you make this, please let me know by rating the recipe and leaving a comment below!
You can also help me to help others find this vegan baked apple recipe by pinning it to your recipe board on Pinterest!
CLICK HERE TO PIN IT NOW!
How to Make Vegan Baked Apples
Vegan Baked Apples
This baked apples recipe is a classic fall dessert you and your family will love! Topped with a delicious, perfectly spiced, and lightly sweetened oat filling, it's a simple vegan dessert that takes little time to prepare and clean up is quick and easy. These easy baked apples are the perfect ending to a meal and will become a new autumn favourite.
Instructions:
Preheat oven to 375° F (190° C).
Prepare the Oat Topping:
In a small bowl, mix all of the oat topping ingredients together. Add melted coconut oil and mix until all ingredients have combined. Set aside.
Prepare Apples:
Wash apples, cut in half, and core using a melon baller scoop or a small spoon. Place apples in a small baking dish. (See images above)

In a small bowl, combine the 2 teaspoons of coconut sugar and ¼ teaspoon of cinnamon, sprinkle and divide mixture between each apple half.

Divide oat topping between each apple half, be sure that the top of each apple is covered. (See images above)

Cover baking dish and bake for 25-35 minutes or until a knife easily slides through the apples. Serve warm.
Recipe Notes:
Before making this recipe, please read FAQ above for helpful tips to ensure your dessert is a success.
Cooking time for these baked apples will vary based on the size of the apples and the type you use. The cooking time for this recipe is based on medium sized Gala apples but if you're using using larger apples, baking time will need to be increased, for smaller apples, time will have to be decreased.
I use a 9" x 6" baking dish for this recipe, but an 8" x 8" can also be used.
Baking dish can be covered with foil, but if you are avoiding foil use, I use a silicone lid like this one.
Don't crowd the baking dish, use a larger one if the apples will not fit comfortably with a little space around all sides.
This dessert is best enjoyed warm and on the day it was made, but if you have leftovers, store in an airtight container in the fridge. Warm up before serving.
If you use extra virgin/unrefined coconut oil for this recipe, the topping will have a slight coconut flavour. If you would prefer to not have that flavour, please use refined coconut oil.
Old fashioned rolled oats must be used, NOT quick oats (topping will be too mushy) or steel cut oats (topping will not cook properly).
Recipe can be doubled, if needed, just be sure to use a larger baking dish and to not overcrowd the dish.
Nutrition info listed below is for 1 of 4 servings (without any toppings) of the recipes made as written and is only to be used as a rough guide. Click here for more info on how nutrition info on this website is determined.
Nutrition Info:
Calories:
139
kcal
|
Carbohydrates:
23.5
g
|
Protein:
1.5
g
|
Fat:
4.3
g
|
Saturated Fat:
3.4
g
|
Sodium:
37.3
mg
|
Potassium:
126
mg
|
Fiber:
2.9
g
|
Sugar:
14
g
|
Vitamin A:
24
IU
|
Vitamin C:
1.5
mg
|
Calcium:
10.2
mg
|
Iron:
0.8
mg
Did You Make This Recipe?
If so, please share a picture with me on Instagram! Tag @delightfuladventures and hashtag #delightfuladventures. I can't wait to see!