A creamy vegan pumpkin pudding recipe that's going to quickly become a new fall favourite! This easy dairy free pumpkin pudding will make everyone happy and satisfied at the end of a fall or holiday meal and all you need to make it is six simple ingredients and 10 minutes (plus some chilling time!).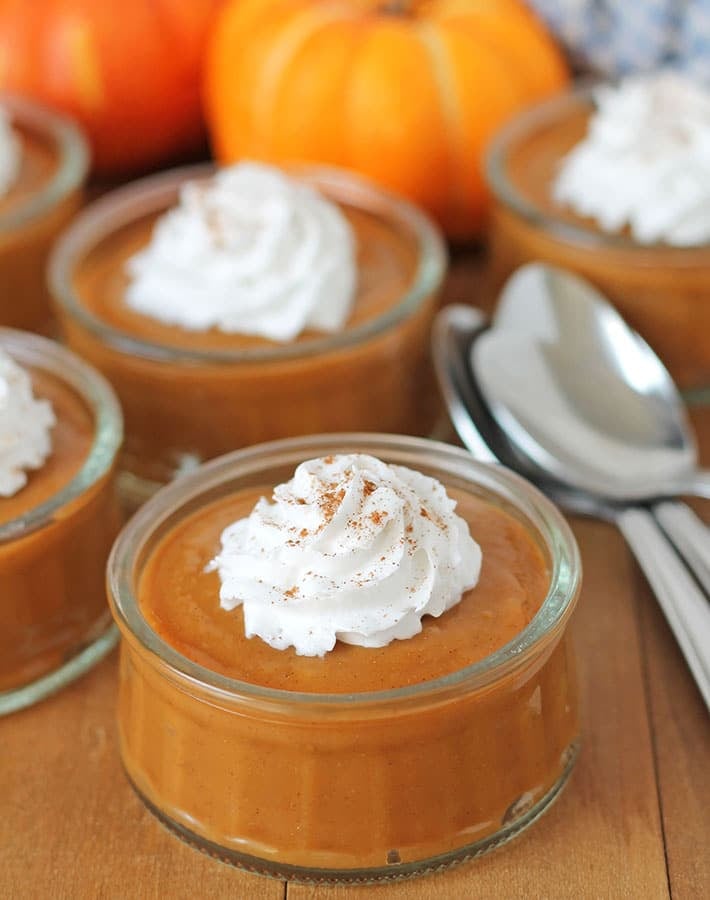 That time of year has arrived once again...you know, the time when it's pumpkin, cinnamon, and apple everything. And while I do miss the summer weather and giving all the attention to fresh berries, I do enjoy fall flavours, a lot.
This vegan pumpkin pudding is a recipe you're going to want to add to your fall recipe list. It's extremely easy to make, requires just a few simple ingredients, and it's vegan and gluten free.
If You Like Pumpkin Pie, You'll Love this Gluten Free Pumpkin Dessert
It tastes like pumpkin pie, just without the crust...so I guess we can also call it vegan pumpkin pie pudding! (try my vegan pumpkin pie recipe if you're looking for a good one!)

This is one of those desserts that's simple enough for school snacks but tastes decadent enough to serve as the sweet ending to a big holiday meal (just like my vanilla pudding, chocolate pudding, avocado pudding, and my sweet potato pudding!).
So let's go through the steps and everything you need to know before you make it.
Ingredients for Eggless Pumpkin Pudding
Classic pumpkin pudding recipes call for milk and eggs but you don't need any of those for this one. Lots of vegan puddings also call for tofu, but this is a vegan pumpkin pudding without tofu.
To make this pumpkin pudding vegan, you won't be using eggs and you'll be using your favourite unsweetened non-dairy milk. I usually stick with almond milk, but any other type will work.
If you want to make this pumpkin pudding recipe with coconut milk, either light or full fat will work fine.
You'll also need to use pure pumpkin puree for this recipe, not pumpkin pie filling. You can either use canned puree or make your own pumpkin puree.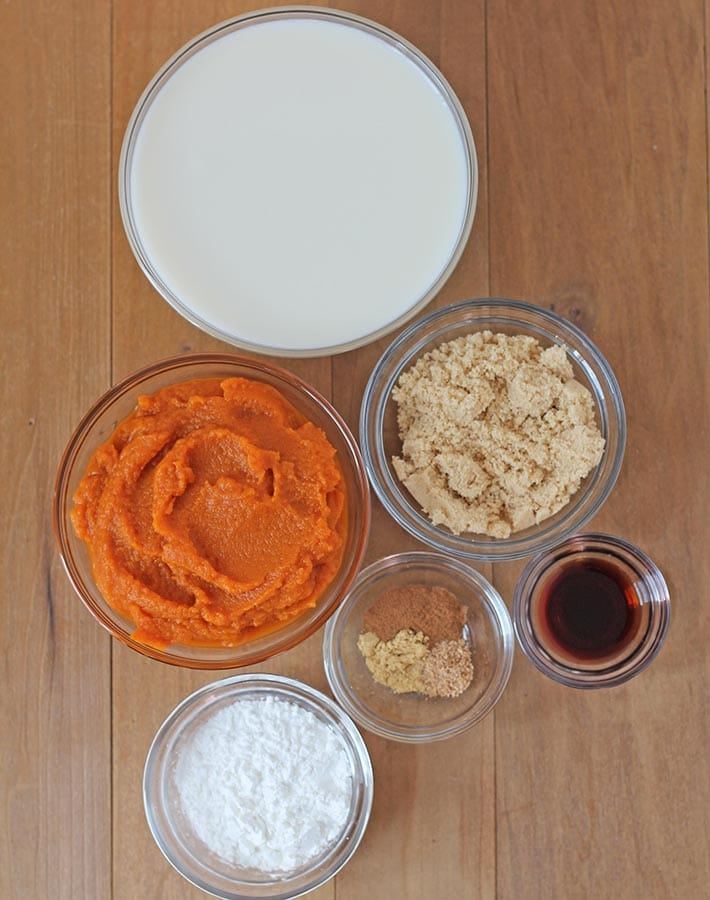 Can Arrowroot Starch be Used Instead of Cornstarch?
This recipe calls for cornstarch to thicken the pudding. When testing, I made a batch using arrowroot starch, my usual go-to thickener, and while the pudding still tasted delicious, the consistency was slightly jelly-like.
If you can't have, can't find, or don't want to use cornstarch, arrowroot starch will work perfectly fine, but for the best consistency, I recommend using cornstarch.
Can Coconut Sugar Be Used Instead of Brown Sugar?
Yes, it can, I also tested a batch with coconut sugar and the only difference was the colour. If you make your pumpkin pie pudding with coconut sugar, the final result will be a little darker than the pudding you see in the pictures here.
And one more thing about the ingredients...the recipe calls for pumpkin pie spice, but if you don't have it, you can use a combination of spices to get the same flavour. Find details in the recipe notes below.
How to Make No-Bake Pumpkin Pudding
(Note: I've outlined the step-by-step for this easy gluten free pumpkin pudding recipe here, but find the full recipe, ingredients, and directions at the end of this post.)
The first step is to whisk the cornstarch and sugar together in a saucepan. You want to make sure there are no lumps, if you need to, use the back of a spoon to crush the lumps.
Next, slowly add the milk while constantly whisking to avoid lumps. Once everything has mixed together, whisk in the pumpkin puree and place the pot on the heat.
You'll need to whisk the mixture constantly as it thickens to avoid any chunks from forming. You'll know it's time to stop whisking and remove the pot from the stove when the pudding coats a spoon like in the picture above.
After that, whisk in the spices and vanilla extract. Next, you'll pour your non dairy pudding into a glass bowl and let it sit until it's warm. Once the pudding is warm, you'll need to place it in the refrigerator to finish thickening and to get to that final creamy pudding consistency.
How to Avoid "Pudding Skin"
"Pudding skin" sounds a little gross, but for those of you who have never made pudding, this is a thing that happens as the proteins and sugar in the pudding cool down.
Basically, the top of the pudding thickens and forms a "skin" that can affect the final consistency of your pudding. You want to avoid that skin so your dessert turns out to be smooth, creamy, and the best vegan pumpkin pudding recipe you've ever made!
There are two ways to do this:
Before placing the bowl in the refrigerator, gently place plastic wrap directly over the entire surface of the pudding so the wrap comes into direct contact with the pudding and no air remains in between.
If you want to avoid plastic, you can let the pudding cool off and allow the skin to form. After that has happened, pass the entire batch of the pudding through a sieve to separate the soft pudding from the dry top layer. I learned this method from this website.
How to Serve Dairy Free Pudding
I like to serve it plain, like in the picture above, or to take this pumpkin pudding recipe over the top, I add coconut whipped cream and a little dusting of ground cinnamon, like in the picture below.
You can dress it up or keep it simple, based on the occasion.
How Long Will This Gluten Free Vegan Pumpkin Pie Pudding Last?
If you have leftovers, it will last up to four days in the refrigerator.
Did You Make This Recipe?
If so, please leave me a star rating below in the comments and tell me how you liked it!
And if you like this recipe, you may also like these other vegan pumpkin recipes and these easy vegan dessert recipes:
You can also help me to help others find this vegan pumpkin pudding recipe by pinning it to your recipe board on Pinterest,
CLICK HERE TO PIN IT NOW!
How to Make Vegan Pumpkin Pudding
Vegan Pumpkin Pudding
This dairy free pumpkin pudding recipe is going to quickly become a new fall favourite! Top it with coconut whipped cream or serve it on its own. It's a simple egg free pumpkin dessert that takes a short amount of time to prepare and will make everyone happy.
Ingredients:
½

cup

(100g)

brown sugar

or coconut sugar

3

tablespoons

(24g)

cornstarch

1 ½

cups

unsweetened dairy-free milk

1 ¼

cup

(300g)

pumpkin puree

(not pumpkin pie filling)

1 ½

teaspoon

pumpkin pie spice

(see below for a substitute)

1

teaspoon

vanilla extract
Instructions:
Add brown sugar and cornstarch to a medium saucepan. Whisk until combined and no lumps remain. You may need to break up any lumps with the back of a spoon.

Slowly whisk in milk until combined with dry mixture. Scrape around the corners of the pot with a spoon to be sure no dry ingredients remain. Add pumpkin puree and whisk again until combined.

Place pot on medium-high heat and continuously whisk until mixture has thickened enough to coat a spoon, this will take about 5-7 minutes. (See images above)

Remove pot from the heat and whisk in spices and vanilla.

Pour pudding into a glass bowl and set aside until it's no longer hot but still warm.

Place plastic wrap on surface of pudding or cool and pass through a sieve to avoid a skin. See info above for more details on this step.

Refrigerate pudding for at least 2 hours so it can set. Serve cold, either plain or with coconut whipped cream.
Recipe Notes:
Please read all of the FAQ info above before making this recipe.
Recipe makes 2 ½ cups of pudding in total.
If you don't have pumpkin pie spice, use 1 teaspoon ground cinnamon, ¼ teaspoon ground nutmeg, and ¼ teaspoon ground ginger in its place.
Nutrition info listed below is for 1 of 5 servings (each serving is ½ cup each) made with brown sugar, almond milk, and pumpkin pie spice, and is only to be used as a rough guide. Click here for more info on how nutrition info on this website is determined.
Nutrition Info:
Serving:
0.5
cup
|
Calories:
140
kcal
|
Carbohydrates:
31.6
g
|
Protein:
1
g
|
Fat:
1
g
|
Sodium:
60
mg
|
Potassium:
80.1
mg
|
Fiber:
1.6
g
|
Sugar:
23.9
g
|
Vitamin A:
5151.09
IU
|
Vitamin C:
1.32
mg
|
Calcium:
173.57
mg
|
Iron:
1
mg
Did You Make This Recipe?
If so, please share a picture with me on Instagram! Tag @delightfuladventures and hashtag #delightfuladventures. I can't wait to see!