Everyone will be asking for more when you make them these sweet, tangy, vegan baked lemon doughnuts with lemon glaze! Instructions on how to make them gluten-free are also included!
This page may contain affiliate links. Click to learn more.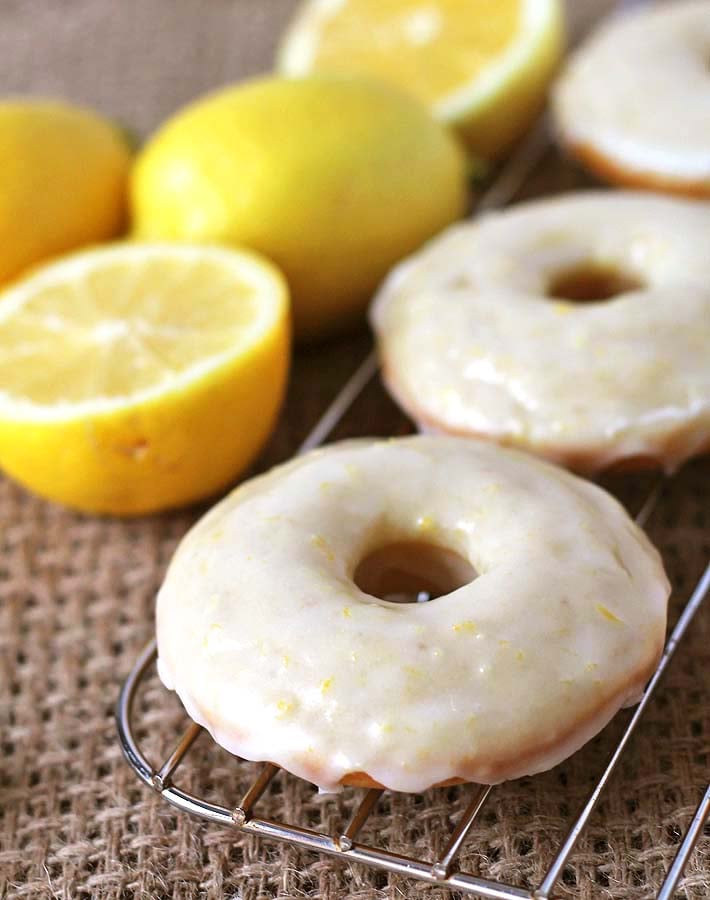 I didn't have to share a doughnut recipe to know that everyone loves doughnuts. Of course, everyone does! But the response to my baked chocolate doughnuts surprised me a little bit.
So knowing that you love those doughnuts so much, I'm sharing another recipe with you, but this time they're sweet, tangy, vegan baked lemon doughnuts that can also be made gluten-free!
Ever since buying my now beloved (ha!) doughnut pan (I bought this one and I highly recommend it!), I've been thinking up so many different recipes.
Since it's spring, and since I seem to be on a citrus kick lately (have you seen the vegan key lime cups I shared not long ago??), vegan lemon doughnuts won out as the next recipe I wanted to share.
You can make these vegan and gluten free or if you don't need them to be gluten free, you can just make them vegan. I've included instructions for both, you pick the one you need!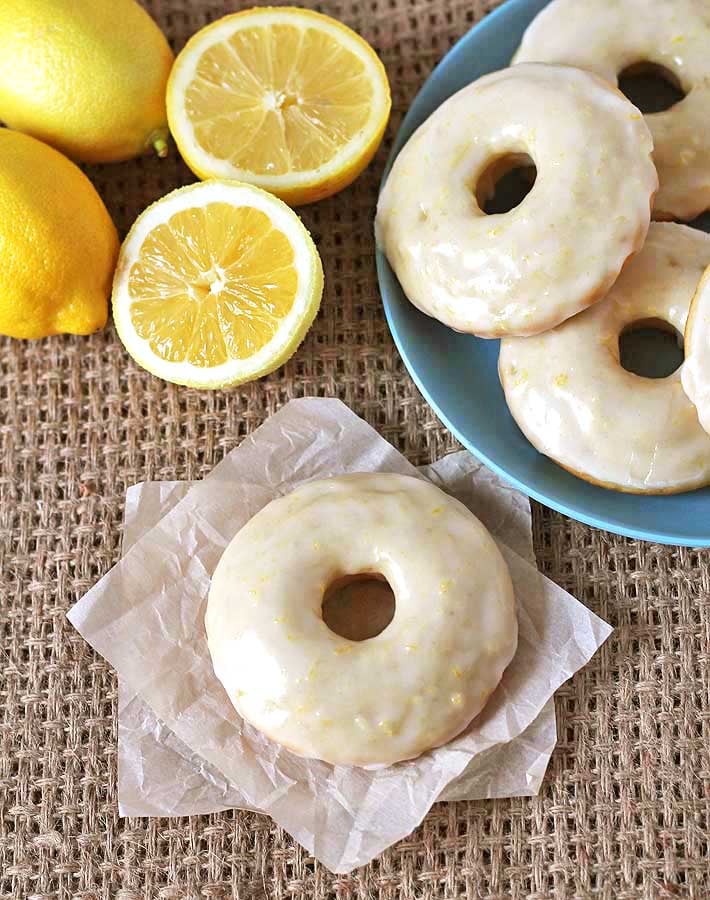 Now let's talk about the doughnuts!
Like my chocolate doughnuts, these took me a few tries to get. More tries than the chocolate doughnuts, actually.
Have you ever heard the saying baking is a science? It's so true.
I originally wanted to use fresh lemon juice in the doughnut batter but they way the acid reacted with some of the other ingredients didn't always produce a great result.
After many tries, I still couldn't get the recipe to work the way I wanted it to with the fresh lemon juice. The doughnuts always tasted delicious and looked perfect, it was the texture that was always off.
I didn't want to share a recipe that I wasn't 100% happy with, so I pivoted a little and tried lemon extract instead of the juice. Thankfully, this change gave me a result that I'm now happy to share.
To me, the lemon glaze makes these doughnuts, so don't skip the glaze!
The doughnuts on their own are delicious but the tangy, sweet, lemony glaze just takes them over the top.
The lemon zest I added to the glaze is optional but it does give a little extra "punch" of lemon flavour.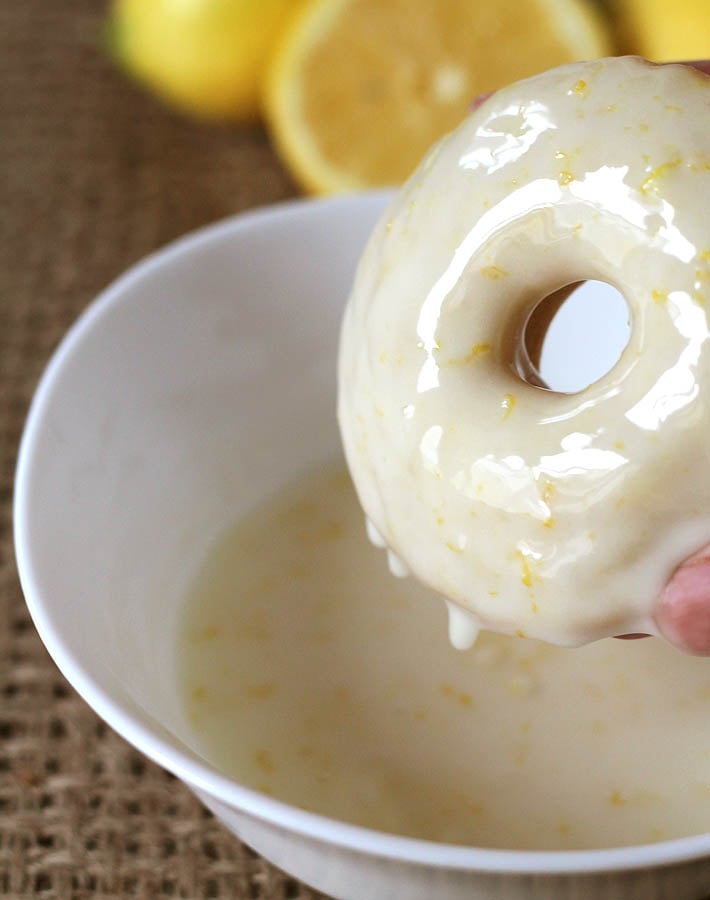 Before you head to the recipe, I wanted to answer a question that I've been asked a lot since I published the last doughnut recipe.
Readers who have never made or eaten baked doughnuts were curious to get a little insight into what they were in for when they made them.
The most asked question I received?
What Do Baked Doughnuts Taste Like?
I went into this a little in the baked chocolate doughnuts recipe.
One important thing to keep in mind is that baked doughnuts are nothing like fried doughnuts. Baked doughnuts are more like cake. Doughnut shaped cakes with sweet glaze on top!
The texture is like cake, they're light, fluffy, and they're a nice alternative if you're aiming to stay away from fried foods.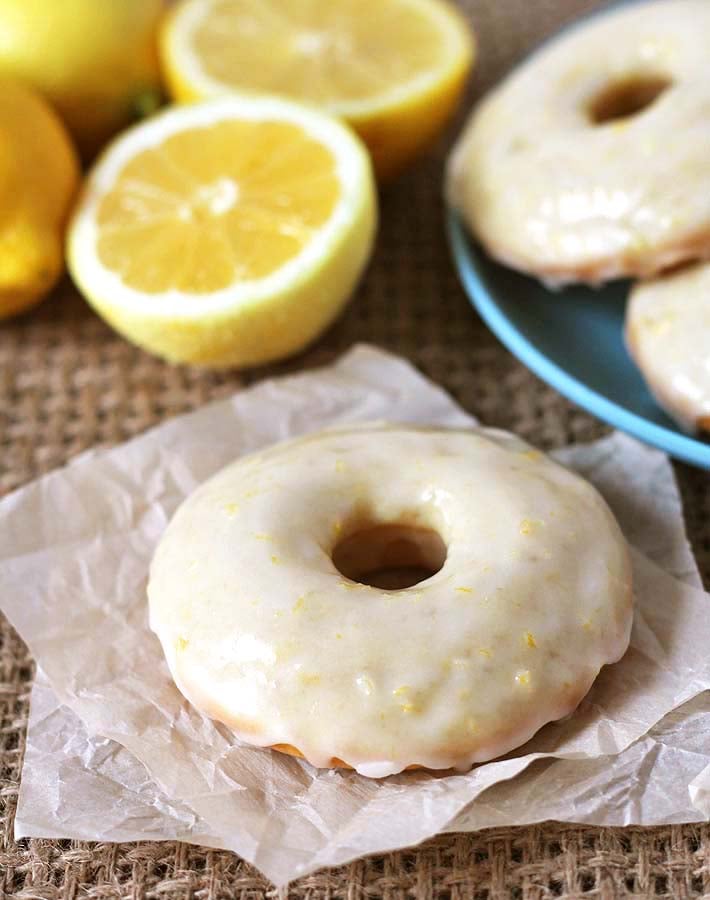 If you have any questions about baked doughnuts, let me know in the comments!
I hope you love these as much as you love the chocolate doughnuts!
If you like this recipe, you may also like these:
And if you make them, let me know in the comments or tag me on Instagram to show me! I'm @delightfuladventures over there.
How to Make Vegan Baked Lemon Doughnuts with Lemon Glaze