Everyone will be asking for more when you make them these sweet, tangy, vegan baked lemon doughnuts with lemon glaze! Instructions on how to make them gluten-free are also included!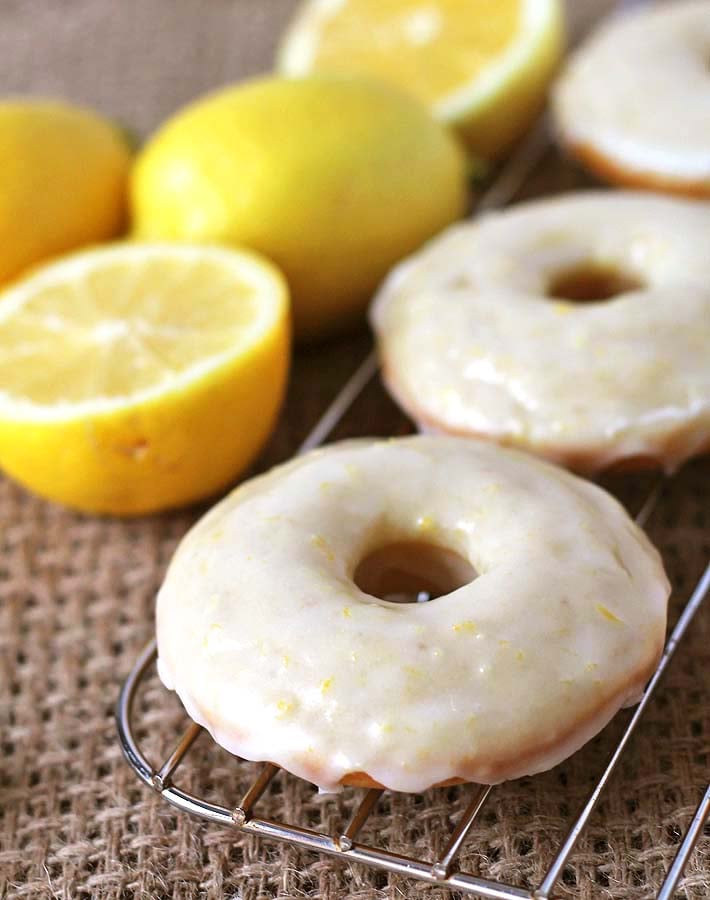 I didn't have to share a doughnut recipe to know that everyone loves doughnuts. Of course, everyone does! But the response to my baked chocolate doughnuts surprised me a little bit.
So knowing that you love those doughnuts so much, I'm sharing another recipe with you, but this time they're sweet, tangy, vegan baked lemon doughnuts that can also be made gluten-free!
Ever since buying my now beloved (ha!) doughnut pan (I bought this one and I highly recommend it! <-- (Amazon Link)), I've been thinking up so many different recipes. Here are those that I've shared here already:
Since it's spring, and since I seem to be on a citrus kick lately (have you seen the vegan key lime cups I shared not long ago??), vegan lemon doughnuts won out as the next recipe I wanted to share.
You can make these vegan and gluten free or if you don't need them to be gluten free, you can just make them vegan. I've included instructions for both, you pick the one you need!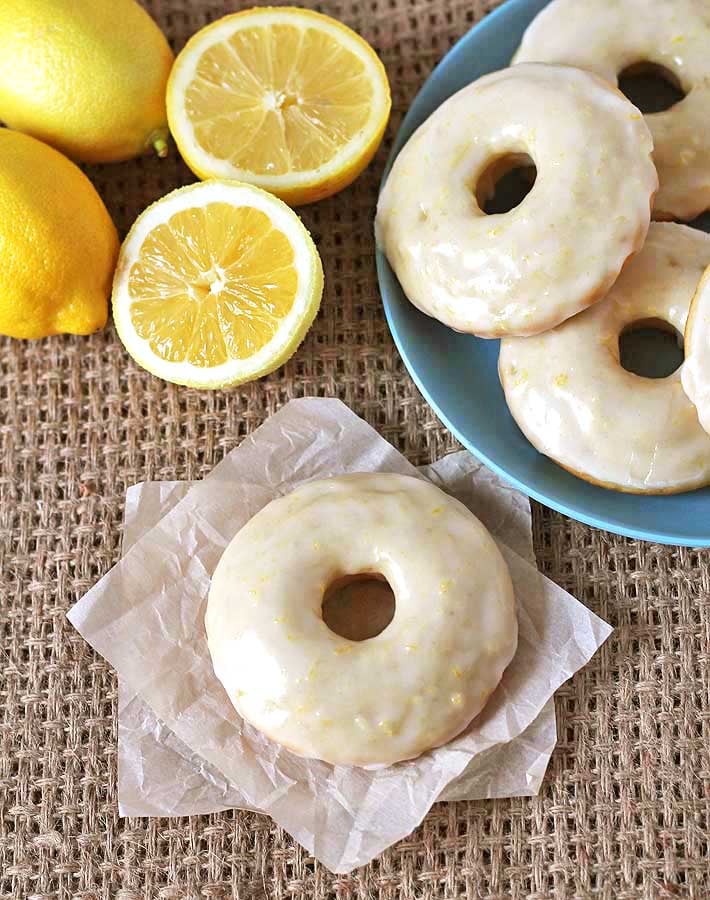 Now let's talk about the doughnuts!
Like my chocolate doughnuts, these took me a few tries to get. More tries than the chocolate doughnuts, actually.
Have you ever heard the saying baking is a science? It's so true.
I originally wanted to use fresh lemon juice in the doughnut batter but they way the acid reacted with some of the other ingredients didn't always produce a great result.
After many tries, I still couldn't get the recipe to work the way I wanted it to with the fresh lemon juice. The doughnuts always tasted delicious and looked perfect, it was the texture that was always off.
I didn't want to share a recipe that I wasn't 100% happy with, so I pivoted a little and tried lemon extract instead of the juice. Thankfully, this change gave me a result that I'm now happy to share.
To me, the lemon glaze makes these doughnuts, so don't skip the glaze!
The doughnuts on their own are delicious but the tangy, sweet, lemony glaze just takes them over the top.
The lemon zest I added to the glaze is optional but it does give a little extra "punch" of lemon flavour.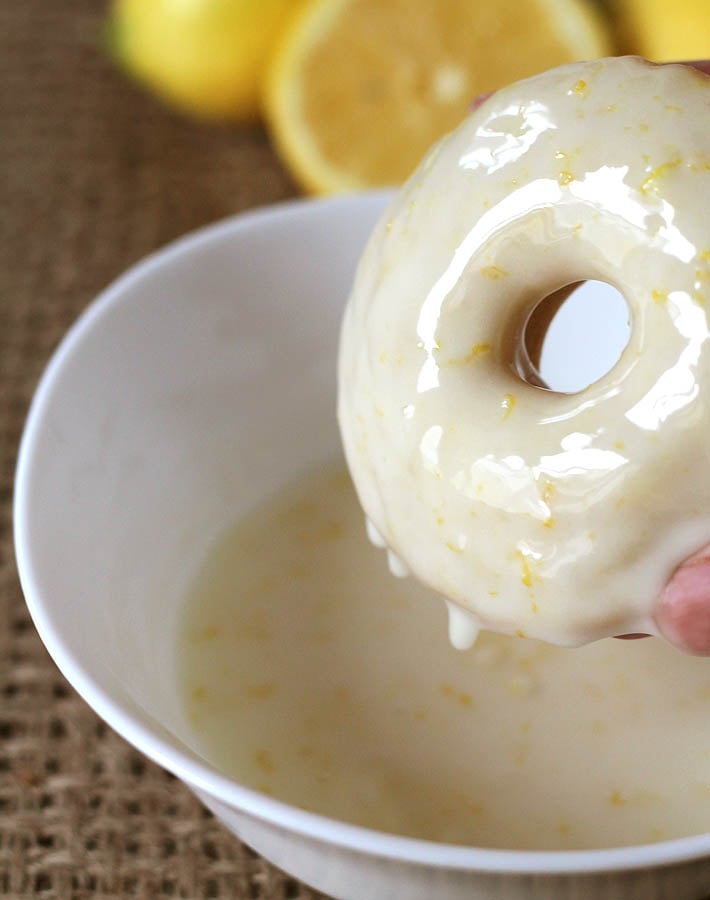 Before you head to the recipe, I wanted to answer a question that I've been asked a lot since I published the last doughnut recipe.
Readers who have never made or eaten baked doughnuts were curious to get a little insight into what they were in for when they made them.
The most asked question I received?
What Do Baked Doughnuts Taste Like?
I went into this a little in the baked chocolate doughnuts recipe.
One important thing to keep in mind is that baked doughnuts are nothing like fried doughnuts. Baked doughnuts are more like cake. Doughnut shaped cakes with sweet glaze on top!
The texture is like cake, they're light, fluffy, and they're a nice alternative if you're aiming to stay away from fried foods.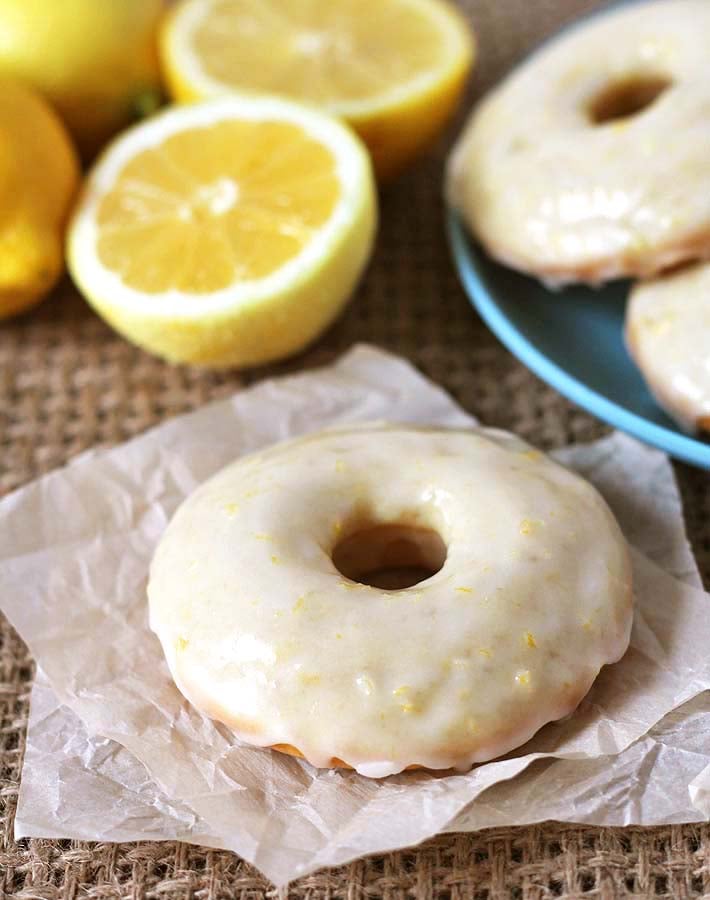 If you have any questions about baked doughnuts, let me know in the comments!
I hope you love these as much as you love the chocolate doughnuts!
If you like this recipe, you may also like these:
And if you make them, let me know in the comments or tag me on Instagram to show me! I'm @delightfuladventures over there.
Vegan Baked Lemon Doughnuts
Tart, but at the same time, sweet! You and your family are going to love these vegan baked lemon doughnuts that can also be make gluten-free.

Ingredients:
For the Doughnuts:
1

tablespoon

ground flax seeds

(I used golden flax seeds, see note below)

3

tablespoons

(45ml)

water

1

cup

(148g)

gluten free flour OR all-purpose flour (

125g

) (see important notes about flour below)

1

teaspoon

baking powder

¼

teaspoon

baking soda

¼

teaspoon

salt

¼

cup

(50g)

sugar

1 ¼

teaspoons

lemon zest

½

cup

(120ml)

unsweetened dairy-free milk

2

tablespoons

(30ml)

melted coconut oil

¾

teaspoon

lemon extract
For the Lemon Glaze:
1

cup

powdered sugar

2

tablespoons

(30ml)

lemon juice

½

teaspoon

lemon zest

(optional)
Instructions:
Preheat oven to 375°F.

Grease your doughnut pan (if needed).

Prepare your flax egg by whisking together ground flax seeds and water. Set aside to thicken.

In a large bowl, whisk the flour, baking powder, baking soda, salt, sugar, and lemon zest.

In a small bowl, mix the milk, melted coconut oil, lemon extract, and flax mixture together.

Pour wet ingredients into dry ingredients and mix well to combine. Don't over mix.


Using a piping bag or a large Ziploc bag (see note below), pipe the mixture into each cavity.

Bake for 10 minutes.

Remove from oven and let the pan sit for a few minutes before removing the doughnuts.

Remove the doughnuts from the pan and place on a cooling rack.
While the doughnuts are cooling, make the glaze:
Add the powdered sugar to a small bowl and add the lemon juice, and lemon zest (if using).

Mix until everything has combined into a liquid glaze.

When the doughnuts have fully cooled (they don't take long!), dip the tops of each doughnut into the glaze. Repeat with all the doughnuts.

Place the doughnuts back onto the cooling rack for the excess glaze to drip off and for the glaze to firm up. (Place a piece of parchment paper under the rack to catch the drips!)

Recipe Notes:
If you are making the vegan gluten-free version, it's important to know that every gluten-free flour blend uses different ingredients and ratios. Results will always vary when different flours are used. I have never used any other brand of flour to make these doughnuts, other than Bob's Red Mill 1 to 1 Baking Flour in the blue bag, NOT the red bag, so please know that your results may not be the same as mine if you substitute with a different gluten free flour.
Coconut flour will NOT work in this recipe.
I used golden flax seeds for this recipe but regular flax seeds can be used if you don't have golden seeds. They both work the same and your results will not be affected based on the type of seeds you use. You'll just have brown (tasteless) specks in your doughnuts!
If you are making the vegan gluten-free version, the batter will be very thick. That's OK! Just pipe it into the pan as-is.
A piping bag is recommended for getting the batter into the pan. If you don't have a piping bag, use a large Ziploc bag and snip off the end to stand in for a piping bag. If you don't have either, carefully spoon the batter into each doughnut cavity.
It's best to eat the doughnuts the same day they were made. The glaze does not hold up well. If you have leftovers, refrigerate them but know that the glaze may melt into the doughnut if kept for too long!
Nutrition info is based on 1 vegan gluten-free doughnut with glaze and is only to be used as a rough guide. Calorie count for 1 doughnut using the vegan only recipe is 211 calories. Click to learn how nutrition info is calculated on this website.
Nutrition Info:
Calories:
232
kcal
|
Carbohydrates:
44
g
|
Protein:
2
g
|
Fat:
5
g
|
Saturated Fat:
4
g
|
Sodium:
150
mg
|
Potassium:
30
mg
|
Fiber:
1
g
|
Sugar:
23
g
|
Vitamin A:
50
IU
|
Vitamin C:
3.3
mg
|
Calcium:
40
mg
|
Iron:
0.4
mg
Did You Make This Recipe?
If so, please share a picture with me on Instagram! Tag @delightfuladventures and hashtag #delightfuladventures. I can't wait to see!