Maple doughnuts that can be made vegan OR vegan and gluten-free! The spices and the maple-glaze make these baked doughnuts extra special and perfect to bake up for a special treat.
This page contains affiliate links. Click to learn more.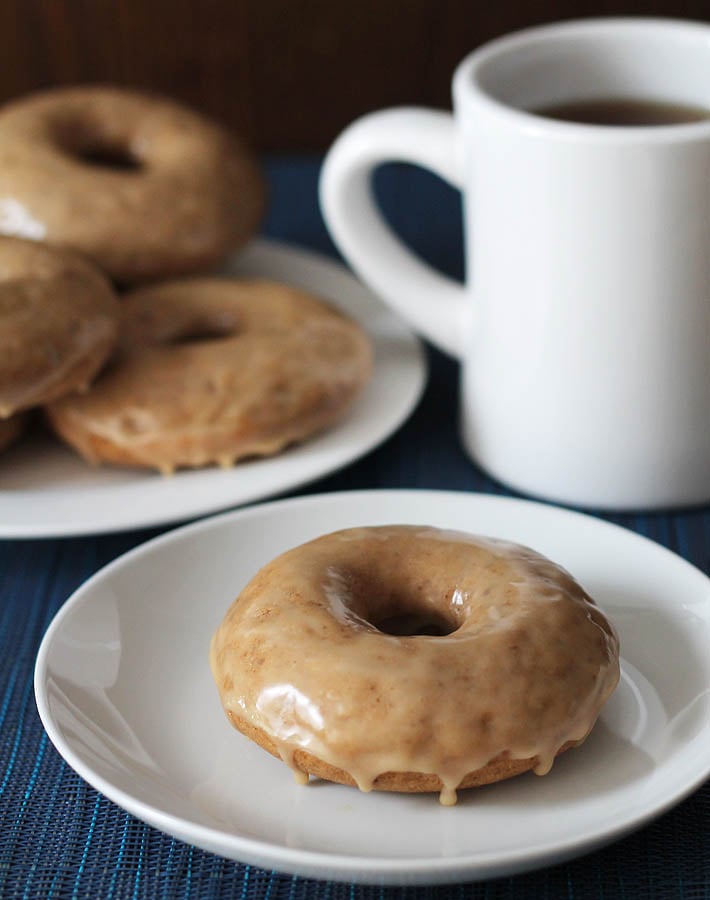 Here in Canada, maple season officially runs for a few weeks, usually starting in late winter and sometimes into the spring, depending on the weather.
But, any time is a good time to enjoy a maple dessert, isn't it?
I'm not sure if maple-glazed doughnuts are a big thing outside of Canada, are they? If you live outside of Canada and have them available where you are, let me know, I'm curious!
Maple doughnuts that you can buy at the doughnut shops, here in Canada, are fried, unflavoured yeast doughnuts and the glaze is a thick, maple flavoured coating. The two pair perfectly together. I wanted to create something inspired by that doughnut…and I did!
However, since these vegan doughnuts are baked, and not fried, I had a blank slate to work with.
I didn't want to make just a plain vegan doughnut with maple glaze, so I chose to make a baked doughnut that was filled with warm spice flavours (cinnamon and nutmeg) that would pair well with maple.
And like the original doughnut shop maple doughnut, I didn't add any maple syrup to the actual doughnut, I saved it all for the sweet glaze.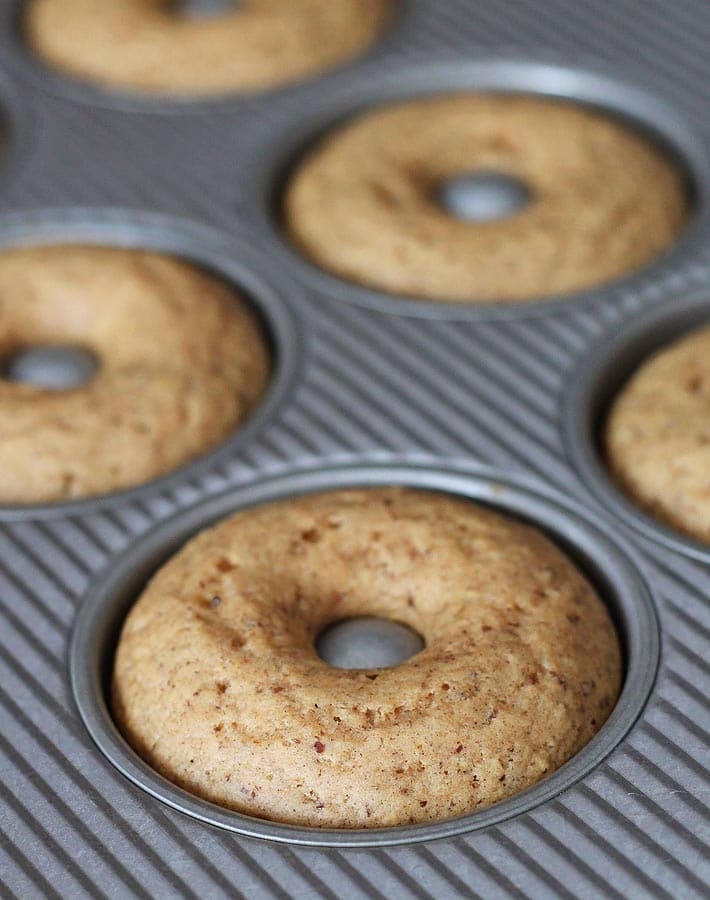 How to make maple doughnut glaze
When I first started testing the glaze for these vegan maple doughnuts, I used powdered sugar, maple syrup, and non-dairy milk. But the maple syrup flavour wasn't coming through, at all.
After several tries, I realized I needed to make the maple glaze with a 2:1 powdered sugar to maple syrup ratio and leave the milk out. This brought out the maple flavour nicely and made these gluten free maple doughnuts perfect.
Just look at them! Don't you want to grab one?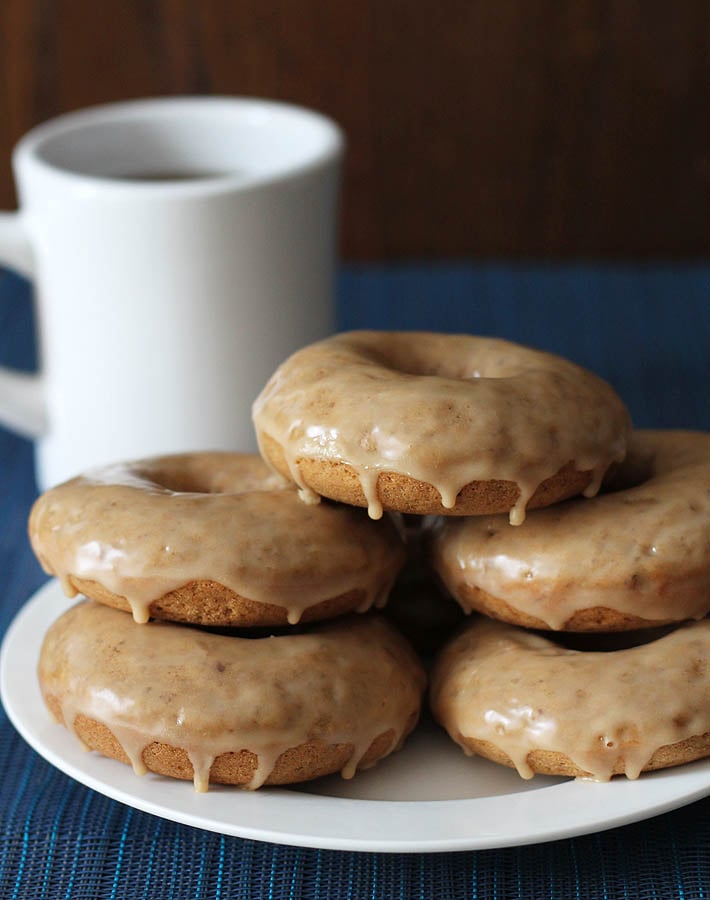 The maple flavour in the glaze is subtle but it's there just enough for you to know it's a maple doughnut. However, if you want to enhance the maple flavour a bit more, you can use a little maple extract, but I don't find it necessary.
Just like all of my other vegan doughnut recipes, this one is also nice to serve at a big family breakfast, a brunch, during the holidays, during maple season, or…just because.
Who needs an excuse to have a doughnut? Definitely not me!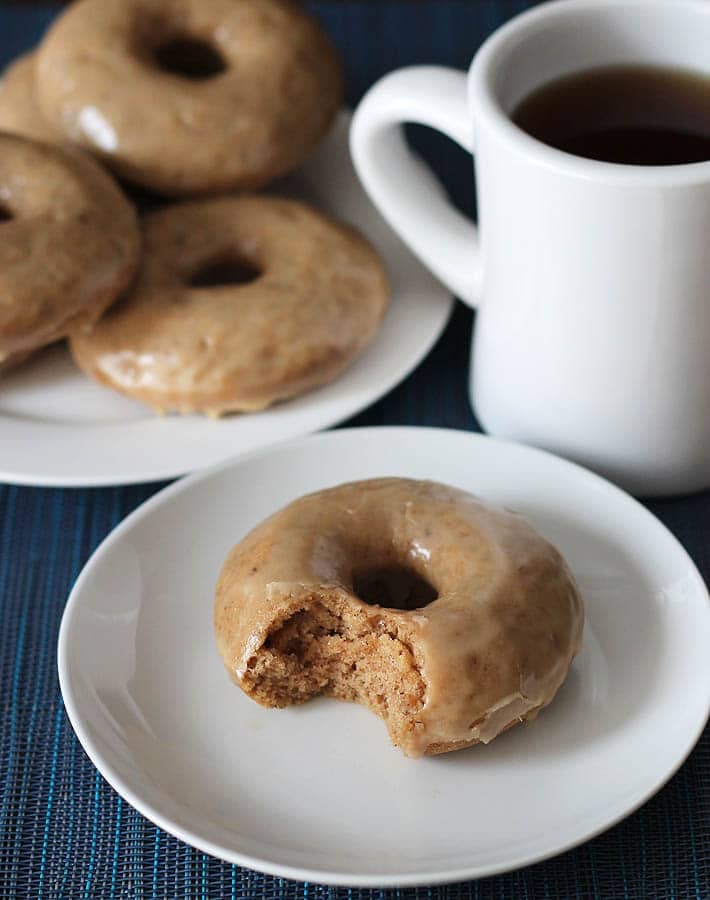 And as mentioned above, I've included directions on how to make vegan maple doughnuts and vegan gluten-free maple doughnuts. Full details below! (FYI, the doughnuts in the pictures above are the vegan version).
If you like these doughnuts with maple glaze, you may also like these other recipes:
Be sure to pin this recipe to Pinterest so you have easy access to it, and if you make them, share a picture with me on Instagram and tell me which version you made! Tag me, I'm @delightfuladventures and my hashtag is #delightfuladventures.
This page contains affiliate links. Click to learn more.
How to Make Vegan Gluten-Free Maple Doughnuts