Maple doughnuts that can be made vegan OR vegan and gluten-free! The spices and the maple-glaze make these baked vegan doughnuts extra special and perfect to serve to family and friends.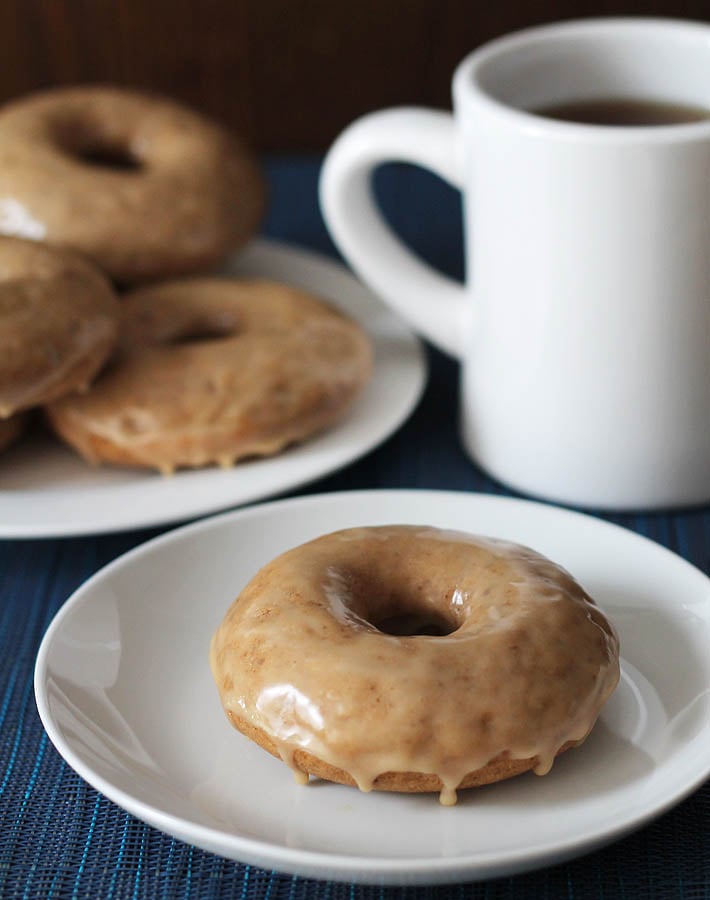 Here in Canada, maple season officially runs for a few weeks, usually starting in late winter and sometimes into the spring, depending on the weather.
But, any time is a good time to enjoy a good maple recipe, isn't it? (Like these maple glazed almonds, or these maple granola clusters!)
I'm not sure if maple-glazed doughnuts are a big thing outside of Canada, are they? If you live outside of Canada and have them available where you are, let me know, I'm curious!
Baked Vegan Doughnuts
The maple doughnuts you'd buy at the doughnut shops, here in Canada, are fried, unflavoured yeast doughnuts and the glaze is a thick, maple flavoured coating. The two pair perfectly together.
I wanted to create something inspired by that doughnut...and I did!
However, since these vegan doughnuts are baked, and not fried, I had a blank slate to work with for my maple doughnuts recipe.
The Maple Glaze and Spices Make These Gluten Free Baked Doughnuts Special
I didn't want to make just a plain vegan doughnut with maple glaze, so I chose to make a baked doughnut that was filled with warm spice flavours (cinnamon and nutmeg) that would pair well with maple.
And like the original doughnut shop maple doughnut, I didn't add any maple syrup to the actual doughnut, I saved it all for the sweet glaze.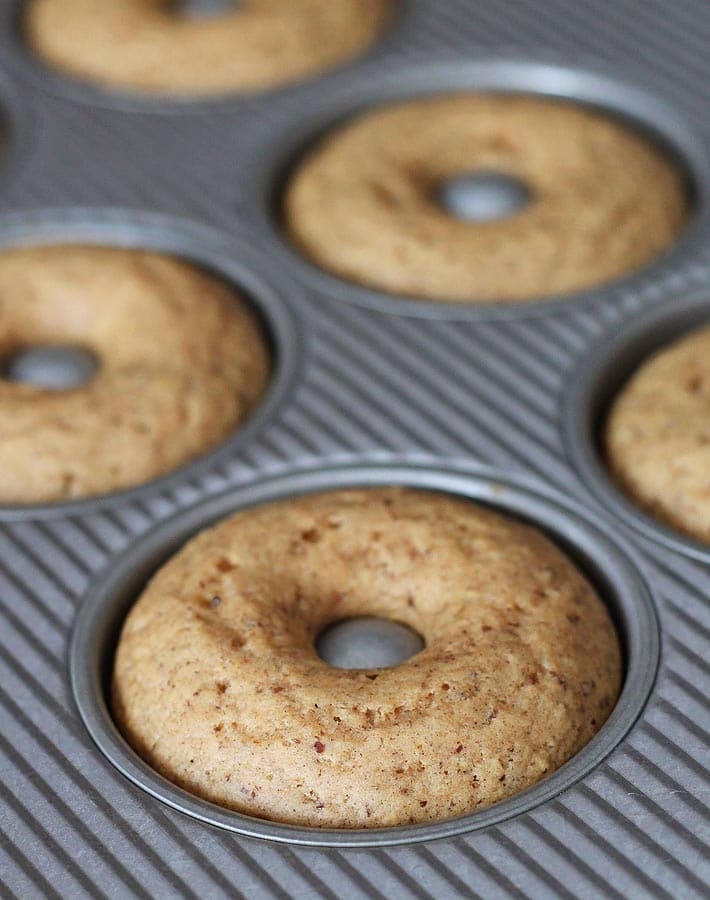 How to Make Maple Doughnut Glaze
When I first started testing the maple glaze for these vegan maple doughnuts, I used powdered sugar, maple syrup, and non-dairy milk. But the maple syrup flavour wasn't coming through, at all.
After several tries, I realized I needed to make the maple glaze with a 2:1 powdered sugar to maple syrup ratio and leave the milk out. This brought out the maple flavour nicely and made these gluten free maple doughnuts perfect.
Just look at them! Don't you want to grab one?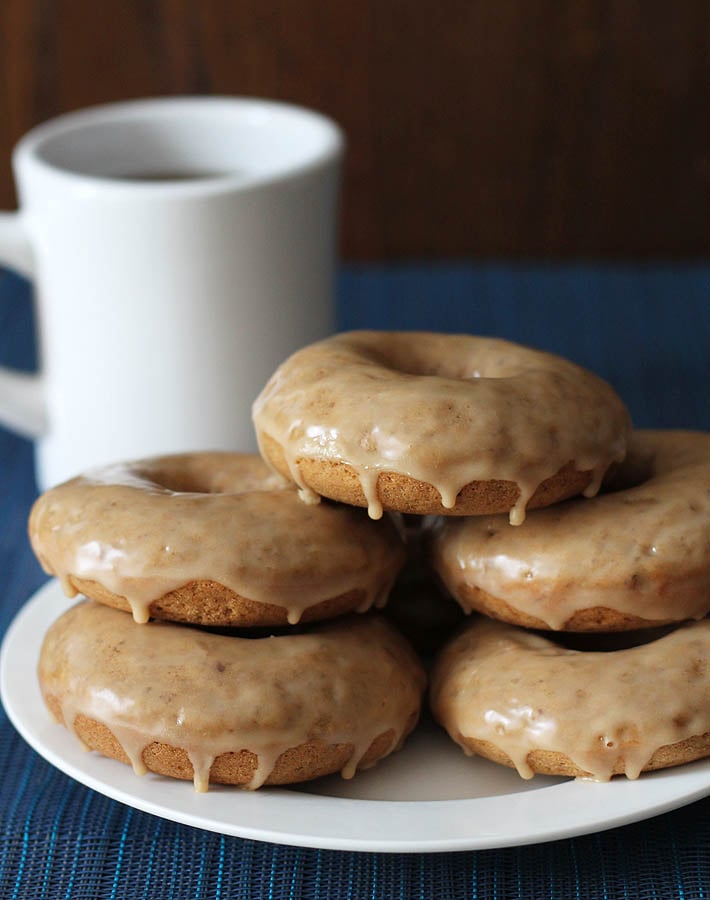 The maple flavour in the glaze is subtle but it's there just enough for you to know it's a maple doughnut.
However, if you want to enhance the maple flavour a bit more, you can use a little maple extract, but I don't find that necessary.
Just like all of my other vegan doughnut recipes, this one is also nice to serve at a big family breakfast, a brunch, during the holidays, during maple season, or...just because.
Who needs an excuse to have a doughnut? Definitely not me!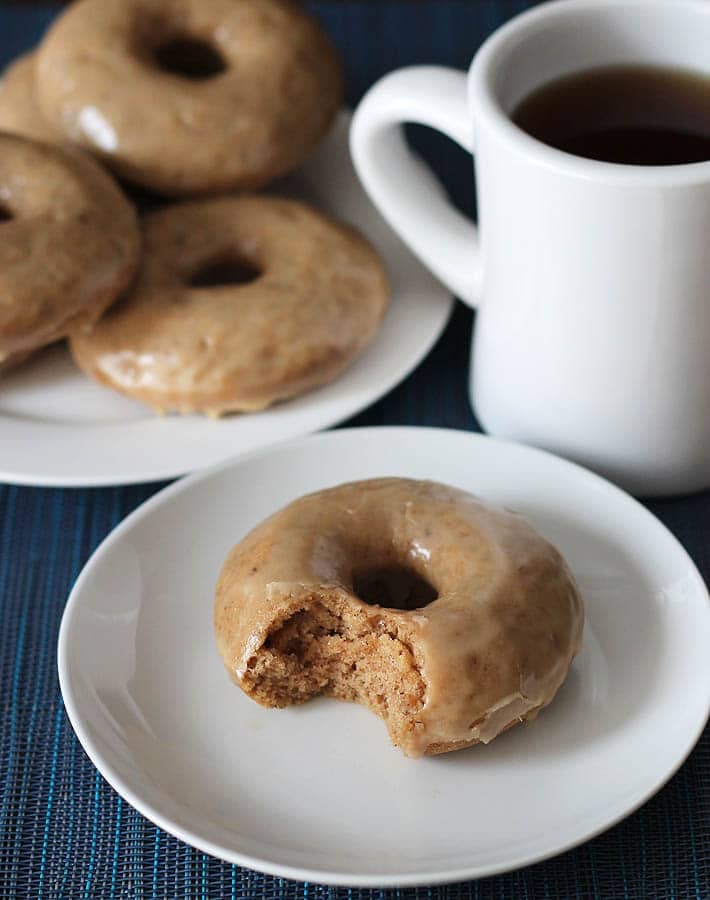 What Type of Flour Should be Used to Make These Baked Vegan Doughnuts?
As mentioned above, I've included directions on how to make vegan maple doughnuts AND vegan gluten-free doughnuts. (FYI, the doughnuts in the pictures above are the vegan only version).
I've only tested this recipe with all purpose flour and Bob's Red Mill Gluten Free 1 to 1 Baking Flour (the one in the blue bag, NOT the red bag).
I did try the Bob's Red Mill all-purpose gluten-free flour (with the red label), but I was not happy with the results. The recipe may work well with other gluten-free flour blends, but since I have not tested with them, I cannot guarantee the results.
If you do try another flour, let me know how it worked out in the comments below!
And finally, a reminder...
...that this gluten-free baked doughnut recipe is allergy-friendly, 100% egg-free, dairy-free, gluten-free and wheat-free (if you make the gluten-free version!), and 100% delicious (and the best 🙂 )
If you like these gluten free doughnuts with maple glaze, you may also like my other vegan baked doughnut recipes:
Baked Maple Doughnuts (Vegan + Gluten-Free)
Maple doughnuts that can be made vegan or vegan and gluten-free! The spices and the maple-glaze make these baked doughnuts extra special and perfect to serve as a special treat.
Instructions:
Preheat oven to 375°F (190°C).

In a large bowl, whisk the flour, baking powder, baking soda, salt, sugar, cinnamon, and nutmeg.

In a small bowl, mix the milk, melted coconut oil, vanilla extract, and flax mixture together.

Pour wet ingredients into dry ingredients and mix well to combine. Don't over mix.


Using a piping bag or a large Ziploc bag (see note below), pipe the mixture into each cavity of your doughnut pan.

Bake for 10 minutes.

Remove from oven and let the pan sit for a few minutes before removing the doughnuts.

Remove the doughnuts from the pan and place on a cooling rack.
While the doughnuts are cooling, make the glaze:
Add the powdered sugar to a small bowl, add the maple syrup, and maple extract (if using).

Mix until everything has combined into a liquid glaze.

When the doughnuts have fully cooled (they don't take long!), dip the tops of each doughnut into the glaze. Repeat with all the doughnuts.

Place the doughnuts back onto the cooling rack for the excess glaze to drip off and for the glaze to firm up. (Place a piece of parchment paper under the rack to catch the drips!)

Recipe Notes:
If you are making the vegan gluten-free version, it's important to know that every gluten-free flour blend uses different ingredients and ratios. Results will always vary when different flours are used. I have never used any other brand of flour to make these doughnuts, other than Bob's Red Mill 1 to 1 Baking Flour (with the blue label, NOT the red), so please know that your results may not be the same as mine if you substitute with a different gluten free flour.
If you are making the vegan gluten-free version, the batter will be very thick. That's OK! Just pipe it into the pan as-is.
Coconut flour will NOT work in this recipe.
Coconut sugar can be used instead of regular sugar in the doughnut batter, they will just be a little darker.
Maple extract is optional and only necessary if you want to enhance the maple flavour in the glaze. If using, start out by adding ¼ teaspoon and taste. If you want more maple flavour, add another ¼ teaspoon. The maple extract I link to in the recipe is vegan.
If you prefer a thicker maple glaze, use 3 tablespoons of maple syrup (instead of the ¼ cup listed in the recipe).
A piping bag is recommended for getting the batter into the pan. If you don't have a piping bag, use a large Ziploc bag and snip off the end to stand in for a piping bag. If you don't have either, carefully spoon the batter into each doughnut cavity.
It's best to eat the doughnuts the same day they were made. The glaze does not hold up well. If you have leftovers, refrigerate them but know that the glaze may melt into the doughnut if kept for too long!
Nutrition info is based on 1 vegan gluten-free doughnut with maple glaze and is only to be used as a rough guide. Calorie count for 1 doughnut using the vegan only recipe is 218 calories. Click to learn how nutrition info is calculated on this website.
Nutrition Info:
Serving:
1
doughnut
|
Calories:
238
kcal
|
Carbohydrates:
46
g
|
Protein:
2
g
|
Fat:
5
g
|
Saturated Fat:
4
g
|
Polyunsaturated Fat:
1
g
|
Sodium:
160
mg
|
Potassium:
26
mg
|
Fiber:
1
g
|
Sugar:
25
g
|
Vitamin A:
50
IU
|
Calcium:
50
mg
|
Iron:
0.4
mg
Did You Make This Recipe?
If so, please share a picture with me on Instagram! Tag @delightfuladventures and hashtag #delightfuladventures. I can't wait to see!