Easy baked cinnamon apple slices are the perfect, warm dessert to make when you want something that isn't too heavy, isn't too sweet, and of course, delicious!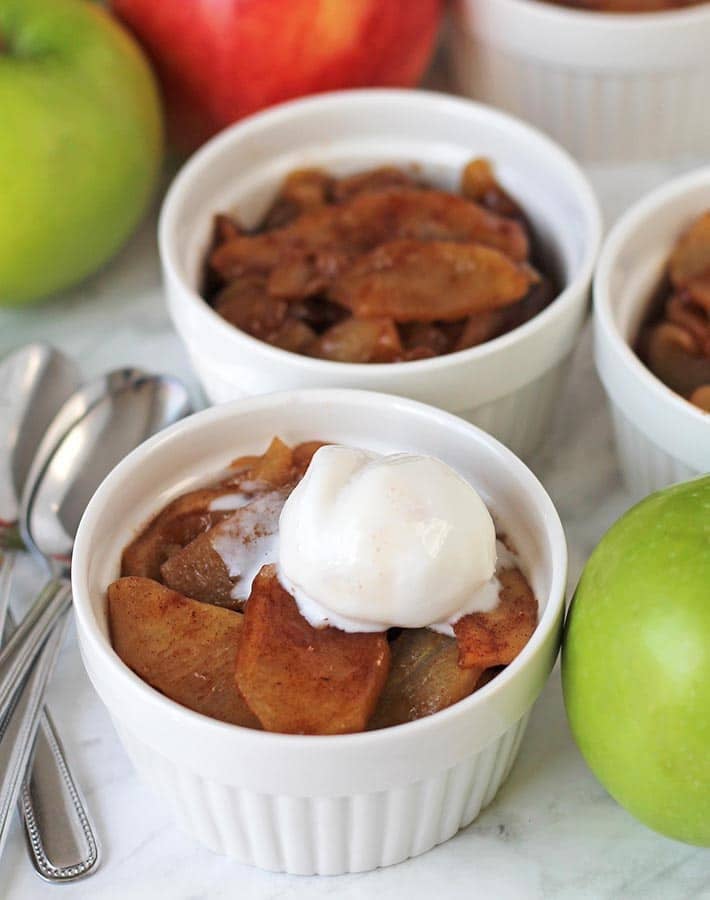 You know when you want a little something sweet after a meal or for a snack, but you want something that's on the lighter side, too? (This recipe is oil-free and refined sugar free (if you use coconut sugar!))
It's totally possible to have mouthwatering desserts that won't weigh you down and make you feel like you overdid it, and these baked cinnamon apple slices are proof of that. (You should also check out my dark chocolate mint avocado pudding, another tasty example!)
The stars of this easy vegan dessert are apples and cinnamon...a classic pair that match so well together, like in my vegan apple crisp, vegan apple galette, vegan apple bread and vegan baked apples!

Apple Pie...without the Crust!
You can think of these baked apple slices with cinnamon as the inside of apple pie...without the crust. A crustless apple pie.
Don't get me wrong, I love a good pie crust, but this dessert allows you to get all the tasty, juicy, warm parts of an apple pie, right away. It's a quick way to get your apple pie fix!
And it's SO EASY to make.
How Do You Make Sliced Baked Apples with Cinnamon?
(Note: I've outlined the step-by-step here, but find the full recipe and directions for my sliced baked apples at the end of this post)
First, you'll want to peel the apples, then cut them into quarters. After that, remove the cores, and then slice.
Next, place the apples in your baking dish, toss with the liquids and the spices, cover the dish with foil, and bake. I like to also add ground ginger and nutmeg sometimes, but those spices are optional, the cinnamon on its own does a great job!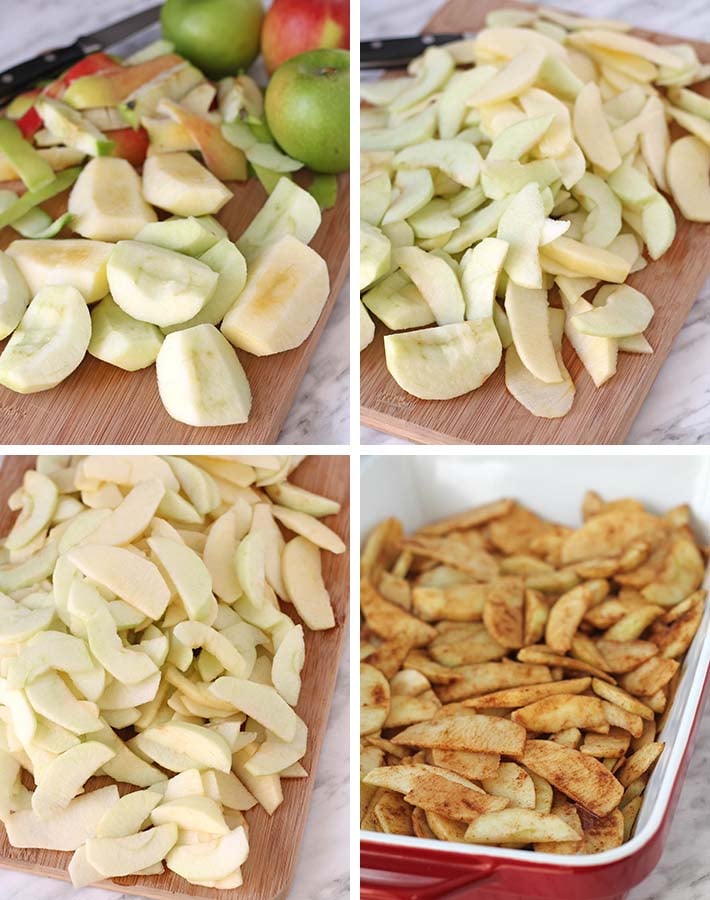 How Thin Should the Apples Be Sliced?
When slicing the apples, you don't want to slice them too thinly or too thick. The reason for this is you want the slices to hold their shape after they have baked. You also need to slice them evenly, so they all finish cooking at the same time.
It's okay if you have a few that are thinner or thicker than the rest, (it's hard to get them all cut at the same thickness!), the important part is that the majority of them are the same and that you're aiming for a thickness equal to, or slightly thicker, than this:
After your easy baked cinnamon apple slices have finished in the oven, the apples will have caramelized beautifully and have created a little bit of sauce. The apples will also still have a slight bit of an al dente bite to them, but be soft, warm, and perfectly spiced.
Let the apples sit for a bit in the dish to cool and then they'll be ready to serve!
How to Serve Your Baked Apple Slices
You can serve them plain, like in the image below and they're wonderful, just like that. Depending on the apples you use, this dessert isn't overly sweet. It has a touch of natural sweetness from the apples and then a little added sweetness from the coconut sugar.
The apple slices stand well on their own, but you can also top them with a little something extra, like:
your favourite ice cream (I like to have them with vanilla coconut ice cream!)
Not only are they good topped with a little something extra (like in the picture below!), they're also good AS a topping. You can also serve your baked apple and cinnamon slices as a topping on the following: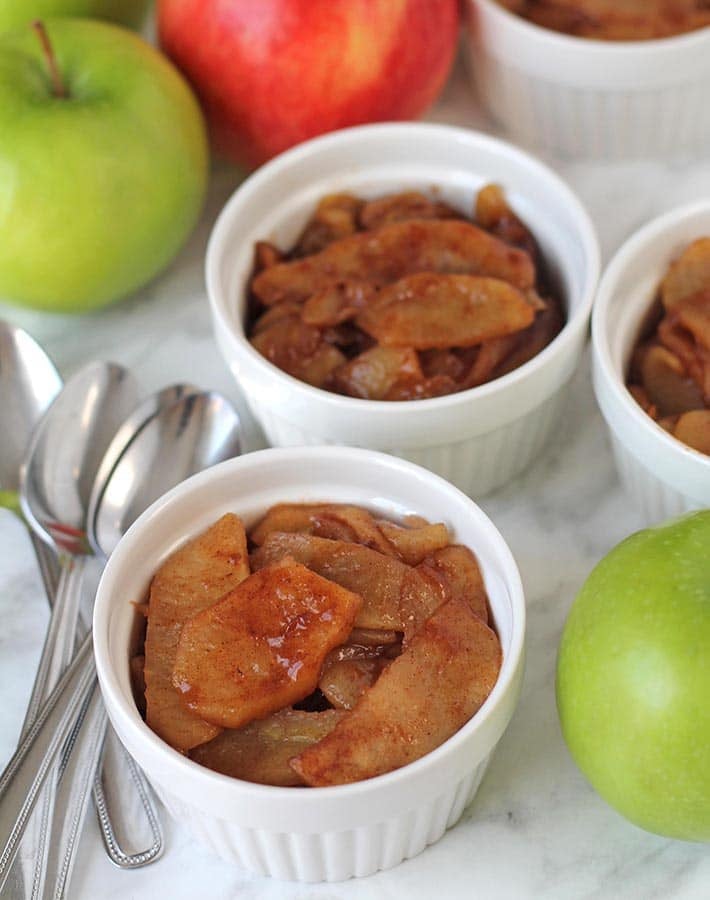 What is the Best Apple to Use for Baked Apple Slices?
Any apples that would be good for pie will be good for this recipe. You want to get apples that are firm and will hold their shape after baking and won't get mushy after baking. Apples such as: Granny Smith, Gala, Ambrosia, Pink Lady, Braeburn, Honeycrisp, Mutsu, or Golden Delicious all work well.
When I make this recipe, I like to use a mix of sweet and tart apples (I usually use Granny Smith, along with Ambrosia or Gala). Tart apples mixed with a few less tart apples seems to be the best combo for this recipe.

Feel free to play around with using just one type of apple and using different apple combinations to see what you like best, based on what's available in your area and what's in season. Try to stick with apples that are not overly sweet.
Read this article for more info on the best apples for baking.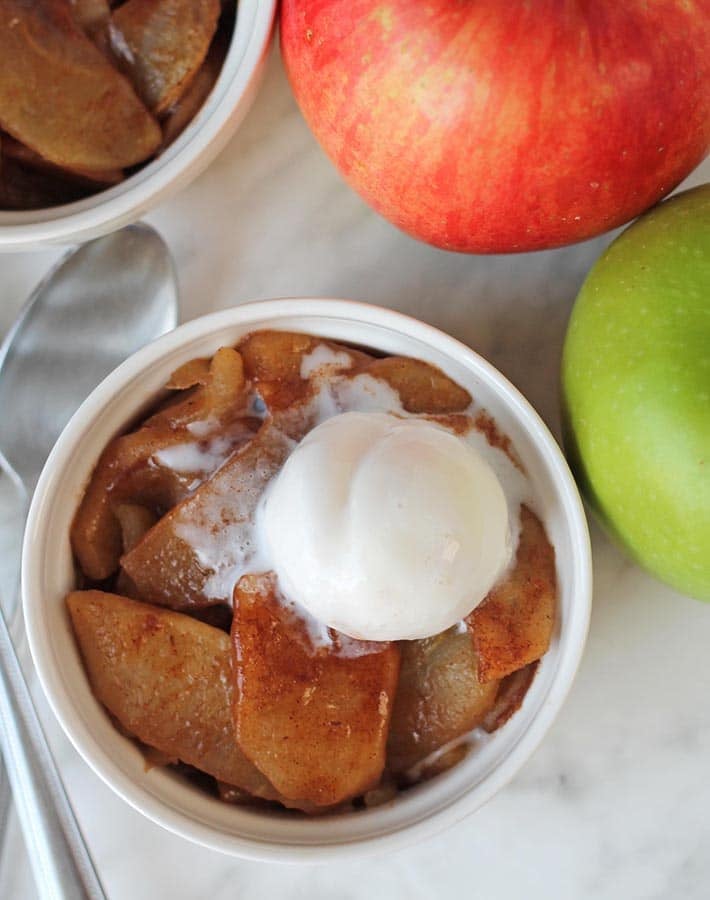 If you make this baked apple slices recipe, tell me! You can do so by leaving a comment below or posting a pic on Instagram and tagging me.
You can also help me to help others find this baked apple slices recipe by pinning it to your recipe board on Pinterest!
Pin it now by clicking here.
If you like these baked apple slices, you may also like these:
How to Make Baked Cinnamon Apple Slices
Baked Cinnamon Apple Slices
Easy baked cinnamon apple slices are the perfect warm dessert to make when you want something that isn't too heavy, too sweet, is oil-free, and delicious!
Ingredients:
4

Granny Smith apples

peeled, cored, and sliced (see above for other apple suggestions)

2

Ambrosia or Gala apples

peeled, cored, and sliced (see above for other apple suggestions)

2

tablespoons

water

1

tablespoon

lemon juice

¼

cup

coconut sugar

or brown sugar

1

tablespoon

arrowroot starch

or cornstarch

1 ½

teaspoons

ground cinnamon

½

teaspoon

ground ginger

(optional)

¼

teaspoon

ground nutmeg

(optional)

⅛

teaspoon

sea salt
Instructions:
Preheat oven to 350° degrees F (177 C).

Add sliced apples to a 9 x 13 inch baking dish


Mix coconut sugar, arrowroot starch, ground cinnamon, ground ginger (if using), ground nutmeg (if using) and sea salt in a small bowl until combined.


Pour water and lemon juice over apples and toss to combine.


Add sugar mixture to the apples and toss to combine.


Cover baking dish loosely with foil and bake for 30-35 minutes, until apples are soft and have caramelized.


Remove from oven and let sit until warm. Serve plain, or with your favourite topping.

Recipe Notes:
Cool and store leftovers in an airtight container in the refrigerator for up to 3 days.
Nutrition info is for 1 of 5 servings using coconut sugar, arrowroot starch and no optional spices or toppings. Data is only to be used as a rough guide. Click here to learn how nutritional info is calculated on this website.
Nutrition Info:
Serving:
0.5
cup
|
Calories:
158
kcal
|
Carbohydrates:
40
g
|
Sodium:
41
mg
|
Potassium:
183
mg
|
Fiber:
6
g
|
Sugar:
34
g
|
Vitamin A:
150
IU
|
Vitamin C:
12.4
mg
|
Calcium:
20
mg
|
Iron:
0.4
mg
Did You Make This Recipe?
If so, please share a picture with me on Instagram! Tag @delightfuladventures and hashtag #delightfuladventures. I can't wait to see!