Sweet strawberries and tart rhubarb combine in this vegan strawberry rhubarb crisp everyone will love. It's gluten-free, super easy to make, and, of course, it delicious. You can serve it plain, or you can top however you'd like! Read on for all the details.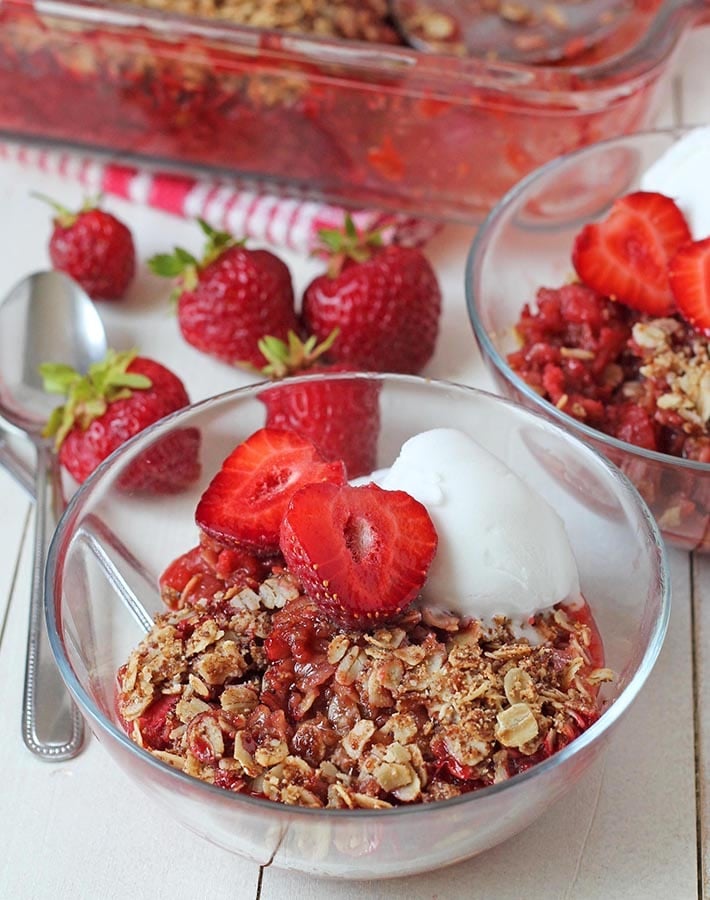 It has to be clear by now how much I love vegan crisp recipes! This is the latest in my collection, previous to this, I've shared the following:
But today, it's all about this vegan strawberry rhubarb crisp recipe. But first…
Have you ever even tried rhubarb?
I didn't until a few years ago and if you've waited this long to try it too, this is a great recipe to introduce yourself to it. But let's talk about what rhubarb is, first, just in case you aren't familiar with it.
What is Rhubarb?
Technically, rhubarb is a vegetable and not a fruit…which is a little strange when you think of it being in a sweet dessert, but trust me, it works so well.
Rhubarb looks like celery, rosy coloured celery (see the picture below).
Rhubarb leaves are toxic, however, if you buy it from a grocery store, they come trimmed, so you won't have to deal with the leaves. If you've grown it yourself, bought it from a farmer's markets, or are gifted a bunch from a generous friend or family member with a garden fill of rhubarb, keep that in mind.
Rhubarb season is short, you can find it in the spring all the way until early summer (April to June-ish where I live in Canada) but you can buy it frozen or buy it fresh and freeze it yourself.
And the taste…
Rhubarb is very tart. Like…really tart. It's not something you'd eat on its own like you can with strawberries, it needs to be combined with something else that's sweet.
After you slice it up for this recipe, taste a piece and you'll see! This is why rhubarb and strawberry work so well together, the sweet balances the sour very well. They're the perfect flavour partners. (You can learn more about rhubarb here.)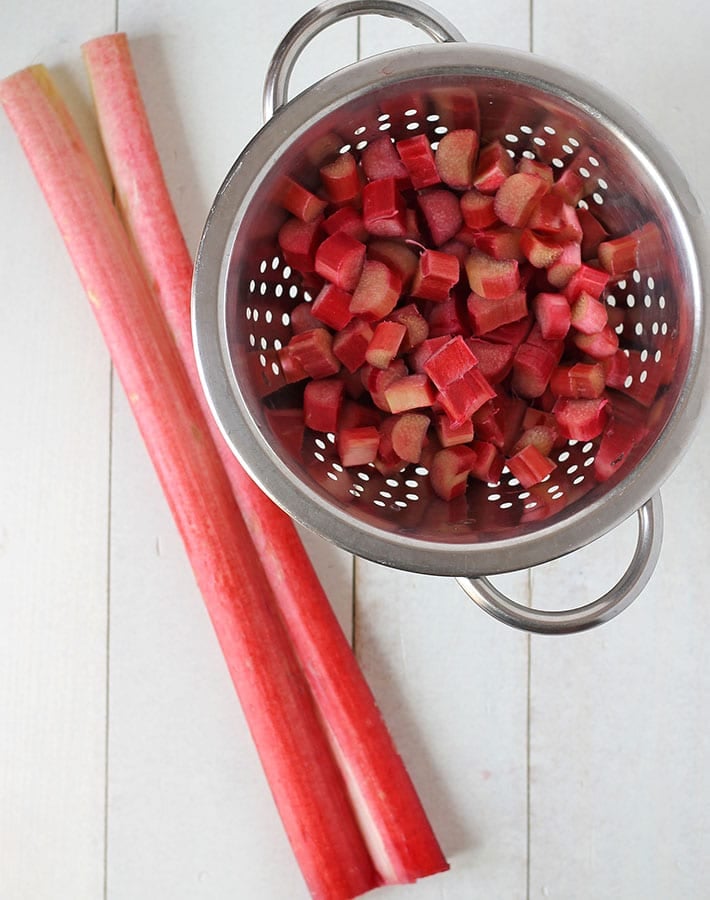 So, let's talk about this rhubarb dessert recipe, shall we?
How to Make It
(Note: I've outlined the step-by-step on how to make this recipe here, but find the full recipe, ingredients, and directions at the end of this post.)
To make this strawberry rhubarb crisp vegan, all ingredients are vegan/dairy free (like every other recipe on this website) and to make it gluten free, I use gluten free rolled oats and homemade gluten free oat flour (learn how to save money by making your own oat flour!)
In the pictures below, you'll see there are two parts to this recipe: the fruit mixture and the oat crisp topping.
This recipe is as simple as mixing all the fruit mixture ingredients together, adding it to your baking dish, mixing the oat topping together, sprinkling it on top of the fruit mixture and then bake!
While it bakes, the strawberries and rhubarb cook down and their sweet and tart flavours mix together to create a mouthwatering, flavour-filled, summery dessert you'll look forward to making every rhubarb season.
After your crisp has finished baking, allow it to cool before digging in and serve it warm with the topping of your choice (or no topping at all!) It's so good, either way.
Can This Recipe Be Made As Individual Servings?
I show how to make this recipe in an 8 x 8 baking dish, but I also give directions in the recipe below on how to also make them in individual serving ramekins, which is quicker for serving and great for presentation.
The ramekins I use are 8oz each and you can buy them here.
Can Frozen Strawberries Be Used? How About Frozen Rhubarb?
If you're reading this recipe when these fruits are not in season, but you still must make it, I have great news.
Yes, frozen strawberries and rhubarb can be use to make this treat with one slight modification to the arrowroot starch measurement to account for the extra moisture that will release while baking. Details are below in the recipe notes.
Can a Different Sweetener Be Used?
I use organic cane sugar in the strawberry rhubarb mixture because the flavour is neutral, however, coconut sugar or brown sugar can be used instead of cane sugar.
I have not tested with any liquid sweeteners, like maple syrup or agave syrup. They would work, but since I have not tested with them, I can't give instructions on how to substitute and how to adjust the other ingredients to work with the extra liquid they would be adding to the recipe.
I use coconut sugar in the oat topping. Brown sugar may be used instead if you don't have coconut sugar.
How to Serve
Serving it plain is perfectly fine, a topping is not necessary, but if you want to take it up a notch, serve with coconut whip, your favourite ice cream, or fresh strawberries.
(I love serving it with a vegan coconut ice cream and strawberries like in my pictures!)
Can It Be Made In Advance?
I recommend serving it freshly baked and cooled until it's warm, but if you need to make it ahead of time, go ahead, but warm it up again before serving.
How to Store
If you have leftovers (what?!) cool it off fully and store it in an airtight container or in a container covered with wrap in the refrigerator.
As time goes on, the oat topping will pull in some of the moisture from the strawberry rhubarb mixture, which will result in a mushy dessert. So the sooner you eat it, the better.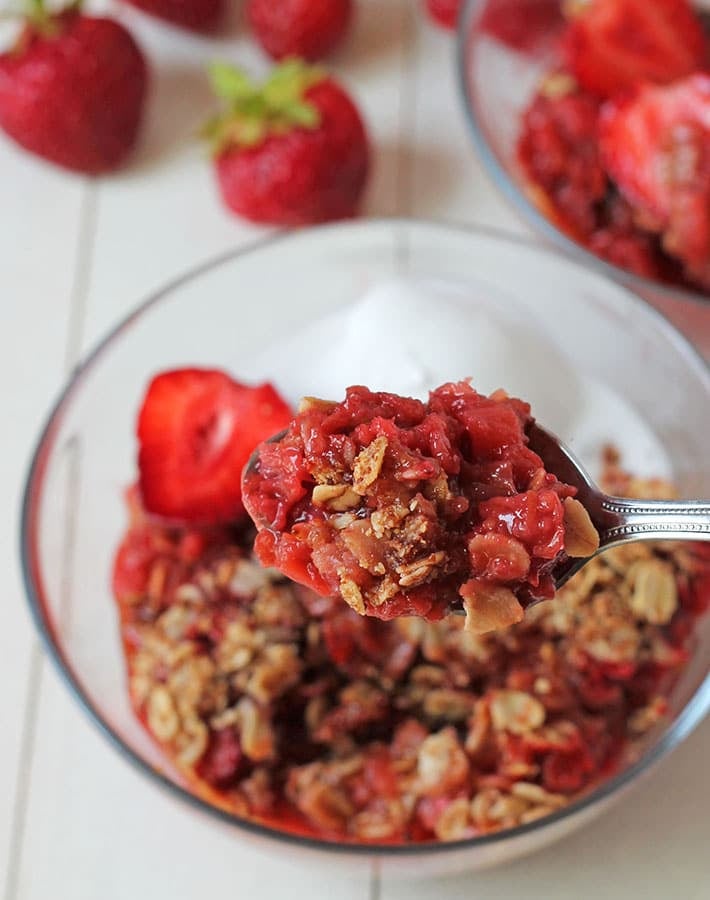 If you make this gluten free strawberry rhubarb crisp, let me know in the comments below! Or, you can also post a pic to Instagram and tag me so I can see. And tell me if you'd like to see more vegan gluten free rhubarb recipes here 🙂
If you like this recipe, you may like these other vegan strawberry recipes:
And you may also like these other berry recipes: