A simple recipe for perfectly spiced vegan apple cider doughnuts that are baked, not fried and then dipped in cinnamon sugar to take them over the top.
This recipe can be made just vegan or vegan AND gluten-free, it's up to you, instructions for both versions are included. Keep reading for all the apple spice-y details!
Another doughnut recipe? Well, of course! You already know I love sharing vegan doughnut recipes with you, and now, we're up to EIGHT different recipes! Have you seen the others yet? All of them are egg-free, dairy-free, and if you want, gluten-free, too:
Since I didn't have vegan apple doughnuts recipe yet, there's no better time than any to add one to the collection.
Why Will YOU Love Them?
They're SO easy to make, they're fun, they're baked (not fried), they're made as a small batch, and the best part is that they're infused with delicious, warm apple and spice flavours.
These vegan apple cider doughnuts are PERFECT to make during the fall and holiday season when apple cider is easy to find. If you've never baked with apple cider before, you're in for a treat!
Are you new to vegan gluten-free baking? If so, be sure to read all of my vegan gluten-free baking tips!
Ingredients You'll Need
Like all of my doughnut recipes, you can make these just vegan or vegan AND gluten-free.
If you want to make your apple cider donuts gluten free, you'll need a vegan gluten-free flour blend (I used Bob's Red Mill in the blue bag). If you don't need them to be gluten-free, you can use regular all purpose flour.
NOTE: No matter which type of flour you use, always measure it correctly for the best results!
In addition to the flour, you'll need unsweetened apple cider (see below for more information about this ingredient), oil, vanilla, sugar, a flax egg, baking soda, baking powder, salt, cinnamon and nutmeg.
And you will also need a doughnut pan, if you're looking to buy one, this is the one I have (<-- that's an Amazon Link). I love it and highly recommend it.
What Kind of Apple Cider Do I Need for This Recipe?
First, you want to make sure you're using apple cider and NOT apple cider vinegar. They are not the same and the recipe will not work if you use apple cider vinegar.
You also do not want to use the type that contains alcohol (known as hard cider) or any type that is carbonated. You also don't want the type that is mulled and contains spices.
The apple cider you need to use will contain ONE ingredient: Apples. No sugar and no spices, or anything else added.
And note that there are some apple juice brands that refer to their regular apple juice as apple cider, so be aware of that.
How to Make Them
(Note: I've outlined the step-by-step on how to make this recipe here, but find the full recipe, ingredients, and directions at the end of this post.)
The method to make these doughnuts is the same as all my others.
Mix the dry ingredients, mix the wet ingredients, combine the two and then pipe the batter into your doughnut pan.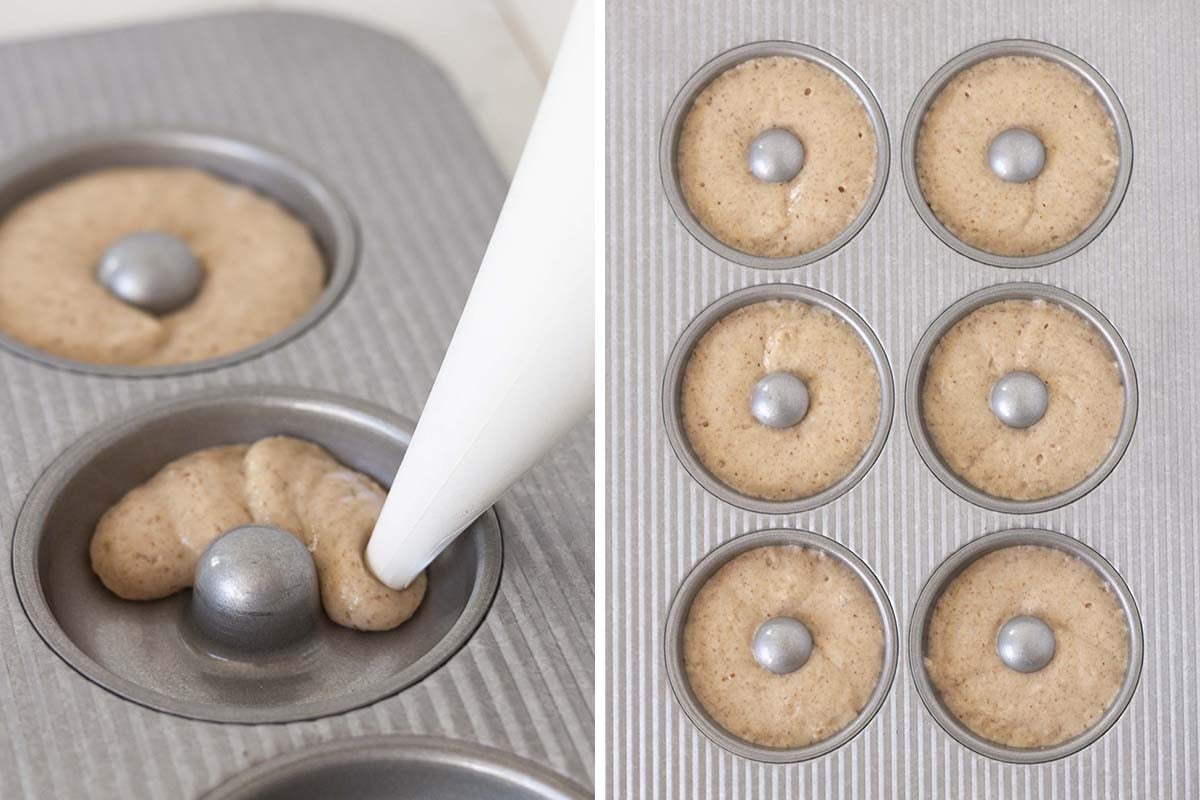 After they've finished baking, while they're cooling, you can mix together the sugar topping, which is just sugar and cinnamon. I didn't want to add even more spices to the topping because I wanted the apple cider flavour to shine through.
Once the doughnuts have cooled, one at a time, brush with melted coconut oil or melted vegan butter and dip the doughnut into the sugar mixture.
And now, your vegan cider doughnuts are done, that's it!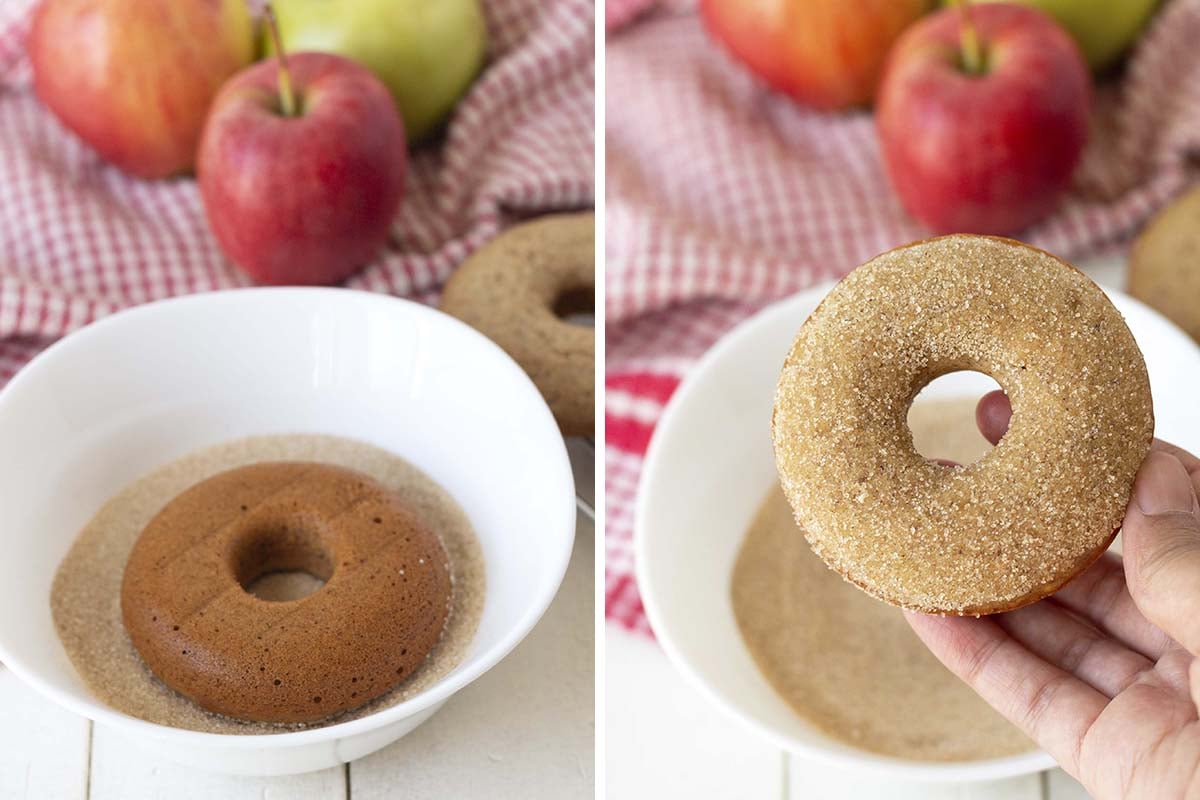 What's the Texture Like?
The wheat version (the doughnut on the bottom in the image below) does turn out slightly more fluffier than the gluten-free version (the doughnut on the top in the image below), but both versions are equally delicious.
Because these are baked doughnuts, they have more of a cakey texture than doughnuts that are fried, so keep that in mind.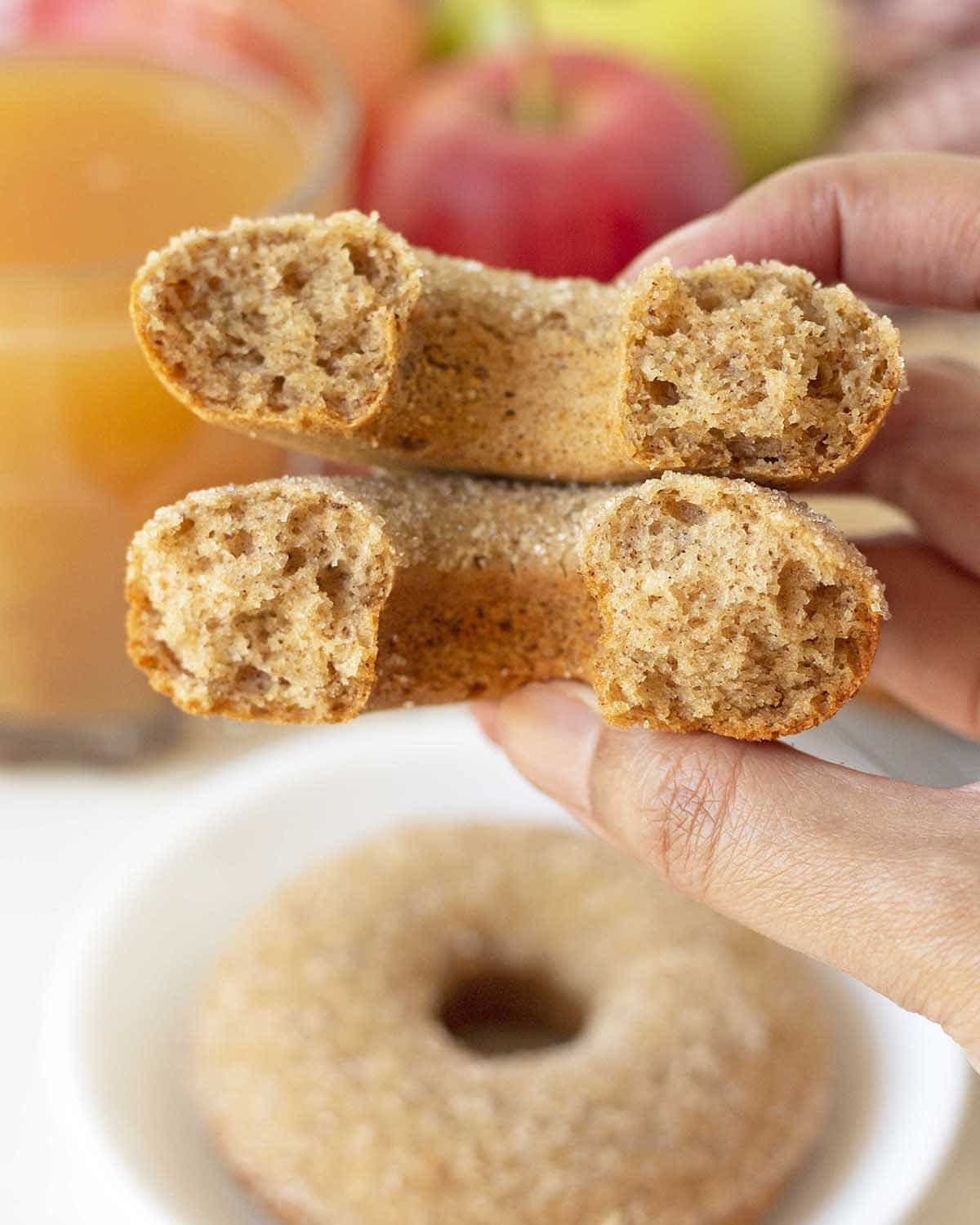 What Do They Taste Like?
They're full of apple and spice flavours. The apple cider really gives them a nice boost of apple flavour and the warm cinnamon and nutmeg spices work with the apple cider to make this a tasty fall treat.
How to Store Them
It's best to enjoy them on the same day you make them, but if you have leftovers, store them in an airtight container in the refrigerator for up to two days. Note that after they sit for a while, the sugar will begin to melt into the doughnut.
Can They Be Frozen for Later?
Yes, just bake the doughnuts, cool, and place in an airtight container or freezer bag for up to one month. Don't dip them in the cinnamon sugar before freezing.
When you're ready for them, fully thaw, and when they've reached room temperature, you can move ahead with adding the cinnamon sugar topping.
FAQ
What Is Apple Cider?
Apple cider is a more concentrated form of apple juice. It's the raw, unfiltered, unprocessed juice from freshly pressed apples. It's unsweetened but naturally very sweet. Cider is thicker than apple juice.

It's not clear like apple juice, but rather a brown colour. See the glass of apple cider in the picture above to get an idea of how it looks, if you're not familiar with it.

And yes, apple cider is 100% vegan!
Can a Different Flour Be Used?
I have only tested this recipe with Bob's Red Mill 1 to 1 Baking Flour Blend (the one in the blue bag) and all purpose white flour, I have not made them with any other types of flours, so I can't say how well others would work.

If you use a different gluten-free blend, results will vary since ingredients and ratios will differ between all of the brands.
Can Apple Juice Be Used Instead of Apple Cider?
You can use apple juice if you can't find apple cider, but since apple juice is less concentrated in flavour than apple cider, the final apple flavour of your doughnuts will not be very strong.

If apple juice is your only option, you may want to double the spices to give the doughnuts more flavour.
Can This Recipe Be Made Oil-Free?
I tested a version with plain, unsweetened applesauce instead of the oil and they turned out well, BUT the texture was more on the dense side, so keep that in mind if you want to make them oil-free.

When dipping them in the sugar, you can skip the oil and just dip the doughnuts in the sugar mixture while they are still warm, the sugar will stick but not as much as if they were brushed with the oil.
Can a Different Sugar Be Used?
Coconut sugar or brown sugar can be used instead of the granulated sugar, the only difference will be in the final colour of the doughnut, they will be a little darker.

I do not recommend any liquid sweeteners since the ratios of other ingredients will also have to be adjusted.
Can They Be Made As Muffins?
If you're looking for apple muffins, try my mini apple muffins recipe. If you want to turn this recipe into muffins, you can, see the next question below.
Can They Be Made Without a Doughnut Pan?

I have had readers tell me, and note that I have not tested this myself, that they have made my other doughnut recipes in regular sized muffin pans, mini muffin pans, and even in mini bundt pans, with success.

If baking in a regular muffin pan or a mini bundt pan, you may end up with less than 6 and baking time will roughly be around 18-20 minutes. If baking in a mini muffin pan, baking time will remain the same as the doughnuts and you'll end up with more than 6.
So what are you waiting for? Grab some apple cider the next time you're shopping and make these as a treat for yourself, your family, and your friends, everyone will love them!
If You Make This Recipe…
…tell about it in the comments below or post a picture of your doughnuts on Instagram and tag me, I want to see your remake! I'm @delightfuladventures over there.
And If You Like This Recipe…
…you may also like these other vegan gluten free apple recipes:
You can help others to find this recipe by pinning it to one of your food boards on Pinterest. Click here to pin it now!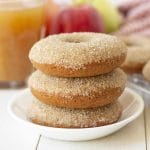 Print Recipe
Vegan Apple Cider Doughnuts
A simple recipe for perfectly spiced vegan apple cider donuts that are baked, not fried and then dipped in cinnamon sugar to take them over the top! These doughnuts can be made just vegan or vegan AND gluten-free, it's up to you, instructions for both versions are included. Add this recipe to your list of easy vegan donut recipes to make.
Instructions:
Preheat oven to 375°F (190° C).

In a large bowl, whisk together the flour, baking powder, baking soda, salt, sugar, cinnamon, and nutmeg.

In a small bowl, mix the apple cider, oil, vanilla extract, and flax mixture together.

Pour wet ingredients into dry ingredients and mix well to combine. Don't over mix.


Using a piping bag or a large Ziploc bag (see note below), pipe the mixture into each cavity of your doughnut pan.

Bake for 10 minutes.

Remove from oven and let the pan sit for a few minutes before removing the doughnuts.

Remove the doughnuts from the pan and place on a cooling rack.
While the doughnuts are cooling, make the sugar topping:
Add the sugar and cinnamon to a small bowl and mix together.

When the doughnuts have fully cooled, one at a time, brush the tops with a little of the melted coconut oil (or butter) and dip each one into the sugar topping until the top is coated. Repeat with all the doughnuts.
Recipe Notes:
Please read all info above and below before making this recipe.
If you are making the vegan gluten-free version, it's important to know that every gluten-free flour blend uses different ingredients and ratios. Results will always vary when different flours are used. I have never used any other brand of flour to make these doughnuts, other than Bob's Red Mill 1 to 1 Baking Flour in the blue bag, NOT the red bag, so please know that your results may not be the same as mine if you substitute with a different gluten free flour. The gluten-free flour weight shown above is for this specific brand.
Make sure you always measure your flour correctly for the best results.
Coconut flour will NOT work in this recipe.
If you are making the vegan gluten-free version, the batter will be very thick. That's OK! Just pipe it into the pan as-is.
Make sure you use plain unsweetened apple cider, NOT apple cider vinegar, hard, sweetened, carbonated, or spiced apple cider. The ingredient list should just have one ingredient: apples.
If you cannot find apple cider, apple juice can be used in its place, however, you will need to double the spices since apple juice is not as flavourful as apple cider.
Any type of oil can be used for the batter, use something neutral flavoured like avocado, safflower, or vegetable etc.
Coconut sugar can be used instead of regular sugar in the doughnut batter and the topping, they will just be a little darker than the doughnuts in the pictures above. I do not recommend using any liquid sweeteners in this recipe.
A piping bag is recommended for getting the batter into the pan. If you don't have a piping bag, use a large Ziploc bag and snip off the end to stand in for a piping bag. If you don't have either, carefully spoon the batter into each doughnut cavity.
It's best to eat the doughnuts the same day they were made since the sugar topping does not hold up well. If you have leftovers, refrigerate them in an airtight container, but know that the topping may melt into the doughnut if kept for too long.
Nutrition info below is based on 1 vegan gluten-free doughnut with the sugar topping and is only to be used as a rough guide. Calorie count for 1 doughnut using the vegan only recipe is 180 calories. Click to learn how nutrition info is calculated on this website.
Nutrition Info:
Serving:
1
doughnut
|
Calories:
193
kcal
|
Carbohydrates:
33
g
|
Protein:
1.6
g
|
Fat:
6.5
g
|
Saturated Fat:
5.4
g
|
Polyunsaturated Fat:
0.2
g
|
Monounsaturated Fat:
0.3
g
|
Sodium:
209
mg
|
Potassium:
40
mg
|
Fiber:
1
g
|
Sugar:
12.3
g
|
Vitamin A:
0.6
IU
|
Vitamin C:
0.2
mg
|
Calcium:
31.6
mg
Did You Make This Recipe?
If so, please share a picture with me on Instagram! Tag @delightfuladventures and hashtag #delightfuladventures. I can't wait to see!