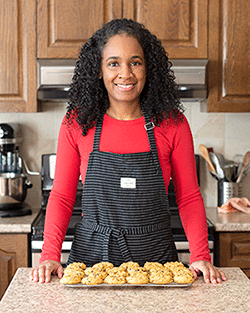 Hi! I'm Gwen! If you're looking for easy-to-make, delicious plant-based / vegan and gluten-free recipes you'll love and want to make over and over again, you've landed in the right place!
Why I Created This Website...
Cooking and baking are always adventures to me. I love being in my kitchen, creating new recipes, or adapting my old favourite recipes into something I feel better eating.
This is what the majority of this blog is all about: re-creating vegan gluten-free versions of my old favourites and also coming up with brand new creations along the way.
Over the years, I've learned a lot about vegan gluten-free baking, which can be quite tricky, but I've figured out the ins and outs and I continue to test and learn new things. As I create new recipes, I share them all with you!
I hope you love my recipes as much as I love creating them.
What Kind of Recipes Can Be Found on Delightful Adventures?
100% of the recipes you find on this website are plant-based / vegan, the majority are gluten-free, and most, not all, are nut-free.
You'll find a mix of sweet and savoury recipes, desserts, snacks, lunches, and dinners the whole family (even the kids!) will love.
I'm all about homemade, real food, but I do have a sweet tooth. OK, a salty one too! So while I eat healthy the majority of times (Easy Kale Chips, Butternut Squash Sweet Potato Carrot Soup, and Beet Carrot Apple Juice), I have no problem indulging—as you will see through a lot of my recipes...
...Like my Old Fashioned Cake Doughnut Mini Muffins and Oatmeal Chocolate Chip Coconut Cookies. Oh, and I can't forget the Baked Chocolate Doughnuts! *drool*
I also LOVE my new Instant Pot, so you'll find vegan Instant Pot recipes on this website, as well.
Are the Ingredients You Use Unusual and/or Hard to Find?
I always aim to use the simplest ingredients in all of my recipes. If one of my recipes needs a specific ingredient in order for it to work, I always link to it on Amazon or include notes on where you can find it.
My recipes are also very simple and easy to make. I personally do not like recipes that require a mile long ingredient list, so I would never do that to you.
I also do not share recipes that include multiple, complicated steps. Everything you find here is doable, whether you're a beginner or a seasoned cook.
Do These Recipes TASTE different? Like They're Vegan & Gluten-Free?
Some think that because a recipe is vegan and / or gluten-free, it will have a funny taste or texture and that everyone will be able to tell that there is something different about it. That's not the case, here.
My recipes are loved by those who are omnivores, vegetarians, vegans, and those who are gluten-free! So...everyone! You'll have to try them to see 🙂
Still not convinced? Here are a few reviews I've received on my recipes:
Chai Spiced Baked Vegan Doughnuts:
"Made these today and CAN'T stop thinking about how soon is too soon to make them again. Moist, light and incredibly flavorful!"
Easy Vegan Gluten-Free Pancakes:
"My quest to find a vegan gluten free pancake had been nothing but a failure until I found this recipe!! They are amazing each time. Thank you for saving our mornings!!!"
Slow Cooker Lentil Sweet Potato Chili:
"I made this twice already. It is freaking delicious! Definitely my new favorite chili. I love how much chili it makes because I can enjoy it all week and take it to work for lunch. Thank you!"
You Can Also Find Me Here:
I have written articles and recipes for the following websites:
My recipes, and I, have also been featured in many places around the web, including:
Buzzfeed
VegNews
Hope Magazine
Country Living
Good Housekeeping
Fitness Magazine
Delish
Mashed
Impact Magazine
Whole Foods Market
SheKnows
Redbook
Brides
+ more!
Keep Up with Me:
I'd love it if you'd sign up for my newsletter to stay up to date on all of my latest delicious, easy vegan and gluten-free recipes.
You can also find me on Facebook, Instagram, Pinterest, and Twitter.
And if you ever want to get in touch, here's how.
Want More?
I've shared a bit about what I do and where you can find me, now, how about browsing to see what you will find on Delightful Adventures?
*****