Soft, fluffy, baked vegan doughnuts flavoured with warm cinnamon and nutmeg. They're also coated with a layer of cinnamon and sugar. Doesn't that sound perfect? And one more thing…you can also make them gluten free! I've included instructions on how to make them both ways below.
This page may contain affiliate links. Click to learn more.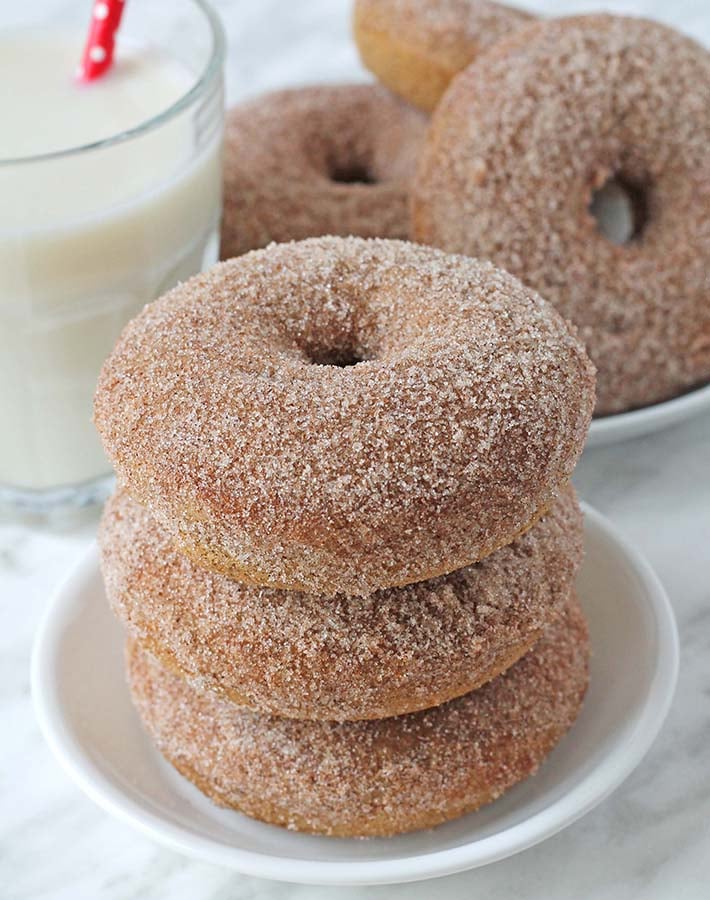 Cinnamon Sugar Vegan Doughnuts
These beauties are the latest addition to my collection of vegan doughnuts. And like all the others, with this recipe you can choose to make cinnamon sugar vegan doughnuts OR cinnamon sugar vegan gluten free doughnuts.
These doughnuts remind me of my cake doughnut mini muffins recipe. They also remind me a little of churros (vegan churro doughnuts?) because of the cinnamon and sugar mix. Either way, they're delicious and a favourite. I hope you like them as much as I do, too!
To come up with this recipe, I went back to my chai doughnuts recipe and used it as a base for this one, removing a few ingredients, and swapping a few others.
So let's go through all the info you'll need to successfully make this vegan doughnut recipe, shall we?
Steps to Make Baked Cinnamon Sugar Doughnuts
(Note: I've outlined the step-by-step on how to make vegan doughnuts here, but find the full recipe, ingredients, and directions at the end of this post.)
Like all of my other doughnut recipes, this one is also very easy since they're baked and not fried.
First, you'll mix together the dry ingredients in one bowl, mix the wet ingredients in another, combine the two and then mix.
Next, you'll spoon or pipe the batter into your doughnut pan, smooth the tops, if needed, and then bake.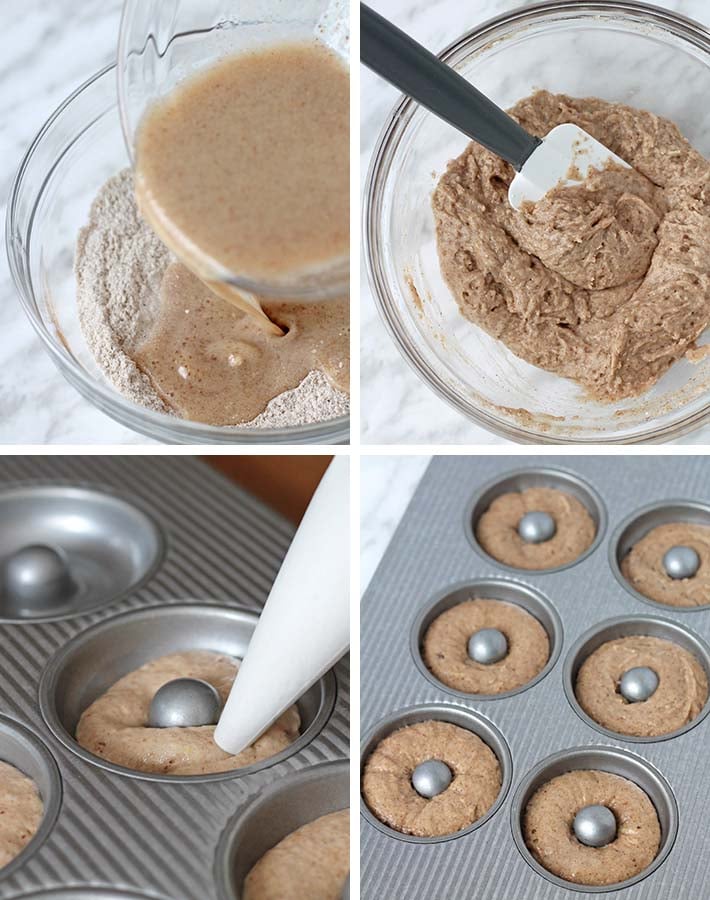 Once the doughnuts have finished baking, let them sit in the pan for a few minutes and then remove and place on a cooling rack. While they're cooling, make the cinnamon sugar mix.
Once fully cooled, one by one, you'll lightly brush the tops with a little melted coconut oil, and then dunk each doughnut top into the cinnamon sugar.
I like to brush the tops of the doughnuts rather than dipping them in the oil. This way, less oil is used and absorbed into the doughnut. You really only need a light coat for the cinnamon sugar to stick well.
After you've followed all the steps, they're ready! See? Easy!
Oh, and if you want to coat both sides of the doughnuts in cinnamon sugar, double the cinnamon sugar mixture and dunk both sides in!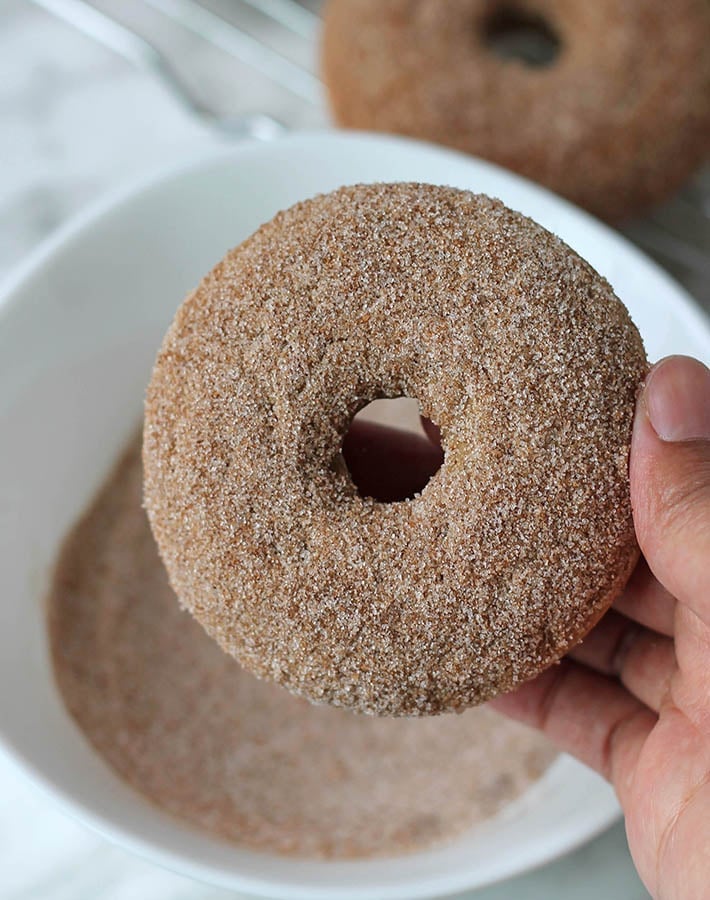 How Do I Make Them Vegan Gluten-Free Cinnamon Sugar Doughnuts?
You swap the all purpose flour for the recommended gluten free flour blend, that's it! All of the info is below in the recipe.
Note that if you make the vegan gluten free doughnuts, your batter will be thick, that's okay, that's how it's supposed to be. And the result will be a little more dense than the non gluten-free version. But they'll be just as delicious, so not to worry about that!
What is the Texture Like In These Vegan Cinnamon Doughnuts?
Fluffy, soft, and perfect. A baked doughnut is never going to be like a fried doughnut, the texture will always be different. A baked doughnut is more like cake. Doughnut shaped cake 🙂 And of course, they contain no yeast, so the texture is also going to be different from a yeast doughnut.
Below, you can see the inside of the vegan doughnut on the right and the vegan gluten free doughnut on the left.
You'll also notice that the one on the left is a little darker inside, that was when I was testing how much cinnamon to add to the recipe, so that one contained a little more cinnamon than the other.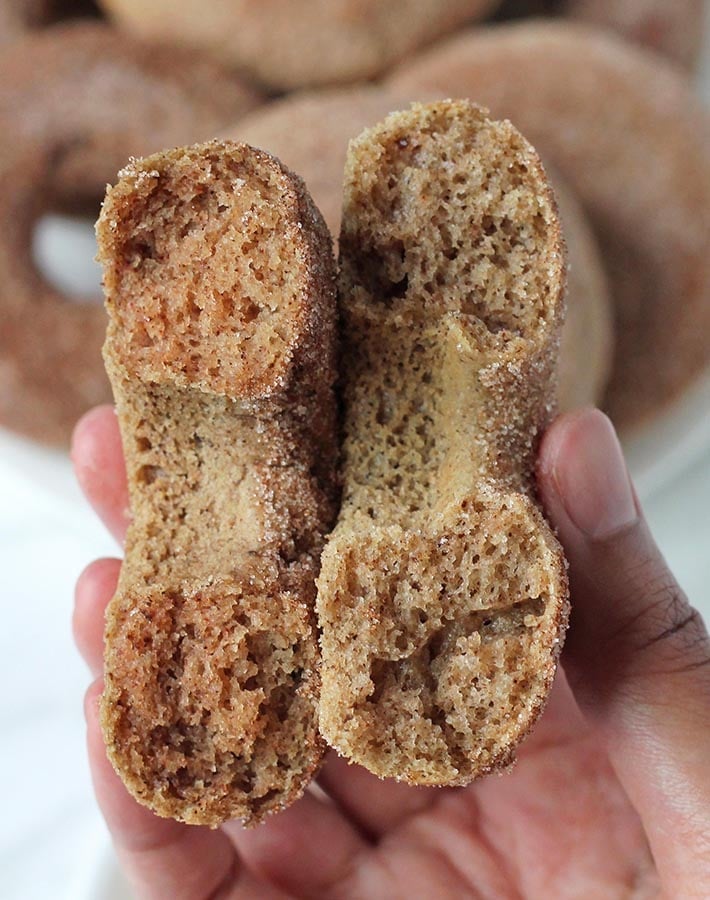 What If I Don't Have a Doughnut Pan?
That's okay. If you're looking to buy a doughnut pan, this is the one I have and I love it. I highly recommend it.
If you aren't ready to buy one just yet, I have had readers tell me (I have not tested these myself) that they have made my other doughnut recipes in regular muffin pans, mini muffin pans, and even in mini bundt pans with success.
(If baking in a regular muffin pan or a mini bundt pan, you'll get less than 6 doughnuts and baking time will roughly be around 20 minutes. If baking in a mini muffin pan, baking time will remain the same and you will end up with more than 6.)
Can I Freeze Them?
Yes, however, I think vegan cinnamon doughnuts are best when they're enjoyed fresh, but if you need to make them ahead of time, don't add the cinnamon sugar topping until after they have thawed.
So bake the doughnuts, cool, and freeze. When ready, fully thaw and when they've reached room temperature, you can move ahead with adding the cinnamon sugar topping.
I hope all of the FAQ and info above was helpful. If I missed something, please ask in the comments below. And if you make them, please share a pic with me on Instagram!
If you like this baked cinnamon sugar doughnut recipe, you may also like some of my other vegan doughnut recipes (they can all be made vegan only or vegan gluten free, too!):
How to Make Cinnamon Sugar Vegan Doughnuts