Enjoy a sweet taste of summer with this easy vegan gluten free peach blueberry crisp that's bursting with fresh, juicy summer fruit. You can enjoy it as-is or with your favourite topping!
This page may contain affiliate links. Click to learn more.
I'm at that part of the year when I'm hanging on to the remaining bits of summer as tightly as I can. Summer is my favourite time of year and it flies by way too fast.
Right now, everyone is anxious to switch over to pumpkins, hot chocolate, and their slow cookers, but I'm still in summer mode as this vegan gluten-free peach blueberry crisp recipe shows! Not to worry, though, I'll catch up to everyone soon…I'll have a few new fall-inspired recipes to share with you soon.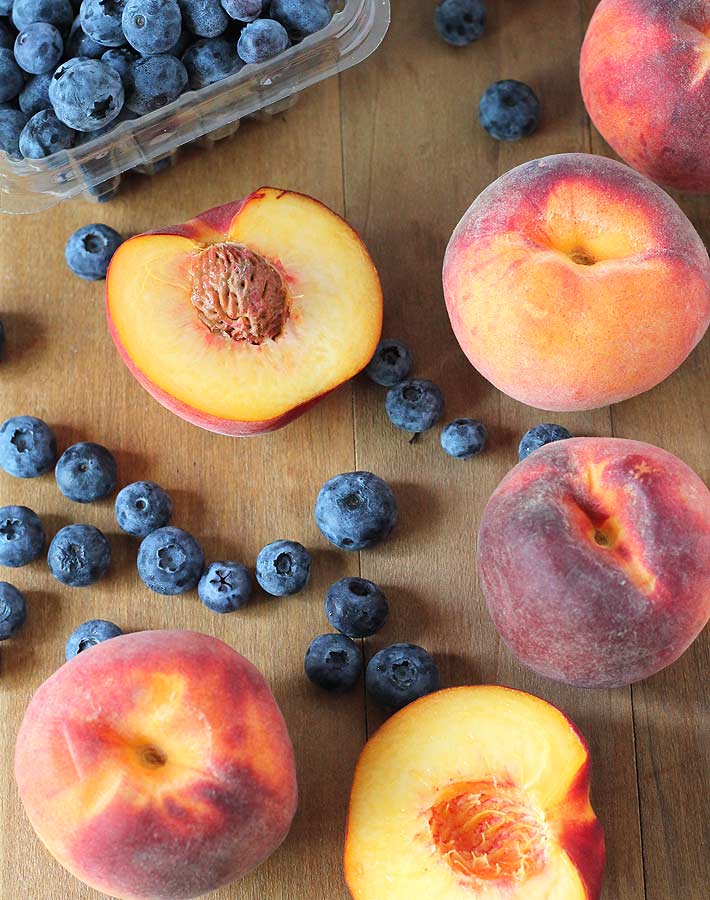 As you may know from my other peach recipes, peaches are one of the reasons why I love summer so much. They're one of my favourite fruits.
Add berries to that list and I am in summertime food bliss. Crisps are the perfect way to highlight summer flavours and one of my favourite crisp combos is peaches and blueberries.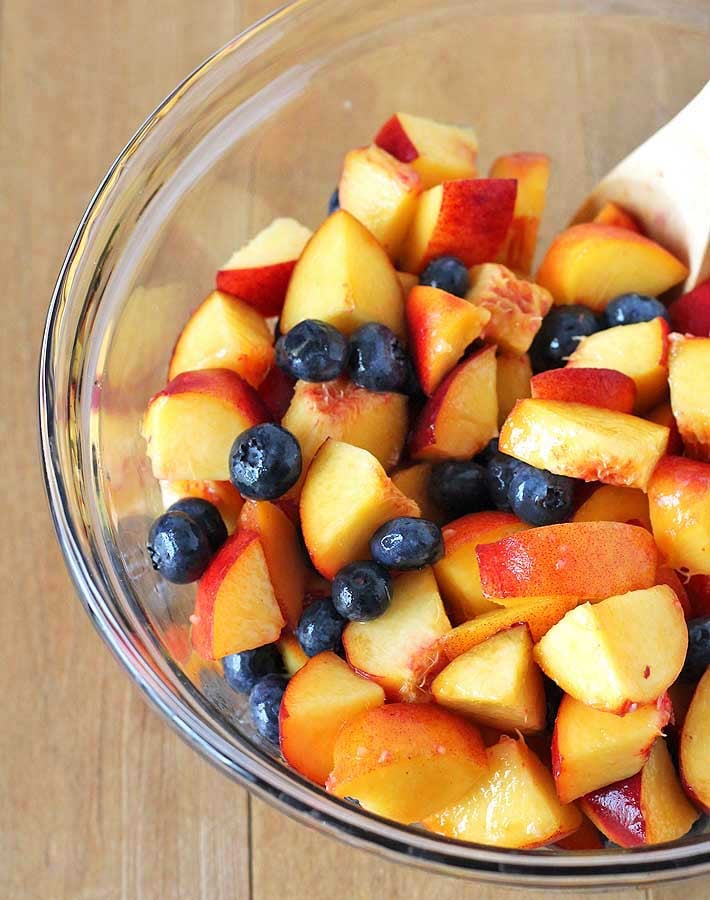 Last year, I shared a recipe for a Vegan Peach Ginger Crisp ( it's amazing), and this gluten free peach blueberry crisp recipe is a slight adaptation of that one. In this recipe, I add some unsweetened shredded coconut to the topping, which adds a subtle coconut flavour that I hope you'll love as much as I do.
Do I Have to Include Coconut?
If coconut is not your thing, then feel free to omit the shredded coconut in the oat topping. I've made this coconut peach blueberry crisp recipe both ways and both versions are perfect.
Traditional crisp recipes use butter in the topping but this recipe uses coconut oil to make it vegan. If you want a stronger coconut flavour, use extra virgin coconut oil (this is the way I like to make it!), but if you want a more subtle coconut flavour, use refined coconut oil (which has no flavour at all). You'll still get a hint of coconut from the shredded coconut in the topping (if you use it).
How to Serve Peach Blueberry Crisp
My favourite way to enjoy this is while it's still warm without any topping, but feel free to add a scoop of ice cream to the top (non-dairy vanilla is perfect!) or a big spoonful of vanilla bean coconut whipped cream. It's not an overly sweet dessert, the fruit does most of the sweetening work.
Can Frozen Peaches and Blueberries Be Used?
I haven't tried this peach and blueberry crisp recipe with frozen peaches and blueberries (yet), but I think they would work nicely. The only thing that will be different is that there will be a little more moisture than with fresh fruit, so I would add a few teaspoons of arrowroot starch or cornstarch to the fruit mixture.
If you make this peach blueberry crisp using frozen fruit, it will give you the chance to enjoy this dessert year-round until summer rolls around once again, much to the delight of those who enjoy summer days (and flavours!) as much as I do.
If you make this recipe, please leave me a comment below or feel free to share a pic with me on Instagram and tag me! I want to see!
You can also pin this to your recipe board on Pinterest 🙂
If you like this peach blueberry crisp recipe, you may also like these other easy vegan recipes:
How to Make a Vegan Gluten-Free Peach Blueberry Crisp