A collection of super easy and irresistible vegan gluten-free muffin recipes that all come together quickly...and of course, they're all delicious! Have them at breakfast, brunch, for snacks, or with tea or coffee.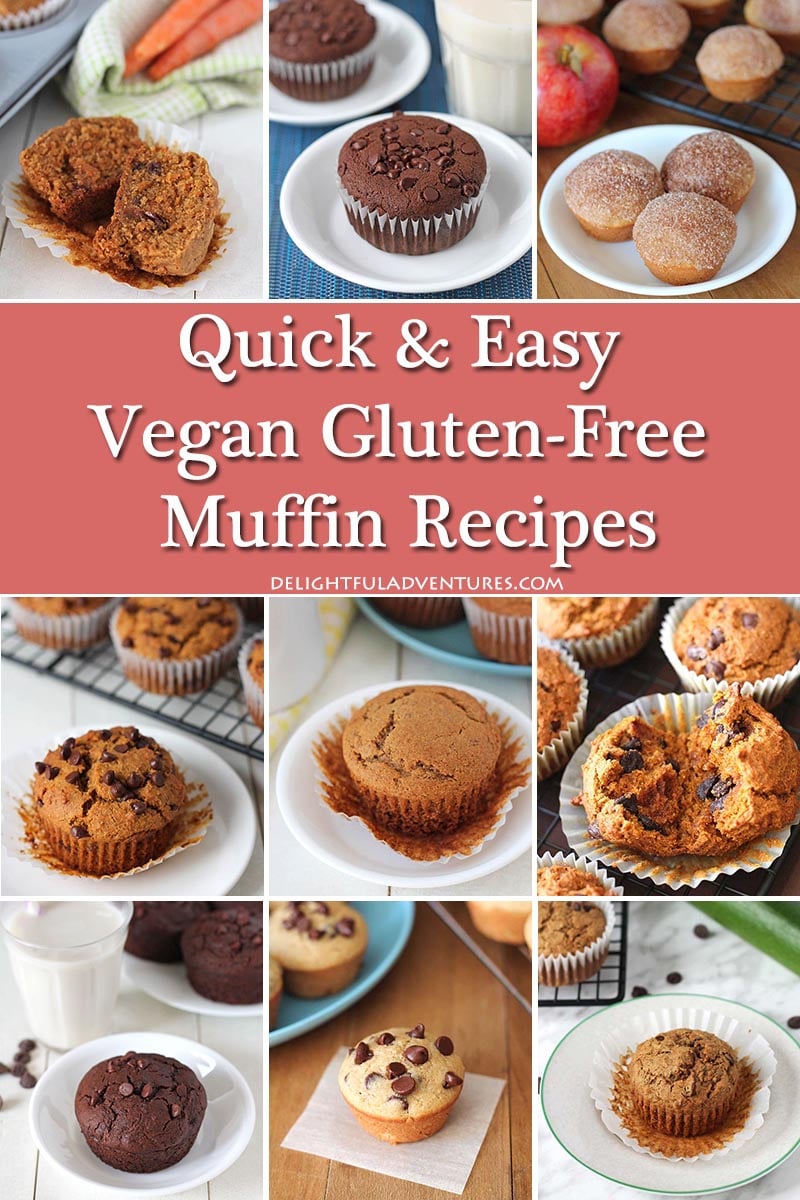 I didn't realize how many muffin recipes I had on the site until recently. But it makes sense because I love coming up with new muffin recipes, making them, and well, eating them 🙂
To make things easy for you, I thought I'd gather all my vegan muffins up in one handy post for you to see all of them in one spot. I will update this page when I add new gluten-free muffin recipes to my site, so bookmark this page and check back to see what's new.
Before You Get Baking...
If you happen to be looking for a muffin pan, I recommend this one by my favourite bakeware brand, USA Pan. It's heavy-duty, non-stick, Teflon-free, and will last you a very long time (they're not paying me to say that, I genuinely love them!).
And it's not 100% necessary but I love using a scoop to add the batter to the muffin pan. I highly recommend this one.
And before you make any of these muffin recipes, be sure to read my helpful tips for successful vegan gluten-free baking.
So let's get to the vegan gluten-free muffin recipes! And as a reminder, all of these muffins are:
wheat free
egg free
dairy free
allergy friendly
the best, and so, so good 🙂
Gluten Free Vegan Muffin Recipes with Hidden Veggies
When you can add a veggie or two to a baked treat, it's always a bonus! You get a little added healthy nutrition in something that tastes so good, no one would believe there's a vegetable in it!
These recipes all contain shredded vegetables in them, some even contain chocolate...you know, to balance things out 🙂
Classic Favourite Vegan Gluten Free Muffins
We all have our favourite muffin recipes, and these happen to be a few of my favourites, turned vegan gluten free.
Berry Muffins
Mini Gluten Free Muffins
Kids love these muffins not only because they're cute, but because they're tiny and they're kinda of geared towards kids. Plus, they are the ideal lunch box snacks...but that doesn't mean you can't have them, too!
I'm going to continue to add to this collection, so if there's one, in particular, you'd love to see, let me know in the comments below!
And if you make any of them, share a pic with me on Instagram, I want to see your remakes!
If you liked these recipes, check these other vegan gluten-free recipes out, you may like them too!