Whether you make this dessert in the middle of summer, when fresh blueberries are at their peak, or the middle of a long winter when frozen blueberries are all you can find, this easy, no-bake mini vegan blueberry cheesecake recipe is one everyone will love. Plus, it contains no cashews or vegan cream cheese. Read on for all of the delicious details!
This page may contain affiliate links. Click to learn more.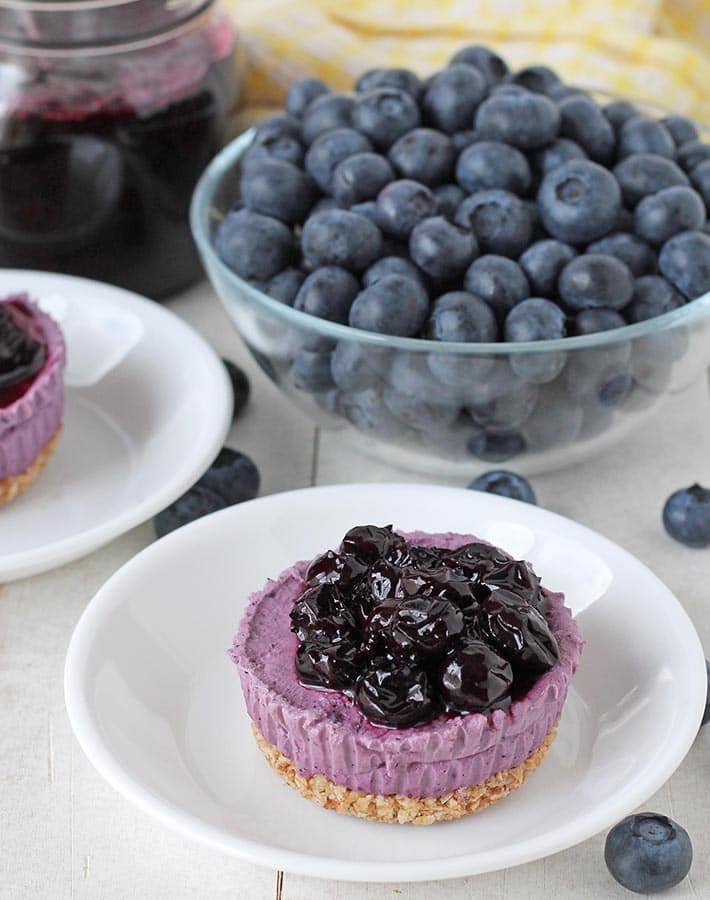 Back when I ate dairy, cheesecake was one of my favourite desserts, so, of course, I had to create my own vegan version. My take is a creamy non dairy cheesecake packed with flavour, tanginess, and sweetness. Exactly how cheesecake should be, vegan or not.
This recipe is for vegan blueberry cheesecake, but I have a few others you may also like. All of them are also vegan, gluten free and dairy free cheesecake recipes, of course! Check them out:
What is Vegan Cheesecake Made Of?
Usually, a dairy free cheesecake filling base is made from either cashews or vegan cream cheese, but to make my blueberry cheesecake vegan, I use neither of those things and instead, I use almonds, since I cannot have cashews.
Ingredients for Vegan Berry Cheesecake
There are two groups of ingredients you'll need to make this vegan cheesecake recipe: the ingredients for the vegan cheese cake crust, which you can see in the image directly below, and then the ingredients for the filling, you can see those ingredients lower down in another image.
Is Coconut Oil a Necessary Ingredient?
Yes! If you're familiar with coconut oil, you'll know that it firms up when cold, so it helps to make these little cheesecakes firm.
If you don't mind a slight coconut taste in the base and the filling (and having them taste more like blueberry coconut cheesecake, which is just as delicious, by the way!), feel free to use unrefined coconut oil, but if you prefer no coconut flavour at all, use refined.
How to Make Gluten Free Blueberry Cheesecake
(Note: I've outlined the step-by-step on how to make this berry cheesecake recipe here, but find the full recipe, ingredients, and directions at the end of this post.)
You'll first start out by grinding up the crust ingredients and then dividing it evenly between individual muffin cups. Be sure to press each base down with a piece of parchment paper or the back of a spoon so they are firm and no longer loose.
Next, place the whole muffin pan in the freezer for the bases to chill.
I like to use parchment cups because the cheesecake won't stick to them, but you can also use silicone cups or regular paper cups.
The No Bake Vegan Cheesecake Filling
To make the filling, blend all of the ingredients in a high speed blender until it's smooth. You may need to use the blender's tamper to keep it moving.
Note that a high speed blender like a Vitamix (Amazon Link), or a Blentec (Amazon Link) is essential for this making recipe.
You cannot use a regular blender or something like a NutriBullet because they will not be able to process the filling until its smooth and your vegan cheesecake bites will turn out gritty. Plus, you also run the risk of damaging your machine.
Once your high speed blender has blended the filling into a creamy, smooth mixture, the mixture will be thick. That's okay, that's how it should be.
Divide the filling evenly with a spoon into each cup, smooth out the tops, and place the muffin pan into the freezer for your dairy free blueberry cheesecake to firm up.
After they've firmed up in the freezer for a few hours, remove the amount you'll be serving, let them sit at room temperature for a bit, and then get them ready to serve. (See below for how to store the leftover cheesecakes.)
How to Serve Vegan Mini Cheesecake
You can serve them frozen, right out of the freezer, or you can thaw them to the point you prefer. I like mine to be almost fully thawed and slightly soft. Experiment a bit and see which way you like them best.
How to Top This Dessert
My favourite way is to top it like you see in the pictures…with blueberry sauce.
You can also try raspberry sauce, coconut whip, fresh berries, or a mix of more than one of those mentioned.
How to Store Vegan Gluten Free Cheesecake
Chances are, since this vegan blueberry cheesecake recipe makes 12, you're going to have leftovers!
Once they've firmed up, remove them from the muffin pan and place in an airtight container. Remove them individually from the freezer just before serving and keep those that are not going to be eaten right away in the freezer.
Can This Be Made Into a Larger Cheesecake Instead of Mini Cheesecakes?
Yes! Use a small springform pan instead or double the recipe and use a larger springform pan.
And for a Tasty Twist to This Recipe…
…if you like the flavour combo of blueberry + lime, replace the lemon juice with lime juice for a slight hint of lime in your cheesecakes!
If you like this simple blueberry vegan cheesecake recipe, you may also like these other vegan blueberry recipes:
You can also help me to help others find this easy vegan cheesecake recipe by pinning it to your recipe board on Pinterest!
Pin it now by clicking here!
How to Make Vegan Blueberry Cheesecake