Lightly spiced vegan sweet potato pie with a gluten-free oat and almond crust. This smooth & silky pie will become a welcome addition to your holiday table!
This page contains affiliate links. Click to learn more.
Have you tried sweet potato pie?
If you live in the United States, especially in the Southern states, your answer is probably "yes, of course!" You may have even rolled your eyes because it is SO common where you live!
But for those of us here in Canada, sweet potato pie is not really "a thing."
Pumpkin pie is the popular Canadian choice when it comes to holiday pies, along with the other favourite, apple. But sweet potato? Nope.
But that should change.
I only discovered the magic of sweet potato pie because I made it myself a few years back to see what it was all about, and of course, I made my version a vegan sweet potato pie!
You can't go into a restaurant and order a slice of it or buy a sweet potato pie for dessert at the grocery store here, so I made it. And I'm so glad I did. My curiousity about different foods and things I've never tasted, that are popular elsewhere, pays off most of the time 🙂
My recipe is not the same as Southern sweet potato pie, because it's a vegan sweet potato pie with a gluten free crust! And also because the crust is not made from pastry. It's my take on this famous American dessert.
The main ingredients in the crust are almonds and oats. It's a lightly sweetened crust and even though it's crumbly, it holds very well together once it's baked. And of course, it's delicious.
It's perfect for this pie, BUT, if you have a go-to pie crust recipe that you love or even one that's store-bought, feel free to use it instead (but I highly recommend this crust!)
This gluten-free crust comes together quickly, it's easy to make (see pics above!), and it's the perfect match for the smooth, creamy, spiced sweet potato filling.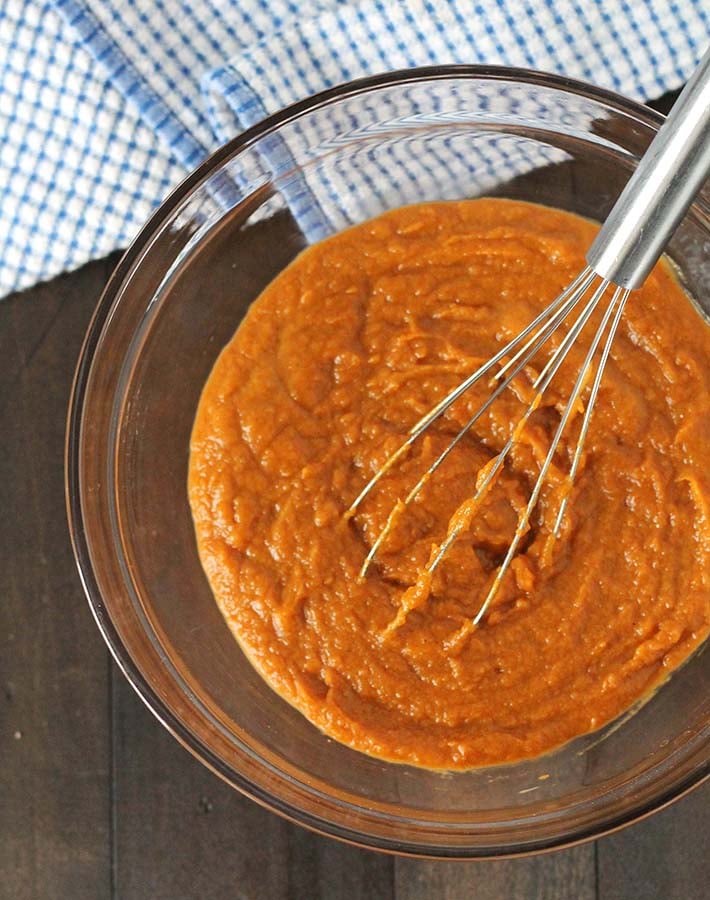 So for those of you who have never had sweet potato pie, you may have questions! The one that caused me to make this pie many years ago was, of course:
What does sweet potato pie taste like?
Sweet potato pie is like the more mellow, laid back cousin of pumpkin pie. Pumpkin pie gets its flavour from pumpkin pie spices, some of which are common in sweet potato pie, but the flavours aren't as bold as they are in pumpkin pie.
Sweet potato pie is more on the mild side when it comes to those spice flavours and in sweetness, which gives it such a mouthwatering flavour. And no, the pie does not taste anything like plain sweet potatoes!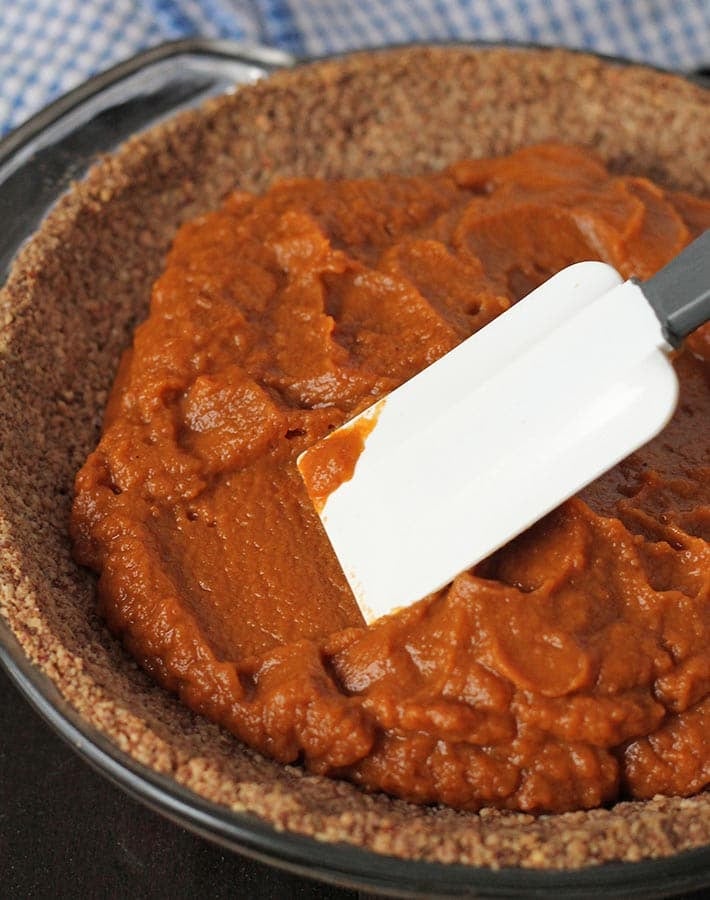 Now, you may have a few other questions if this kind of pie is new to you, I've answered a few of them below, if you have others, please feel free to ask me in the comments!
What's the best way to cook the sweet potatoes?
I did a little research on this and the opinions are all over the place.
For this recipe, I make my sweet potatoes in my Instant Pot (<– Amazon link) using my Instant Pot Sweet Potatoes method. Prior to having my Instant Pot, I baked the sweet potatoes in the oven.
There were some opinions saying that sweet potatoes for sweet potato pie should never be boiled because the potatoes would make the pie way too watery and mushy, but one of the most famous sweet potato pie recipes uses boiled potatoes, so who knows.
All I've ever made this pie with is baked and steamed sweet potatoes and both produce perfect results.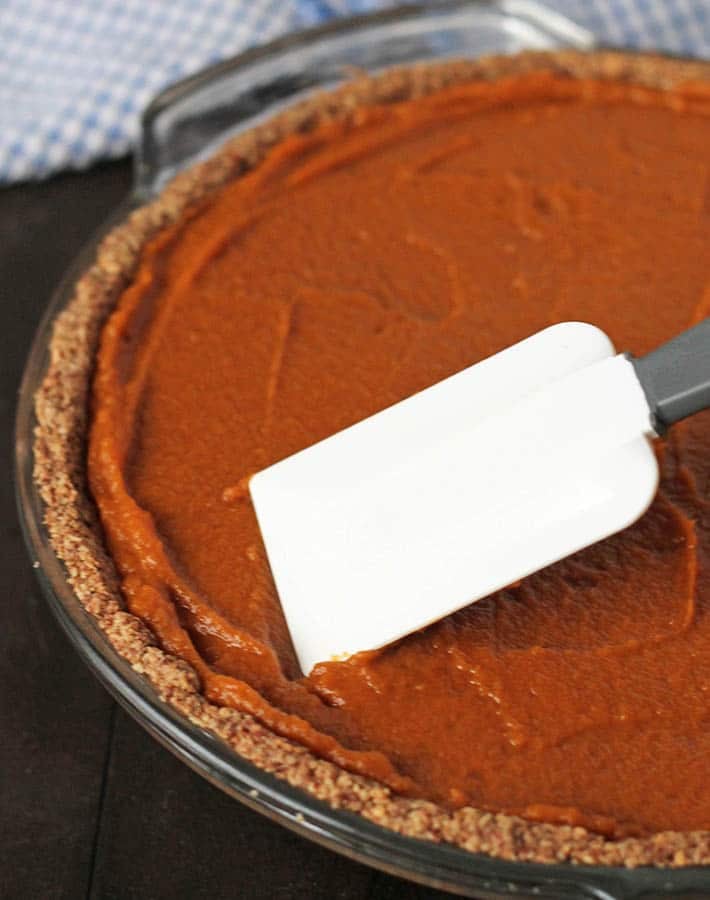 Can canned sweet potato pie filling be used? Or canned sweet potatoes?
No, don't use sweet potato pie filling. This isn't something that can be found here in Canada, but I assume it be the same as canned pumpkin pie filling.
This recipe builds flavour from the bottom up using plain pureed sweet potatoes. Using a canned filling will not allow you to do that since it already has spices and sugar.
As for canned sweet potatoes, that is not something we can get here in Canada either (I've never seen them, anyways!), so I've never tried it, but if I could, I probably wouldn't because I imagine they would be way too much on the watery/mushy side.
How to get perfectly smooth sweet potato pie filling
Sweet potatoes can be stringy, so after baking or steaming them and removing the insides from their skins, you'll want to puree them using a food processor, or a blender. This will ensure there are no strings or chunks in your pie and that the filling is velvety and melt-in-your-mouth. Mmm…
You can also just make the filling in your food processor rather than whisking in a bowl. Just add all the filling ingredients to the processor at the same time and process until everything is smooth.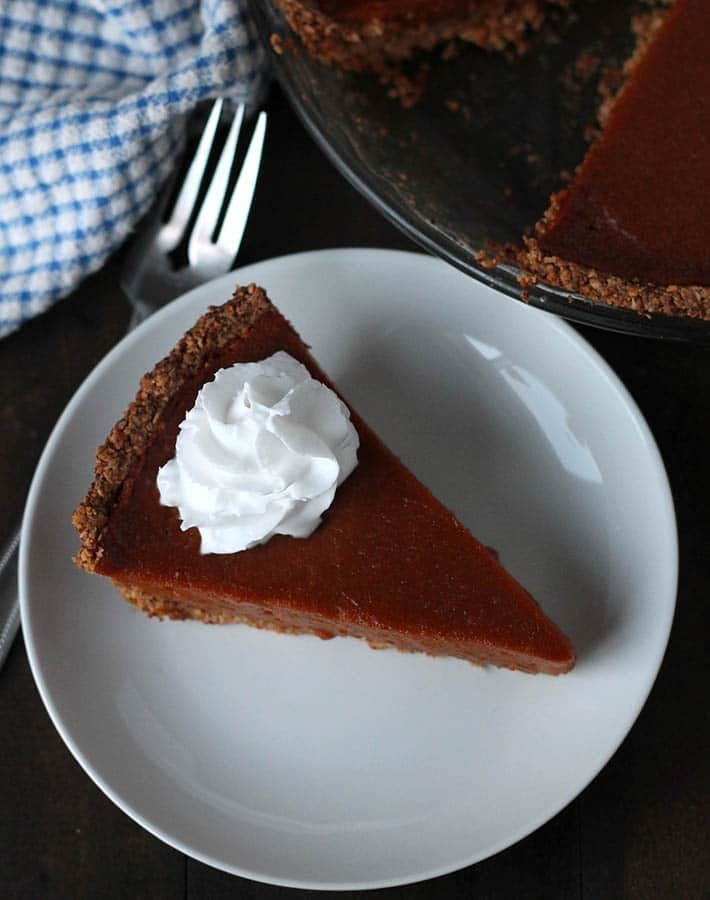 How to get flawless pie slices, every time
You'll want to cool your pie down and chill it before slicing. If you slice too quickly, the slices won't come out clean and you'll end up with a mess. This pie is best made the day before you plan on serving.
Read this article for tips on how to make your pie slices picture perfect.
And don't forget to make your vegan sweet potato pie perfect by topping it with coconut whipped cream, as shown in the pictures 🙂
***
If you've never tried sweet potato pie before, you should because I think you'll like it. A lot. And you should start with this vegan sweet potato pie recipe! Pin it so you have easy access to it when you're ready 🙂
If you make it for any of your holiday celebrations, or any other time of the year (because you absolutely can, and should, make it outside of the holidays!), tell me about it in the comments below or share a picture with me on Instagram, you know I love seeing your pics!
If you like this gluten-free vegan sweet potato pie recipe, you may also like these: