All you need to make this easy vegan sweet potato pudding is seven ingredients and 10-minutes! This creamy vegan pudding is filled with warm fall spice flavours and it also happens to be egg-free, dairy-free, oil-free, and gluten-free. If you're looking for a lighter vegan dessert to end a holiday meal (or an everyday meal!), this is it.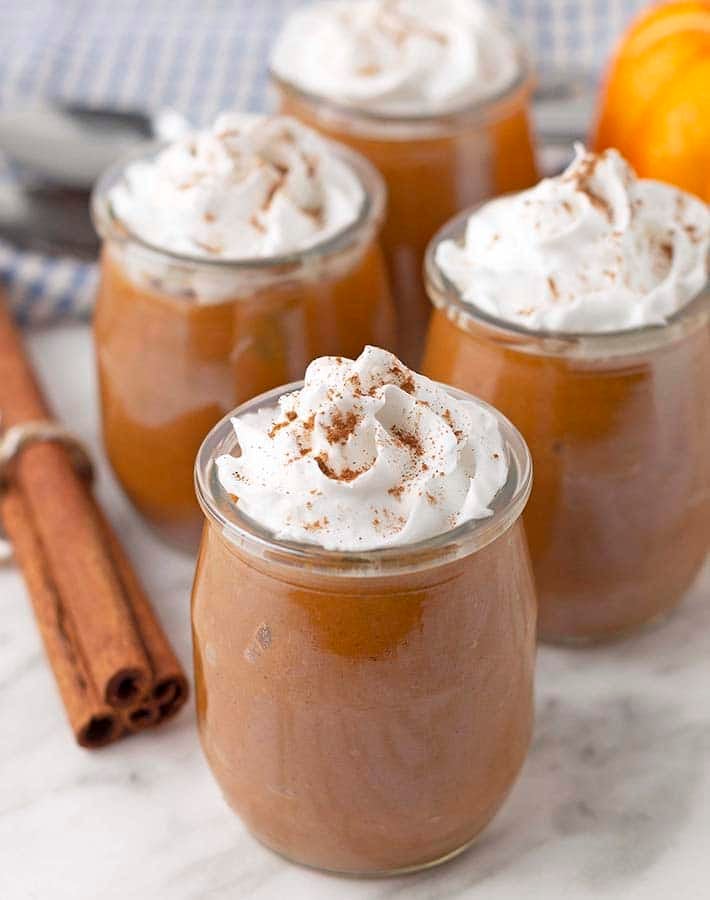 When I was making my pumpkin pudding, I thought that sweet potato would also make a good pudding ingredient. That recipe is a simple one, but this one is even simpler!
Now, you may be thinking: sweet potatoes in a pudding?? What?!

Yes! The sweet potato is one of those ingredients that's so versatile, it can be used to make sweet recipes (like sweet potato pie and sweet potato waffles) AND savoury recipes (like stuffed sweet potatoes and butternut squash sweet potato soup).
They also have natural sweetness, so you can cut down on added sweeteners when they're used in sweet recipes.
AND...they're naturally smooth and creamy, making them the perfect base for this vegan sweet potato pudding.
Ingredients You'll Need
This recipe calls for just seven simple ingredients you likely already have in your kitchen.
The main ingredient is, of course, mashed sweet potatoes.
You can use leftovers that have had nothing added to them, or you can prepare the sweet potatoes from scratch, either in the oven or in your pressure cooker (learn how to make sweet potatoes in your pressure cooker here).
Note that if you use sweet potatoes prepared in your pressure cooker, there is a slight adjustment to the recipe you'll have to make since they will have more moisture in them. Details are in the recipe notes below.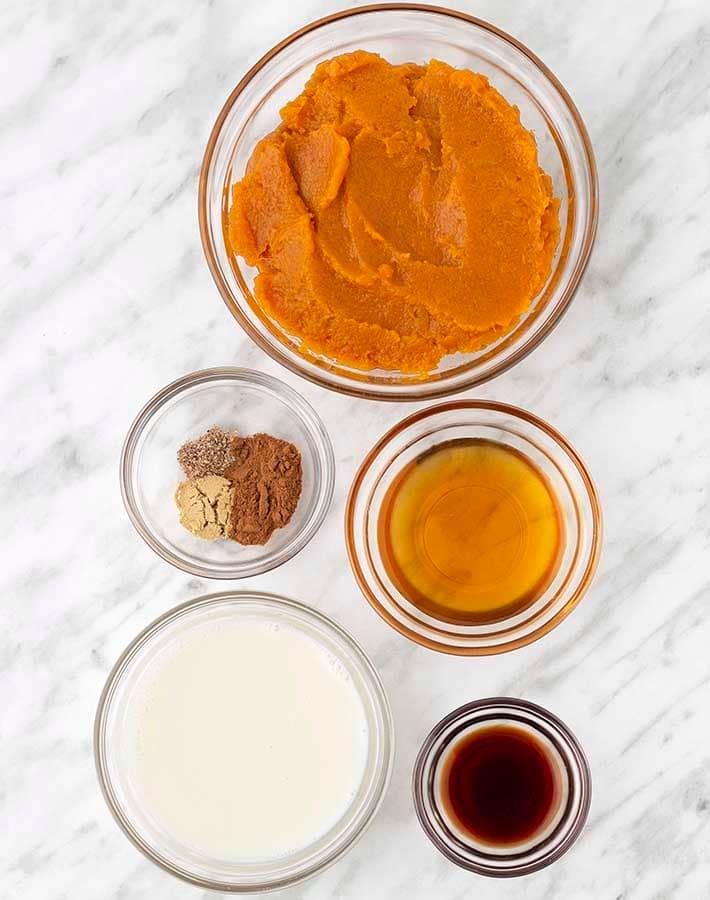 How to Make Sweet Potato Pudding
(Note: I've outlined the step-by-step for this easy sweet potato pudding recipe here, but find the full recipe, ingredients, and directions at the end of this post.)
Once you've gathered all of your ingredients, add them all to a food processor and blend, stopping once to scrape down the sides.
And that is all there is to preparing this recipe! Simple, right? In just 10-minutes you can have this easy sweet potato dessert ready.
You can serve it right away, or refrigerate if you want it to firm up slightly.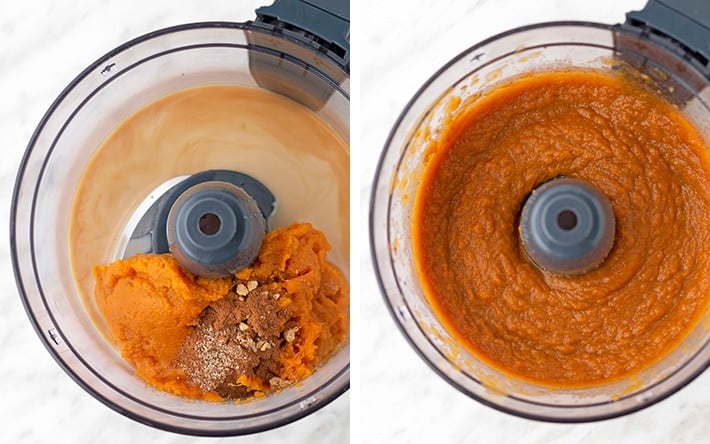 How to Serve Vegan Pudding
After the pudding has been blended in the food processor, I like to separate it into individual serving jars or bowls and refrigerate until it's time to serve. This is a great make-ahead vegan dessert.
You can also put it all in one big bowl or container, cover, and then refrigerate until it's time to serve, and then portion out into individual servings. It's up to you!
As for toppings, you can go without and serve it plain: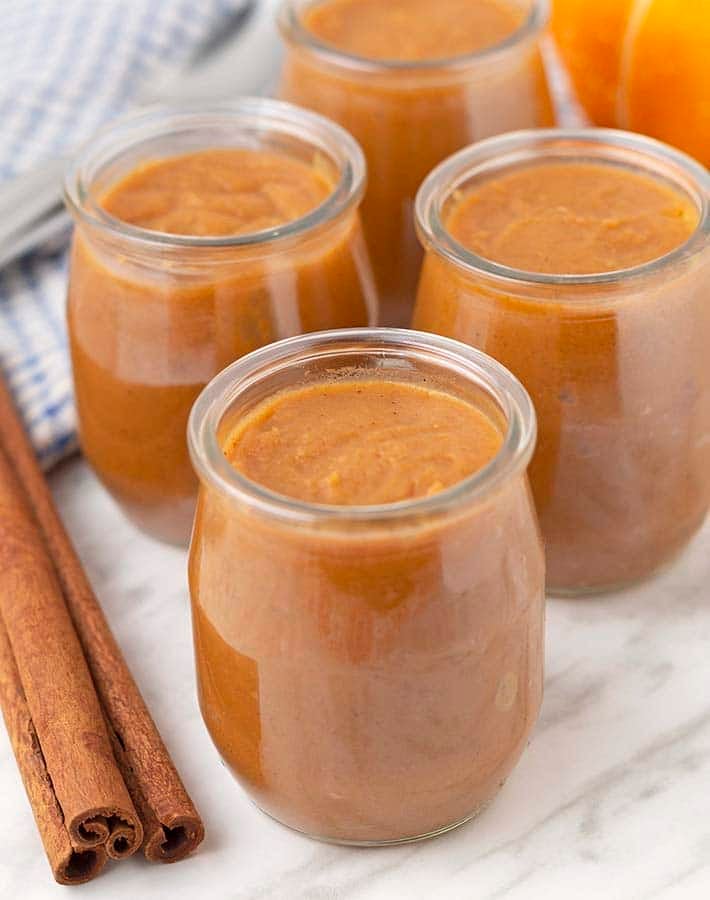 Or you can top with dairy-free whipped coconut cream and a dusting of ground cinnamon to dress it up a little: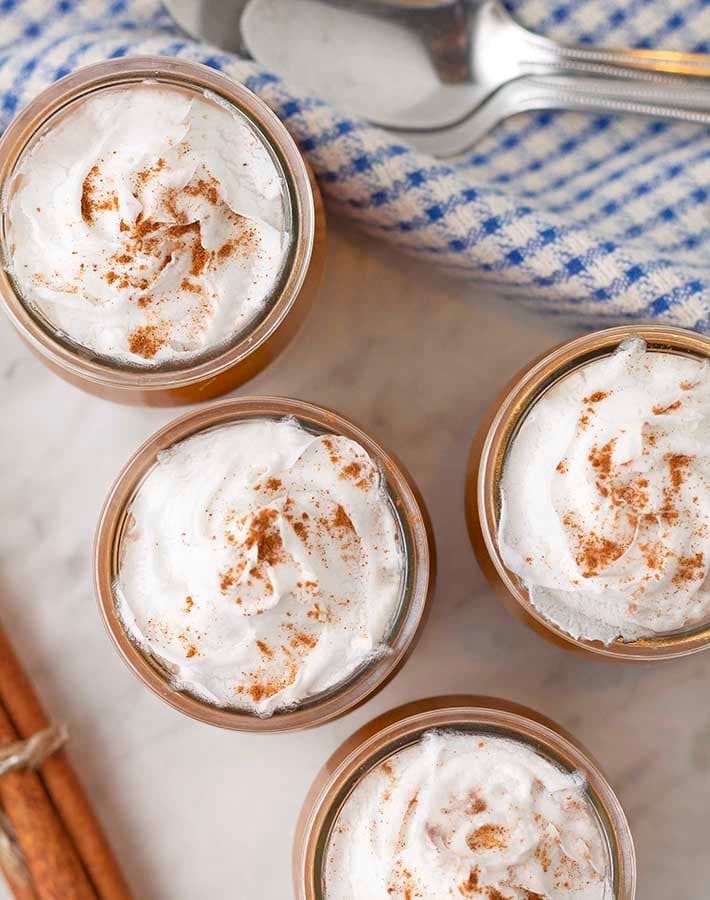 You can also top with toasted coconut or toasted nuts or seeds for a little texture contrast.
This pudding is unlike any store-bought pudding you've ever had. It's simple, you'll be familiar with the small amount of ingredients that go into it, and it's 100% vegan!
But Wait...I Thought All Pudding Was Vegan! Is Pudding Vegan?
Nooo...all pudding is not vegan. Most mainstream recipes call for dairy, eggs, and even gelatin. And who knows what else is in the store bought stuff.
None of my recipes call for any of those things, so stick with this recipe, or any of my other vegan puddings, and you won't have to question anything:
This is the perfect vegan Thanksgiving or Christmas dessert but I can tell you from experience that it's also the perfect dessert for any old night, outside of the holidays 🙂
And it's also great to pack as school or work lunch snacks.
How Long Will This Sweet Potato Pudding Last?
If you have leftovers, it will last up to four days in the refrigerator.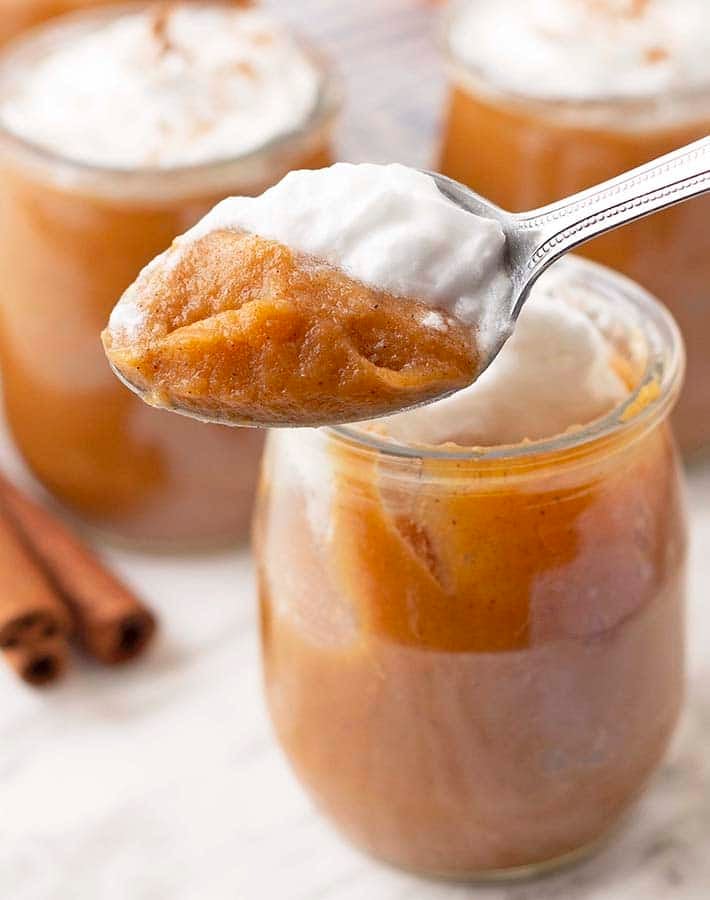 Did You Make This Recipe?
If so, please let me know by leaving a comment and rating below.
And if you like this recipe for sweet potato pudding, you may also like these other gluten free vegan sweet potato recipes:
You can also help me to help others find this sweet potato pudding recipe by pinning this post to your recipe board on Pinterest! CLICK HERE TO PIN IT NOW!

How to Make Vegan Sweet Potato Pudding
Vegan Sweet Potato Pudding
All you need to make this simple vegan sweet potato pudding is seven ingredients that you probably already have in your kitchen! This creamy vegan pudding is egg-free, dairy-free, oil-free and gluten-free and it's filled with warm fall spice flavours. Make this healthy vegan dessert when you want something a little lighter to end a holiday or everyday meal.
Instructions:
Add all ingredients to a food processor and process on low for 15 seconds until all ingredients have been combined. Stop, scrape down the sides and then process on low for another 10 seconds.

Place in an airtight container and refrigerate until ready to serve or separate into individual serving bowls and either refrigerate until ready to serve or serve immediately.

Serve plain or topped with coconut whipped cream and a sprinkle of ground cinnamon.
Recipe Notes:
Please read all of the FAQ and info above before making this recipe.
If you're not starting with previously made sweet potatoes, follow these steps:
Pre-heat oven to 400° F (200° C).

Wash and scrub sweet potatoes, place them on a parchment-lined baking tray and bake for 40-50 minutes or until a fork slides easily into the potatoes. If you have an Instant Pot, you can pressure cook the sweet potatoes instead, by following

these directions

.

Cool, scoop out the insides, and mash.
If making this recipe with sweet potatoes made in the Instant Pot, use just ½ cup of non-dairy milk. Pressure cooker sweet potatoes have more moisture in them than those that were baked in an oven.
Recipe makes 2 cups of pudding in total.
Store leftovers in an airtight, covered container in the refrigerator for up to 4 days.
Nutrition info listed below is for 1 of 4 servings (each serving is ½ cup each) of the recipe made as written and is only to be used as a rough guide. Click here for more info on how nutrition info on this website is determined.
Nutrition Info:
Serving:
0.5
cup
|
Calories:
125
kcal
|
Carbohydrates:
28.3
g
|
Protein:
1.9
g
|
Fat:
0.5
g
|
Saturated Fat:
0.1
g
|
Polyunsaturated Fat:
0.1
g
|
Monounsaturated Fat:
0.3
g
|
Sodium:
62.2
mg
|
Potassium:
32.4
mg
|
Fiber:
2.7
g
|
Sugar:
15
g
|
Vitamin A:
15937.7
IU
|
Vitamin C:
12.7
mg
|
Calcium:
97
mg
|
Iron:
0.7
mg
Did You Make This Recipe?
If so, please share a picture with me on Instagram! Tag @delightfuladventures and hashtag #delightfuladventures. I can't wait to see!