Vegan Gluten Free Baked Chocolate Doughnuts that are soft, fluffy, and sweet. The crackly sugary glaze makes them extra perfect...so perfect, you'll want to make them over and over again! These doughnuts can be made just vegan or vegan AND gluten-free. Keep reading for all the details!
I've been curious about baked doughnuts for quite a while. What do they taste like? What's the texture like? Are they like fried doughnuts? (mmm...fried doughnuts...)
The problem was, I didn't have a doughnut pan to get answers to my questions. See, I'm picky with my bake and cookware.
When I shared my easy vegan gluten free waffles recipe with you, I told you about my lack of love for Teflon cook and bakeware. All the doughnut pans out there were coated in Teflon.
However, last fall, I found one that I liked. Finally, I'd have answers to my baked doughnut questions! So I got to work on my first recipe, Vegan Gluten Free Baked Chocolate Doughnuts.
Easy Baked Vegan Chocolate Doughnuts
I had never made doughnuts, baked or fried, so I tested this recipe thoroughly. Four times to be exact! I got the vegan version on the second try and the vegan gluten-free version on the fourth try.
So for those of you who are vegan and not gluten free, I've got you covered. For those of you who are vegan AND gluten free, I've got your back, too.
It took me a while to get the vegan gluten free version because I couldn't figure out the right type of flour to use.
On the first try, I used my regular, go-to blend and...nope. The taste was off.
On the second try, I went with an oat flour/almond flour blend and that wasn't quite right either. So on the third try, I tried a new-to-me gluten free flour (details below), one that I had only used a few times and it was a winner.
Note that I'm using all-purpose flour in the video that's included in this post.
Both the vegan and the vegan, gluten free versions of this recipe are soft, fluffy, sweet, and the crackly sugary glaze on top makes them extra...YUM.
What's the Best Doughnut Pan to Buy?
I mentioned at the top that it took me a while to find a non-teflon coated doughnut pan. I posted a picture of it on my Instagram account a while back, you can see it here. And this is the pan I bought (in case you're in the market for one too!)
It's definitely more pricey than mainstream bakeware but this pan is heavy duty, it's made really well, and I know it's going to last a long time. Definitely worth the money since I know it's going to be heavily used as I test all the new recipes floating around in my mind. (Click here for more of my doughnut recipes!)
Back to the doughnuts.
Curious about the answers to my questions from above?
What Do Baked Doughnuts Taste Like? And What's the Texture Like?
Baked doughnuts are delicious. They're like mini, doughnut-shaped cakes. They're fluffy like cake (these doughnuts are, anyways), and they whip up really fast.
Are They Like Fried Doughnuts?
No, they're not quite like fried doughnuts.
The fried, non-yeast, counterpart to my vegan gluten free baked chocolate doughnuts are heavier and more dense. Still delicious, but these are a lighter version that are just as delicious.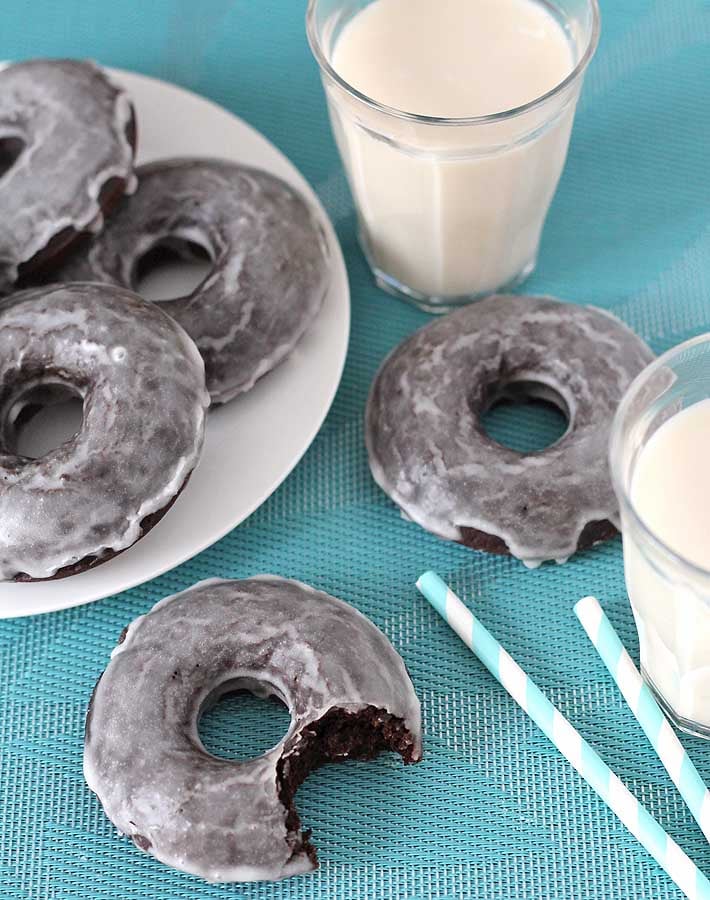 Bake up a batch for Valentine's Day, a birthday, or any day you feel like having a treat, it doesn't have to be a special occasion! Share with family, friends, co-workers, classmates...no one will know they're vegan or vegan and gluten free.
I hope you enjoy these amazing, baked chocolate doughnuts. Be sure to pin them on Pinterest and if you make them, share a pic with me by tagging me on Instagram. I'm @delightfuladventures over there and my hashtag is #delightfuladventures. I love seeing your remakes!
You can keep up with all of my new recipes and learn my baking tips and tricks! Sign up for my newsletter that will deliver all of the latest recipes, and more, to your inbox, so you never miss a thing 🙂
If you like these vegan gluten free baked chocolate doughnuts, you'll probably also like these recipes:
Print Recipe
Vegan Gluten Free Baked Chocolate Doughnuts
Looking for Vegan Gluten Free Baked Chocolate Doughnuts? Your search has ended. This recipe can be made vegan OR vegan and gluten free and the result is perfectly soft, chocolaty, sweet doughnuts you'll love!
Ingredients:
For a Sugar Glaze (as shown in pictures above):
¾

cup

(90g)

powdered sugar

sifted

4 - 5

teaspoons

warm unsweeetened non-dairy milk

⅛

teaspoon

vanilla
Instructions:
Preheat oven to 375°F (190° C).

Grease your doughnut pan (if needed).

Prepare your flax egg by whisking together ground flax seeds and water. Set aside to thicken.

In a large bowl, whisk the flour, cocoa, baking powder, baking soda, salt, and coconut sugar.

In a small bowl, mix the milk, melted coconut oil, vanilla, and flax mixture together.

Pour wet ingredients into dry ingredients and mix well to combine.

Using a piping bag or a large Ziploc bag (see note below), pipe the mixture into each cavity of your doughnut pan.

Remove from oven and let the pan sit for a few minutes before removing the doughnuts.

Remove the doughnuts from the pan and place on a cooling rack.
While the doughnuts are cooling, make the glaze:
Add the powdered sugar to a small bowl and add the warm milk, and vanilla. (Add cocoa powder as well if making the chocolate glaze)

Mix until everything has combined into a liquid glaze. (If glaze is too thick, add a little more milk)

When the doughnuts have fully cooled (they don't take long!), dip the tops of each doughnut into the glaze. Repeat with all the doughnuts.

Place the doughnuts back onto the cooling rack for the excess glaze to drip off and for the glaze to firm up. (Place a piece of parchment paper under the rack to catch the drips!)
Recipe Notes:
Note that I'm using all-purpose flour in the video that's included in this post.
This recipe will NOT work with coconut flour or any other dingle gluteen-free flour.
If you are making the vegan gluten-free version, it's important to know that every gluten-free flour blend uses different ingredients and ratios. Results will always vary when different flours are used. I tested with several different flours and the only one that worked well for me was the Bob's Red Mill 1 to 1 Baking Flour (the one in blue bag, not the red bag) so please know that your results may not be the same as mine if you substitute with a different gluten free flour.
If you are making the vegan gluten-free version, the batter will be very thick. That's OK! Just pipe it into the pan as-is.
A piping bag is recommended for getting the batter into the pan. If you don't have a piping bag, use a large Ziploc bag and snip off the end to stand in for a piping bag. If you don't have either, carefully spoon the batter into each doughnut cavity.
It's best to eat the doughnuts the same day they were made. The glaze does not hold up well. If you have leftovers, refrigerate them but know that the glaze may melt into the doughnut if kept for too long.
Nutrition info listed is for the vegan gluten-free version using the regular sugar glaze. Calorie count for 1 doughnut using the vegan only recipe (using all-purpose flour) is approximately 189 calories. Nutrition info is to be used as a rough guide only, learn how nutrition info is calculated on this website.
Nutrition Info:
Serving:
1
doughnut
|
Calories:
205
kcal
|
Carbohydrates:
30
g
|
Protein:
2
g
|
Fat:
8
g
|
Saturated Fat:
7
g
|
Monounsaturated Fat:
1
g
|
Sodium:
148
mg
|
Potassium:
83
mg
|
Fiber:
2
g
|
Sugar:
13
g
|
Vitamin A:
50
IU
|
Calcium:
60
mg
|
Iron:
0.9
mg
Did You Make This Recipe?
If so, please share a picture with me on Instagram! Tag @delightfuladventures and hashtag #delightfuladventures. I can't wait to see!