Whip up this delicious vegan gluten free chocolate banana coconut chia Pudding in the evening so it's ready for breakfast or snacks the next day.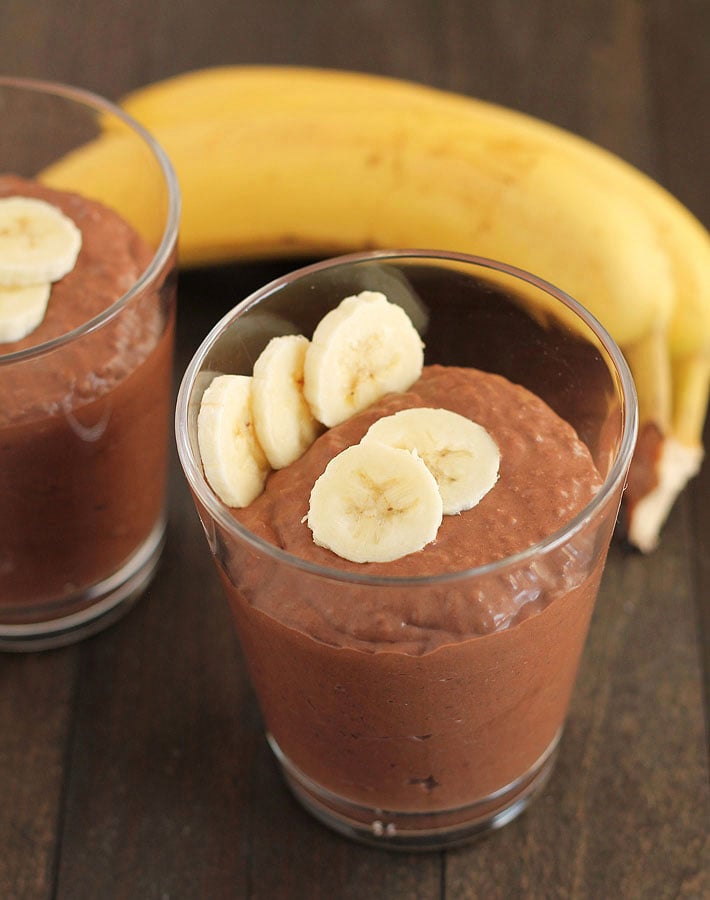 Have you ever tried chia pudding? If you haven't, I've got a must-try recipe for you. Despite the numerous recipes floating around (you can find lots on my Breakfast pin board on Pinterest), I only made it for the first time not long ago...and I really like it!
I found this recipe by nutritionist Joy McCarthy online, which is a little different than any of the other chia pudding recipes I've seen out there, and I changed her recipe slightly to come up with this Chocolate Banana Coconut Chia Pudding.
With just a few simple and nutritious ingredients, you can whip it up and have it waiting in the fridge for when you need a snack or you can even have it for breakfast. Yes, chocolate for breakfast!
If you're unsure about having it for breakfast, know that it is not overly sweet, all the sweetness is provided by the bananas and the dates. So it's naturally sweetened. The cocoa powder dulls out any chance of it being too sweet. You'll have to try it to taste what I mean!
Chocolate Banana Coconut Chia Pudding is simple to put together but it takes a little time to set. I usually make it in the evening and refrigerate overnight so it's ready for the next day.
When you look at my pictures, the chia seeds in the pudding probably stand out.
I know some people prefer to grind the chia seeds when making chia pudding so the end result is smooth (smooth like my chocolate mint avocado pudding!), but I like to keep them as they are because they add a nice little texture.
I have not tried grinding the chia seeds for this recipe but if you do try it, let me know how it turns out!
If you like this Chocolate Banana Coconut Chia Pudding Recipe, you may also like these:
And click these links for more breakfast and snack ideas!
Chocolate Banana Coconut Chia Pudding
Whip up this delicious vegan & gluten free Chocolate Banana Coconut Chia Pudding in the evening and it will be ready for breakfast or snacks the next day.
Ingredients:
4

medjool dates

(pits removed)

2

ripe bananas

(ideally, bananas that have just started to get some brown spots on them (not too many though!) so they are sweeter)

¼

cup

unsweetened cocoa powder

1

x 398ml (13.5 oz) can

full-fat coconut milk

1

teaspoon

vanilla extract

½

cup

water

¼

cup

chia seeds

sliced bananas, coconut whip, shredded coconut, chia seeds, or cacao nibs for garnish

(optional)
Instructions:
Soak dates in water for 30 minutes to soften them up.

Add dates, bananas, cocoa powder, coconut milk, vanilla, and water to a blender.

Blend until smooth. (I use my

NutriBullet

for this step)

Pour mixture into a large bowl or container.

Stir in chia seeds.

Cover and refrigerate for a few hours or overnight so it can set.

Garnish with the (optional) topping of your choice.
Recipe Notes:
This recipe makes either 4 x 250ml or 2 x 500ml larger servings. Calorie count listed above is for a 250ml serving.
Canned coconut milk must be used, not the coconut milk that comes in cartons.
I use full fat coconut milk in this recipe, but light coconut milk can also be used. If using light coconut milk, cut back on the water being added to the recipe. Calorie count listed above is the recipe made with full fat coconut milk.
Keep refrigerated and use within 2 days
Recipe adapted from Joy McCarthy's Banana Chia Pudding.
Nutrition Info:
Serving:
1
g
|
Calories:
367
kcal
Did You Make This Recipe?
If so, please share a picture with me on Instagram! Tag @delightfuladventures and hashtag #delightfuladventures. I can't wait to see!