Warm, sweet, juicy blueberries fill every bite of this tasty, summery dessert. What's not to love about that?! This easy-to-make gluten-free blueberry crisp is topped with a slightly sweet, crumbly oat topping, it's vegan, and it can be made with either fresh or frozen blueberries. Read on to learn how to make it!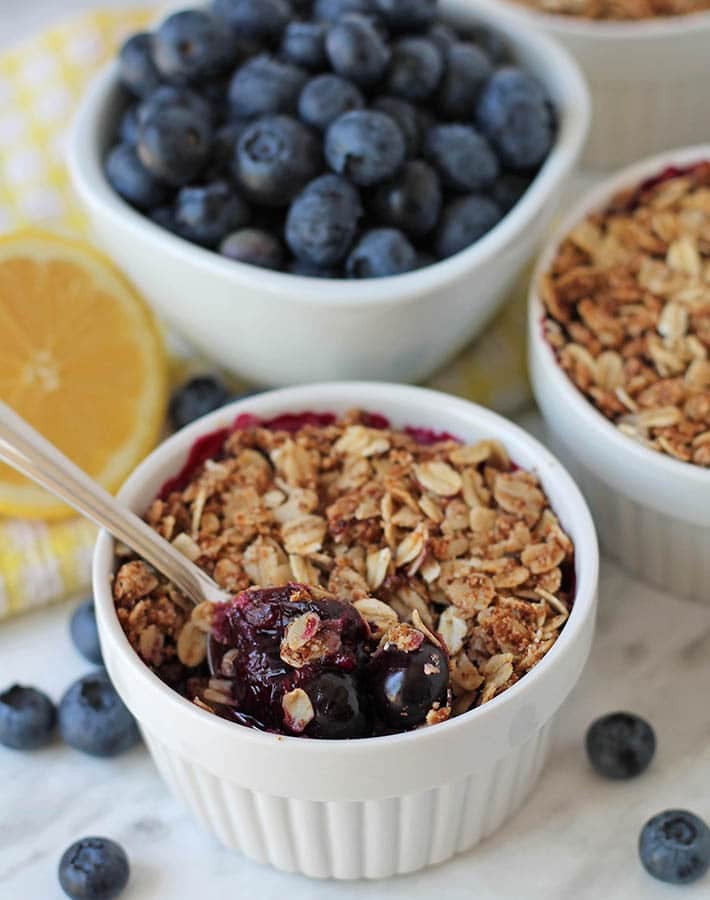 The recipes I can make with summer fruits and berries are countless. If I don't restrain myself, this entire website would be filled with just summer fruit recipes!
This gluten free blueberry crisp is like a blueberry pie without the pastry crust. Instead of crust, you get an oat topping that gives the dessert a texture that contrasts the soft blueberries, perfectly.
If you want to make vegan crisps, but with different fruits, check out my other gluten free fruit crisps:
Ingredients You'll Need and How to Make It
(Note: I've outlined the step-by-step on how to make this easy gluten free blueberry crisp here, but find the full recipe, ingredients, and directions at the end of this post.)
First, you'll combine all of the blueberry filling ingredients in one bowl, then combine all of the topping ingredients in another bowl. Easy!
This vegan gluten free blueberry crisp is made without flour (wheat flour), but it is made with oats and oat flour. You can make your own oat flour by following the steps here.
And to keep this recipe gluten free, be sure to purchase certified gluten free oats (look for the proper labelling on the package)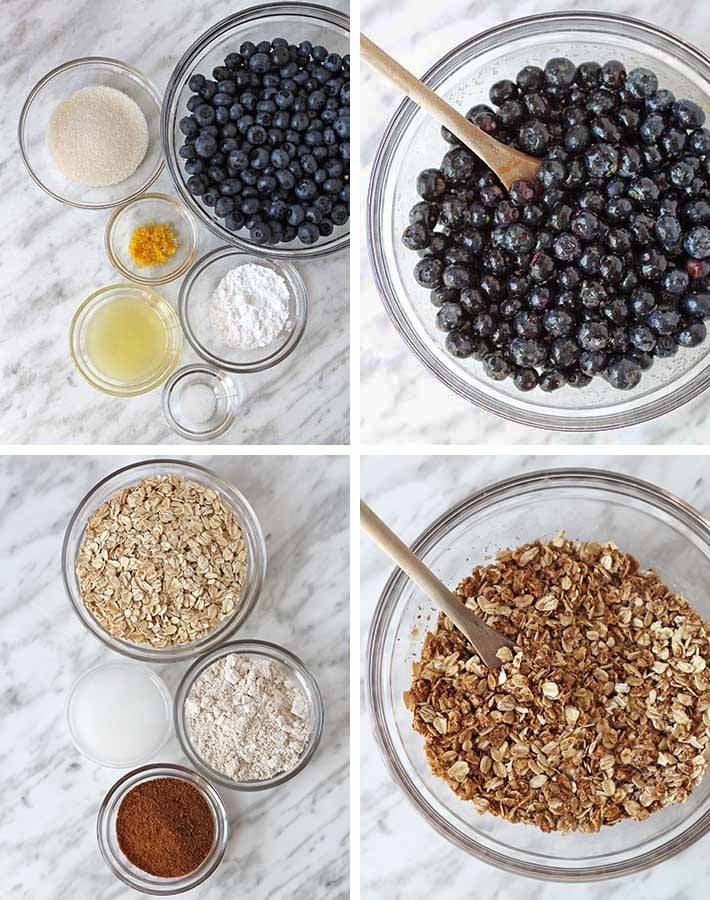 You can make this recipe in either an 8 x 8 inch baking dish or make them in individual serving ramekins, like I do in the pictures. (My ramekins are 8oz each and you can buy them here.)
Add the blueberries to the ramekins or the baking dish and top with the oat mixture. That's it!
And don't worry if the topping goes a little higher than the sides of the ramekins (like mine does in the picture below), the berries will reduce in size as they cook, so everything will level off by the time it's finished in the oven.
Can It Be Made with Frozen Blueberries?
If you happen to be reading this in the fall, winter, or spring and fresh berries aren't easy to find, not to worry because you can make this with frozen blueberries, too!
You'll just have to make one very small change, details are in the recipe notes below.
Do Leftovers Need to Be Refrigerated?
Yes, they do. I prefer to serve my vegan blueberry crisp fresh, but if you need to make it ahead the day before or if you have leftovers, refrigerate in an airtight container or covered with wrap and reheat at a low temperature when you're ready to serve.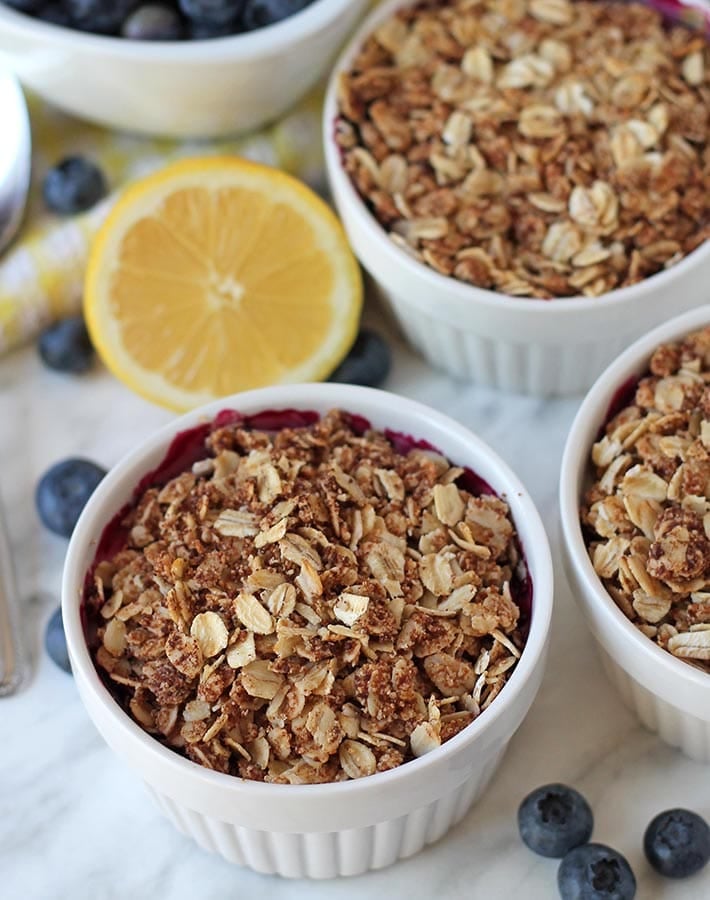 What is Arrowroot Starch and Why Does This Recipe Call for It?
Arrowroot starch (also called arrowroot flour or powder) comes from the arrowroot plant and does the same job as cornstarch would in a recipe like this. It helps to thicken up the juice released by the berries as they cook in the oven.
I prefer to use arrowroot starch because it's less processed than cornstarch, and it's also nut-free, dairy-free, soy-free, and corn-free. It also has no flavour, so you won't taste it in your recipes. It has quite a few uses in gluten-free baking, but it's great as a thickener in this recipe.
You can find it on Amazon or in the natural section of your grocery store. Be sure to look for a brand that is labelled gluten-free, I like this one.
You can learn more about arrowroot starch here.
Toppings to Serve It With
You can serve without any toppings like I did in the pictures, or you can be a little fancier and top with coconut whip or ice cream.
So take advantage of those beautiful summer berries while you can and you can even freeze some so you can make this dessert in the middle of February, if you want 🙂
If you make it, tell me about it! Leave me a comment and rating below or share a pic on Instagram and tag me so I can see. I love seeing your remakes!
You can also help me to help others find this gluten free blueberry crisp recipe by pinning it to your recipe board on Pinterest! You can do that by clicking here.
If you like this recipe, you make also like these vegan blueberry recipes:
Gluten Free Blueberry Crisp
Enjoy a sweet, delicious taste of summer when you make this easy gluten-free blueberry crisp recipe. It can be made with either fresh or frozen berries and also happens to be vegan!
Ingredients:
Blueberry Layer:
4

cups

blueberries

(fresh or frozen, 2 pints)

3

tablespoons

sugar

2

tablespoons

lemon juice

1

teaspoon

lemon zest

2

tablespoons

arrowroot starch

(see note below if using frozen blueberries)

¼

teaspoon

salt
Topping:
1 ¼

cups

rolled oats

(gluten free oats, if needed)

½

cup

oat flour

¼

cup

coconut sugar

(or brown sugar)

¼

cup

soft coconut oil

+ a little extra for greasing ramekins or baking dish
Instructions:
Pre-heat oven to 350° F (177° C)

Lightly grease the bottom and sides of 5 x 8 oz ramekins OR an 8 x 8 baking dish, with coconut oil.


Add blueberries, sugar, lemon juice, lemon zest, and arrowroot starch to a bowl. Stir until combined.

Divide blueberry mixture evenly among the ramekins or add all to an 8 x 8 baking dish and spread so you have an even layer. Set aside.


Add rolled oats, oat flour, and coconut sugar to a bowl and whisk until combined.

Add coconut oil to oat mixture and mix until combined and crumbly.

Divide oat mixture evenly among the ramekins by adding to the top of the fruits (don't pack it down).

If using an 8 x 8 baking dish, add all of the oat mixture to the top of the blueberries and spread to make an even, loose layer (don't pack it down).

Bake ramekins for 25 minutes until the fruit is bubbling and the top is golden.

If using an 8 x 8 dish, bake for 30 minutes until the fruit is bubbling and the top is golden.

Cool before serving, best when served warm.
Recipe Notes:
Before making this recipe, please read FAQ above for helpful tips to ensure your dessert is a success.
This dessert is best enjoyed the day it was made, but if you have leftovers, store in an airtight container in the fridge. Warm up before serving again.
If using frozen blueberries, use 2.5 tablespoons of arrowroot starch.
If you use extra virgin/unrefined coconut oil for this recipe, the vegan crumble topping will have a coconut flavour. If you would prefer to not have that flavour, please use refined coconut oil.
Old fashioned rolled oats must be used, NOT quick oats (topping will be too mushy) or steel cut oats (topping will not cook properly).
If you are making this in an 8 x 8 baking dish, servings can range from 4-6 depending on how small or large you make each serving.
Nutrition info listed below is for 1 of 5 servings (without any toppings) and is only to be used as a rough guide. Click here for more info on how nutrition info on this website is determined.
Nutrition Info:
Serving:
8
oz
|
Calories:
381
kcal
|
Carbohydrates:
60
g
|
Protein:
6
g
|
Fat:
14
g
|
Saturated Fat:
10
g
|
Monounsaturated Fat:
1
g
|
Sodium:
84
mg
|
Potassium:
111
mg
|
Fiber:
7
g
|
Sugar:
27
g
|
Vitamin A:
100
IU
|
Vitamin C:
26.4
mg
|
Calcium:
20
mg
|
Iron:
2
mg
Did You Make This Recipe?
If so, please share a picture with me on Instagram! Tag @delightfuladventures and hashtag #delightfuladventures. I can't wait to see!