If you're looking for a sweet holiday dessert, this Gluten Free Vegan Sticky Toffee Pudding, dripping with rich maple caramel sauce, may be just what you're looking for! It's a delicious twist on a sweet, classic festive dessert.
This page may contain affiliate links. Click to learn more.
Years ago, I tried sticky toffee pudding at a restaurant, for the first time. It was amazing, so of course, I decided that I wanted to try making it at home. But then I forgot about it, until recently, when I went to a demonstration put on by Canadian Chef extraordinaire, Lynn Crawford.
As part of her demonstration, she made a maple sticky toffee pudding, which reminded me, and lead me to come up with this vegan sticky toffee pudding recipe (that also happens to be gluten free!).
If you're looking for traditional sticky toffee pudding, let me say right now:
This is NOT it.
This vegan sticky date pudding recipe is far from the traditional British sticky toffee pudding, it's more of an adaptation of the North American'ized version. An adaptation of an adaptation!
Chef Lynn handed out her recipes at the end of her demonstration, and I used her recipe as a guide. Her recipe is not vegan, not gluten free, it contained butter, eggs, maple syrup, no spices, and it was made as one big cake.
So this is a heavily adapted version of hers.
My version of sticky toffee pudding contains most of the usual sticky toffee pudding elements, like dates, a sauce, and lots of sweetness, but this recipe is different because it's eggless, it's vegan, it's gluten-free, and it contains a couple spices.
This recipe also uses a maple caramel sauce, instead of a regular caramel sauce, and the cakes are made individual sized, thanks to being baked in a muffin pan.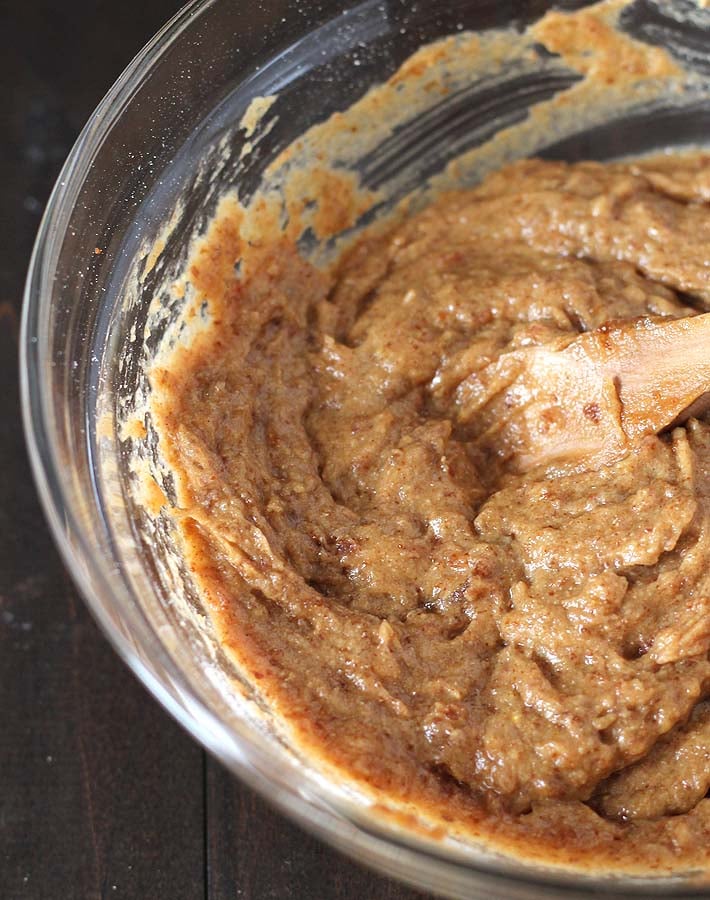 Vegan sticky toffee pudding is a dessert to serve on special occasions because it's rich, decadent, and it's also super sweet, so if you love very sweet desserts, then this gluten free sticky toffee pudding is for you!
Most of the sweetness comes from the dates in the cakes, and the rest of it comes from the sticky maple caramel sauce that's drizzled over the tops…twice!
After the puddings come out of the oven, you let them cool for a few minutes, in the muffin pan, and then you poke holes into the cakes with a wood skewer and drizzle the sauce over each one so the caramel soaks in and starts to earn the "sticky" part of its name.
You need to use something that will make holes larger than what a fork or toothpick would give you or the caramel sauce will not soak in well.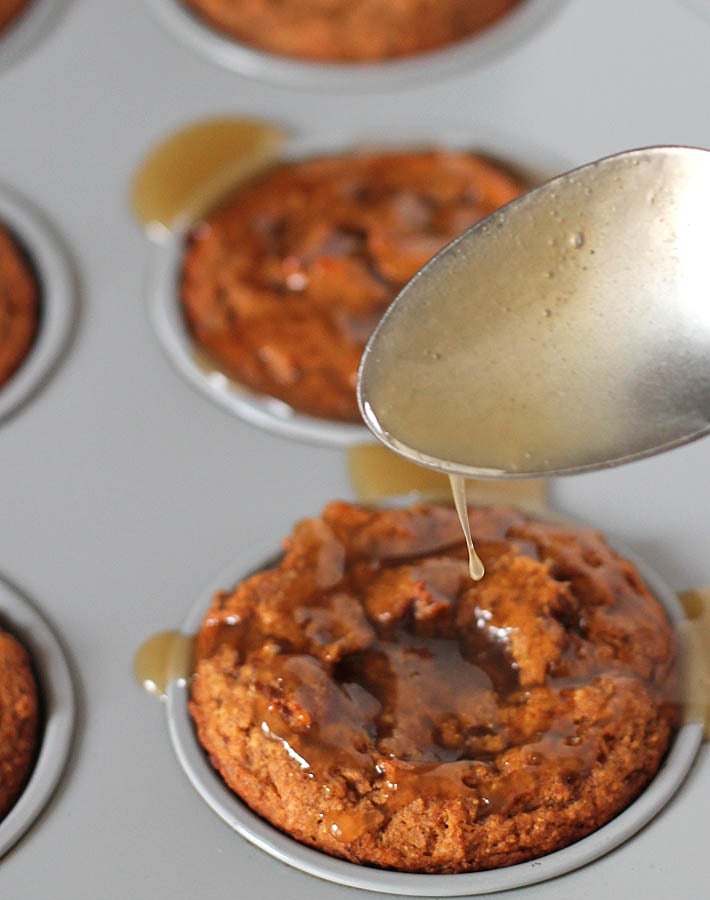 Once you drizzle the sauce on top, you leave it to soak in for a little while (all of it won't soak in, there will be some that remains on top). After letting it sit, you leave your gluten free sticky toffee puddings until you're ready to serve and when you serve (ideally, you want to serve them warm), they get another drizzle of the warm maple caramel sauce.
See? I told you it was a special occasion treat! It's perfect for the holidays and special occasions.
The cake part, before it gets soaked in caramel, is cakey, but at the same time, dense. If that makes sense. The denseness comes from the dates, which are heavy, so the cakes don't rise and become very big and fluffy, which is perfectly fine.
The cake is also sweet, and again, that's courtesy of the dates.
Is a Topping Necessary?
Because of the richness of this vegan sticky date pudding recipe, it's perfectly fine to serve without any topping at all, they can stand on their own, just the cakes and the maple caramel sauce, but to make it a little prettier, toppings are nice!
If you do go the topping route, you can serve them with a small scoop of vegan vanilla ice cream, or like I've done here, with a little drop of coconut whipped cream.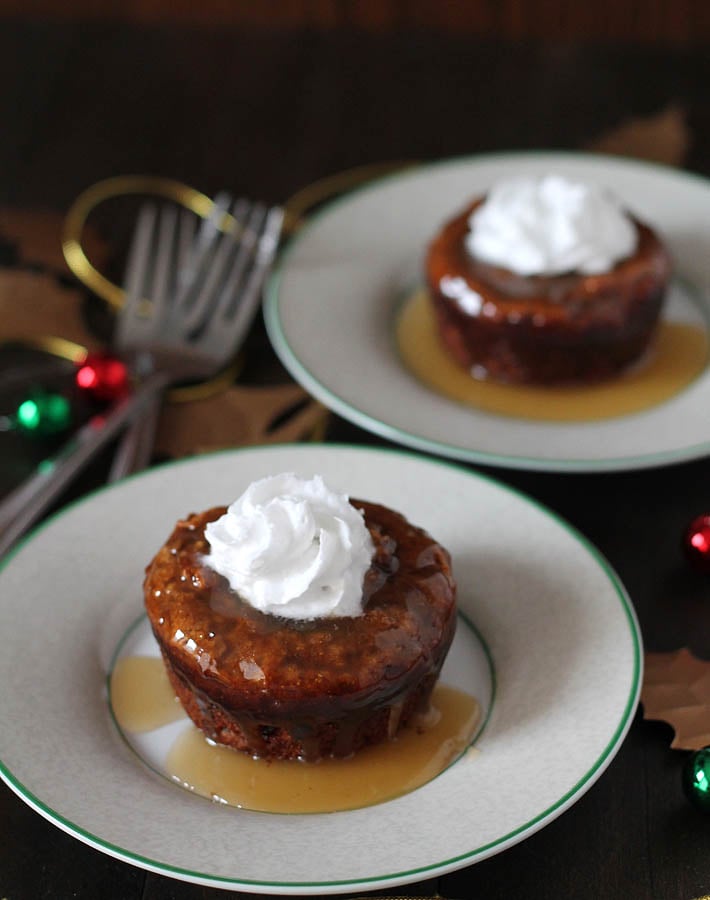 How to Store Leftovers
If you're going to have leftovers, set the extras aside and don't poke holes into them or add any maple caramel sauce.
Let them cool and then store them in an airtight container (they will keep for about 2 days) and when you're ready to serve them, wrap them, and place them in a warm oven for a few minutes until they have heated through.
Once they have been reheated, go through the poking, caramel drizzle x 2, and serve!
Can I Make This Recipe with a Different Flour?
I've only tested this recipe with this gluten-free blend. I use Bob's Red Mill All Purpose Gluten-Free Flour Blend (with the red label, not the blue!) (Amazon Link). All blends are different, so your results may not be the same as mine if you choose to use a different gf blend.
If you are not gluten-free and would like to use all-purpose flour, I think it would work fine (I have not personally tested it, yet), BUT, you may have to add a little splash of water or non-dairy milk since the batter may be a little on the thicker side.
Please share a picture on Instagram with me if you make this recipe! I'm @delighfuladventures.
And don't forget to pin this recipe for later.
If you like this vegan sticky toffee pudding recipe, you may also like these:
And be sure to click this link for more vegan, gluten free holiday recipes!
How to Make Gluten Free Vegan Sticky Toffee Pudding