This page contains affiliate links. Click to learn more.
If you live in Toronto / the GTA, chances are, you're familiar with the Greenhouse Juice Co. Personally, I have never been to a location (they currently have 13 stores and more are in the works), nor have I tried their juices (maybe they'll open up a location in Ottawa, someday?), but I was very familiar with them because of their pretty juice bottles I regularly see in my Instagram feed. You've probably seen pics of their bright beautiful organic juices posted by their fans, they're hard to miss.
The people behind Greenhouse Juice Co. recently published their first cookbook,  "The Greenhouse Cookbook: A Plant Based Eating and DIY Juicing" and I was sent a copy by the publisher. I was able to share a recipe on my website if I wanted to (and I did want to!) and let me tell you, it was HARD to decide which one to choose.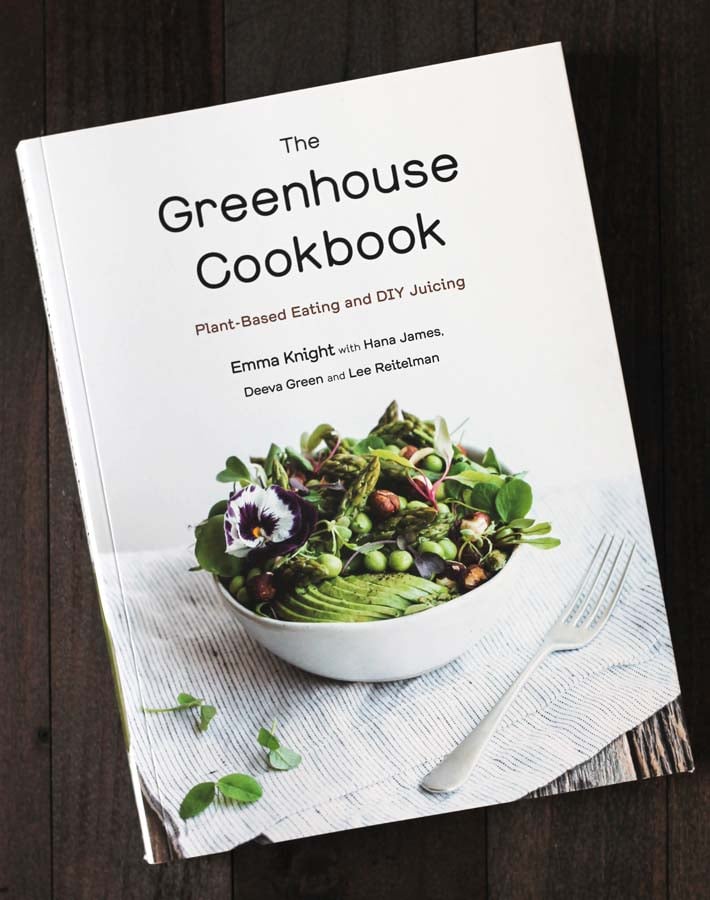 Greenhouse Juice Co. is, of course, known for their delicious and super nutritious juices and the book is filled with all of those recipes (that were once all a secret!). If you aren't familiar with their juices, they all have fun names (Gold Rush, Wake Up, The Giver, to name a few!). Each recipe is preceded by a small blurb about how each juice came to be and what makes it amazing. All of the Greenhouse Juice Co. juice recipes are loaded with fresh fruits and vegetables that will have you wanting to dig out your juicer and start juicing more often.
But the book is so much more about juices. It also has chapters loaded with Breakfast recipes (Peach Crisp Smoothie Bowl, Moroccan Sweet Potato Hash), Lunch, and Dinner recipes (Spicy Mushroom Tacos with Crispy Tempeh, Tuscan White Bean Soup with Dinosaur Kale), Bites recipes (Flax Crackers with Black Olives, Blueberry Lemon Bites), Smoothies, Nut Milks, Tonics, Cleanses, helpful info on ingredients, juicers, juicing, cleanses…and beautiful photos of the recipes. But one recipe that really caught my eye was part of the Desserts section (this shouldn't surprise you!). It was the Key Lime Cups recipe because I love citrus desserts.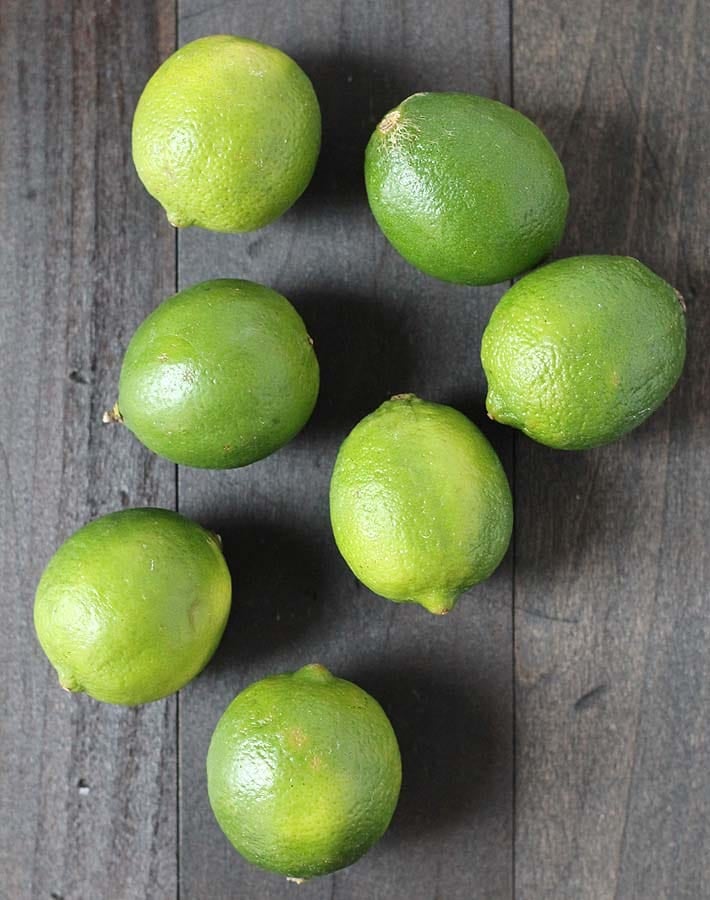 This recipe, like all of the recipes in the book, is uncomplicated. You aren't going to find anything in this book that has 25 ingredients and 25 steps. All recipes are plant-based, gluten-free, very easy to follow, and easy to make. And all the recipes I've tried so far are DELICIOUS.
I do love making my own juices, but I wanted to share the recipe for the Key Lime Cups because I've been on a bit of a citrus kick lately. I've been busy perfecting a baked lemon doughnut recipe and I just shared my very citrusy recipe for vegan hot cross buns. So why not add another citrus recipe to the mix?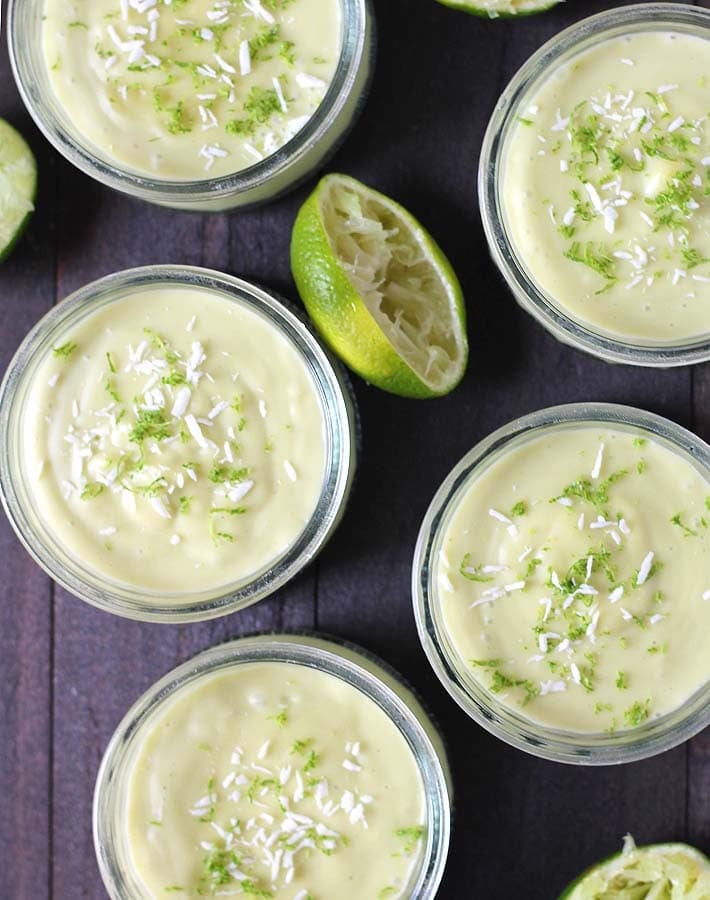 At first, the coconut oil in the recipe threw me off a bit. I know this recipe will work beautifully with full fat canned coconut milk instead of the oil but I still went ahead with the recipe with a lot of trust. I use coconut oil in pretty much all my baking, but I've never used it in a dessert like this. I'm glad I went ahead with it, because it is outstanding.
It's rich, decadent, and bursting with fresh lime flavour. The lime dominates everything in such a good way, and it was a hit with my entire family. After trying it for the first time, my youngest described it as being "zzzzz" on her tongue. And she doesn't mean "zzzzz" like sleeping, boring, or not exciting. She meant "electric." It was like a buzz on her tongue. I think this was her attempt to describe "out-of-this-world, tangy!"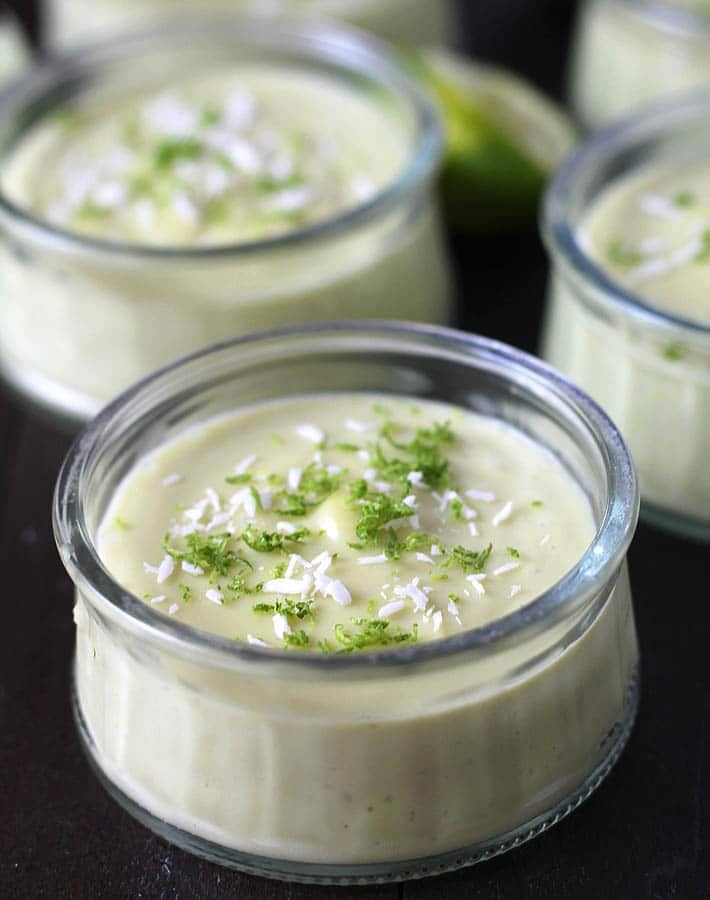 The texture is like a mousse. It's creamy, smooth, and velvety (I know those words all mean pretty much the same thing, but I need to emphasize the texture because it's so perfect!). In the book, they stated that they usually serve these in small servings, in shot glasses. I think if you're looking for a small hit of dessert, serving that way would be perfect. I chose to serve them as 1/2 cup servings which was also perfect.
It's currently not key lime season, so I used regular limes, so if you can't find key limes, no need to worry. Just use regular limes and your dessert will be equally as mouth-watering!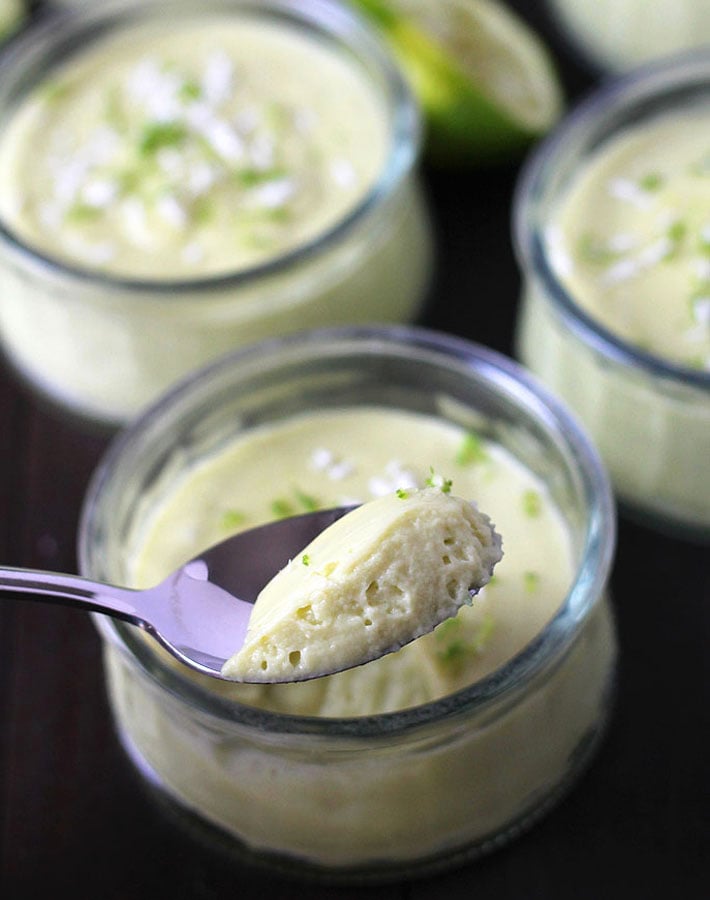 The Greenhouse Cookbook: A Plant Based Eating and DIY Juicing" is definitely a must-have for fans of the Greenhouse Juice Co.'s juices, but also fans of plant-based, gluten-free recipes. And remember, this book is so much more than juices.
If you pick up a copy, be sure to tell me which recipe (other than the Key Lime Cups, of course!) you try first. I can guarantee that you will have a hard time deciding!
How to Make Key Lime Cups
Penguin Random House Canada sent me a copy of "The Greenhouse Cookbook: A Plant Based Eating and DIY Juicing" at no charge to review with the option to share a recipe from the book on my website. Of course, I chose to share the Key Lime Cups recipe because it is amazing! All opinions about this book and the recipes found in the book are my own. All images in this post were taken by me and are also my own.

Key Lime Cups recipe excerpted from "The Greenhouse Cookbook: A Plant Based Eating and DIY Juicing" by Emma Knight with Hana James, Deeva Green and Lee Reitelman. Cookbook photography by Elena Mari and Nathan Legiehn. Copyright © 2017 by Greenhouse Juice Company. Published by Penguin, a division of Penguin Random House Canada Limited. Recipe reproduced by arrangement with the Publisher. All rights reserved.