Soft, fluffy, baked vegan pumpkin doughnuts (they can also be made vegan AND gluten-free!) flavoured with fresh ginger, ground cinnamon, and nutmeg. They're the perfect dairy free pumpkin doughnuts for fall (or any other time!).
I'm building quite the collection of doughnut recipes on this website! It all started with my chocolate doughnuts and here we are today with the newest addition to the list, vegan pumpkin doughnuts!
And I have others you may like, too!
If you've been through all of my recipes, it will be clear that I love making vegan pumpkin recipes. It all goes back to my "How to Make Homemade Pumpkin Puree" post.
Are you new to vegan gluten-free baking? If so, be sure to read all of my vegan gluten-free baking tips!
With that simple recipe for pumpkin puree, you can make any savoury recipe calling for pumpkin puree, or you can make any of my sweet, easy vegan gluten free pumpkin recipes like:
(You can also use canned pumpkin puree if you don't want to make your own)
One of the things you can make is this baked pumpkin doughnuts recipe.
Make them Just Vegan Or Vegan AND Gluten-Free
As with all of my other doughnut recipes, I've included instructions on how to make this easy baked pumpkin doughnuts recipe vegan gluten-free and if you're not gluten-free, you can make them just vegan, with one slight change to the recipe.
My other doughnut recipes were all able to have just the flour swapped out but with this recipe, because of thickness of the puree and gluten-free flour blend, it needed a little more liquid to make the doughnut batter the proper consistency.
All of those details can be found below.
What Do They Taste Like?
These dairy-free, eggless doughnuts are very easy to make and contain freshly grated ginger, cinnamon, nutmeg and a little more ginger, ground this time, to round things off.
The result is a warm spiced treat that's perfect for the fall season.
They're then finished off with a sweet, sugary topping that contains more ground ginger and cinnamon.
What's the Texture Like?
I mentioned above that I want everyone to experience these amazing gluten free vegan pumpkin doughnuts, so I give instructions on how to make them both ways.
There are slight differences between both results, but both taste just as delicious as the other.
This is what the vegan pumpkin doughnuts look like on the inside:
And this is what the vegan gluten-free pumpkin doughnuts look like on the inside:
As usual, the vegan version, made with wheat flour, raises more while baking and is more on the fluffy / spongy side, while the vegan gluten-free version does not rise as high and is a little more dense. Wheat flour will always give a result that rises more than gluten-free flour.
This is just the nature of baking vegan gluten-free treats, as I'm sure you're accustomed to, if you've ever done any vegan gluten-free baking (if you haven't, please read my helpful vegan gluten free baking tips!).
But don't let those differences scare you, both versions of these baked gluten free pumpkin doughnuts are equally delicious and no matter which version you make, you'll end up with a treat your family and friends will love.
What is the Best Flour to Use for This Recipe?
I've tested with both all-purpose flour and with Bob's Red Mill Gluten-Free 1 to 1 Baking Flour (the one in the blue blue, not the red). You can see the results from each flour above.
I have not tested with any other flours, other than what I mentioned above, so I cannot recommend any others but I do know for sure that coconut flour will not work.
Keep in mind that all gluten-free flour blends contain different ingredients and may not work the same as the one I used if you choose to substitute.
NOTE: No matter which type of flour you use, always measure it correctly for the best results!
What Doughnut Pan Do You Recommend?
This recipe makes six standard sized gluten free pumpkin spice doughnuts, so you'll need a pan with six standard cavities.
The doughnut pan I own and love is this one here (<-- that's an Amazon Link). It's heavy duty, I've had it for almost 2-years now, and it's still going strong after many, many uses (I test a lot of doughnut recipes!).
I also like that its non-stick coating does not contain Teflon and I've never had to grease my doughnut pan, the coating works perfectly every time, after all this time.
What is a Flax Egg? Why Does This Recipe Call for It?
A flax egg is an egg replacement used in many vegan recipes, including this one.
I wrote a post all about them and included a little video so you can SEE how to make it. Read (and watch!) that post here.
You can help others to find this recipe by pinning it to one of your food boards on Pinterest. CLICK HERE TO PIN IT NOW!
If you like these baked vegan pumpkin doughnuts, you may also like these other easy vegan recipes: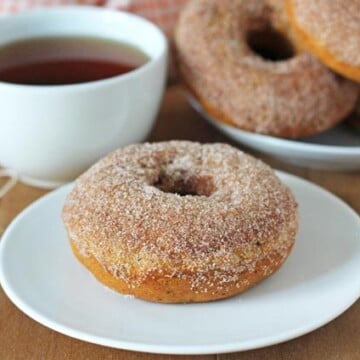 Print Recipe
Baked Vegan Pumpkin Doughnuts
Baked Gluten-Free Vegan Pumpkin Doughnuts flavoured with fresh ginger, ground cinnamon, and nutmeg are the perfect fall treat and can also be made gluten-free!
Ingredients:
For the Doughnuts:
1

tablespoon

ground flax seeds

3

tablespoons (45ml)

water

1

cup (148g)

gluten free flour

OR all-purpose flour (125g) (see notes below for the slight change you will have to make and about the gluten-free flour to use)

1

teaspoon

baking powder

¼

teaspoon

baking soda

¼

teaspoon

salt

¼

cup (38g)

coconut sugar

OR brown sugar (50g)

½

teaspoon

ground cinnamon

½

teaspoon

ground ginger

¼

teaspoon

ground nutmeg

½

cup + 3 tablespoons (165ml)

unsweetened non-dairy milk

(omit the additional 3 tablespoons (45ml) if you are making the vegan only version)

¼

cup

pumpkin puree

(not pumpkin pie filling)

2

tablespoons (30ml)

melted coconut oil

1

teaspoon

fresh grated ginger

½

teaspoon

vanilla extract
Instructions:
Preheat oven to 375° F (190° C)

In a large bowl, whisk together the flour, baking powder, baking soda, salt, sugar, cinnamon, ginger, and nutmeg.

In a small bowl, mix the non-dairy milk, pumpkin puree, melted coconut oil, grated ginger, vanilla extract, and flax mixture together.

Pour wet ingredients into dry ingredients and mix well to combine. Don't over mix.


Using a piping bag or a large Ziploc bag (see note below), pipe the mixture into each cavity of your doughnut pan.

Bake for 10 minutes.

Remove from oven and let the pan sit for a few minutes before removing the doughnuts.

Remove the doughnuts from the pan and place on a cooling rack.
While the doughnuts are cooling, make the sugar spice topping:
Add the sugar to a small bowl, add cinnamon and ground ginger and mix together.

When the doughnuts have fully cooled, one at a time, brush the tops with a little of the melted coconut oil and dip each one into the sugar topping until the top is coated. Repeat with all the doughnuts.
Recipe Notes:
Before making this recipe, please read recipe notes below and FAQ above for helpful tips to ensure your pumpkin doughnuts are a success.
If you are making the vegan only version, only use ½ cup of the non-dairy milk.
If you are making the vegan gluten-free version, it's important to know that every gluten-free flour blend uses different ingredients and ratios. Results will always vary when different flours are used. I have never used any other brand of flour to make these doughnuts, other than Bob's Red Mill 1 to 1 Baking Flour (the one in the blue bag you see in the link, NOT the red bag), so please know that your results may not be the same as mine if you substitute with a different gluten free flour.
Coconut flour will NOT work in this recipe.
Brown sugar can be used instead of coconut sugar in the doughnut batter.
A piping bag is recommended for getting the batter into the pan. If you don't have a piping bag, use a large Ziploc bag and snip off the end to stand in for a piping bag. If you don't have either, carefully spoon the batter into each doughnut cavity.
It's best to eat the doughnuts the same day they were made, but if you have leftovers, refrigerate them and eat within the next day or so.
Nutrition info is based on 1 vegan gluten-free doughnut and is only to be used as a rough guide. Calorie count for 1 doughnut using the vegan only recipe is 192 calories. Click to learn how nutrition info is calculated on this website.
Nutrition Info:
Serving:
1
doughnut
|
Calories:
212
kcal
|
Carbohydrates:
36
g
|
Protein:
2
g
|
Fat:
7
g
|
Saturated Fat:
5
g
|
Polyunsaturated Fat:
1
g
|
Monounsaturated Fat:
1
g
|
Sodium:
163
mg
|
Potassium:
35
mg
|
Fiber:
2
g
|
Sugar:
15
g
|
Vitamin A:
1250
IU
|
Vitamin C:
0.8
mg
|
Calcium:
70
mg
|
Iron:
0.5
mg
Did You Make This Recipe?
If so, please share a picture with me on Instagram! Tag @delightfuladventures and hashtag #delightfuladventures. I can't wait to see!