An easy recipe for a gluten-free vegan apple galette filled with warm spices and tender apples. It's the perfect dessert to serve during the fall or the holidays (or any time of year!).
To make it extra special, serve with ice cream! If you're not gluten-free, it can be made just vegan, instructions on how to do that are below.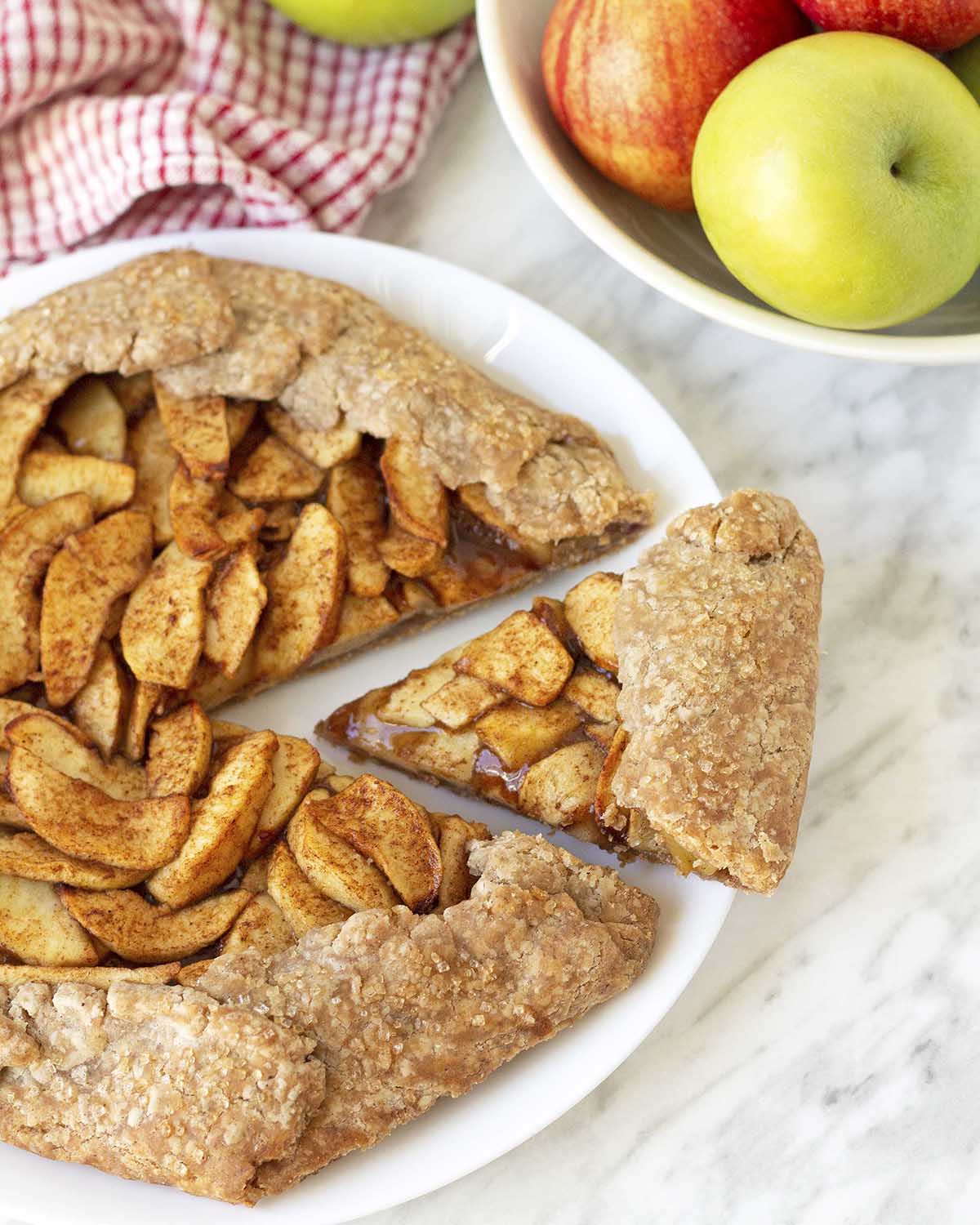 Which fall flavour is your favourite?
For me, anything with those warm, comforting spices like nutmeg and cinnamon is a winner.
Whether it's recipes with pumpkin, a recipe using sweet potatoes (like my sweet potato bread or sweet potato waffles), vegan gluten-free cinnamon rolls, or an apple recipe, like my
applesauce spice cake my apple upside down cake or this rustic gluten free apple galette, I love them all.
Back in the summer, I shared a very summery gluten free blueberry galette, and this is a fall version. And I say summer and fall, but both of these galette recipes can be made year round.
This particular vegan apple galette recipe (just like the blueberry version), is 100% dairy-free, egg-free, and gluten-free. It's also 100% delicious!
As it bakes, the juices from the apples join with the sugar and spices to create a syrupy caramel sauce, it's like an apple pie, just without the top crust!
I'll walk you through, step-by-step, showing you how to make it. I'll also share all of my tips so you can successfully make it to serve as a special dessert for an upcoming celebration, or...just because.
Are you new to vegan gluten-free baking? If so, be sure to read all of my vegan gluten-free baking tips!
Ingredients You'll Need
There are two groups of ingredients for this recipe:
The crust ingredients (on the left in the image below): a gluten-free flour blend, cold vegan butter, salt, cinnamon, sugar, and ice water.
The apple filling ingredients (on the right in the image below): Three medium apples (or four small). I like to use a mix of tart and sweet apples when baking, so I used two Granny Smith, and one Gala. Feel free to use what you have on hand, I've suggested some good apples for baking below.
You'll also need brown sugar (coconut sugar can be used instead), cinnamon, nutmeg, salt, lemon juice, and arrowroot starch (or cornstarch).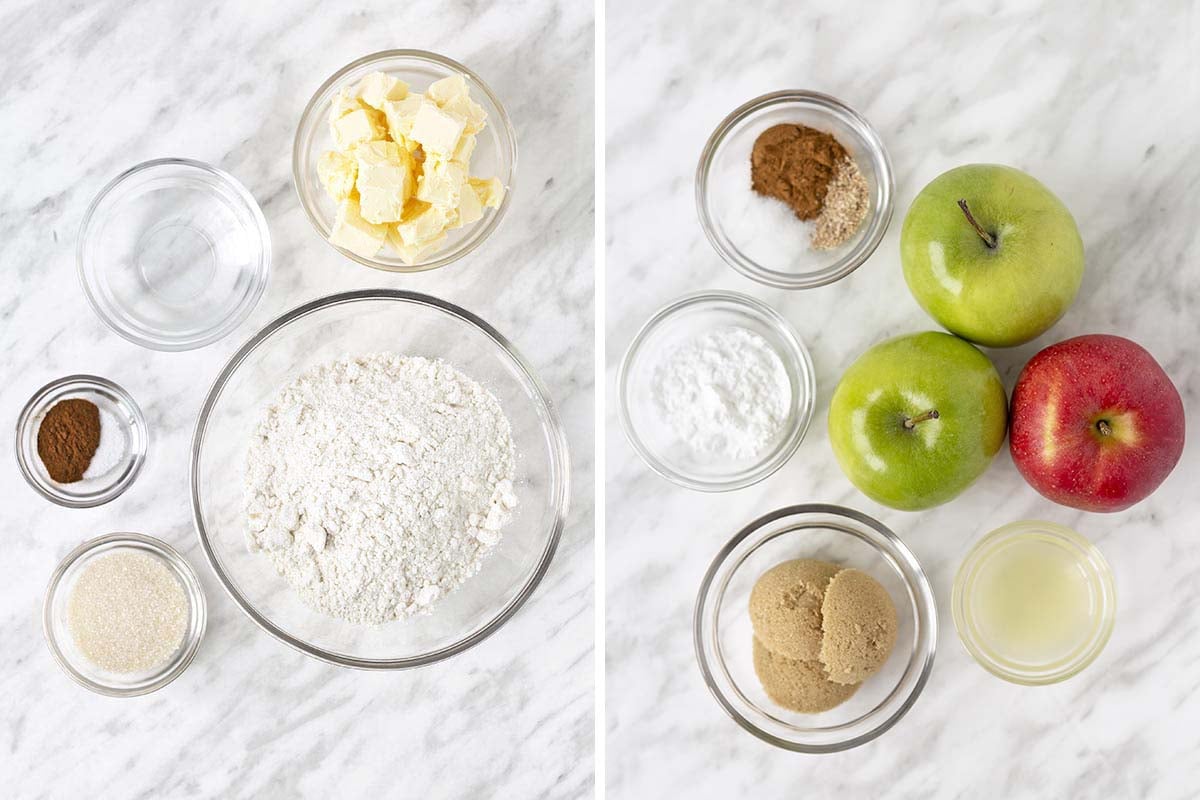 How to Make It
(Note: I've outlined the step-by-step on how to make this recipe here, but find the full, detailed recipe, ingredients, and directions at the end of this post.)
The first step to making this recipe is to make the gluten free galette crust. The dough needs to chill for at least 2 hours in the fridge, so keep that in mind before you start to prepare this recipe. The dough can even be made a day or two before.
The first step is to whisk the dry ingredients together and then add the cubed, cold butter. (Make sure you measure your flour correctly!)
It's important that the butter is very cold so it doesn't melt into the flour and so it cuts into the flour properly in order to get a flaky crust. If the butter is warm and melts into the dry ingredients, your crust will not end up flaky.
You'll then cut the butter into the dry mix until all that's left of the butter cubes is pea sized and smaller pieces (see the bottom left image below).
Next, add in the ice water, and mix until the dough is in large clumps (bottom right image below).
Now with your hands, and working quickly so you don't melt the butter, form a ball with the dough. Press the dough down into a disk and wrap with plastic wrap. Place in the refrigerator to chill for at least 2 hours.
Once the chilling time has almost passed, get the apple filling ready.
Preparing the Apples
You'll first need to peel the apples, cut them into quarters, remove the core, and then slice the quarters into quarter inch (¼") slices, like in the image below.
It's fine if you have a few slices that are thinner or thicker than the rest, it will happen, they aren't all going to be perfect. Just make sure that the majority of them are the same and that you're aiming for a thickness equal or as close to a quarter of an inch.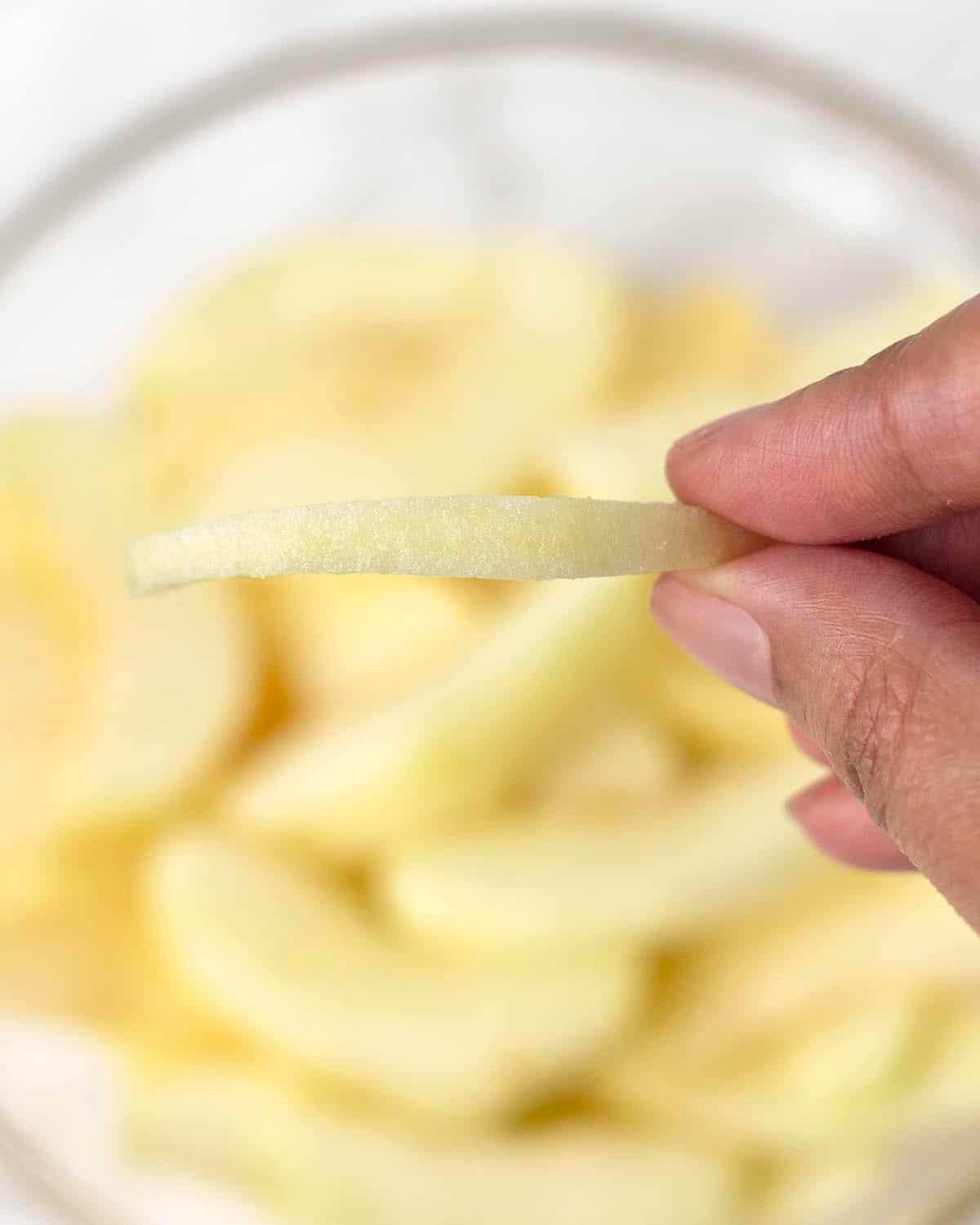 Rolling Out the Dough
Place the chilled disk of dough in between two pieces of parchment paper and roll it out into a 12-inch circle. Don't worry if the dough doesn't roll out into the perfect circle, that adds to the rustic-ness of the dessert 🙂
The dough needs to be rolled out to be as close to ⅛ of an inch thick as you can get it. Any thicker, and your crust will be chewy, any thinner and the juices from the apple will escape while baking.
Preparing the Galette
Spoon the apple mixture into the middle of the dough, you don't have to do it in a fancy way, just pile them on, and leave a two-inch border of dough around the edges (see top left image below). Next, fold the edges all the way around the galette.
There will likely be cracks in the dough since this is a gluten-free dough that's not as pliable as a wheat dough. To fix them, simply pinch the cracks back together.
Next, brush the outer sides of the dough with non-dairy milk and sprinkle with turbinado sugar (bottom right image).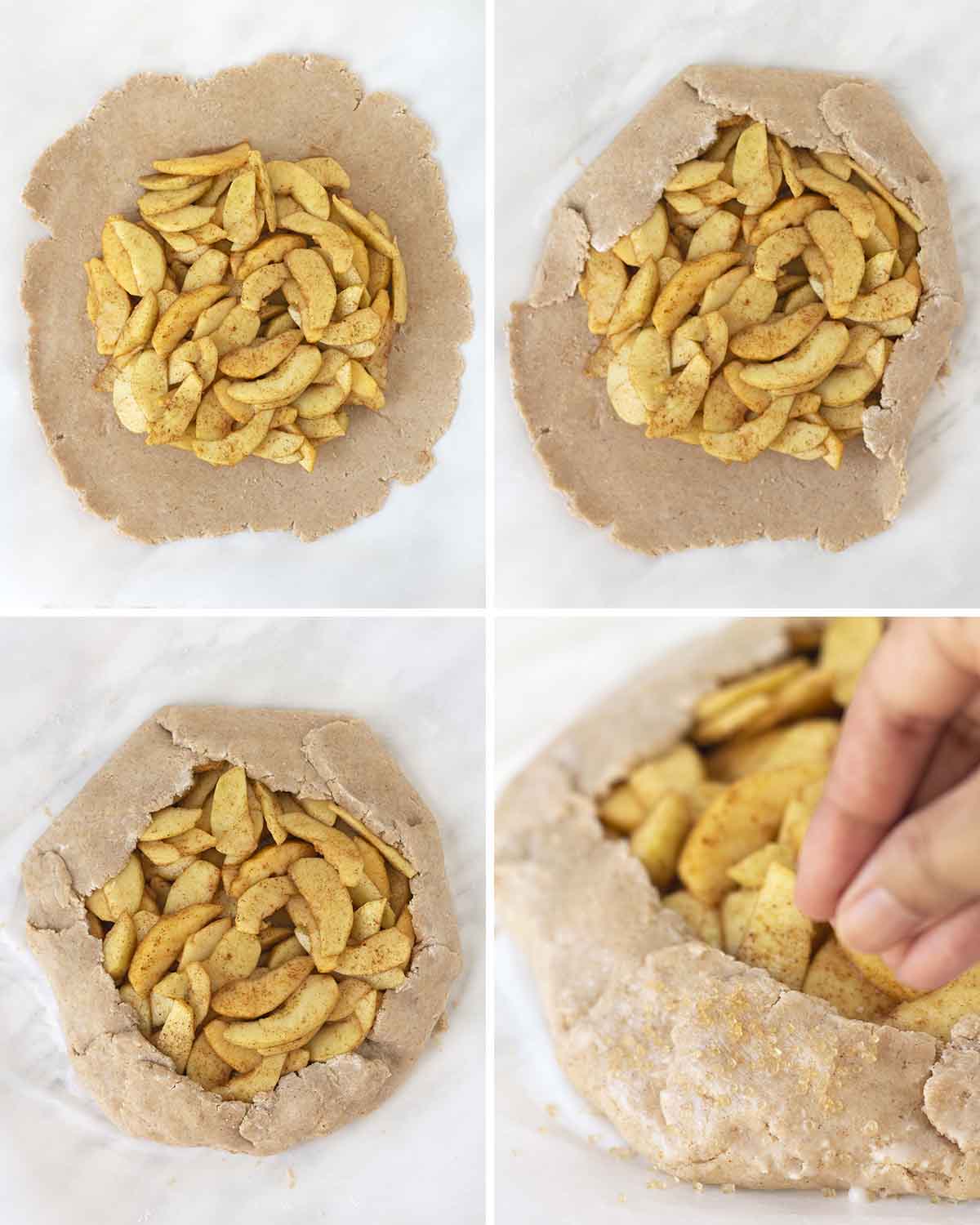 The image on the left below shows the galette before baking and the image on the right is after baking.
When it's done, allow it to cool and serve warm.
FAQ
Can a Different Gluten-Free Flour Be Used?
I have only use Bob's Red Mill 1 to 1 Baking Flour Blend (the one in the blue bag) for this recipe so I can't speak for any others. Results will vary with other blends since ingredients and ratios will differ.

The Bob's 1 to 1 Baking Flour I'm using contains xanthan gum, so if you do try another gf blend and it doesn't contain xanthan gum, you'll need to add ¾ teaspoon of it to your recipe.

And if you don't have to make the recipe gluten-free, just vegan, you can use all-purpose flour in its place, same cup measurement, see recipe notes for weight.
What's the Best Vegan Butter to Use?
Use your favourite! Personally, I like Melt Sticks and Becel Plant-Based Sticks, but other brands like Earth Balance and Miyokos will also work perfectly.
What's the Best Variety of Apple to Use?
Any apples that would be good for pie will also work well for this recipe. You want to use apples that are firm, will hold their shape, and won't get mushy after baking. Apples such as Granny Smith, Gala, Ambrosia, Pink Lady, Braeburn, Honeycrisp, Mutsu, or Golden Delicious will all work well. This article has some good info on the best apples for baking.
Instead of Making One Big Galette, Can They Be Made Mini?
To make mini apple galettes, after the dough has chilled, separate it into four separate, even pieces and roll each one out individually and proceed with the rest of the recipe as it's written.
How Should Leftovers Be Stored?
When fully cooled, place leftover slices in a single layer in an airtight container and store it in the refrigerator for up to three days. When ready to serve, the cold slices can be warmed up in the oven.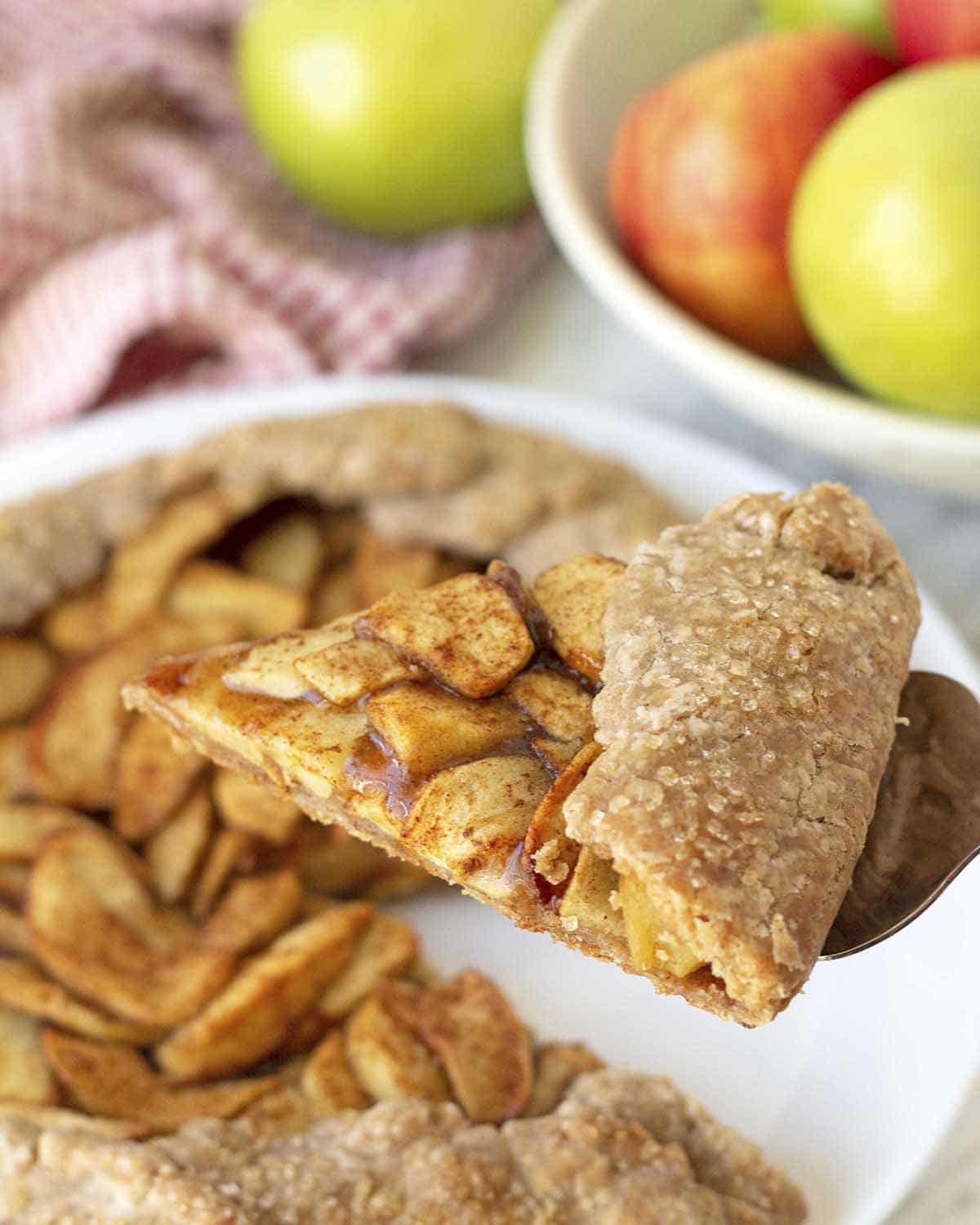 How to Serve It
It's best to serve any gluten-free galette warm and when it comes to toppings, you can serve it plain or with dairy-free coconut ice cream (like I do in the picture below!), or you can also serve with maple caramel sauce or coconut whipped cream.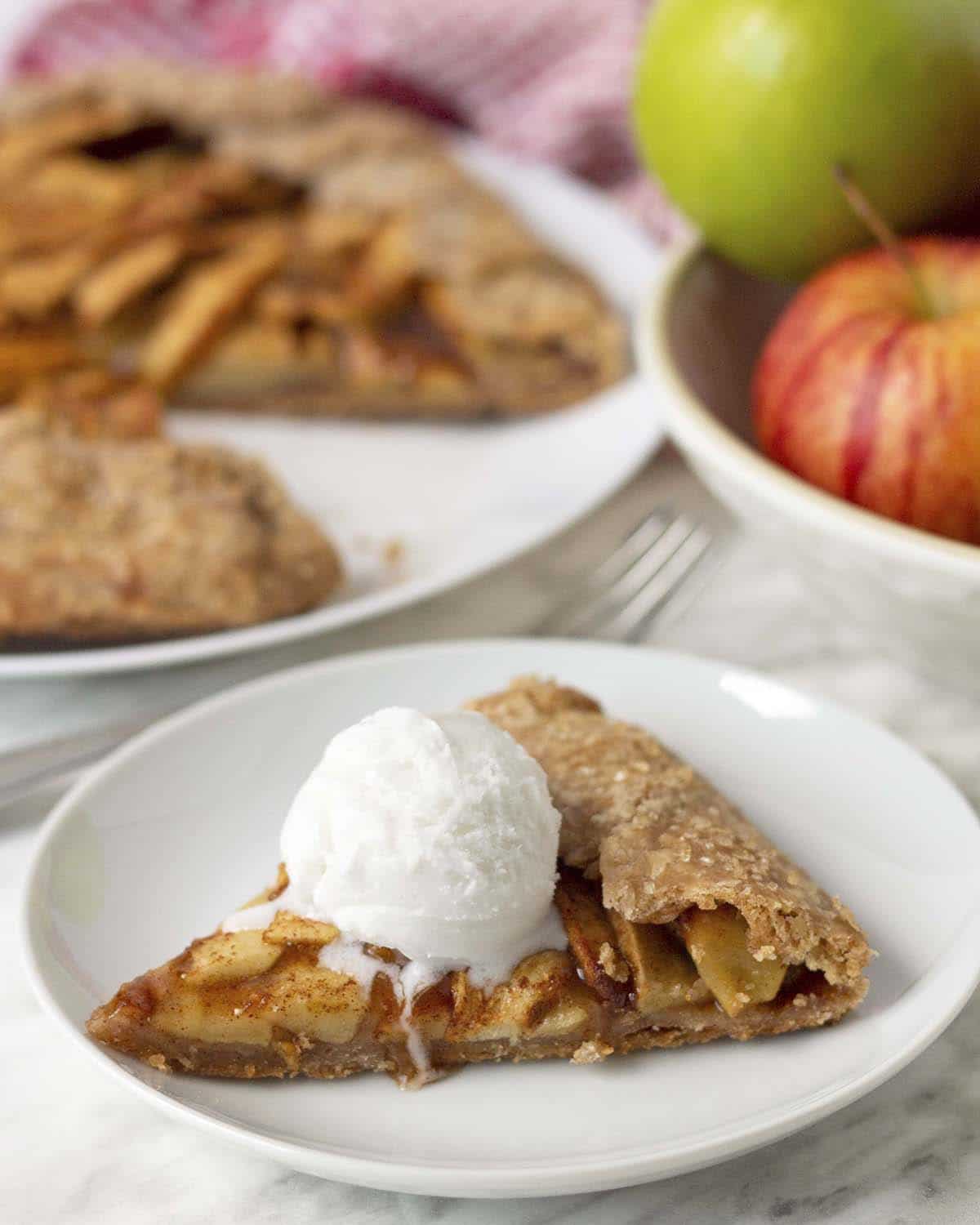 Expert Tips for Success
The more you work the dough, the less flaky it will turn out (I go through all of this in my vegan gluten-free pie crust recipe). So if at any time during the process you find that the dough has gotten too warm, feel free to stop what you're doing and put it back in the refrigerator to cool back down before proceeding.
Don't under fill or over fill the galette (aka crostata!) with apples.
Make sure that your butter and water are cold before starting.
Roll your dough out on parchment paper and place another piece on top of the dough. This will prevent sticking and make it easy transfer it to the baking sheet. Bake the galette on the same piece you used to roll it out on.
Thoroughly read the recipe, recipe notes, and all info above the recipe before making it and follow the recipe as it's written.
If You Make This Recipe...
...tell me about it in the comments below or post a pic on Instagram and tag me so I can see! I'm @delightfuladventures on Instagram.
And If You Like This Recipe...
...you may also like these other vegan apple desserts!
You can help others to find this gluten-free fruit galette recipe by pinning it to your recipe board on Pinterest. Click here to pin it now!
Vegan Apple Galette (Gluten-Free)
An easy recipe for a rustic gluten-free vegan apple galette filled with warm spices and tender apples. It's the perfect dessert to serve during the fall or the holidays. The recipe as written is gluten free but it can be made just vegan, if needed, instructions are included. Serve with ice cream to make it extra special!
Ingredients:
For the Crust
1 ¼

cup

(185g)

gluten free flour

**see important note about flour below**

2

tablespoons

sugar

1

teaspoon

ground cinnamon

¼

teaspoon

salt

½

cup

(113g)

unsalted vegan butter

cold and cubed

4

tablespoons

ice water
For the Outside of the Crust
Instructions:
Add flour, sugar, cinnamon, and salt to a medium bowl and whisk together.

Add cold cubed butter and with a pastry blender or two forks, cut the butter into the dry mixture until the butter has broken down and only pea sized chunks remain.

Add ice cold water, one tablespoon at a time, mixing with a spoon after each addition. After all water has been added, mix again, If the dough is too dry, add another tablespoon of water. Mix until everything combines to form a loose dough.

Using your hands, form the loose dough into a tight ball making sure that any dry patches of flour gets incorporated into the ball.

Place dough on a piece of plastic wrap and pat down into a disk. Wrap the dough disk and place in the refrigerator to chill for at least 2 hours.

When the chilling time is up, preheat oven to 375° F (190° C).

Add the sliced apples, lemon juice, brown sugar, arrowroot starch, cinnamon, nutmeg, and salt to a bowl. Gently mix until everything has combined. Set aside.

Unwrap and place chilled dough on a piece of parchment paper and sprinkle a little gluten free flour on top of the dough. Place another piece of parchment paper on top of the dough and using a rolling pin, roll out into a 12-inch circle that is ⅛ inch thick. Be careful not to roll the edges out too thin.

Remove the parchment paper from the top. Lift the parchment paper the dough is on and transfer it over to a cookie sheet.

Spoon the apple mixture into the center of the dough leaving a 2-inch border around the edges. There will be some liquid at the bottom of the bowl the apples were in, save it.

Fold the outer edges of the dough all around the galette, as shown in the images above.

Brush the dough with the non-dairy milk and sprinkle with the turbinado sugar. Pour the liquid from the bowl on top of the apples.

Bake for 35-40 minutes, until crust is golden brown.

Remove from oven and cool before slicing.
Recipe Notes:
Please read all of the information and FAQ info above, as well as the notes below before making this recipe.
Use 3 medium to large apples for this recipe or 4 small apples. The total weight of the whole unpeeled apples should be roughly 525g and after peeling, coring and slicing, the slices should weigh roughly 345g.
It's important to know that different gluten-free flour blends use different ingredients and ratios, so results may vary if you substitute. I have never used any other brand of gf flour to make this recipe other than Bob's Red Mill Gluten Free 1 to 1 Baking Flour (Amazon link) in the blue package, NOT the red package, so please know that your results may not be the same as mine if you substitute with another gluten-free flour blend. The weight listed above is for this specific brand of flour.
If the gluten-free flour blend brand you are using does not contain xanthan gum, add ¾ teaspoon to the dry ingredients.
If you use another brand of gluten-free flour, you may need a little more or a little less water than what the recipe calls for. Add water one tablespoon at a time to ensure you add the correct amount and if you need more, add more, one teaspoon at a time.
This recipe will NOT work with coconut flour.
Coconut sugar can be used in place of the brown sugar.
All purpose white flour (same cup measurement / 156g)can be used in place of the gluten-free flour if you're not gluten-free and no need to add xanthan gum if you will be using wheat flour. When adding the water, start with 3 tablespoons and go from there as the measurement may be a little different from the gluten-free version.
Cornstarch (cornflour in the UK) can be used in place of the arrowroot starch.
When fully cooled, place leftover slices in a single layer in an airtight container and store the container in the refrigerator for up to three days. Re-heat slices for about 10-minutes in a preheated 350°F (177°C) oven before serving.
Nutrition info is based on 1 of 8 slices with no toppings. Nutrition info is only to be used as a rough guide. Click to learn how nutrition info is calculated on this website.
Nutrition Info:
Serving:
1
slice
|
Calories:
298
kcal
|
Carbohydrates:
22
g
|
Protein:
0.4
g
|
Fat:
24
g
|
Saturated Fat:
12
g
|
Sodium:
149
mg
|
Potassium:
14.7
mg
|
Fiber:
1.8
g
|
Sugar:
15
g
|
Vitamin A:
1.5
IU
|
Vitamin C:
3.9
mg
|
Calcium:
4.9
mg
|
Iron:
0.2
mg
Did You Make This Recipe?
If so, please share a picture with me on Instagram! Tag @delightfuladventures and hashtag #delightfuladventures. I can't wait to see!