Tasty mini gluten free vegan apple muffins filled with diced apples and warm fall spices. These tiny two-bite treats are great for your kids' school snacks or for snacking on at home!
This page contains affiliate links. Click to learn more.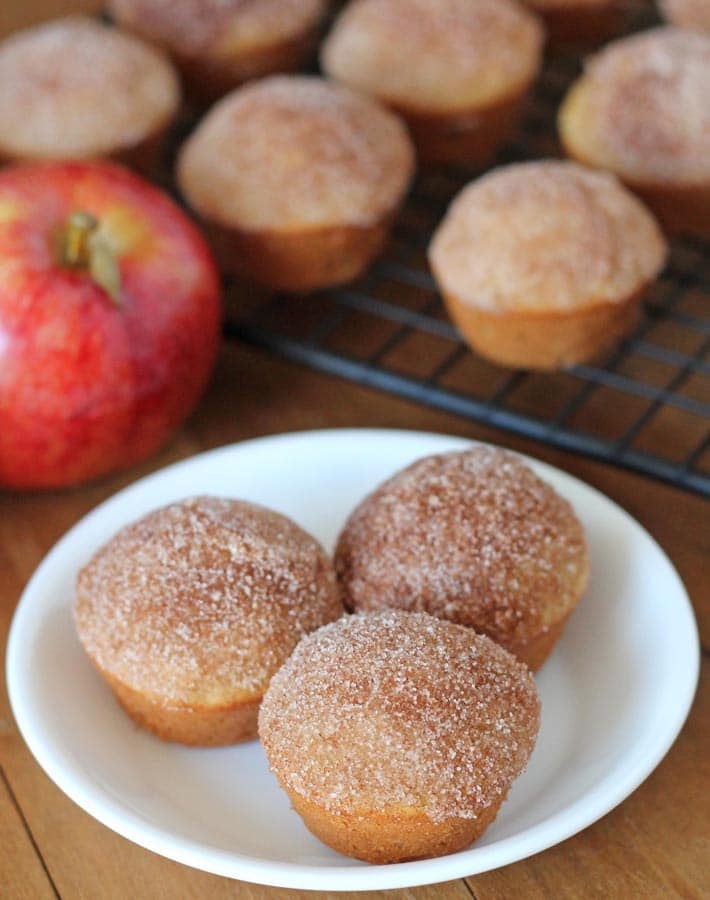 This time of year is always bittersweet for me, and I'm sure I've written about this before, somewhere on this website.
It's bitter because it's the end of summer, my absolute favourite time of year. Gone are long hot days, eating BBQ out in the backyard, berry recipes, less rigid schedules, and lots of sun.
But at the same time, it's sweet because fall brings with it recipes that contains warm, flavourful spices, filling comfort meals, hot chocolate, cozy sweaters, and covering up with warm fuzzy blankets while watching TV on the couch.
Can you relate to any of this?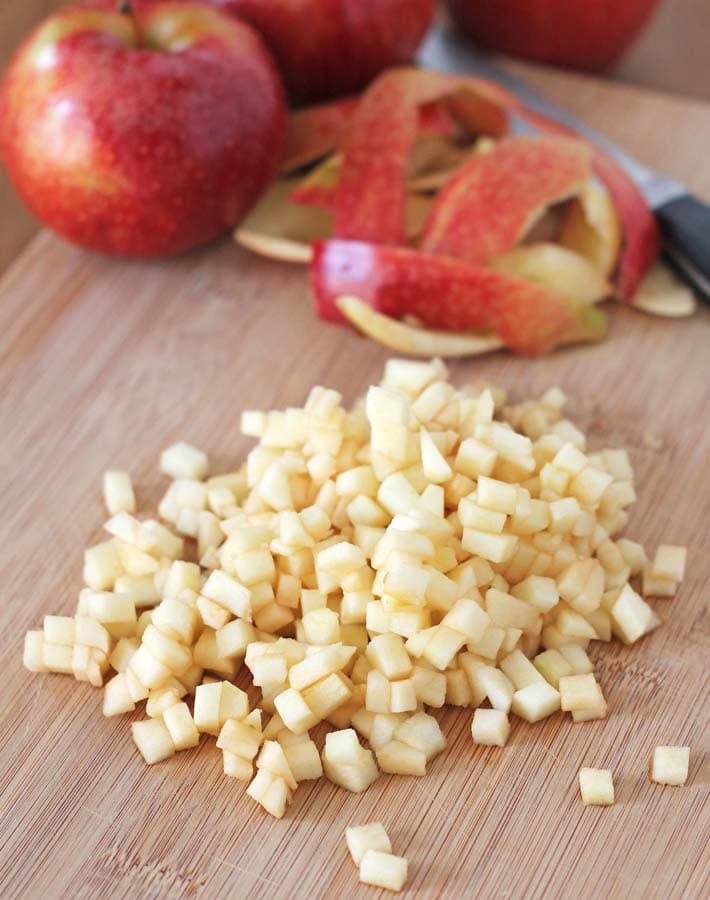 We're lucky to have apples available to us year-round, but the big apple harvest, here in Canada, happens in the fall which means my focus turns from summery recipes, to recipes that are more "fall," like those with apples, pumpkin, and any type of recipe that says "yes, this is fall."
One of those apple recipes happens to be these mini gluten-free vegan apple muffins.
It's a recipe that's very easy to make, and the entire family will love them, especially the kids!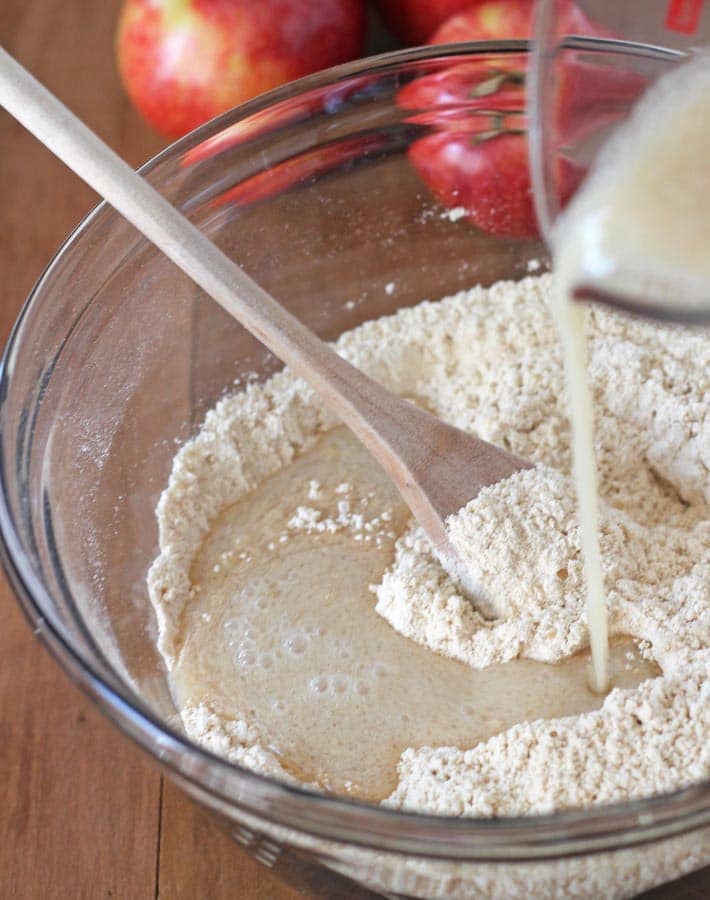 These little muffins are filled with those familiar warm fall spices and loads of tiny apple pieces.
The batter comes together quickly, the longest thing will probably be dicing up the apples, but it's just one small apple, so it really doesn't take too long.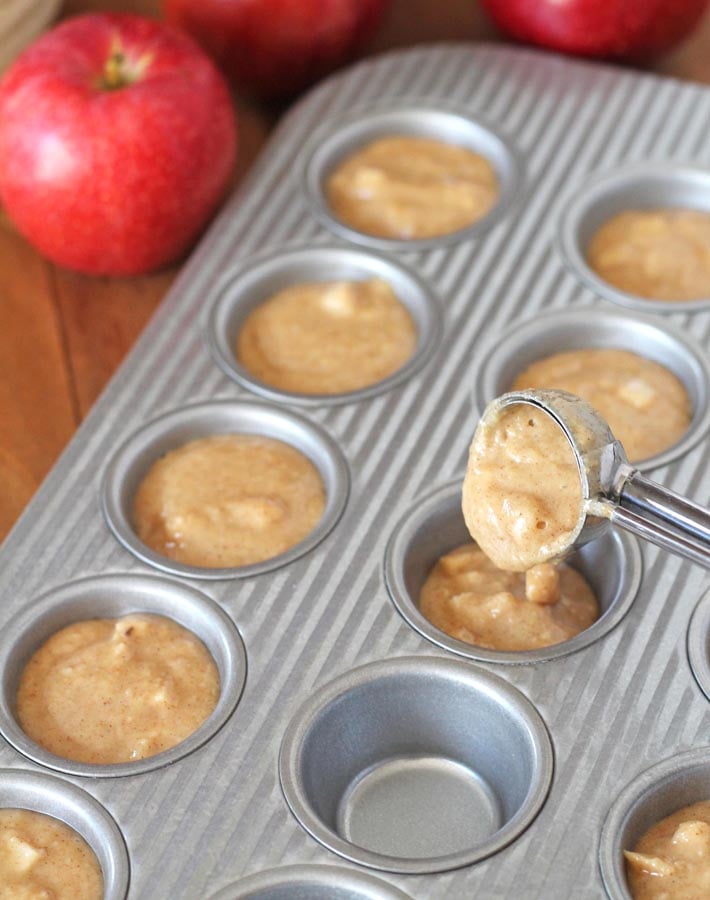 Once the muffins come out of the oven, it's almost time for the fun part: coating the tops with cinnamon sugar!
Your muffins should be fully cooled before moving on to this next step. Once they have cooled, you'll need to dip or brush each muffin top lightly, one by one, with melted coconut oil.
Then, you want to dip each muffin top into the cinnamon sugar mix you'll have ready and waiting.
After that step, your muffins will be done and ready for devouring!
Before you start…
I have a pumpkin spice mini muffin recipe that I've made countless times and they're always perfect, but a couple readers wrote to me saying they had problems with the batter being too thick.
I helped them troubleshoot and in one case, the incorrect amount of liquid was used, and in another, coconut flour was used, which is a big no-no.
I wrote up some tips for that post and I'll repeat them here (since the recipes are similar) to ensure you have recipe success with your own mini vegan apple muffins:
Please do not substitute the gluten-free flour blend I recommend with coconut flour. Coconut flour is not an easy flour to work with and this recipe will not work if you use it. Coconut flour will NOT work with this recipe. So don't try, K? 🙂

The only flour I've tested this recipe with is Bob's Red Mill Gluten Free All Purpose Baking Flour. <– Click that link to see what it looks like. You can buy it through that Amazon link or look for it at your store. Don't use the Bob's gluten-free flour with the blue label, it does not work the same as this one. If this specific flour is not used, your results may not be the same as mine.
Note that the sugar and applesauce call for 1/4 cup PLUS 1 tbsp. Please don't miss that extra 1 tablespoon of each ingredient.
Be sure that all ingredients are measured correctly.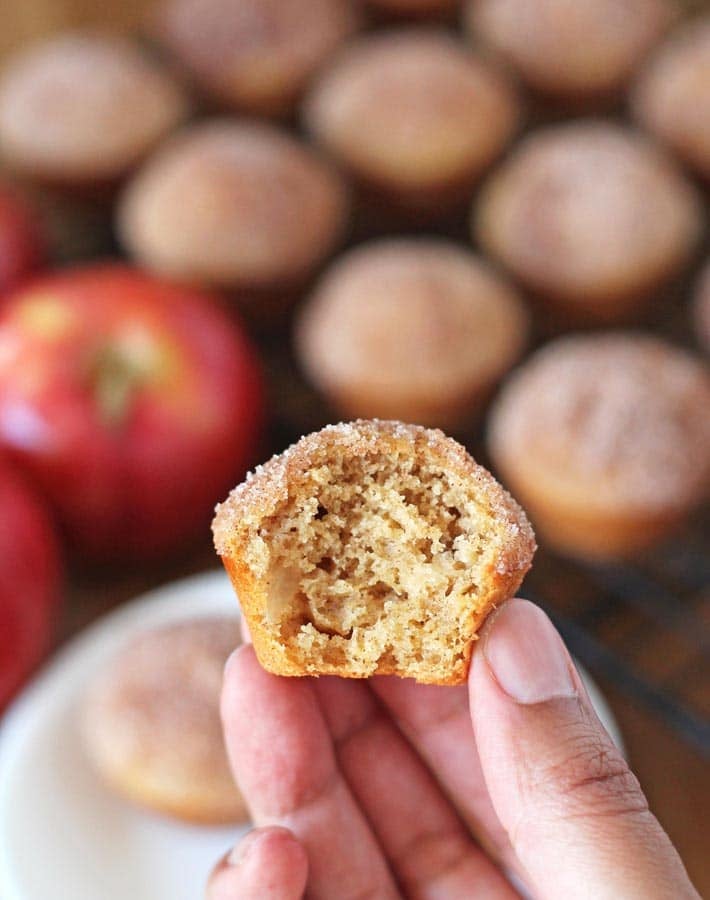 If you like this recipe for gluten-free vegan apple muffins, pin it on Pinterest and then check out these other recipes you may also like these:
How to Make Gluten-Free Vegan Apple Muffins