Easy mini gluten-free vegan apple muffins filled with diced apples and warm fall spices. These tiny, tasty two-bite treats are great for your kids' school snacks or for snacking on at home!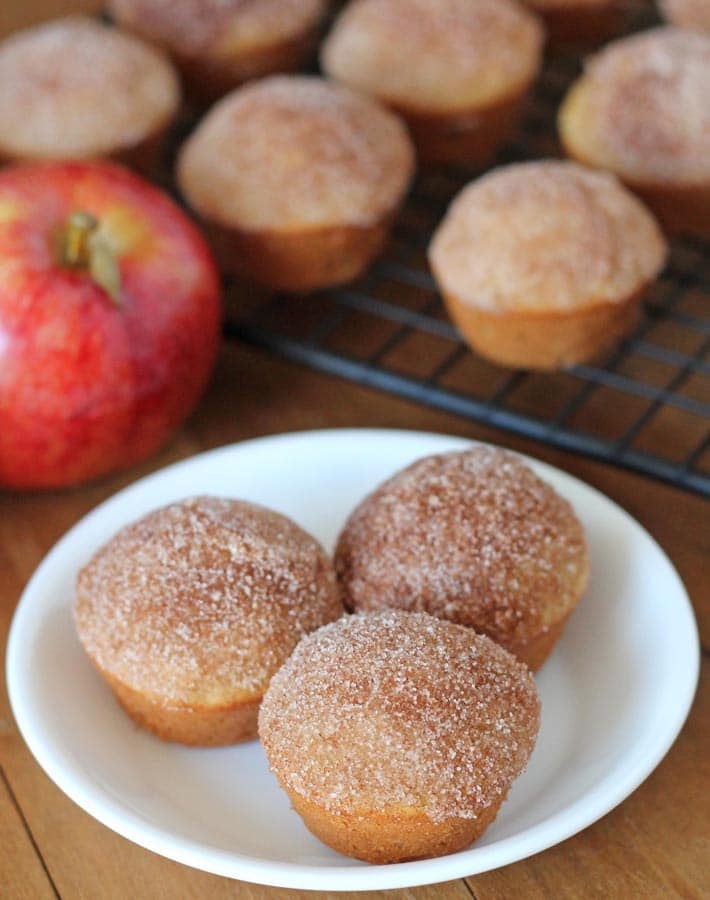 This time of year is always bittersweet for me, because it's the end of summer, my absolute favourite time of year.
Gone are long hot days, eating BBQ out in the backyard, berry recipes, less rigid schedules, and lots of sun.
But at the same time, it's sweet because fall brings with it recipes that contain warm, flavourful spices, filling comfort meals, cozy sweaters, hot chocolate, and covering up with warm fuzzy blankets while watching TV on the couch.
Can you relate to any of this?
And of course, fall is famous for apple recipes, like these easy gluten free apple muffins! These little muffins are filled with those familiar warm fall spices and loads of tiny apple pieces. Plus, this recipe, like all of my others, is egg free, dairy-free, and gluten free!
Are you new to vegan gluten-free baking? If so, be sure to read all of my vegan gluten-free baking tips!
How to Prepare the Apples
You'll first peel and core the apple, then dice it up very small like in the picture below.
You don't want the apple pieces to be too big because these muffins don't bake for very long, so you want them to be small enough to cook through.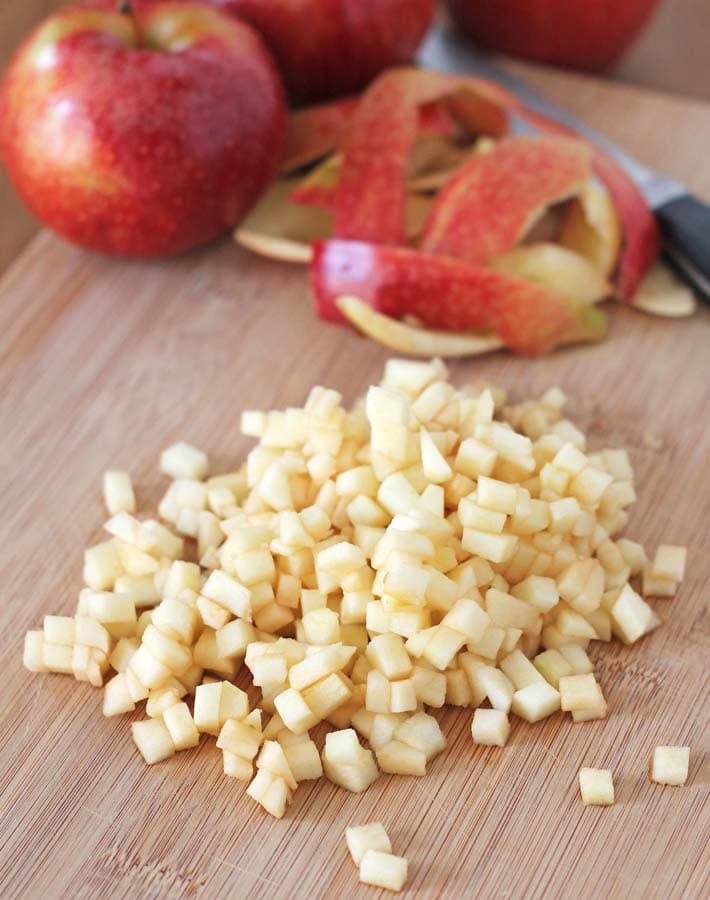 How to Make Them
(Note: I've outlined the step-by-step on how to make this gluten free apple muffins recipe here, but find the full recipe, ingredients, and directions at the end of this post.)
You'll start out by whisking the dry ingredients together in one bowl, then mixing the wet ingredients together in another bowl.
Next, add the wet ingredients to the dry ingredients, mix until combined, and then fold in the chopped apples.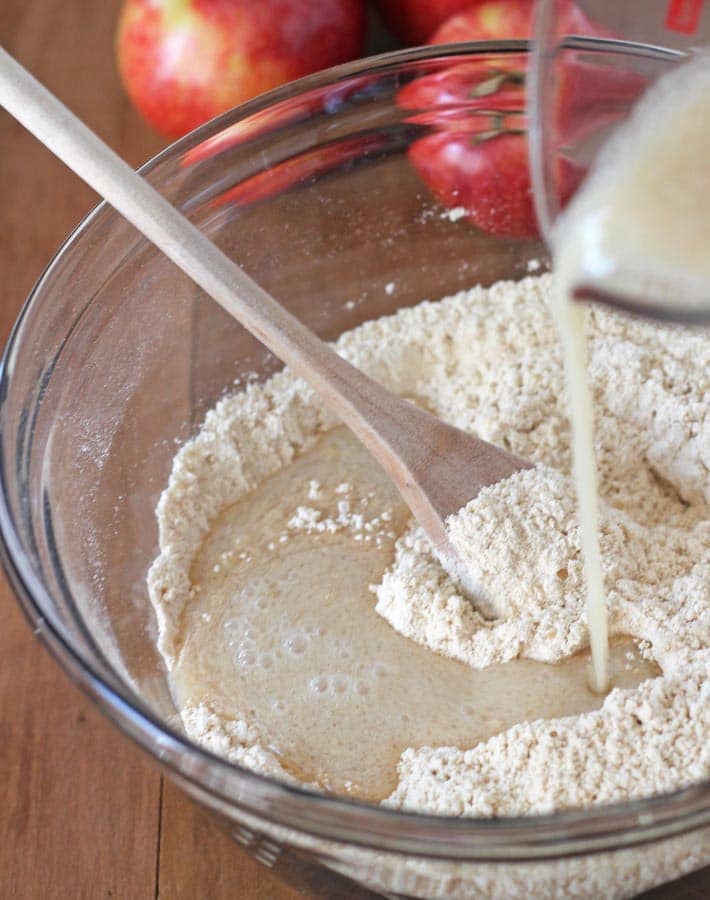 The next step is to scoop the batter for your vegan gluten free apple muffins into a mini muffin pan and then bake them.
(FYI, this is the mini muffin pan I have and love and this is the scoop I'm using in the picture below, it makes portioning out the muffin batter so much quicker and easier!)
Can They Be Made In a Regular Muffin Pan?
If you don't have a mini muffin pan or you just want larger muffins, you can definitely use a regular pan. You will need to bake them for longer, though.
Bump the baking time up to 18 minutes or until a toothpick inserted in the middle of the largest muffin comes out clean.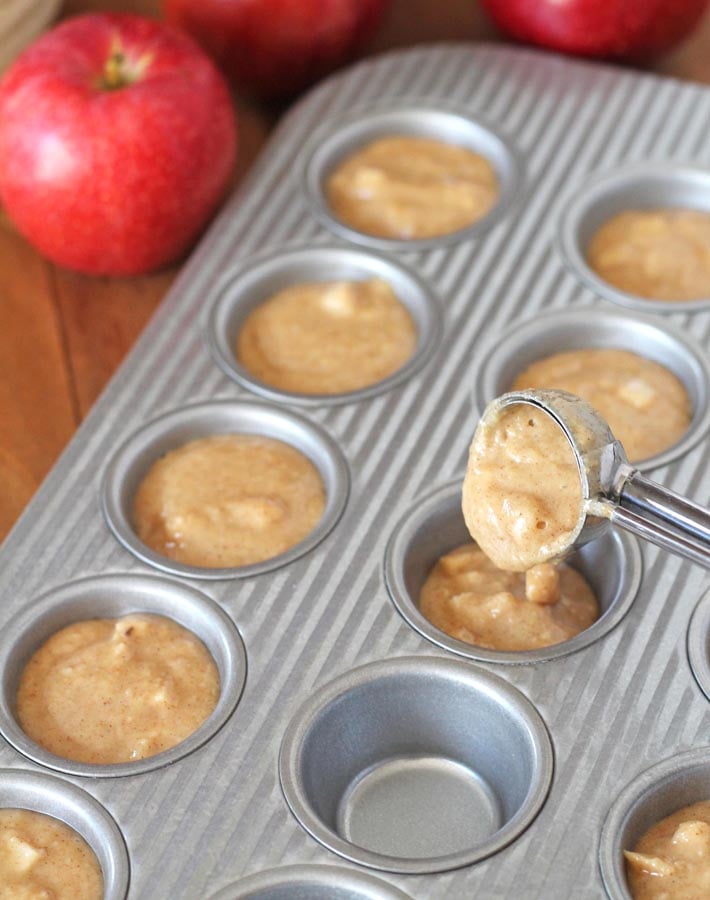 The Cinnamon Sugar Topping
Once the muffins come out of the oven, it's almost time for the fun part: coating the tops with cinnamon sugar!
Your muffins should be fully cooled before moving on to this next step. Once they've cooled, you'll need to dip or brush each muffin top lightly, one by one, with melted coconut oil, then dip each muffin top into the cinnamon sugar mix.
After that step, your apple cinnamon muffins will be done and ready for devouring!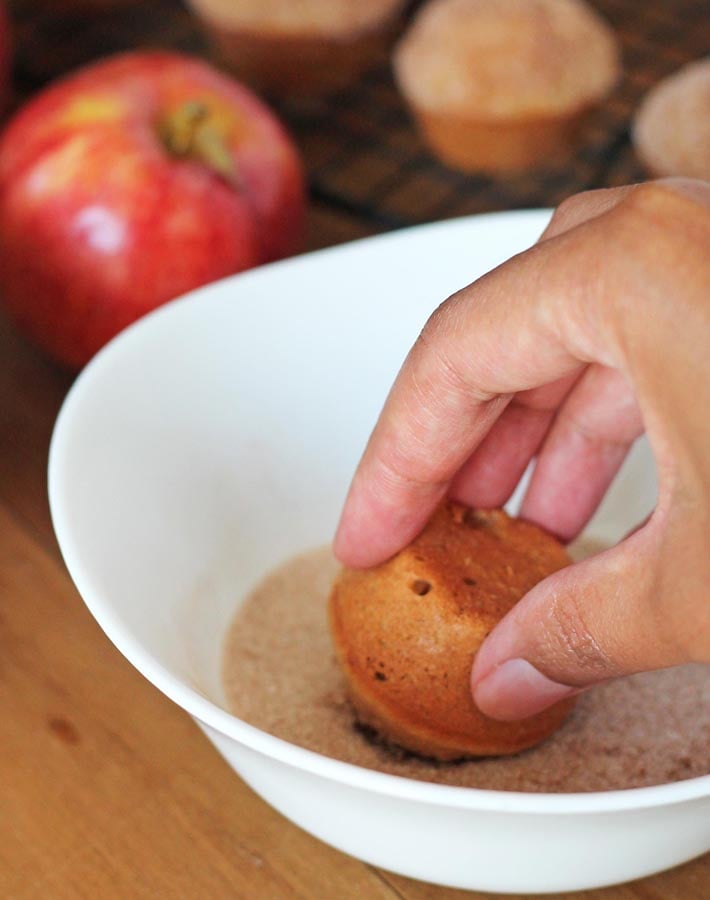 Expert Tips for Success
I have a pumpkin spice mini muffin recipe that I've made countless times and they're always perfect, but a couple readers wrote to me saying they had problems with the batter being too thick.
I helped them troubleshoot and in one case, the incorrect amount of liquid was used, and in another, coconut flour was used, which is a big no-no.
I wrote up some tips for that post and I'll repeat them here (since the recipes are similar) to ensure you have recipe success with your own mini vegan apple muffins:
Please do not substitute the gluten-free flour blend I recommend with coconut flour. Coconut flour is not an easy flour to work with and this recipe will not work if you use it. To make this particular recipe gluten-free, a gluten-free flour blend must be used. Coconut flour (or any other single gluten-free flour like almond or oat etc.) will NOT work with this recipe without making major modifications.
The only gf flour blend I've tested this recipe with is Bob's Red Mill Gluten Free All Purpose Baking Flour. <– Click that link to see what it looks like. It's the one with the red label, not the blue label. You can buy it through that Amazon link or look for it at your grocery store. If this specific flour is not used, your results may not be the same as mine.
Note that the sugar and applesauce call for ¼ cup PLUS 1 tablespoon. Please don't miss that extra 1 tablespoon of each ingredient.
Be sure that all ingredients are measured correctly. I recommend weighing your flour.
Before starting, read through my vegan gluten free baking tips.
If you follow all of those tips and make the recipe as it is written, you'll have 24 of the most delicious gluten free apple muffins you've ever tried!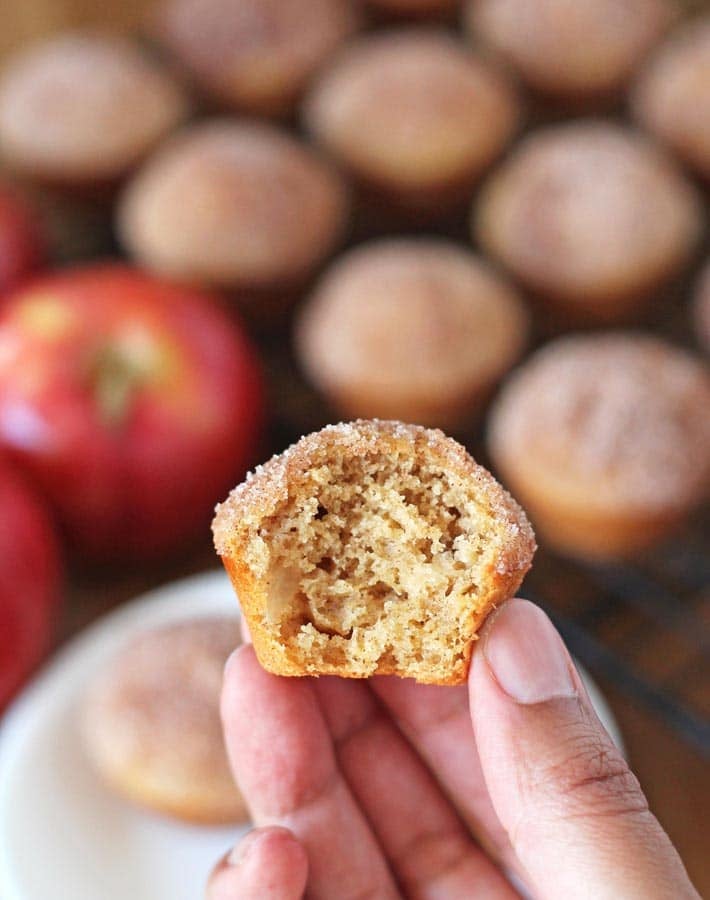 If You Make This Recipe
Let me know by leaving a comment and star rating it in the comments below or share a picture on Instagram and tag me so I can see!
If You Like This Recipe
You may also like these:
You can help others to find this recipe by pinning it to one of your food boards on Pinterest. Click here to pin it now!
Mini Gluten Free Vegan Apple Muffins
Filled with diced apples and warm fall spices, these easy-to-make mini gluten free vegan apple muffins are great for your kids' school snacks or for snacking on at home!
Ingredients:
For cinnamon sugar coating
Instructions:
Preheat oven to 350° F (177° C).

In a small bowl, mix the melted coconut oil, non-dairy milk, applesauce, and vanilla together. Set aside.

In a large bowl, whisk the flour, baking powder, salt, sugar, cinnamon, nutmeg, ginger, and cardamom.

Pour wet ingredients into dry ingredients and mix well to combine.

Fold diced apples into the batter.


Divide batter evenly between the 24 muffins cups.


Bake for 9-11 minutes (until a tester comes out clean from the largest muffin).


While muffins are baking, add melted coconut oil to a small bowl and mix the sugar and cinnamon in another bowl

Remove muffins from the oven and cool for 10 minutes in the muffin pan.

Remove muffins from the muffin pan and place them on a cooling rack.

After fully cooled, dip 1 muffin at a time into the oil first. Make sure the entire top is coated with the oil and shake off any excess oil. Dip the same muffin into the sugar/cinnamon mixture, ensuring that the entire top is covered with the cinnamon sugar mix. Place muffin back onto the cooling rack.

Repeat with entire batch until done.
Recipe Notes:
Please read the section called "Expert Tips for Success" above before making this recipe to ensure success.
It's important to know that different gluten-free flour blends use different ingredients and ratios, so results will always vary if you substitute. I have never used any other flour to make this recipe (other than Bob's Red Mill Gluten-Free All-Purpose Baking Flour (the one in with the red label in that link, not the blue label!), so please know that your results may not be the same as mine if you substitute with a different blend.
This recipe will NOT work with coconut flour or any other single gluten-free flour, it must be a blend, preferably the one I link to above for the best results.
I use a Gala apple for this recipe, but any firm, sweet apple will work. Be sure that your apples are diced very small, see the image above for reference.
Have a look at the batter in this similar recipe to get an idea of what the consistency should be or watch the video in this post. If you use the flour recommended in this recipe and follow the recipe exactly as it is written, your recipe will work perfectly.
Store leftover muffins in an airtight container in the fridge for up to 2-3 days. The longer they sit, the more the cinnamon sugar on top will melt, so it's best to eat them as quickly as possible.
Nutrition info listed below is for 1 of 24 mini muffins and is only to be used as a rough guide. Click here for more info on how nutrition info on this website is determined.
Nutrition Info:
Serving:
1
muffin
|
Calories:
81
kcal
|
Carbohydrates:
11
g
|
Protein:
1
g
|
Fat:
4
g
|
Saturated Fat:
3
g
|
Sodium:
17
mg
|
Potassium:
39
mg
|
Fiber:
1
g
|
Sugar:
6
g
|
Vitamin C:
0.8
mg
|
Calcium:
10
mg
|
Iron:
0.4
mg
Did You Make This Recipe?
If so, please share a picture with me on Instagram! Tag @delightfuladventures and hashtag #delightfuladventures. I can't wait to see!