Who's up for an easy-to-make, naturally sweetened recipe for creamy coconut mango chia pudding? You just need four ingredients to make it and it can be served as a snack or for breakfast! Who can say no to that?!
A little while back, DK Publishing reached out to ask if I'd like to review a couple of new vegan cookbooks. As someone who loves everything about food, cookbooks make me happy, so of course, I said yes!
I'll have the review of the other book coming in the next few weeks, but today, I'm sharing my thoughts, and a recipe for a simple mango dessert (coconut mango chia pudding!), from the book, Vegan in the House. My ONE vegan chia pudding recipe on the website felt a little lonely 🙂
What Kind of Recipes Will I Find in "Vegan in the House?"
The tagline for the book is "flexible plant-based family meals to please everyone," and that description delivers.
What you'll find in this book is a collection of simple vegan recipes, from:
breakfast (breakfast burritos, smoothie bowls)
snacks (lemony spinach hummus, summer rolls)
hearty, healthy main dishes (mushroom po' boys, spiced eggplant linguine)
delicious desserts (banana oat cookies, matcha panna cotta)
...and everything in between! It's a one stop shop for delicious vegan recipes
And a bonus: the beginning of Vegan in the House offers lots of helpful info for those who are just starting out, including info and tips for switching to a vegan diet, meal planning, shopping, stocking your kitchen, vegan substitutes, and more.
Who Is the Vegan In the House Cookbook For?
This book is good for anyone who loves food and cooking, but especially for those who:

already love vegan food
are not vegan, but would like to add more easy vegan recipes to their meal plans
are curious about trying plant-based food and need some simple recipes to start with
are cooking for a family who all eat differently (the recipes in the book are 100% plant-based, but for some recipes, you'll find "flex it" info that will give you tips on how to alter the recipe for your vegetarian or flexitarian family members)
Almost all of the recipes in the book are naturally gluten-free. There are a handful that aren't, but those recipes are easy to alter to make gluten free (like using gluten free pasta, breadcrumbs, or tortillas etc. instead of wheat)
I've only tried a few recipes from the book so far (pasta primavera and the raw energy bars, both were delicious!) but the one I wanted to share with you is the coconut mango chia pudding from the desserts section (always my favourite section of a cookbook!).
Ingredients You'll Need
All you need is four ingredients to make this easy chia pudding. You see five in the picture below because one of them is optional, and that is the toasted coconut you see on the top right (the recipe calls for toasted coconut flakes, but I used shredded coconut instead).
How to Make It
(Note: I've outlined the step-by-step on how to make coconut mango chia pudding here, but find the full recipe, ingredients, and directions at the end of this post.)
You'll need a food processor or a blender for this recipe to blend the mangoes so they're nice and smooth.
First, you'll add the coconut milk and the chopped mango to your food processor (or blender) and process until the mango has fully broken down.
Next, scrape down the sides and add the chia seeds and the maple syrup. Pulse until everything has combined.
After that, pour into a container or individual serving dishes or bowls, like I have done, cover, and refrigerate for at least 5 hours, or overnight, until the chia seeds do their magic to set the pudding.
When you're ready to serve, top with chopped mangoes and the optional topping, toasted coconut, if you'd like. (Click here for info on how to toast coconut)
And that's it! A simple gluten-free, dairy-free, refined sugar-free, vegan recipe you can serve either as a snack or for breakfast.
Note that this recipe makes a small batch, just four servings that are slightly less than ½ cup each, so if you'd like to make bigger portions of this coconut chia pudding, you can double or even triple the recipe.
What Kind of Chia Seeds Should I Use?
There are two types, black chia seeds and white chia seeds. The more popular and easy to find type is black, and that's what I used, however, you can also use white, they both perform the same in recipes.
You can find chia seeds at your grocery store, at bulk food stores, or you can buy them on Amazon.
If you haven't used chia seeds in any of your recipes before, they make a great egg substitute for vegan baking, and work beautifully in chia puddings to firm them up. Read more about chia seeds here.
Recipe Substitutions
Can Canned Full Fat or Refrigerated Coconut Milk be used Instead of Light Canned Coconut Milk?
You can use refrigerated coconut milk, the type you buy in the carton, to make your chia pudding, but I would not use full fat canned coconut milk.
Full fat coconut milk has less liquid, so the chia seeds will not hydrate fully for a coconut milk chia pudding since it contains less moisture than the other types of coconut milk mentioned.
Full fat coconut milk will give you an extremely thick, chunky chia pudding and it won't be as creamy. If all you can find is canned full fat coconut milk, thin it out with some water or another non-dairy milk.
You can also use another non-dairy milk, like almond or soy, but keep in mind that this is a recipe for chia pudding with coconut milk, so if you use something else, you will miss out on the lovely coconut flavour this recipe gives if you don't use coconut.
Can I Use a Different Liquid Sweetener?
Yes, you can use your favourite liquid sweetener for this recipe (agave would work very well!).
Since there is such a small amount called for, if you find that your mango is extra sweet, you can omit the sweetener completely. After you have blended, give it a taste and if it's sweet enough for you, feel free to leave it out.
What Kind of Mango Should I Use?
I like to stick with mangoes that are less fibrous (or as my kids call it, hairy!). If you eat mangoes a lot, you'll know that some are on the "stringy" side. My two favourite non-stringy mango varieties are atulfo and kent.
Stick with one of those and you'll end up with a smooth, and creamy mango chia pudding.
***
I hope you check out "Vegan in the House," it's a book worthy of any cookbook collection! If you get it, tell me which recipe you want to try first in the comments below!
If you liked this chia pudding recipe, you may also like these: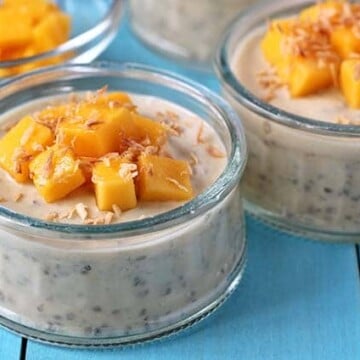 Print Recipe
Coconut Mango Chia Pudding
A delicious, creamy coconut mango chia pudding recipe that you can serve as a snack or enjoy for breakfast. All you need is 4 simple ingredients!
Ingredients:
1

large mango, chopped

(about ⅔ cup)

1 ¼

cups

reduced-fat coconut milk

3

tablespoons

chia seeds

1

tablespoon

pure maple syrup

chopped mango for garnish

toasted coconut flakes for garnish

(optional)
Instructions:
Place the mango and coconut milk in a food processor or blender and blend until smooth.

Add the chia seeds and maple syrup and blend briefly to combine. Place the mixture in a bowl, cover, and refrigerate overnight.

If the pudding is too thick the next day, thin it with a little coconut milk until it reaches your desired consistency.

To serve, top the pudding with chopped fresh mango and toasted coconut flakes.
Recipe Notes:
Please read all of the helpful tips and info above before making this recipe.
This recipe makes 4 servings, each serving is slightly under ½ cup. If you want larger servings, the recipe can be doubled or tripled.
Chia pudding needs to be made in advance and chilled for a few hours before serving so it has time to firm up, keep that in mind before starting.
Store pudding in an airtight container in the refrigerator for up to 3 days.
Nutrition info is based 1 of 4 servings (each serving is just under ½ cup). Nutrition info is only to be used as a rough guide. Click to learn how nutrition info is calculated on this website.
Nutrition Info:
Serving:
1
serving
|
Calories:
133
kcal
|
Carbohydrates:
18
g
|
Protein:
2
g
|
Fat:
7
g
|
Saturated Fat:
4
g
|
Sodium:
8
mg
|
Potassium:
81
mg
|
Fiber:
4
g
|
Sugar:
11
g
|
Vitamin A:
400
IU
|
Vitamin C:
19.8
mg
|
Calcium:
60
mg
|
Iron:
0.9
mg
Did You Make This Recipe?
If so, please share a picture with me on Instagram! Tag @delightfuladventures and hashtag #delightfuladventures. I can't wait to see!
Recipe excerpted from Vegan in the House Copyright 2019 DK Publishing. All opinions and images are my own.