An easy vegan Lemon Blueberry Oatmeal Bars recipe that's gluten free and loaded with sweet, tangy lemon flavour, has a crumbly oat layer and topping, and will satisfy your sweet tooth!
There's something about the combination of blueberries and lemons that I love. I hope you're the same because if so, you're going to love these blueberry oatmeal bars.
If you follow me on Instagram (if you aren't, find me here!), you would have seen in my stories that I had been working on this recipe for quite a while. It took me three tries to get this recipe right and to a place that I was comfortable sharing it, but it was worth the wait.
With each try, these tasty lemon blueberry bars became better and better, and each batch lasted for less time. I think that's a good sign!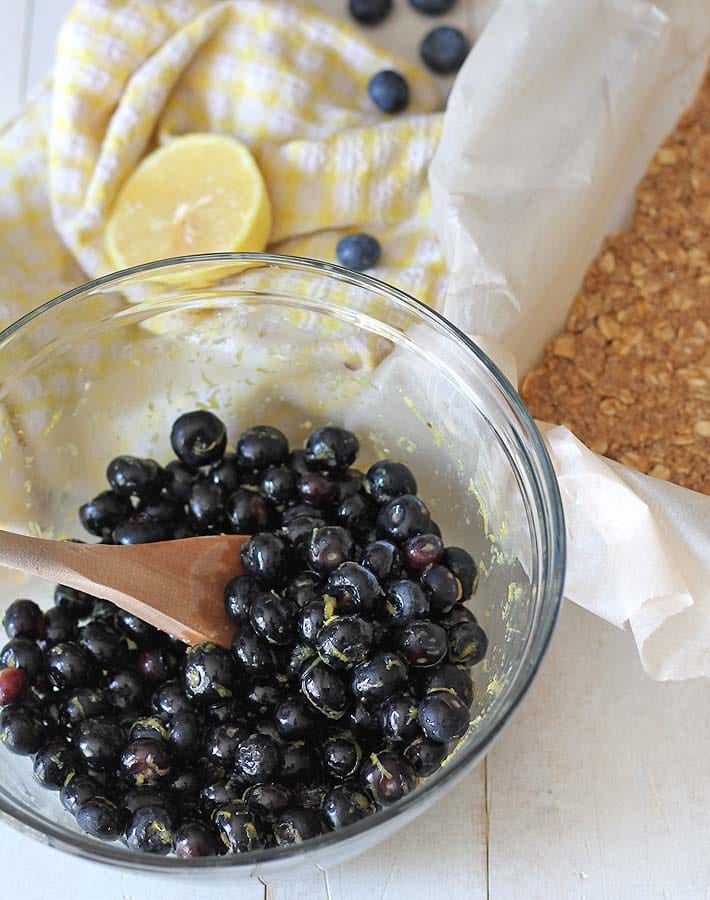 The blueberries are the dominant flavour in these bars, and the lemon provides a subtle, tangy background that mixes well with the sweetness of the blueberries.
The crust and crumble topping isn't too sweet and also blends well with the fruity flavours. It all combines perfectly to make lemon blueberry bars you'll love.
The filling is very much like blueberry pie, if you've ever had it. If you have had blueberry pie, these bars are like blueberry pie squares…with a non pastry, oaty crust 🙂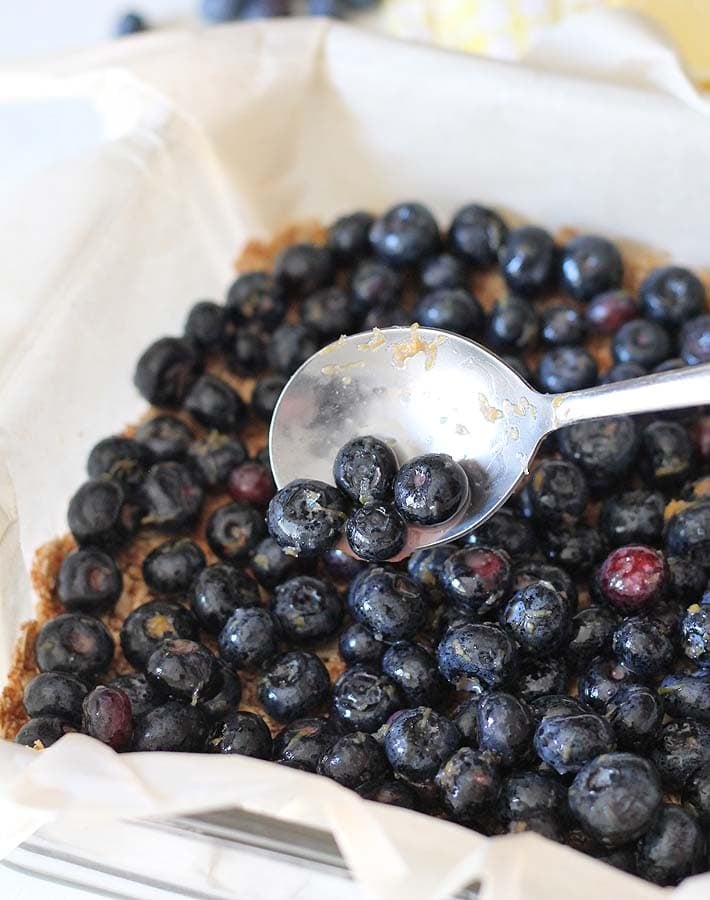 Can Frozen Blueberries Be Used Instead of Fresh Blueberries?
Yes! This recipe was tested during the summer, so fresh blueberries were very easy to find. However, if you are making these in the winter, spring, or fall, fresh blueberries are not going to be easy to find, or if you can find them, they aren't going to be cheap!
I've included notes in the recipe below on how to make your lemon blueberry squares with frozen berries.
What is Arrowroot Starch and Why Does This Recipe Call For It?
Arrowroot starch is used as a thickener, and is very similar to cornstarch. It is interchangeable with cornstarch, but I prefer to use arrowroot.
Please do not leave the arrowroot starch out. If you do, the filling for your lemon blueberry squares will not thicken and become a juicy mess.
If your grocery store is well-stocked, you can find arrowroot starch in the bulk section or in the natural foods section.
If you cannot find it, cornstarch may be substituted. To learn a little more about arrowroot starch vs. cornstarch, read this article.
What Is the Texture Like?
As mentioned above, the inside is like blueberry pie. The fruit is thick, thanks to the arrowroot starch, the bottom crust is soft, and the crumble topping is, well…crumbly! I got hungry just writing that! See the image below to get a glimpse at the inside texture.
When it's time to eat your blueberry lemon bars after they've cooled, you may prefer to eat them with a fork because they are on the softer side. My preference is to refrigerate them so they are a little more on the firm side and no fork is needed.
It's up to you, though! Refrigerated and firm, or not refrigerated and a little looser and soft, both ways are equally as good.
And One More Thing…
Please be patient after you've taken them out of the oven.
You're going to be tempted to cut into them and start devouring right away (like I always want to!), but they really need to be fully cooled off so they can firm up properly. If you cut into them right away, they will fall apart, and you won't end up with bars.
You can help others to find this recipe by pinning it to your recipe board on Pinterest. Click here to pin it now!
And if You Like This Recipe
…you may also like these:
And if you make this recipe, tag me on Instagram and show me! 🙂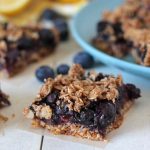 Print Recipe
Lemon Blueberry Oatmeal Bars
Easy vegan Lemon Blueberry Oatmeal Bars that are gluten free and loaded with sweet, tangy lemon flavour, has a crumbly oat layer and topping, and will satisfy your sweet tooth!
Ingredients:
For the Filling:
2

cups

fresh blueberries

(washed and dried, frozen may also be used, see notes below))

3

tablespoons

sugar

3

teaspoons

arrowroot starch

finely grated lemon zest from 1 lemon

1

tablespoon

lemon juice
Instructions:
For Crust and Topping:
Preheat oven to 350°F degrees.

Line an 8″ x 8″ baking dish with parchment paper leaving an overhang on all sides for easy removal.

Place oat flour, rolled oats, baking powder, coconut sugar, ground cinnamon, and salt in a medium-sized bowl. Mix to combine.


Pour melted coconut oil into mixture and mix until combined.


Scoop out 1/2 cup of the mixture and set aside.


Pour the rest of the mixture into the parchment-lined baking dish and spread evenly. Press the mixture down firmly using a piece of parchment paper or the bottom of a measuring cup.
For the filling:
Add blueberries to a small bowl, then add sugar, arrowroot starch, lemon zest, and lemon juice.


Mix gently to combine all ingredients and to coat blueberries.

Pour blueberry mixture over crust and spread evenly (see image above).


Sprinkle the reserved oat mixture over the top of the blueberries.


Bake for 40 minutes. Remove baking dish from oven and place on a wire rack to cool. Allow bars to fully cool (at least 2 hours) before removing from dish and slicing.
Recipe Notes:
Adapted from this recipe to make vegan, gluten-free, and nut-free and to use less sugar.
Store leftovers in an airtight container in the refrigerator. Bars will keep for up to 1 week when stored like this.
This recipe will NOT work with coconut flour.
Cornstarch may be used instead of arrowroot starch.
Brown sugar may be used instead of coconut sugar.
Frozen blueberries may be used instead of fresh berries. If using frozen, don't thaw them before using. Baking time will also have to be lengthened, bake for 50-55 minutes.
Nutrition info is based on the recipe as it is written and is to be used only as a rough guide. Click here to learn how nutrition info is calculated on this website.
Nutrition Info:
Serving:
1
bar
|
Calories:
159
kcal
|
Carbohydrates:
19
g
|
Protein:
3
g
|
Fat:
8
g
|
Saturated Fat:
6
g
|
Polyunsaturated Fat:
1
g
|
Monounsaturated Fat:
1
g
|
Sodium:
35
mg
|
Potassium:
49
mg
|
Fiber:
3
g
|
Sugar:
6
g
|
Vitamin C:
4.1
mg
|
Calcium:
10
mg
|
Iron:
0.9
mg
Did You Make This Recipe?
If so, please share a picture with me on Instagram! Tag @delightfuladventures and hashtag #delightfuladventures. I can't wait to see!