An easy and delicious recipe for vegan gluten-free pumpkin pie that everyone can enjoy! This classic dessert is egg-free, dairy-free, nut-free AND gluten-free...but no one will know.
It has a smooth and creamy filling that sits inside of a flaky vegan gluten free pie crust and it's perfect when topped off with dairy-free whipped cream.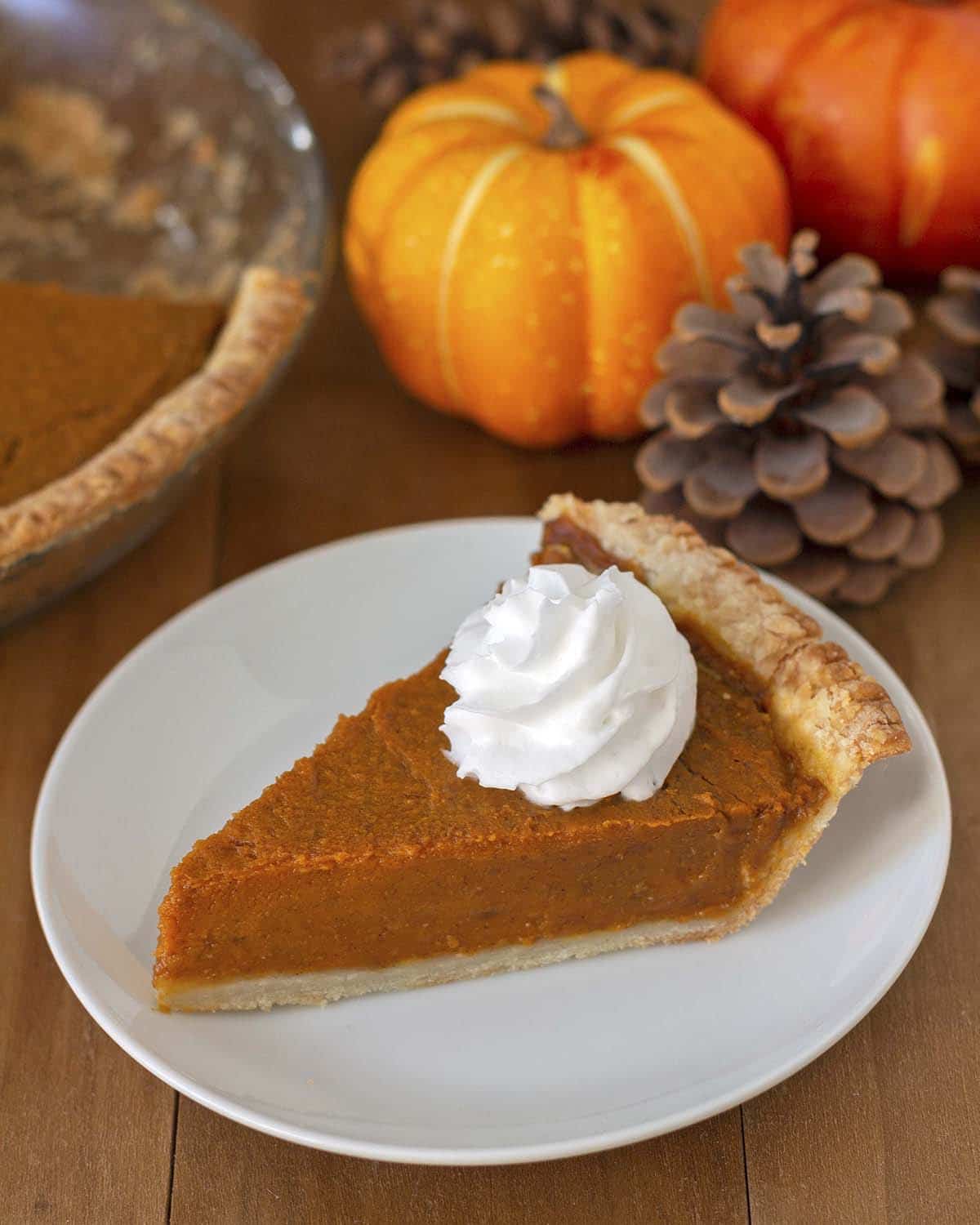 If the thought of a vegan pumpkin dessert makes your eyes light up, then you know that pumpkin pie is at the top of the best pumpkin recipes to make list!
In addition to my other pumpkin recipes, like my pumpkin doughnuts, pumpkin cupcakes, and my pumpkin pudding, this vegan gluten-free pumpkin pie is a must-make each year (I make it multiple times!).
What you'll love about this recipe is that it can be made ahead so you don't have to worry about making it on the day you'll be serving it on.
I actually find that it has better flavour when it's made the day before. One less thing to worry about is always a good thing because you know how it can get...
2 things boiling, 1 thing in the oven, 4 things waiting to be chopped...a hungry child...or two.
Preparing a holiday meal is no joke!
So let's talk about everything you need to know about making this delicious pie so you can start planning your holiday menu.
Are you new to vegan gluten-free baking? If so, be sure to read all of my vegan gluten-free baking tips!
Ingredients You'll Need
To make the filling, all you need is EIGHT simple ingredients.
Either homemade pumpkin puree or canned pumpkin puree (NOT pumpkin pie filling!), sugar, non-dairy milk, arrowroot starch (or cornstarch, this is used as a binder since this recipe is eggless), spices, and a little salt.
You'll also need a pie crust, of course!
Choosing a Pie Crust
There are so many options out there for what you can use for the pie crust.
I usually make the crust myself (my vegan gluten-free pie crust is the recipe I use). You can also try the crust I use for my vegan chocolate pumpkin pie recipe if you want something a little different.
BUT, I know that sometimes, a shortcut is needed, so feel free to use a v + gf store-bought crust. There are a few different brands out there that make them, one I see often at my store is by Wholly Wholesome Gluten-Free.
Check your grocery store, Whole Foods, Trader Joe's, or your local health food stores for other brands that would work for you.
And if you don't need the recipe to be gluten-free, make it a vegan pumpkin pie by making (or buying) a regular vegan pie crust.
How to Make It
(Note: I've outlined the step-by-step on how to make this recipe here, but find the full recipe, ingredients, and directions at the end of this post.)
I mentioned above that you need to make sure you're using plain pumpkin puree and NOT pumpkin pie filling. The reason why is if you use pumpkin pie mix, you have no control over the sweetness and the spices (and some of the strange extra ingredients).
We're going to build up those warm pumpkin pie flavours from scratch.
In total, it takes FIVE minutes to prepare the filling, that's it! There are just two steps to making it, all you need to do is add all the ingredients to a bowl and whisk them together.
After that, add the filling to your unbaked pie crust and bake! It can't get any easier than that!
Pumpkin Pie Topping Ideas
Adding a topping to your pumpkin pie when you serve it is totally optional but highly recommended!
I personally love to have it with coconut whip (learn how to make coconut whip here) but it's up to you. If you do go with homemade coconut whip, you can also prepare it the day before so it's ready and waiting for serving time.
You can also serve your pie with ice cream, a store-bought dairy-free whipped cream, sugared cranberries, a dusting of cinnamon, or even fresh berries.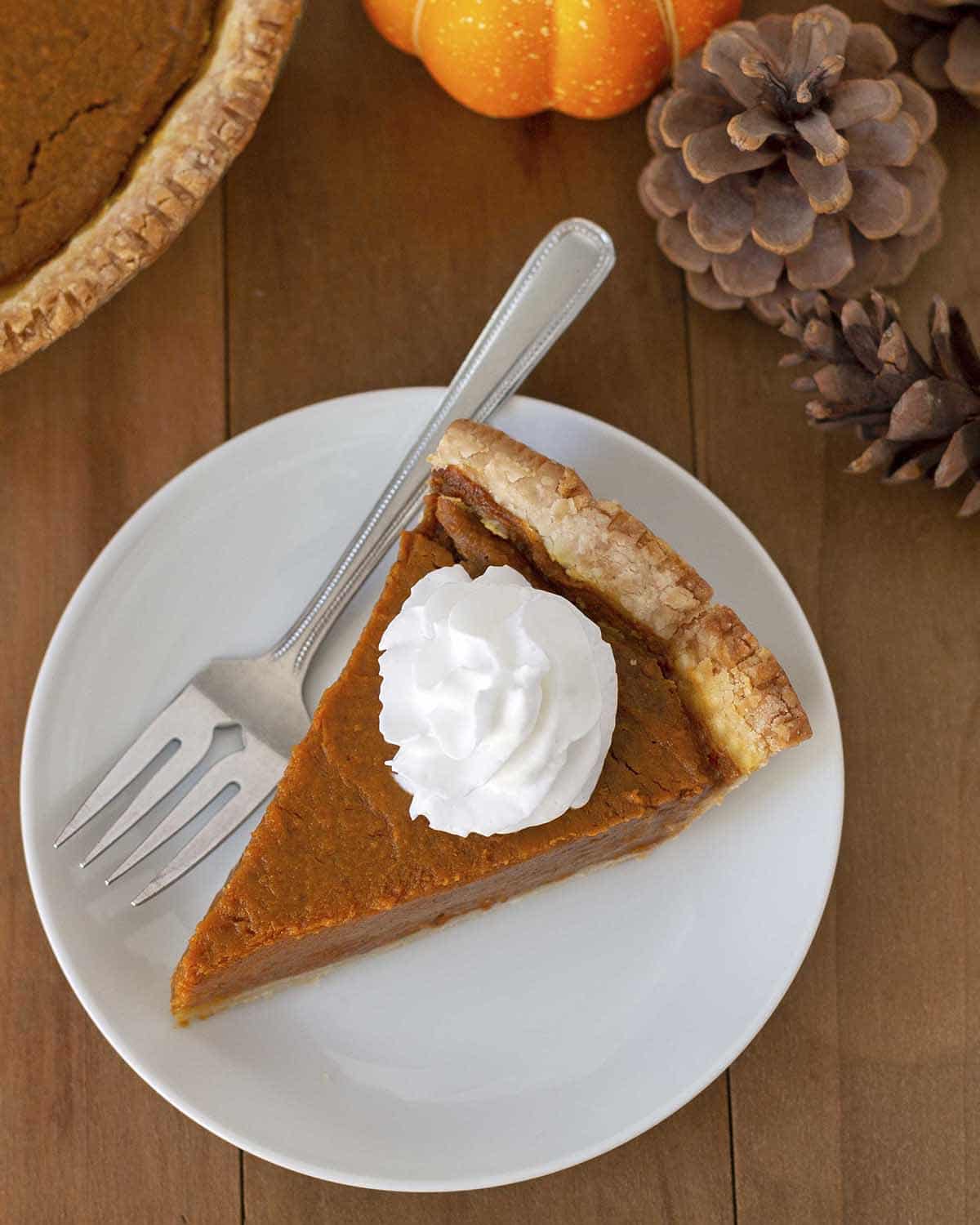 Storing Leftovers
If you have leftovers, you can keep the pie in the pie dish it was baked in and cover it with either plastic wrap or foil and store in the refrigerator for 3-4 days.
When you're ready to serve, you can either serve it cold or warm it up slightly, if you prefer.
You can also wrap the slices individually, very tightly, and freeze. When you're ready to serve, defrost in the refrigerator overnight.
FAQ
Is There a Gluten-Free Ready Made Pie Crust?
I have seen one brand, and that is Wholly Wholesome. Their ready-made pie crust is both vegan and gluten-free. If you can't find this brand, check your grocery store, or Whole Foods and Trader Joe's, if you have those stores in your area, or your local health food stores for other brands that would work for you.
Does the Pie Crust Need to Be Pre-Baked for Pumpkin Pie?
No, the pie crust needs to be raw for this particular recipe. Other recipes may call for a partially baked crust, but for this one, it needs to be raw when you pour the filling in.
Can I Use a Different Crust for This Recipe?
Yes, you can. If you don't the crust to be gluten-free, you can use my vegan pie crust instead.
If I Can't Find Pumpkin Puree, Can A Different Squash Be Used?
I have had some of my readers tell me they've successfully made my pumpkin recipes using pureed butternut squash, so that is an option. You can also use sweet potato and follow my sweet potato pie recipe instead (it's very similar to pumpkin pie).
What Kind of Milk Should I Use?
Any non-dairy milk will work, just make sure it's unsweetened.
Can A Different Sugar Be Used?
I've only tested this recipe with brown sugar and coconut sugar, so I can't accurately let you know how it would turn out if you used other sweeteners. As for liquid sweeteners, other ingredients in the recipe would need to to be adjusted to accommodate the extra liquid, so I would stick with the either brown or coconut sugar for the very best results.
If You Make This Recipe...
I hope you love it! Please leave me a comment below letting me know how things went. You can also post a picture to Instagram and tag me (I'm @delightfuladventures) telling me about it so I can see your remake.
And If You Like This Recipe...
...you may also like these:
You can help others to find this recipe by pinning it to one of your food boards on Pinterest. Click here to pin it now!
Vegan Gluten-Free Pumpkin Pie
An easy and delicious recipe for vegan gluten-free pumpkin pie that everyone can enjoy! This classic dessert is egg-free, dairy-free, and gluten-free but no one will know. It has a smooth and creamy filling that sits inside of a flaky vegan gluten free pie crust and it's perfect when topped off with dairy-free whipped cream. Add this vegan pumpkin pie to your list of gluten-free pie recipes to make this holiday!
Instructions:
Preheat oven to 350°F (177°C).

Combine pumpkin puree, unsweetened non-dairy milk, brown sugar, arrowroot starch, pumpkin pie spice, vanilla extract, and salt in a large bowl. Whisk everything together until well combined.

Pour mixture into the unbaked pie crust and smooth the top with a rubber spatula.

Bake for 55-60 minutes. You'll know it's done when the tip of a knife inserted into the pie comes out wet but clean. The center may still be a little jiggly, that's okay, it will firm up as it cools.

Remove the pie from the oven and place on a cooling rack to cool completely before serving.
Recipe Notes:
Please read all of the information and FAQ info above, as well as the notes below before making this recipe.
Make sure to use a deep-dish pie plate to make this pie. If you use a smaller dish, you will have extra filling and the baking time will need to be adjusted.
The pie may still be a little wobbly in the middle when you take it out of the oven, not to worry, it will firm up as it cools.
Homemade pumpkin puree tends to be a little more runny than canned. If you are using homemade puree and it's on the runny side, bump the arrowroot starch up to ¼ cup + 2 teaspoons. (Click here to learn how to make your own homemade pumpkin puree)
⅔ cup (100g) of coconut sugar can be used instead of brown sugar. If coconut sugar is used, the finished pie will end up being darker than the pie shown in the pictures above.


¼ cup (32g) of cornstarch may be used instead of arrowroot starch.

If you don't have pumpkin pie spice, use the following spice blend in its place: 1 ¼ teaspoons cinnamon, ½ teaspoon ground ginger, and ¼ teaspoon ground nutmeg.
Calorie count is for 1 slice of 8 made using my vegan gluten-free pie crust and does not include any toppings or garnishes. Nutrition data is only to be used as a rough guide, click here to learn how nutrition data is determined on this website.
Nutrition Info:
Serving:
101
g
|
Calories:
292
kcal
|
Carbohydrates:
47
g
|
Protein:
2.4
g
|
Fat:
11.6
g
|
Saturated Fat:
5.7
g
|
Monounsaturated Fat:
0.2
g
|
Sodium:
180
mg
|
Potassium:
178
mg
|
Fiber:
3.7
g
|
Sugar:
21
g
|
Vitamin A:
3388
IU
|
Calcium:
75
mg
|
Iron:
0.9
mg
Did You Make This Recipe?
If so, please share a picture with me on Instagram! Tag @delightfuladventures and hashtag #delightfuladventures. I can't wait to see!
This post was updated November 2020 to add new pictures and to update the recipe slightly so it makes more filling. Below are the old images: