Baked Vegan Doughnuts flavoured with warm chai spices are the perfect treat to make and serve at breakfast or brunch, to enjoy as snacks, or to have with your afternoon coffee or tea. They can also be made gluten-free!
This page may contain affiliate links. Click to learn more.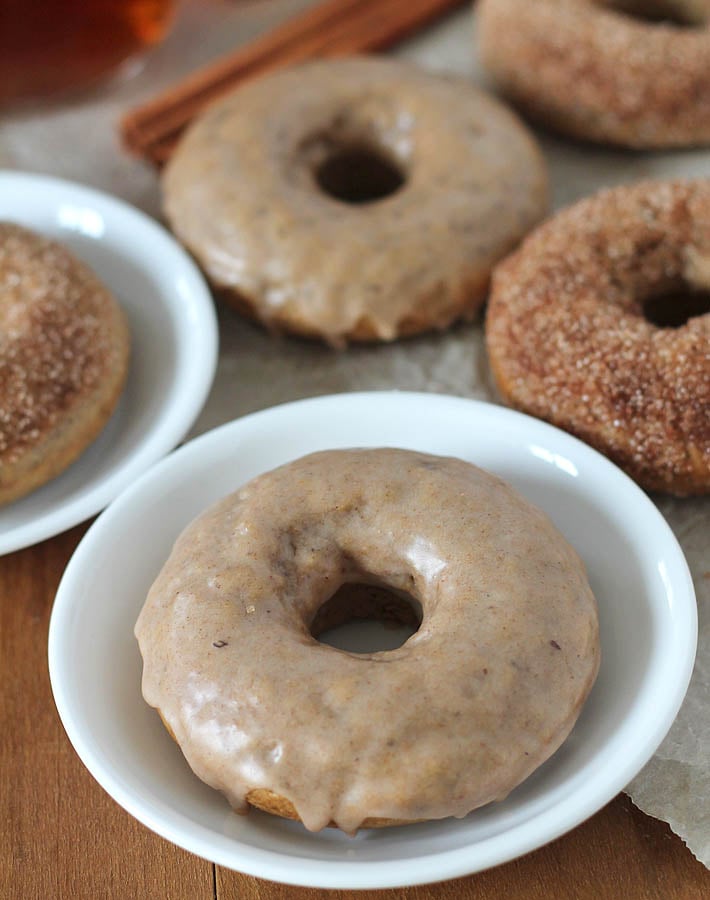 This recipe for baked chai doughnuts brings the doughnut recipe count on this site up to FIVE.
If it wasn't already clear, doughnuts of all types, especially baked vegan doughnuts, are one of my favourite things to make…and eat 🙂
Based on a few requests, I decided to go with chai doughnuts this time. If you aren't familiar with warm chai flavours, you're in for a treat with this recipe.
What is Chai?
I thought I knew, and after reading about it, it turns out, I didn't! I read up a bit about it, if you're interested, have a read through this article, but in a nutshell, what you will learn is this:
Technically, the word "chai" refers to any type of tea in India. The spiced tea that we refer to as chai, is actually masala chai or spiced tea, a tea made with a blend of spices commonly used in Indian cooking.
There are many ways to make chai, but the one thing in common is that the blend of spices used, go together nicely, they're warm, and they work well outside of tea…like in desserts and treats!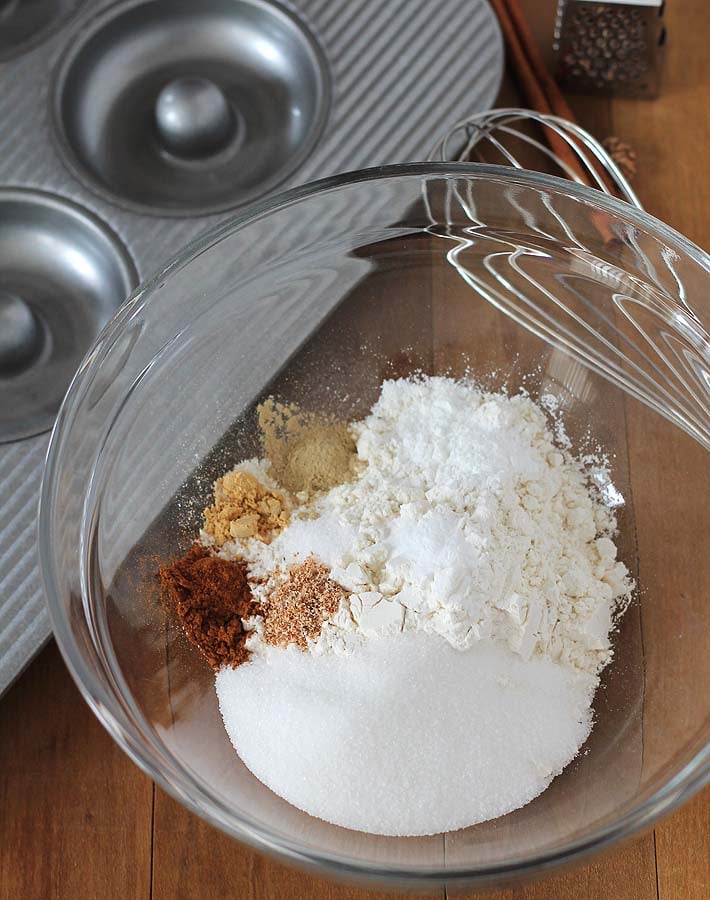 For my version of chai doughnuts, I used cinnamon, ginger, nutmeg, and cardamom. That blend may not be the traditional spice blend, but like the article said, there are many ways to make chai.
This is my take and I like it a lot (and I hope you will too!)
For the doughnut toppings, I tested with two types: A chai glaze:
And a chai sugar glaze:
When it came time to decide which one to use for the recipe, I couldn't decide, so lucky you, I decided to share both!
Both include the same blend of spices and both complement this baked vegan doughnut perfectly.
What is the doughnut's texture like?
For the pictures you see on this page, I made both the vegan gluten-free version and the vegan version of the doughnuts.
In the picture below, you can see the inner texture of both. The vegan version (using all-purpose flour) is on your left, and the vegan gluten-free version in on your right.
The vegan doughnut rises a tiny bit more, making it a little fluffier than the vegan gluten-free doughnut. The vegan gluten-free doughnut is still fluffy, just a little more dense than the vegan doughnut.
And both taste amazing.
Can I use a different flour to make these baked vegan doughnuts?
Maybe 🙂
I don't have a solid answer to that question because the flours listed in the recipe are the only ones I have tried, however, I do know that coconut flour will not work in this recipe.
I can take a guess, based on my baking experience, about some others I feel may work well, but since I have not tested with them, I don't want to lead you astray.
What I can tell you is that this recipe was tested several times with the flours I ended up using, so if you follow the recipe exactly as it is written and make no substitutions, your doughnuts will end up looking like the doughnuts here.
What kind of chai should I use?
In addition to the spices, I also use chai tea in this recipe to infuse even more flavour. I used chai tea bags that come in a box, they're inexpensive and after you make the doughnuts, you'll have tea to drink with them!
And any brand will work! And once the tea has been brewed, don't add anything to it, use it just as it is for the recipe.
What doughnut pan do you recommend?
I get this question a lot! There are many out there, and all will work fine, but the one I own, love, and highly recommend is this one by USA Pans.
It's a good, heavy-duty, teflon-free, non-stick pan. I've had it for quite a while now and it gets used A LOT! The non-stick coating still works perfectly after all this time.
If you like this recipe for baked vegan doughnuts, you may also like these! Each of these recipes also contain instructions on how to make them vegan and vegan + gluten-free.
So many of you have shared pictures with me of my doughnut recipes that you have made…and I love it, so please continue!
If you make these chai doughnuts, please share a pic with me on Instagram! (my IG handle is @delighfuladventures)
How to Make Chai-Spiced Baked Vegan Doughnuts