I've been curious about vegan "cheesecakes" for a while, because as you may know, I love a good dessert! But the majority of vegan cheesecakes are made with cashews, an ingredient I cannot have in my home because of an allergy. As a result, I've never been able to try any of the many vegan cheesecake recipes out there. My answer to that is these Vegan Lemon Strawberry Cheesecake Bites. Not only are these mini vegan cheesecakes cashew free, they're also gluten-free, they require no baking, and they're so, so good!
Vegan Cheesecake with Almonds
It can be done! I wasn't sure it could, because I've never seen a recipe using almonds, so I had to try. I'm very glad I did because it has become a new favourite for my family. It took me a few tries (three) but I do believe that I've perfected my little vision of a cashew-free vegan cheesecake. So yes, you can make vegan cheesecake without cashews!
I originally envisioned making these lemon strawberry cheesecake bites with a graham cracker crust, like regular cheesecakes, but I couldn't find vegan graham crackers or crumbs. Actually, let me correct that. I did find two brands that made them, but one is not available in Canada and the other is, but it's very hard to find. Cookie manufacturers, you are missing out, vegan graham crackers/cookies and crumbs would do so well! Please make some.
So, as an alternative, I made a crust for the vegan lemon strawberry cheesecake bites using oats, almonds, and shredded coconut, which worked out very well.
For the strawberries, I used some partially thawed strawberries that I had stored from this year's strawberry picking outing. Fresh strawberries can also be used. The good thing about being able to use frozen is that you can make this recipe year-round and not only when fresh strawberries are easy to find.
You must use a high speed blender for this recipe…
This is very important because this recipe won't work with any other type of blender. You can use a food processor or a regular blender to make the vegan cheesecake crust, but a high speed blender (such as a Vitamix or Blendtec) is absolutely essential for making the cheesecake part of the recipe. The nuts will not break down as well as they should if you use a regular blender and the texture will be way off. You will also run the risk of damaging your blender. So, keep all of these things in mind.
Now, you may be wondering the following: What does vegan cheesecake taste like? Does a vegan cheesecake taste like a regular cheesecake? And how does a vegan almond cheesecake compare to a cashew cheesecake?
The taste is sweet, tangy, and amazing. The strawberry flavour comes through strongly, and the lemon gives it a tangy-ness that makes it taste a little cream cheese like. I'm not going to say that it tastes just like a dairy cheesecake, but I think it comes close.
As for how it compares to a cashew cheesecake, since I've never had one, I asked some friends about the texture of a cashew cheesecake and they let me know that they are smooth, just like a dairy cheesecake. These bites do have a subtle texture from the almonds, but it's not off-putting, so don't let that scare you. Almonds, despite being soaked, are just a harder nut than cashews, which are softer and break down easier. So know that this recipe is not going to give you vegan cheesecake bites that are silky smooth like a dairy or cashew cheesecake.
You can enjoy these straight from the freezer, you can thaw them out a bit in the fridge for a few hours, or you can leave them out on the counter to partially thaw for a little while before serving. I like to have them fully thawed but try them different ways to see how you like them best!
If you make these vegan lemon strawberry cheesecake bites, I'd love to see a picture! Tag me on Instagram (@delightfuladventures) or upload a picture to my Facebook page.
If you like this recipe, you may also like these:
This page contains affiliate links. Click to learn more.
How to Make Vegan Lemon Strawberry Cheesecake Bites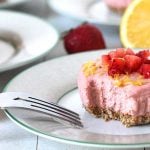 Vegan Lemon Strawberry Cheesecake Bites
These no-bake Vegan Lemon Strawberry Cheesecake Bites are free from gluten, dairy, and cashews. They're also super easy to make and of course, delicious!
Cuisine:
Gluten-Free, Vegan
Ingredients
For the cheesecake:
1 1/2

cups

soaked, raw blanched almonds

(see notes about almonds below)

1 1/4

cups

fresh or frozen strawberries

1/2

cup

lemon juice

1/4

cup + 2 tbsp

pure maple syrup

1/4

cup

coconut oil

1

tsp

vanilla

diced or sliced strawberries and/or lemon zest for garnish

(optional)
Instructions
To make the base:
Add the rolled oats, almonds, and coconut sugar to a food processor or a high speed blender.


Blend until the almonds and oats have broken down.


Add the shredded coconut and the coconut oil.


Pulse until everything has combined.


Divide the mixture evenly between the 12 muffin cups and press it down until it is packed down and no loose parts remain.


Place the muffin tin in the freezer for the bases to firm up. Chill for at least 15 minutes.

To make the cheesecake:
Add the almonds, strawberries, lemon juice, maple syrup, vanilla, and coconut oil to a high speed blender.


Blend until the mixture is smooth and creamy. You may need to use your blender's tamper to keep it going.


Remove the chilled bases from the freezer and using a spoon or a piping bag, divide the cheesecake mixture evenly between the 12 muffin cups. Smooth out the tops, if needed. Place back into the freezer.


Remove from freezer 1/2 hour before serving so they can thaw a bit. Garnish and serve.

Recipe Notes
A high speed blender (such as a Vitamix or Blendtec) MUST be used for the cheesecake part of the recipe. If one is not used, the almonds will not break down properly and you run the risk of overheating/damaging your regular blender.
The almonds must be soaked for at least 24 hours to soften them up before blending.
Blanched almonds come with the skins off to make things a bit easier for you, but if you cannot find them, you can also use almonds with the skins on BUT, be sure to peel the skins after they have been soaked. This step is  a little time consuming, so be sure to factor this into your prep time.
You can enjoy this dessert frozen or thawed. I prefer to have it thawed but you can experiment to see which way you like it best!
Nutrition Facts
Vegan Lemon Strawberry Cheesecake Bites
Amount Per Serving (1 g)
Calories 212
* Percent Daily Values are based on a 2000 calorie diet.