If you're looking for some of the best vegan gluten free brunch recipes, get ready to be inspired! Whether you're looking to whip up a feast of gluten free brunch recipes for a crowd or for a smaller group, you'll find plenty of sweet, savoury, Christmas and holiday vegan brunch ideas...whatever you're looking for, there's a good chance you'll find it here!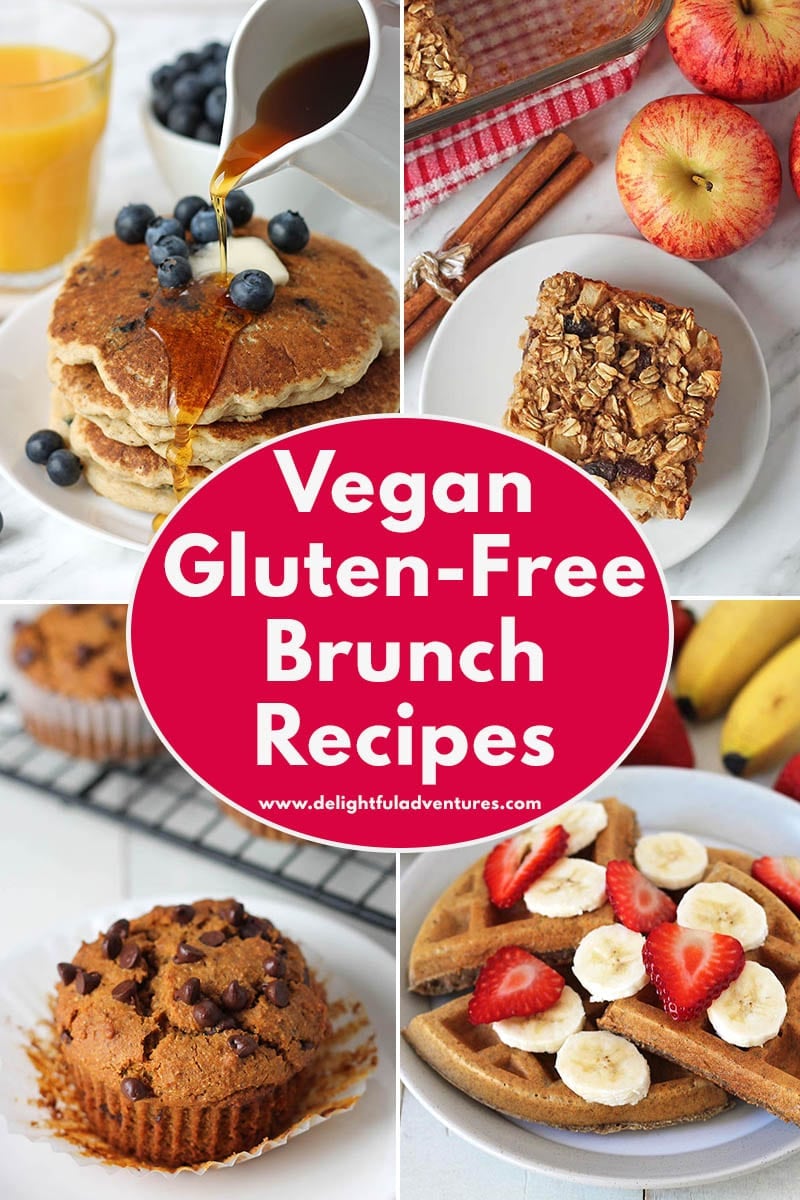 Brunch is not something many of us enjoy as often as we should. This magical meal, served somewhere between breakfast and lunch time, is often overlooked, even though it offers some of the best and most delicious things.
Whether you're planning a brunch party, something for a small crowd, or even if you're just bringing a contribution to a brunch you've been invited to, this drool-worthy list of gluten free brunch recipes has got you covered.
Before You Start Planning Your Vegan Brunch...
If you choose one of the pancake recipes below, it's a good idea to have a griddle ready and waiting to cook many pancakes at a time. This is the one I have and love.
If you're going to be making waffles, this is the waffle maker I've had for years and it's still going strong.
If you choose a muffin recipe to make, having a heavy-duty muffin pan to make just one batch, or several batches of muffins, is a must. I highly recommend this one.
The following is a list of all of my suggestions for vegan gluten free brunch recipes that will impress everyone you serve them to. All of these recipes are:
vegan
wheat free
egg free
dairy free
allergy friendly
Before you make anything, be sure to read through the recipes you'll be making, and always use the flour(s) the recipe calls for to avoid disappointment.
If vegan gluten free baking or cooking is new to you, be sure to read all of my vegan gluten free baking tips and give the recipe(s) you choose a test run before the big event.
Fluffy Pancakes for Your Gluten Free Brunch
You can't have brunch without the crowd favourite, pancakes! Luckily, I have many pancake recipes to choose from and they're all easy to make fluffy, and delicious.
Waffles for Your Gluten Free Brunch Menu
If pancakes aren't your thing, you can make waffles instead, everyone will love you for it. But before making them, be sure to read my tip on how to keep your waffles warm while you finish cooking the entire batch.
Savoury Vegan Gluten Free Brunch Recipes
This entire list leans towards brunch recipes that fall on the sweeter side, but you're going to need recipes for savoury gluten free brunch ideas ready and waiting for those who want them.
All of the components for these recipes can be made ahead and served buffet style so everyone can make their own.
Super Easy, Crunchy Granola Recipes
Granola is always a nice option to offer. You can serve these recipes as-is or dress them up to be part of a larger offering, like the parfaits below!
Vegan Gluten Free Muffins For Your Vegan Brunch Table
So many muffin recipes, so little time! I have A LOT of muffin recipes, and every single one of them is delicious. Pick one or a few of your faves from the following list to add to your gf brunch ideas:
Healthy Oatmeal and Pudding Recipes
Round out your brunch table with a few options that are more on the healthier side, those looking for this type of option will be grateful.
Quick and Delicious Breads/Loaves
Banana Bread is a staple at brunch (and there are a few recipes for it below!) but if you want to change things up a bit, have a look through these tasty quick breads and add something to your must-make vegan brunch recipes list:
Juices and Smoothies
It's always nice to include some fruity and fresh drinks or smoothies for everyone to enjoy, here are a few:
Gluten Free Christmas Brunch Recipes
Brunch is especially popular around the holidays, so it's always a good thing to have some gluten free holiday brunch recipe ideas ready to go.
Miscellaneous Recipes That Don't Really Fit Into Any Category...
These recipes didn't fit nicely into any of the categories above, but all ofthem would make lovely additions to your table and would complement some of the dishes above, nicely.

I hope you've found a few gluten free brunch menu ideas to add to your list! Bookmark this page and check back often since I'll be updating it as I add new brunch recipes to this website.
If there's a recipe you'd love to see, tell me about it in the comments below, and if you make any of these vegan gluten free brunch recipes, share a pic with me on Instagram, I'd love to see your remakes!