This page may contain affiliate links. Click to learn more.
Fluffy vegan
spelt rolls
that are hearty, slightly sweet, and delicious. A perfect replacement regular rolls, these spelt buns will become a new favourite! If you've never tried spelt rolls, you're in for a treat with this recipe.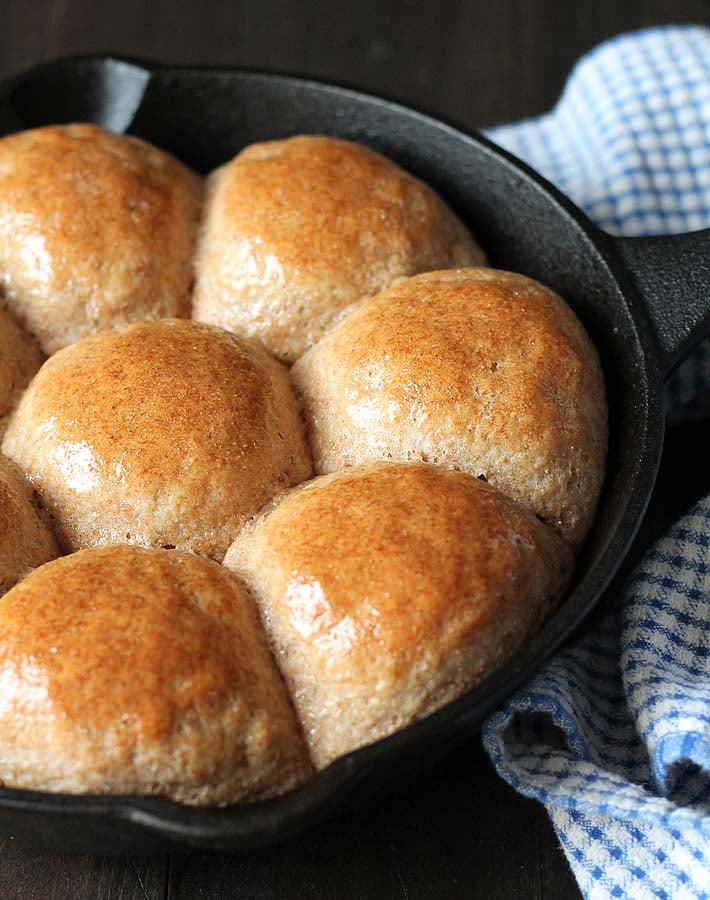 Baking with spelt flour is a little different than baking with other flours. Each one has its own quirks, but spelt is one that I rarely work with, so there was a little learning curve to get to these gorgeous, fluffy, whole grain vegan spelt rolls.
What is spelt flour?
First off, spelt flour is not gluten free. It's a type of wheat but does contain a little less gluten than wheat flour. If you're interested, you can read more about that here.
There are also different types of spelt flour. For this recipe, be sure that you buy "whole" spelt flour and not white spelt flour. I haven't tested with anything other than whole spelt flour.
I do think other specific types of flours will work as a substitute for the whole spelt, but since I haven't personally tested it yet, I don't want to say for certain that they will work. Once I test, I will update!
To come up with this recipe, I went back to my vegan hot cross buns recipe, stripped it of all its sweetness, spices, and add-ins and ended up with a bare bones roll recipe to experiment with.
How is baking with spelt flour different from baking with wheat flour?
When it comes to using spelt flour in baked goods, there are a few things you need to take into account to make sure your recipe will work.
First, spelt flour absorbs less liquid than wheat flour, so I had to cut back on the liquids in the original recipe to make this one work.
I also found that spelt dough does not need as much time to rise as wheat flour. So I also cut back on the rise time. This is what the dough for the spelt buns looked like after the second rise, just before putting them in the oven: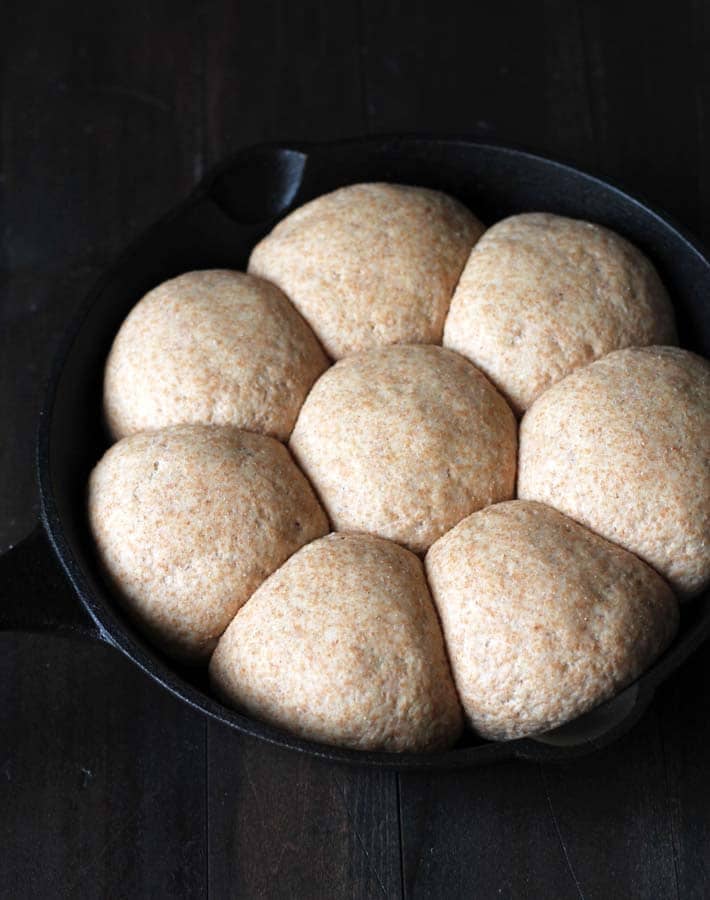 On my first try, I left them to rise for the same amount of time as I did with my wheat flour hot cross buns and they turned out well, texture-wise, but taste-wise? Nope.
They tasted very "yeasty" which is something that will happen if you leave your dough to rise for too long. Back to the drawing board.
The second time around, I cut back on the first rise by 15 minutes and that did the trick. The resulting spelt buns were amazing!
As mentioned above, if you've never tasted spelt buns, you need to treat yourself and make a batch for yourself. Whole grain spelt flour will give you fluffy spelt rolls that are hearty, dense, filling, and nutty flavoured (These aren't the airy white dinner rolls you may be used to!).
There's also a touch of sweetness, which is nice.
I like to brush the tops with a little oil for presentation (and they look nice in the photos, don't they?), but that's totally up to you and your preferences.
You can enjoy your spelt rolls any way you like! They're perfect to have as dinner rolls, or you can use them for sandwiches. Or you can just have them as a snack with whatever spread you like.
They're great with this easy strawberry chia seed refrigerator jam, my chickpea salad, and of course, they go perfectly with vegan butter or margarine.
I hope you enjoy these fluffy vegan spelt rolls, if you like this recipe, I think you may also like these:
How to Make Whole Grain Vegan Spelt Rolls