This post and recipe for vegan breakfast cookies, is sponsored by California Prunes. I was compensated for my time, and as always, all opinions in this post are my own.
Cookies for breakfast?? Yep, you read that recipe title right! These easy vegan breakfast cookies are a fun, make-ahead vegan breakfast idea for when you need something fast or for when you're on the go.
They're loaded with add-ins you can customize, plus, they're a great vegan meal-prep idea to make on the weekend for the week ahead. Read on for all the details!
Did you know that California is the world's largest producer of prunes and Canada is the 3rd largest export market for California Prunes? It's true! Prunes are one of those ingredients that don't appear in recipes very often, but they should.
I actually like California Prunes a lot (do you?), but yet, I only have one recipe in my rotation that calls for them (a Caribbean Christmas fruit cake recipe that I make just once a year!)
It's time to change that because prunes are very easy to incorporate into any recipe where you'd use another dried fruit (like raisins). You can use them to enhance both savoury and sweet recipes, and they help to make your baked treats moist.
Plus, California Prunes taste good and they're good for you (a serving of just five prunes can support good gut health [source]). They deliver consistent taste, quality and positive health benefits, what's not to love about that?
Why California Prunes?
The flavour of California Prunes is distinct; they don't taste like any other prunes out there. California Prunes are soft, rich, and sweet, so not only are they great for adding to recipes, they're also perfect for snacking on, as-is.
When shopping, specifically look for California Prunes (you'll have to look at the small print to see where they were grown).
California Prune Recipes
An easy recipe to make that will get you started with adding prunes to your rotation is, of course, the recipe for vegan breakfast cookies I'm sharing today, but also the no-bake California Prune power balls recipe you see below.
I made them and snapped this picture, don't they look good? They were very easy to make, all I needed was six ingredients, and they're perfect for quick snacks.
Get the recipe for them here. (Note that the original recipe calls for honey, but to make them vegan, I used maple syrup instead.)
So have I convinced you that prunes need a place in your kitchen? If you need a little more convincing, let's talk about my vegan gluten free breakfast cookies that just happen to call for, you guessed it, California Prunes!
Ingredients for Gluten Free Breakfast Cookies
The ingredients are simple, and you don't need many of them. For my add-ins, I use California Prunes, shredded coconut, and walnut pieces.
If you need to make them nut free breakfast cookies, simply replace the walnuts with sunflower seeds or pumpkin seeds.
To make the cookies gluten free, be sure you use gluten free rolled oats and oat flour (check the packaging for the certification).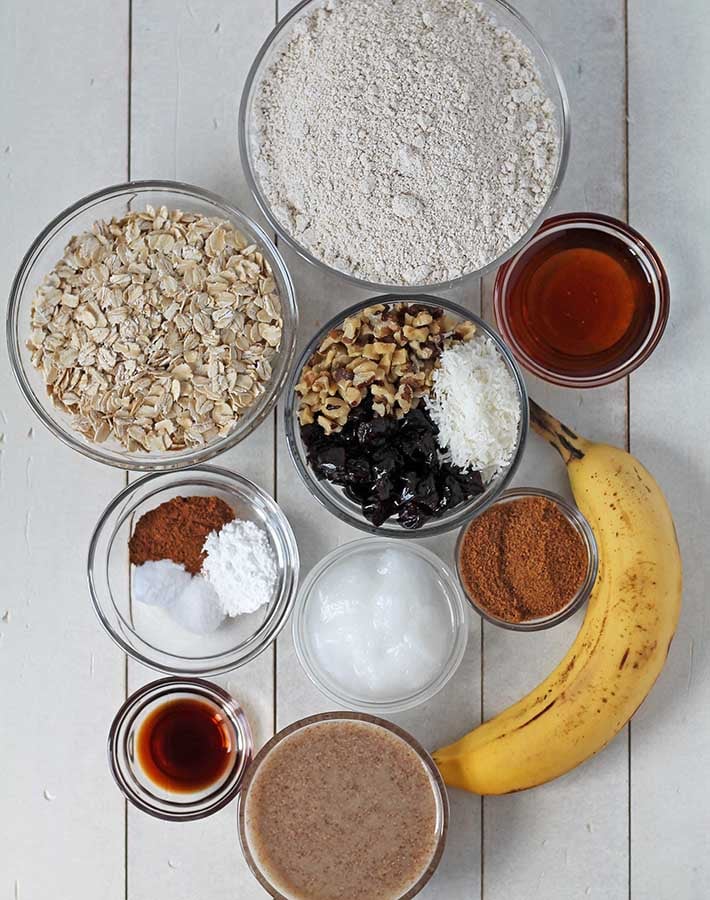 How to Prepare the Prunes
To chop the prunes perfectly for this recipe, you'll need to chop them down so each piece is close to the size of a peanut, like in the picture below.
If they're chopped too large, the cookies can end up falling apart after they've finished baking, so be sure to get them as close to the size you see in the picture.
How to Prepare Vegan Oatmeal Breakfast Cookies
(Note: I've outlined the step-by-step on how to make this oatmeal breakfast cookies recipe here, but find the full recipe, ingredients, and directions at the end of this post.)
If you're familiar with any of my other cookie recipes, these hearty breakfast cookies are prepared using the same basic method.
You'll start by mixing the dry ingredients in one bowl, mixing the wet in another bowl, combining the two, and then stirring in the add-ins.
Next, you'll scoop out the mixture using either a small cookie scoop or a tablespoon.
One thing important to note is that these cookies will NOT spread as they bake, so you'll need to flatten and shape them yourself. The shape they have when they go in the oven is the same shape they'll have when they're done.
After your gluten free oatmeal breakfast cookies have finished baking, let them cool on the cookie sheet for a few minutes, then remove and place on a cooling rack.
And that's it! Your banana oat breakfast cookies are done and ready for breakfast and snacks for the week ahead.
How Long Will They Last?
That depends on how much you and your family love them 🙂 But seriously, once they've cooled, place them in an airtight container and they can be kept out for 2-3 days.
If they don't finish in that time frame, refrigerate them for another 3-4 days .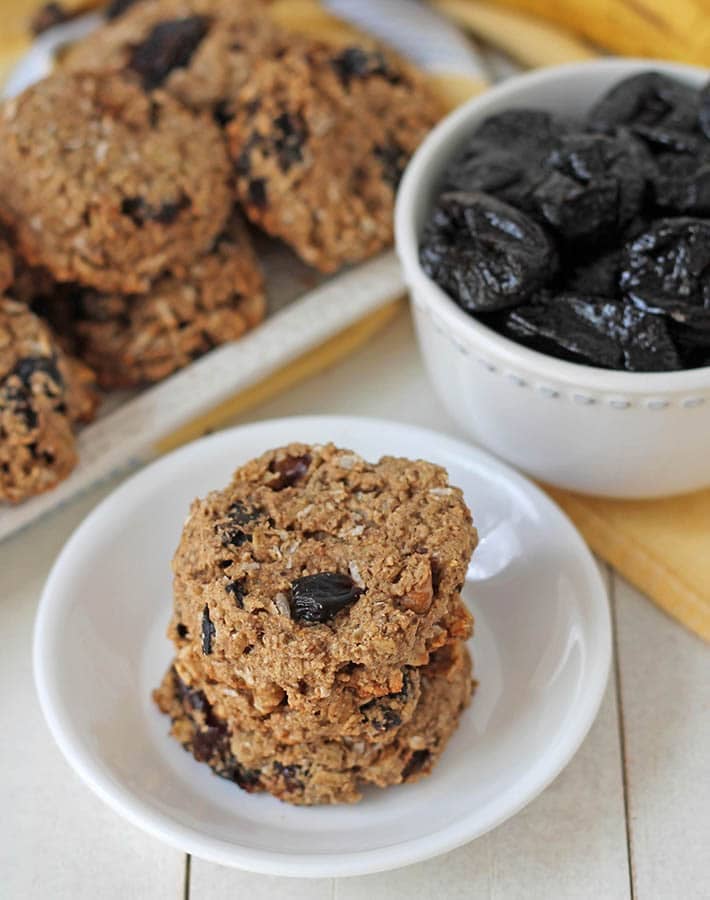 What is the Texture Like?
Right after they have baked, they will be slightly crispy on the outside and soft on the inside. These are not crispy, crunchy cookies, they're more on the soft, cake-like cookie side.
Once you store them in a container, they will get even softer.
So now you have TWO delicious reasons to buy California prunes the next time you go shopping! Check out this page for even more tasty recipes featuring prunes.
If you like this gf breakfast cookies recipe, you may also like these other easy vegan breakfast ideas:
You can also help me to help others find this breakfast cookie recipe by pinning it to your recipe board on Pinterest!
CLICK HERE TO PIN IT NOW!
Vegan Breakfast Cookies
Who can say no to cookies for breakfast?! These easy vegan breakfast cookies are a fun, make-ahead vegan breakfast for when you need something fast or you're on the go. Filled with add-ins you can customize, it's a gluten-free breakfast recipe that takes little time to prepare. Make these soft breakfast cookies on the weekend for the week ahead.
Ingredients:
2

tablespoons

ground flax seeds

6

tablespoons

water

15

California Prunes

(½ cup, packed)

2

cups

oat flour

1

cup

rolled oats

(gluten free, if needed)

1 ¼

teaspoon

cinnamon

1

teaspoon

baking powder

¼

teaspoon

baking soda

¼

teaspoon

salt

¼

cup

very ripe mashed banana

(half of a medium banana)

¼

cup

soft coconut oil

(see note below)

1

teaspoon

vanilla extract

¼

cup

coconut sugar

¼

cup

pure maple syrup

⅓

cup

walnut pieces

(see notes for nut-free option)

3

tablespoons

shredded unsweetened coconut
Instructions:
Preheat oven to 350°F (177°C).

Prepare your baking sheet(s) by lining with parchment paper.

Prepare your flax eggs by whisking together ground flax seeds and water. Set aside to thicken.

Chop California prunes so they're the size of peanuts (see image above). Set aside.

In a medium bowl, mix together the oat flour, rolled oats, cinnamon, baking soda, and salt.

In a large bowl, mash the banana until it is as smooth as possible and no large chunks remain. Add the flax mixture, soft coconut oil, vanilla extract, coconut sugar, maple syrup, and whisk together.

Add dry ingredients to wet ingredients and mix until combined.

Add in prunes, walnuts, and shredded coconut. Mix until combined.

Using a tablespoon (or a medium sized cookie scoop), scoop equal amounts onto the baking sheet(s). (See image above)


Flatten each cookie slightly, cookies will not spread as they bake.

Bake for 10 minutes or until golden around the edges. Don't over bake.

When done, place cookies on a cooling rack. When cool, store in an airtight container.
Recipe Notes:
Please read all of the helpful tips and FAQ above before making this recipe.
Calorie count is based on 24 cookies, which is the amount you will get if you use a tablespoon to scoop them out. If you make them with a medium sized cookie scoop, (medium scoops are usually 1.5 tablespoons), you will end up with less cookies. When I make them with a scoop, I get about 20).
Cookies can be made larger, you'll just need to add a minute or two to the baking time.
Old fashioned rolled oats must be used, NOT quick oats or steel cut oats.
Don't buy oat flour, make your own! It's really easy and so much cheaper. Here's how to make your own oat flour.
This recipe will NOT work with coconut flour.
For this recipe, you want your coconut oil to be soft, not melted.
Store leftovers in an airtight container for up to three days, if they last longer, store the container in the refrigerator.
Nutrition info listed below is based on one cookie. Nutrition info is only to be used as a rough guide. Click here to learn how nutrition info is calculated on this website.
Nutrition Info:
Serving:
1
cookie
|
Calories:
115.8
kcal
|
Carbohydrates:
15
g
|
Protein:
2.7
g
|
Fat:
5
g
|
Saturated Fat:
2.8
g
|
Sodium:
58.6
mg
|
Potassium:
38.5
mg
|
Fiber:
2.2
g
|
Sugar:
4.2
g
|
Vitamin A:
25.3
IU
|
Calcium:
26
mg
|
Iron:
0.8
mg
Did You Make This Recipe?
If so, please share a picture with me on Instagram! Tag @delightfuladventures and hashtag #delightfuladventures. I can't wait to see!