Have you made something so good, you just want to keep making more and eating it over and over again? I mentioned something similar when I shared my vegan hot cross buns recipe, and these vegan pumpkin scones fall into that same category.
This page contains affiliate links. Click to learn more.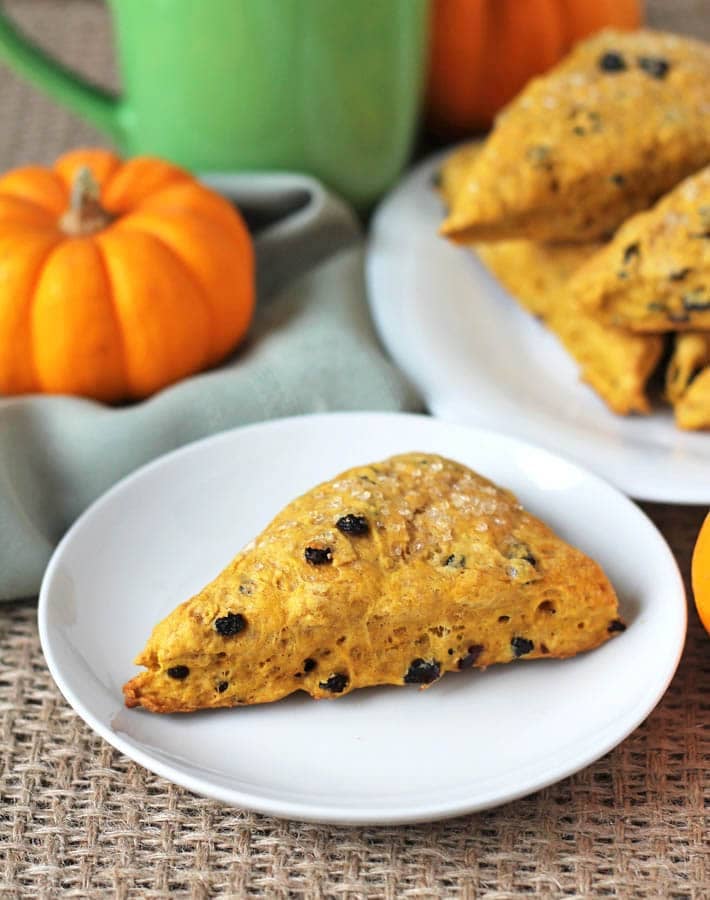 If you've never made vegan scones before and you think it's hard, let me assure you, it's not difficult at all.
If you follow the directions below, as they are written, and you don't substitute the ingredients for some other crazy ingredients (please don't use coconut flour in this recipe! Or any of my other recipes, unless the recipe calls for it!), you're guaranteed to end up with tea (or coffee!) companion worthy treats.
They're vegan pumpkin scone treats that you'll want to make throughout the year and not just reserve for the fall because they contain pumpkin.
The majority of the recipes I share here are gluten free, but this one, sadly, is not. While testing this recipe, which is an adaptation of my coconut raisin vegan scones, I tried making it with a few different flours.
All purpose and spelt turned out excellent, but I just couldn't get the gluten free version to work. The taste was always great, but the texture was not.
I have tried several very good vegan gluten free scones from bakeries before, so I know it can be done, I just haven't figured out how to end up with a result I'm happy with. I'm stubborn, though, I'll get it, eventually…and when I do, I will update!
[update! I've cracked the vegan gluten-free scone mystery and will be updating this recipe to include the alternate steps soon!]
Since these scones are not very sweet, I like to top them with a little sprinkling of turbinado sugar, but that is entirely up to you and totally optional. But I highly recommend it because it adds a little extra sweetness and a nice crunch to each perfect pumpkin spice bite.
I also use currants in these eggless pumpkin scones, which I think are very underused in baking. I love using them in a few of the things I make and the results are great every time.
If you can't find or don't want to use currants, you can use raisins instead, or you can even use mini chocolate chips. Because pumpkin and chocolate are a great pair, like in my vegan gluten-free pumpkin spice muffins!
And for this recipe, you'll need pumpkin puree. I've written a step-by-step on how to make pumpkin puree for all of your pumpkin recipes. It's very easy and you can make a big batch and freeze it for later! Click here to learn how to make homemade pumpkin puree.
If you make these vegan pumpkin scones (or any of my other recipes) please tag me and share a pic with me on Instagram or on Facebook!
I LOVE seeing all of your re-creations!
If you like this vegan pumpkin scones recipe, you may also like these:
How to Make Vegan Pumpkin Scones