Vegan gluten-free lemon blueberry scones that pair up perfectly with your tea or coffee at breakfast and brunch. They can also be made just vegan, instructions for both ways are included.

This page may contain affiliate links. As an Amazon Associate I earn from qualifying purchases.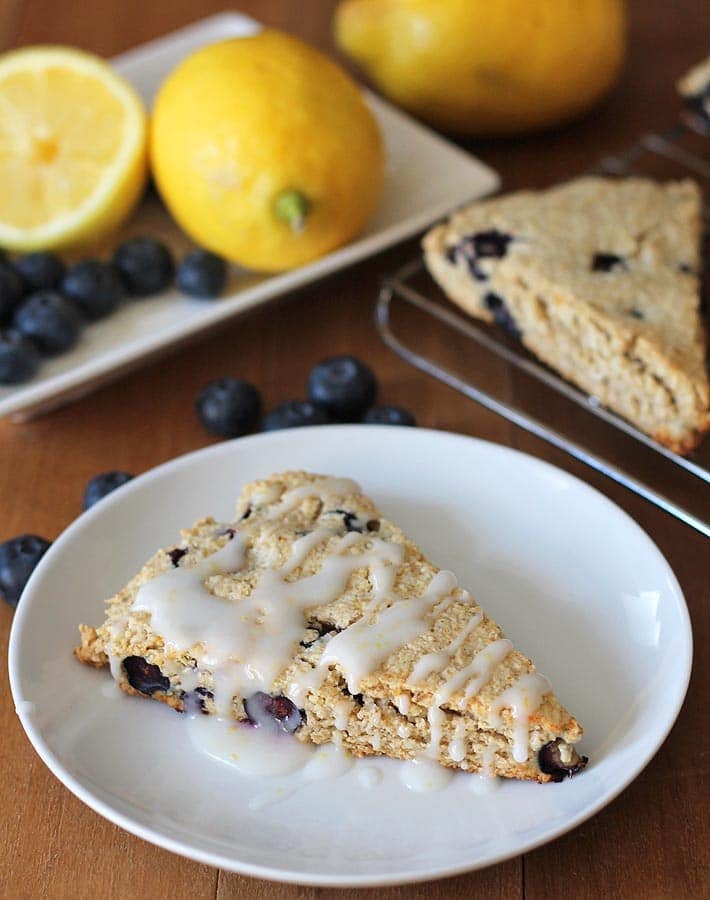 I have a couple of recipes for scones on my website (coconut raisin scones and pumpkin scones). Both recipes are vegan but they are unfortunately, not gluten-free.
At the time, my intent was to make those recipes gluten-free, but the correct flours to use and the ratios stumped me. And none of the store-bought blends worked well.
In a nutshell, this is the life of a food blogger.
After quite a few fails, I went ahead and published the recipes with no gluten-free option, but in the background, I still worked away at trying to figure out that elusive gluten free flour combination.
I'm stubborn, in case you haven't heard me say that yet in some of my other posts 🙂 Many of my recipes would not exist if it wasn't for that stubbornness, so it's a good characteristic to have.
Many recipes for vegan gluten-free treats use a mix of oat flour and almond flour but that blend didn't work out the way I had wanted it to.
If I had stuck with it and adjusted ratios, I'm sure I could have figured it out, but then I found a bag of brown rice four in my cupboard and decided to try it, and it worked!
Oat flour on its own can work well in some cases (like in my banana oat pancakes), but in this case, the recipe needed something else and the brown rice flour was the best match.
(This is a picture of the lemon blueberry scones just before I put them into the oven after they have been chilled and sliced.)
These aren't "traditional" scones, they obviously contain no eggs, no butter, and no cream. They're also a little different in texture than a regular scone.
Once you taste them, you won't even remember that these are gluten free vegan scones. They have a nice lemon flavour and the blueberries, especially if they're sweet, add little bursts of sweetness to each bite.
The shredded coconut also adds a very subtle coconut flavour that you may not pick up right away, but it's there, and works perfectly against the lemon and blueberry flavours.
It's a slightly tangy + sweet treat, so if that's your kind of thing, you'll love these.
What is the texture like?
Because they're made with oat and rice flour, they are very light and a little crumbly, but it's a good texture that I'm happy with. Right out of the oven, they have a slight crunch on the outside and on the inside, they're soft and almost cake-like on the inside.
Have a look at the picture below to get a visual of what I'm talking about.
What can I top the scones with?
I've given two options: a sugary topping and a lemon glaze (the scones in the photos have the lemon glaze). Both options are delicious, but you can also go without any topping at all, it's up to you.
I've included instructions on how to do it both ways in the recipe below.
Can I use a different flour blend to make this recipe?
I tried many combinations and had many fails before coming up with this one, so for success, I would stick with the recipe that way it's written. And don't subbing with coconut flour, it won't work 🙂
If you make the recipe, let me know in the comments or share a pic on Instagram and tag me (I'm @delightfuladventures!)
If you like this lemon blueberry scones recipe, you may also like these:
How to Make Lemon Blueberry Scones
Print Recipe
Lemon Blueberry Scones (vegan + gluten-free)
Vegan gluten-free lemon blueberry scones that will go perfectly with your tea or coffee at breakfast and brunch. These scones can also be made just vegan, instructions for both ways are included.
Ingredients:
For the scones:
2

cups

oat flour

(see notes below for making this recipe with all-purpose flour)

½

cup

brown rice flour

1

tablespoon

baking powder

3

tablespoons

sugar

⅛

teaspoon

salt

1

tablespoon

lemon zest

¼

cup

coconut oil

soft, not melted, see note below

¾

cup

fresh blueberries

½

cup

unsweetened non-dairy milk
For the Lemon Glaze (optional):
For the sugar topping (optional, only use if not using lemon glaze):
Instructions:
Line a baking sheet with parchment paper and set aside.


In a medium bowl, whisk together oat flour, brown rice flour, baking powder, sugar, salt, and lemon rind.


Add soft coconut oil to the bowl and using a pastry blender, cut coconut oil into the flour mixture until the mix looks sandy and all of the bigger chunks have been broken up. See picture above.


Add the shredded coconut and blueberries. Mix until combined. Take special care when mixing so you don't break the berries.


Add non-dairy milk to the bowl and with a wooden spoon, stir gently until a dough is formed.


Knead the dough lightly and quickly until all ingredients have combined and there are no more dry parts in the bowl. Form into a ball.


Transfer dough ball to the parchment lined baking sheet and form dough into an 8-inch wide, 1" tall disc.


Place baking sheet in the refrigerator to chill for 20 minutes.

After dough has chilled, brush the top with 1 tablespoon of coconut milk and sprinkle with the turbinado sugar (if using).


Using a knife, or a pizza cutter, cut the disc into 8 equal wedges and arrange them at least 2 inches apart on the baking sheet (see picture above).


Bake for 20 minutes.

While the scones are cooling, make the glaze:
Add the powdered sugar, lemon juice, and lemon zest to a small bowl.


Mix until everything has combined into a liquid glaze.

Make sure that the scones are still on the cooling rack, place a piece of parchment paper under the rack to catch any drips.


When the scones have fully cooled, using a spoon, drizzle the glaze over each scone.

Recipe Notes:
If you are not making the gluten-free version and you are using all-purpose flour, use the following ingredients and measurements:
Use 2 cups of all-purpose flour
Use ⅔ cups of unsweetened non-dairy milk
Other Notes:
I have not tested with any other flours than the oat + brown rice and the all-purpose.
This recipe will NOT work with coconut flour.
The coconut oil must be soft, but not too soft or melted (like room temperature butter) so it can be cut into the flour. If your coconut oil is too soft, refrigerate until it firms up a bit.
Fresh blueberries work best in this recipe but if you don't have any, frozen can also be used. Just know that they will likely turn your scones purple 🙂
Fresh coconut is great in this recipe, it will give the scones axtra boost of coconut flavour that works very well with the lemon and blueberries. If you don't have any, freshly shredded coconut, dry coconut works perfectly fine as well. (Learn how to crack open and use a whole coconut)
Nutrition info listed below is based on 1 scone, without the optional glaze and coconut milk/sugar topping. Nutrition info is only to be used as a rough guide. Click here to learn how nutrition info is calculated on this website.
Nutrition Info:
Serving:
1
Scone
|
Calories:
264
kcal
|
Carbohydrates:
35
g
|
Protein:
6
g
|
Fat:
11
g
|
Saturated Fat:
8
g
|
Sodium:
62
mg
|
Potassium:
25
mg
|
Fiber:
5
g
|
Sugar:
6
g
|
Vitamin A:
50
IU
|
Vitamin C:
5.8
mg
|
Calcium:
50
mg
|
Iron:
1.6
mg
Did You Make This Recipe?
If so, please share a picture with me on Instagram! Tag @delightfuladventures and hashtag #delightfuladventures. I can't wait to see!