Vegan gluten-free lemon blueberry scones that pair up perfectly with your tea or coffee at breakfast and brunch. They can also be made just vegan, instructions for both ways are included.
This page contains affiliate links. Click to learn more.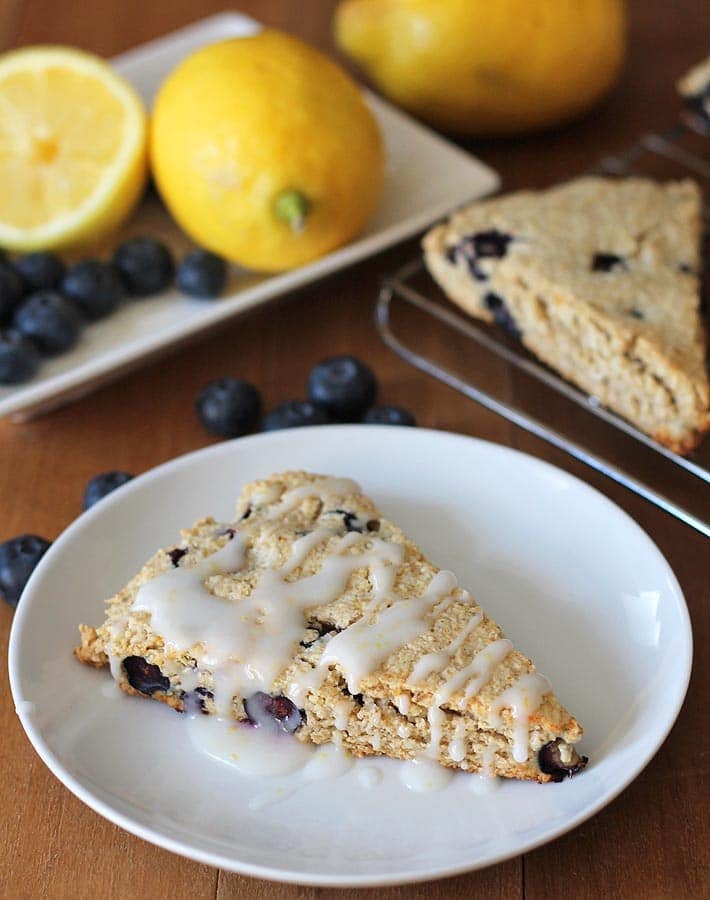 I have a couple of recipes for scones on my website (coconut raisin scones and pumpkin scones). Both recipes are vegan but they are unfortunately, not gluten-free.
At the time, my intent was to make those recipes gluten-free, but the correct flours to use and the ratios stumped me. And none of the store-bought blends worked well.
In a nutshell, this is the life of a food blogger.
After quite a few fails, I went ahead and published the recipes with no gluten-free option, but in the background, I still worked away at trying to figure out that elusive gluten free flour combination.
I'm stubborn, in case you haven't heard me say that yet in some of my other posts 🙂 Many of my recipes would not exist if it wasn't for that stubbornness, so it's a good characteristic to have.
Many recipes for vegan gluten-free treats use a mix of oat flour and almond flour but that blend didn't work out the way I had wanted it to.
If I had stuck with it and adjusted ratios, I'm sure I could have figured it out, but then I found a bag of brown rice four in my cupboard and decided to try it, and it worked!
Oat flour on its own can work well in some cases (like in my banana oat pancakes), but in this case, the recipe needed something else and the brown rice flour was the best match.
(This is a picture of the lemon blueberry scones just before I put them into the oven after they have been chilled and sliced.)
These aren't "traditional" scones, they obviously contain no eggs, no butter, and no cream. They're also a little different in texture than a regular scone.
Once you taste them, you won't even remember that these are gluten free vegan scones. They have a nice lemon flavour and the blueberries, especially if they're sweet, add little bursts of sweetness to each bite.
The shredded coconut also adds a very subtle coconut flavour that you may not pick up right away, but it's there, and works perfectly against the lemon and blueberry flavours.
It's a slightly tangy + sweet treat, so if that's your kind of thing, you'll love these.
What is the texture like?
Because they're made with oat and rice flour, they are very light and a little crumbly, but it's a good texture that I'm happy with. Right out of the oven, they have a slight crunch on the outside and on the inside, they're soft and almost cake-like on the inside.
Have a look at the picture below to get a visual of what I'm talking about.
What can I top the scones with?
I've given two options: a sugary topping and a lemon glaze (the scones in the photos have the lemon glaze). Both options are delicious, but you can also go without any topping at all, it's up to you.
I've included instructions on how to do it both ways in the recipe below.
Can I use a different flour blend to make this recipe?
I tried many combinations and had many fails before coming up with this one, so for success, I would stick with the recipe that way it's written. And don't subbing with coconut flour, it won't work 🙂
If you make the recipe, let me know in the comments or share a pic on Instagram and tag me (I'm @delightfuladventures!)
If you like this lemon blueberry scones recipe, you may also like these:
How to Make Lemon Blueberry Scones