I had a chance to review and share a recipe from Minimalist Baker's Everyday Cooking: 101 Entirely Plant-based, Mostly Gluten-Free, Easy and Delicious Recipes and chose to share this delicious vegan breakfast burrito recipe with you!
Anyone who reads blogs has their favourites. I'm sure you have yours..maybe one of yours is mine? You know, since you're here...reading this? *bats eyelashes*
Kidding 🙂
One of my (many) personal faves is the food blog, Minimalist Baker. It's filled with creative, delicious, plant-based, and mostly gluten-free recipes. All things I love.
So naturally, when I heard that the writer behind the blog, Dana Schultz, was coming out with a recipe book, Minimalist Baker's Everyday Cooking: 101 Entirely Plant-based, Mostly Gluten-Free, Easy and Delicious Recipes, I wanted it!
What's in the book?
The book is an extension of the Minimalist Baker blog, so don't expect to find any recipes from the blog in the book, it's all new stuff.
All recipes in the book take just 30-minutes or less to make and only require 1 bowl or 1 pot and 10 ingredients or less to prepare. Do you hear angels singing?
Breakfast, drinks, sides, appetizers, mains, and desserts are all included and like most recipe books, it also contains chapters on pantry staples, nutritional info, and resources/methods.
What makes this cookbook stand out?
Something the recipes in this book includes, that you don't see everywhere, is BOTH standard and metric measurements.
When skimming through the book to see all the recipes, I was so happy to see that EVERY recipe has a colour photo. I like to see what my final dish is going to look like. I love recipes books that do this, don't you?

Deciding what recipe to make from the book was a little difficult because they all sound amazing!
Do the recipes in the Minimalist Baker cookbook make it worth buying?
You tell me! How do the following recipes sound to you?
Savory Eggless Benedict, Carrot Walnut Bread, Coconut Red Curry Vegetable Soup, Greek Kale Salad, Garlic Pineapple Stir-Fried Quinoa, Vegan Enchiladas, Thai Quinoa Meatballs, 1-Pot Chickpea Noodle Soup, Apricot Hand Pies, 5-Ingredient Peppermint Patties, No-Bake Strawberry Cheesecake Bars...
I think they all sound amazing, don't you?

Those are just a few of the 101 recipes in the book. See why it was so hard for me to decide what to make? *heavy breathing*
I recruited the kids to help because I couldn't decide and we all agreed the recipe I would make to share with you would be The Vegan Breakfast Burrito. It was an excellent choice.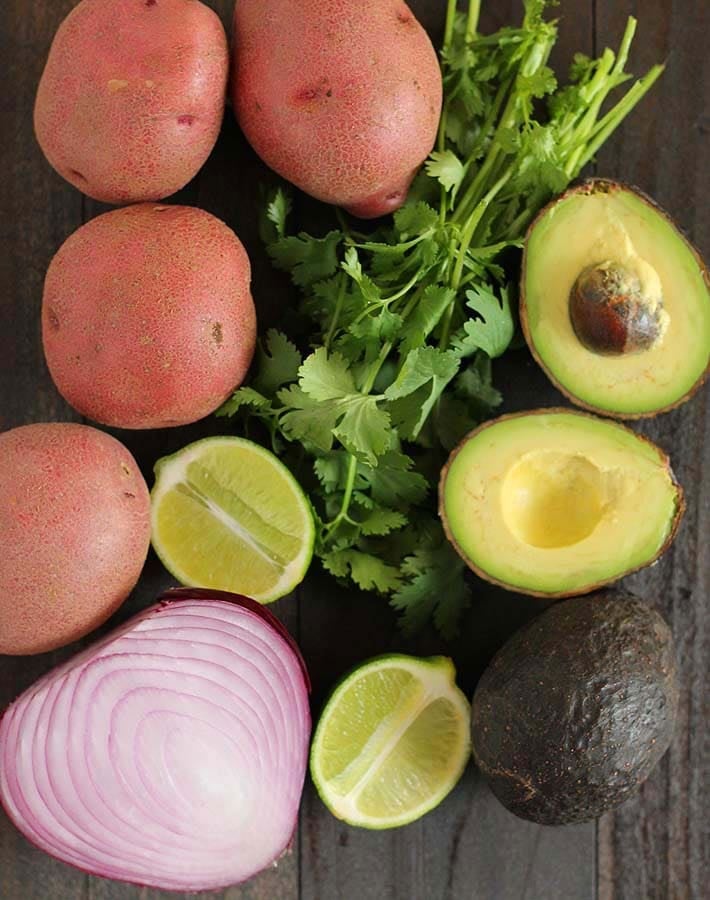 This recipe was on my shortlist and I had a feeling they would choose this one because on a trip to Disney a few years ago, we had a layover in Washington, DC.
While at the airport, they each had a breakfast burrito and have not forgotten it, they still talk about it to this day...food memories are the best. These are truly my children.
But this Vegan Breakfast Burrito recipe is different from those airport burritos (which were very good for airport burritos!), they are so much better.
In the intro, Dana explained that she almost didn't include the vegan breakfast burrito recipe in the book. I'm so glad she did!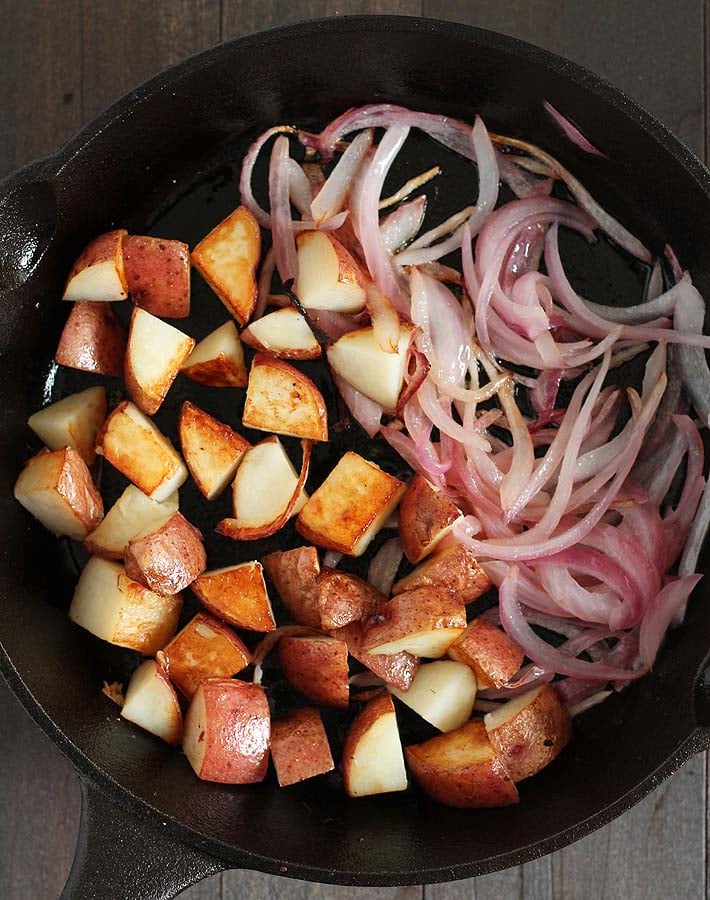 When I made these, we didn't have them for breakfast, we had them for supper. They can be made for any meal, really, because they're so filling and contain loads of nutritious ingredients.
Potatoes, onions, cilantro-lime rice, seasoned black beans, cabbage avocado slaw, avocados, and salsa. Mmm...
I also doubled the recipe because the recipe in the book, and below, only makes 2 burritos.
You will likely have extra potatoes and rice after assembling all of your burritos, serve those extra things on the side, like I did.
Looking at that picture above, can you tell burrito wrapping is not one of my strengths?! Ha!
Whether it's wrapped perfectly or not, they're delicious. And don't do like I did...add your salsa with the ingredients, THEN wrap. (I made that mistake!)
I hope you like this vegan breakfast burrito recipe as much as my family and I did! And definitely check out the Minimalist Baker's Everyday Cooking book.
If you love the Minimalist Baker blog, you're guaranteed to also love the book.
If you get it, tell me below which recipe you want to make first!
If you like this recipe, you may also like these other vegan breakfast recipes:
The Vegan Breakfast Burrito from Minimalist Baker's Everyday Cooking book
The Vegan Breakfast Burrito
Burritos aren't only for lunch and supper, have them for breakfast too! This vegan breakfast burrito recipe is loaded with filling ingredients and will become a new favourite!
Ingredients:
Rice
¾

cup

(150g)

white rice

rinsed and drained (see note below)

1 ½

cups

(360ml)

water

¼

teaspoon

sea salt

½

lime,

juiced (1 tablespoon or 15ml)

¼

cup

(15g)

fresh cilantro

chopped
Hash Browns + Onions
4

small red potatoes

(see note below)

½

red onion

(55g)

1-2

tbsp

(14-28g)

vegan butter

(or 15-30ml olive oil)

¼

teaspoon

each sea salt and black pepper
Black Beans
1

cup

(185g)

cooked black beans

(if unsalted, add ¼ teaspoon salt)

¼

teaspoon

each ground cumin, garlic powder, and chili powder
Quick Avocado Slaw
¼

ripe avocado

1

lime,

juiced (2 tablespoon or 30ml)

1

cup

(89g)

purple cabbage, green cabbage, or radish, thinly sliced

1

(14g)

jalapeno

seeds removed, thinly sliced

Pinch each of sea salt and black pepper
For Serving
2

large vegan flour tortillas (white or wheat, to your preference)

(see note below)

½

ripe avocado

¼

cup

(64g)

salsa
Instructions:
Start by adding the rice, water, and salt to a saucepan and bringing it to a boil. Once boiling, reduce heat to low, cover, and simmer for 15-20 minutes or until all of the water is absorbed and the rice is fluffy. Remove from the heat and set aside.

As the rice is cooking, heat a large metal or cast-iron skillet over medium heat. Wash and chop potatoes into bite-size pieces. Slice the onion into ¼-inch rings.

Once the skillet is hot, add the vegan butter or olive oil. Swirl to coat. Add the potatoes to one half of the pan and the onions to the remaining half. Season with the salt and pepper, cover, and let cook for 4-5 minutes on one side. Then flip/toss to brown on the other side for 4-5 minutes, or until golden brown. Remove from heat and set aside.

Add the beans to a small saucepan over medium heat and season with the cumin, garlic powder, and chili powder. When bubbly, reduce the heat to low to keep warm.

To make the slaw, mash together the avocado and lime juice, then add the cabbage and jalapeno and toss to combine. Season with a pinch of salt and set aside.

To the cooked rice, add the lime juice and cilantro. Toss with a fork to combine.

To soften the tortillas, wrap in a damp towel and warm in the microwave for 30 seconds or in a 350 degree F oven (176 degrees C) for 1-2 minutes.

Add the fillings in any order, followed by sliced avocado and salsa (or hot sauce, if desired). Roll up, slice in half and enjoy. Serve any extra potatoes, black beans, or rice on the side.
Recipe Notes:
This recipe yields leftover potatoes, rice, and black beans.
The recipe called for white rice, I used brown rice.
Gluten-free tortillas would work well in this recipe, too!
Nutrition info is from the recipe author, directly from the cookbook.
Nutrition Info:
Calories:
869
kcal
|
Carbohydrates:
154.3
g
|
Protein:
21
g
|
Fat:
21.4
g
|
Saturated Fat:
4.4
g
|
Sodium:
845
mg
|
Fiber:
21
g
|
Sugar:
8.8
g
Did You Make This Recipe?
If so, please share a picture with me on Instagram! Tag @delightfuladventures and hashtag #delightfuladventures. I can't wait to see!
Penguin Random House Canada sent me a copy of Minimalist Baker's Everyday Cooking: 101 Entirely Plant-based, Mostly Gluten-Free, Easy and Delicious Recipes at no charge to review with the option to share a recipe from the book on my site. The recipes are so amazing, how could I not share one with you 🙂 All opinions about the book and recipes are my own. All images in this post are also my own. The Vegan Breakfast Burrito Recipe was reprinted with permission from Penguin Random House.