I had a chance to review and share a recipe from Minimalist Baker's Everyday Cooking: 101 Entirely Plant-based, Mostly Gluten-Free, Easy and Delicious Recipes and chose to share this delicious vegan breakfast burrito recipe with you!
This page may contain affiliate links. Click to learn more.
Anyone who reads blogs has their favourites. I'm sure you have yours..maybe one of yours is mine? You know, since you're here…reading this? *bats eyelashes*
Kidding 🙂
One of my (many) personal faves is the food blog, Minimalist Baker. It's filled with creative, delicious, plant-based, and mostly gluten-free recipes. All things I love.
So naturally, when I heard that the writer behind the blog, Dana Schultz, was coming out with a recipe book, Minimalist Baker's Everyday Cooking: 101 Entirely Plant-based, Mostly Gluten-Free, Easy and Delicious Recipes, I wanted it!
What's in the book?
The book is an extension of the Minimalist Baker blog, so don't expect to find any recipes from the blog in the book, it's all new stuff.
All recipes in the book take just 30-minutes or less to make and only require 1 bowl or 1 pot and 10 ingredients or less to prepare. Do you hear angels singing?
Breakfast, drinks, sides, appetizers, mains, and desserts are all included and like most recipe books, it also contains chapters on pantry staples, nutritional info, and resources/methods.
What makes this cookbook stand out?
Something the recipes in this book includes, that you don't see everywhere, is BOTH standard and metric measurements.
When skimming through the book to see all the recipes, I was so happy to see that EVERY recipe has a colour photo. I like to see what my final dish is going to look like. I love recipes books that do this, don't you?

Deciding what recipe to make from the book was a little difficult because they all sound amazing!
Do the recipes in the Minimalist Baker cookbook make it worth buying?
You tell me! How do the following recipes sound to you?
Savory Eggless Benedict, Carrot Walnut Bread, Coconut Red Curry Vegetable Soup, Greek Kale Salad, Garlic Pineapple Stir-Fried Quinoa, Vegan Enchiladas, Thai Quinoa Meatballs, 1-Pot Chickpea Noodle Soup, Apricot Hand Pies, 5-Ingredient Peppermint Patties, No-Bake Strawberry Cheesecake Bars…
I think they all sound amazing, don't you?

Those are just a few of the 101 recipes in the book. See why it was so hard for me to decide what to make? *heavy breathing*
Why I chose this particular recipe to share…
I recruited the kids to help because I couldn't decide and we all agreed the recipe I would make to share with you would be The Vegan Breakfast Burrito. It was an excellent choice.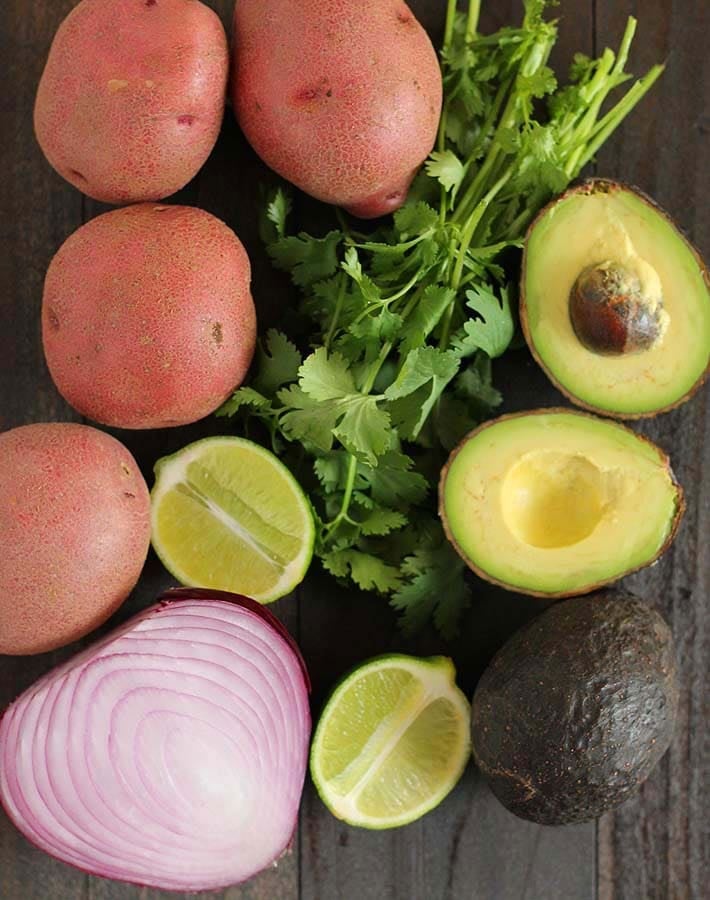 This recipe was on my shortlist and I had a feeling they would choose this one because on a trip to Disney a few years ago, we had a layover in Washington, DC.
While at the airport, they each had a breakfast burrito and have not forgotten it, they still talk about it to this day…food memories are the best. These are truly my children.
But this Vegan Breakfast Burrito recipe is different from those airport burritos (which were very good for airport burritos!), they are so much better.
In the intro, Dana explained that she almost didn't include the vegan breakfast burrito recipe in the book. I'm so glad she did!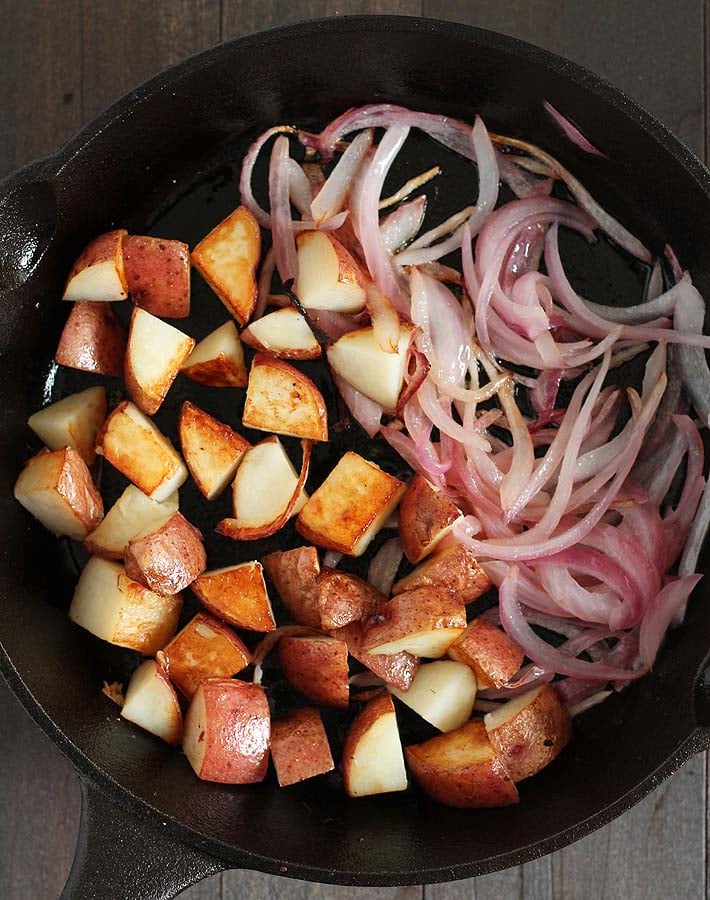 When I made these, we didn't have them for breakfast, we had them for supper. They can be made for any meal, really, because they're so filling and contain loads of nutritious ingredients.
Potatoes, onions, cilantro-lime rice, seasoned black beans, cabbage avocado slaw, avocados, and salsa. Mmm…
I also doubled the recipe because the recipe in the book, and below, only makes 2 burritos.
You will likely have extra potatoes and rice after assembling all of your burritos, serve those extra things on the side, like I did.
Looking at that picture above, can you tell burrito wrapping is not one of my strengths?! Ha!
Whether it's wrapped perfectly or not, they're delicious. And don't do like I did…add your salsa with the ingredients, THEN wrap. (I made that mistake!)
I hope you like this vegan breakfast burrito recipe as much as my family and I did! And definitely check out the Minimalist Baker's Everyday Cooking book.
If you love the Minimalist Baker blog, you're guaranteed to also love the book.
If you get it, tell me below which recipe you want to make first!
If you like this recipe, you may also like these other vegan breakfast recipes:
The Vegan Breakfast Burrito from Minimalist Baker's Everyday Cooking book
Penguin Random House Canada sent me a copy of Minimalist Baker's Everyday Cooking: 101 Entirely Plant-based, Mostly Gluten-Free, Easy and Delicious Recipes at no charge to review with the option to share a recipe from the book on my site. The recipes are so amazing, how could I not share one with you 🙂 All opinions about the book and recipes are my own. All images in this post are also my own. The Vegan Breakfast Burrito Recipe was reprinted with permission from Penguin Random House.