Cool, creamy, melt-in-your-mouth vegan peppermint patties coated with rich dark chocolate. These easy-to-make, 5-ingredient treats are a great idea for holiday gift-giving or special treats!
This page may contain affiliate links. Click to learn more.
This website turns four tomorrow, December 1st! FOUR!
This site is still up and running because I love sharing recipes and the whole process behind it. Some parts more than others (ha!), but the important thing is that I love doing what I do here because I get to share recipes like this: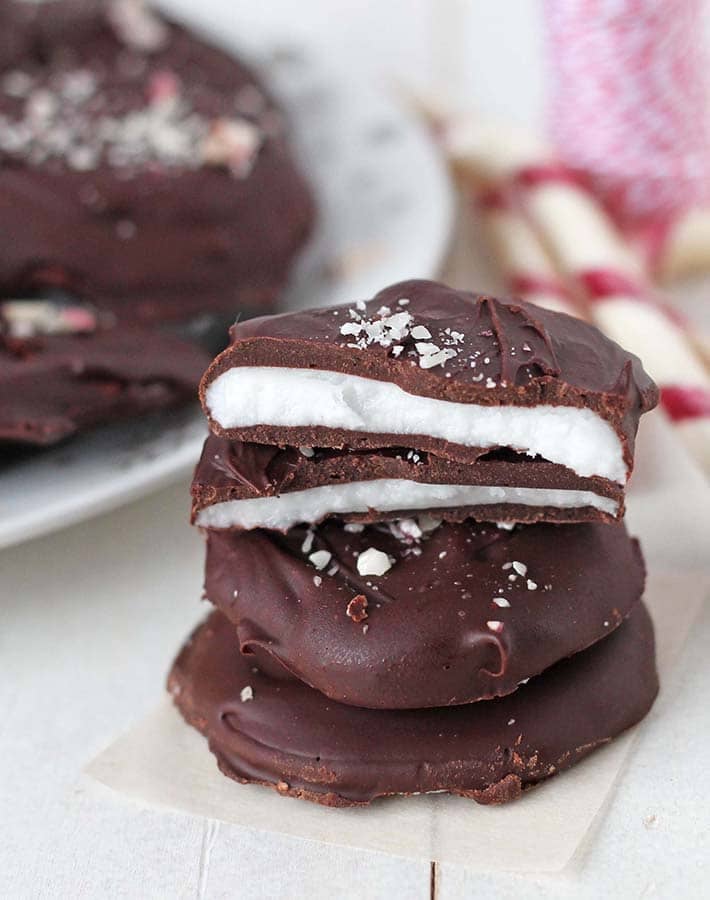 It has become a tradition to share a chocolate mint recipe on each blog anniversary. It wasn't intentional, things just kind of happened that way, but I'm more than happy to continue this tradition because I love chocolate and mint together.
Here are some of my other chocolate + mint recipes, in case you love this flavour combo as much as I do!
Now, let's discuss these vegan peppermint patties, shall we?
This is a treat I've been making and giving as holiday gifts for a while. They're my Christmas peppermint patties 🙂
When I give them, I'm always asked for the recipe, so I'm sharing it here, so everyone can see how easy they are to make and if they want to make them, they can…and not just during the holidays, but year-round!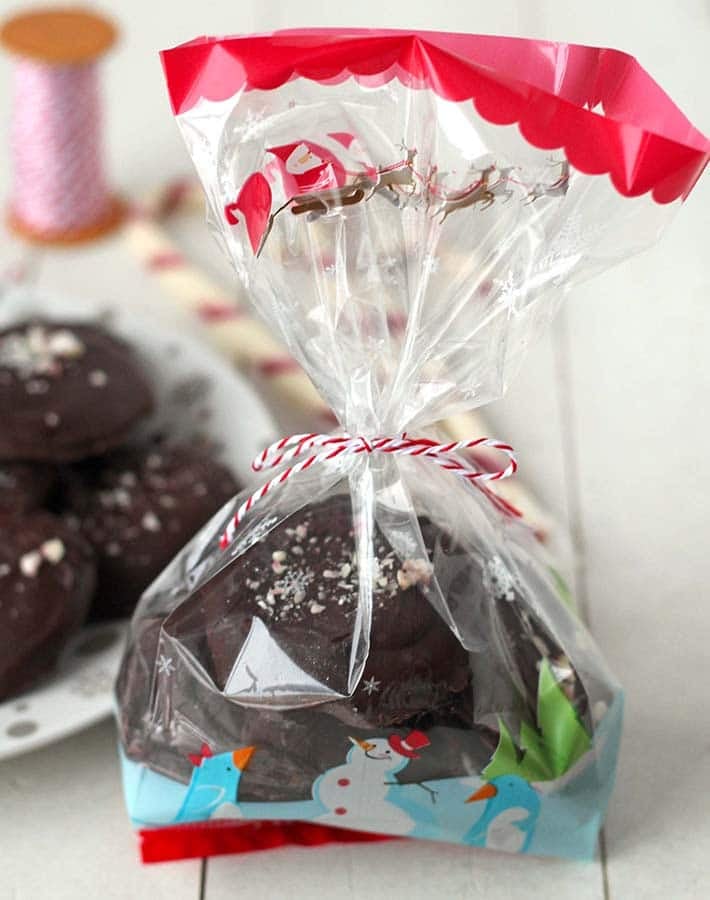 There are many different variations of this recipe, most contain condensed milk and others call for shredded coconut.
This no-bake, 5-ingredient recipe is uncomplicated and it's:
condensed milk free
shredded coconut free
It may also remind you of a favourite store bought treat, York Peppermint Patties. This recipe and those patties are both cool, refreshing, chocolaty, and minty, but are York Peppermint Patties vegan?
Nope. They contain dairy and eggs. They also contain corn syrup.
THIS recipe is:
dairy free
egg free
corn syrup free
So let's look at the peppermint patty ingredients in my recipe: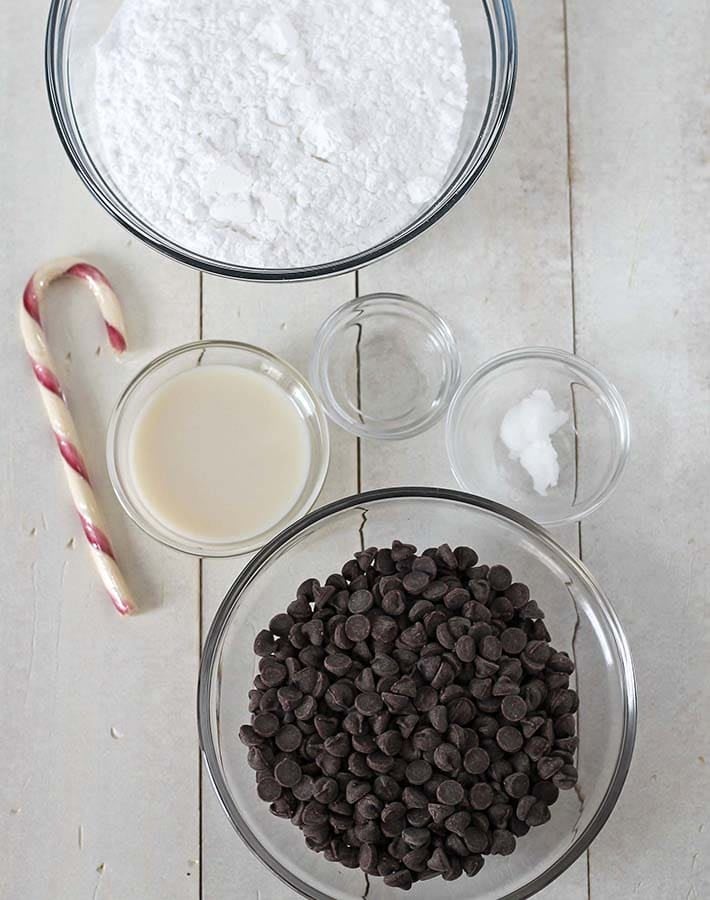 All you need is powdered sugar, semi-sweet chocolate chips, milk of choice, coconut oil, peppermint extract, and an optional candy cane to crush and sprinkle on top of your vegan peppermint patties.
That's it!
Steps for Making Vegan Peppermint Patties
(Note: I've outlined the step-by-step here, but find the full recipe and directions at the end of this post.)
This is a very easy recipe to make, as long as you follow the instructions as they are written, because there is one very important step you need to pay close attention to when making.
That important step is the addition of the milk to the powdered sugar. You cannot add the milk all at once, you need to do it gradually so you end up with a firm ball that holds together, isn't too dry, and isn't too wet.
The perfect texture will allow you to scoop and form into patties that aren't runny and don't fall apart.
After making the patties, they need to be placed in the freezer so they freeze solid to make the dipping step easy.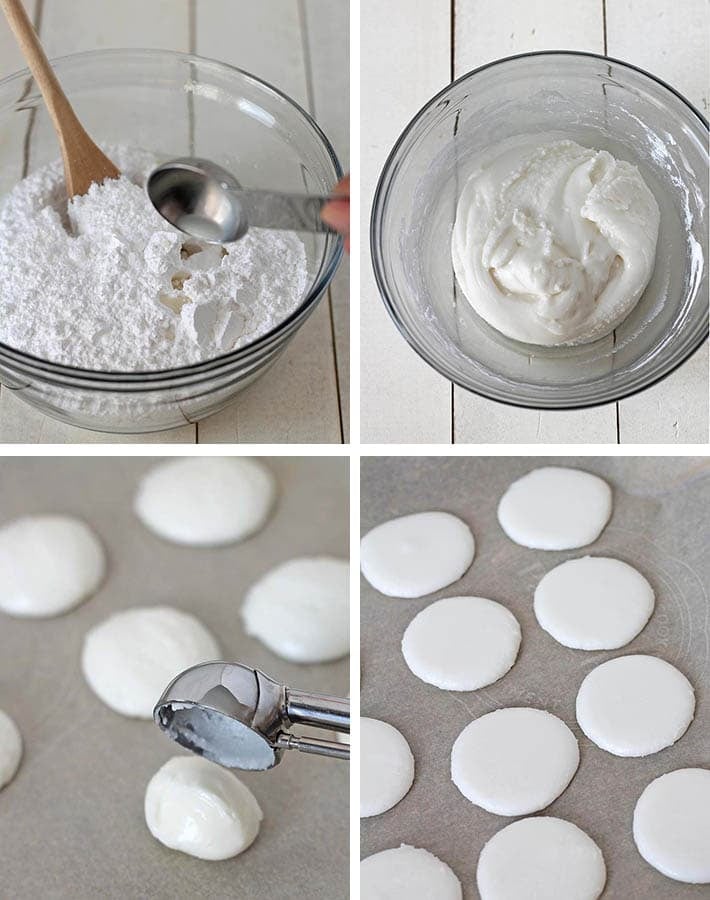 The next step is to melt the chocolate you'll be dipping the mint patties into. This can be done in the microwave or by using the double boiler method. A little coconut oil is added to the chocolate to thin it a bit to make dipping easier.
Dipping can be done with dipping tools (if you're a candy making pro and have some!) or with two forks.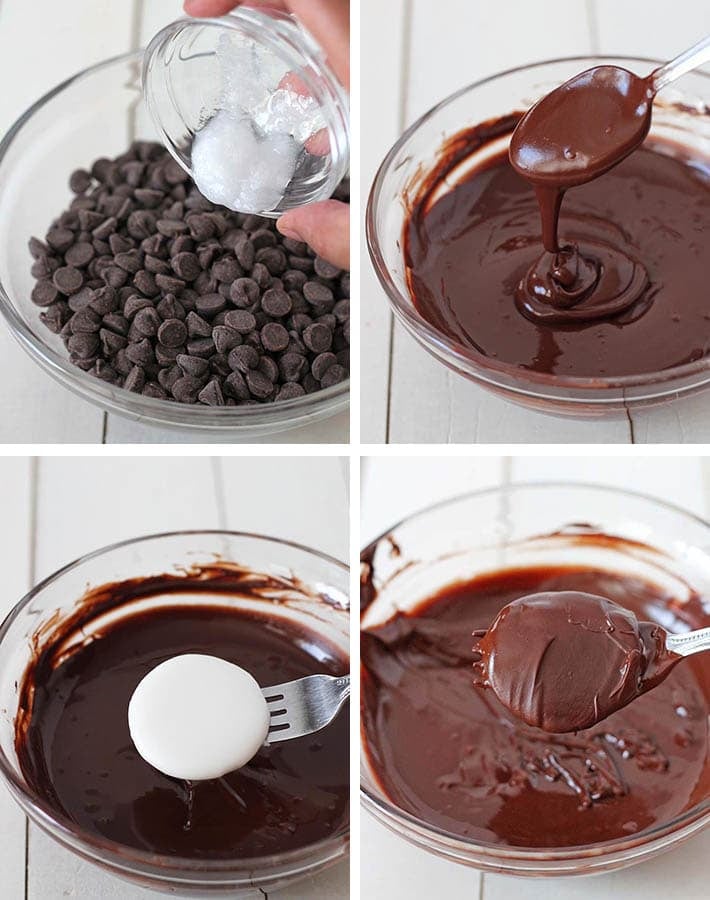 When dipping the frozen patties, if you're sprinkling crushed candy canes on top, you'll need to move quickly because the chocolate will firm up quite fast and the candy won't stick.
Adding crushed candy cane is totally optional. I like to add them because they make your homemade peppermint patties look prettier, they add a little crunch, and they also add a tiny more mint flavour.
What candy cane brands are vegan?
There are a few brands that make vegan candy canes. The candy canes I use for this recipe are made by Wholesome Sweeteners. Their candy canes are 100% vegan, gluten-free, nut-free, and corn-syrup-free.
Canadians, you can find this brand in a well stocked natural food store or grocery store.
In the US, you can find them at health food stores (try stores like Whole Foods or Trader Joe's), or if you prefer to shop online, you can buy through the Wholesome Sweeteners website, or click this link to see them on Amazon.
And of course, if it's not important to you for your recipe to be vegan, you can use any brand of candy cane.
Note that since candy canes are a seasonal item, the stores linked above may not have the candy canes in stock in the off season.
What brands make vegan chocolate chips?
There are many vegan chocolate chip brands, but they may not be labelled as vegan or were not intended to be made vegan, they just happen to be. Most high quality dark chocolate chips are vegan, but always check the ingredients to be sure.
To figure out if a particular brand is vegan, read the ingredient list and look for dairy ingredients.
Here in Canada, President's Choice decadent semi-sweet chocolate chips are vegan and very easy to find (it's what I used in this recipe), and there's also Enjoy Life, or Kirkland Signature at Costco.
In the US, you can use Enjoy Life, Kirkland Signature from Costco, or check Whole Foods, or Trader Joe's.
If using vegan chocolate is not necessary for you, any good quality dark chocolate chips will do.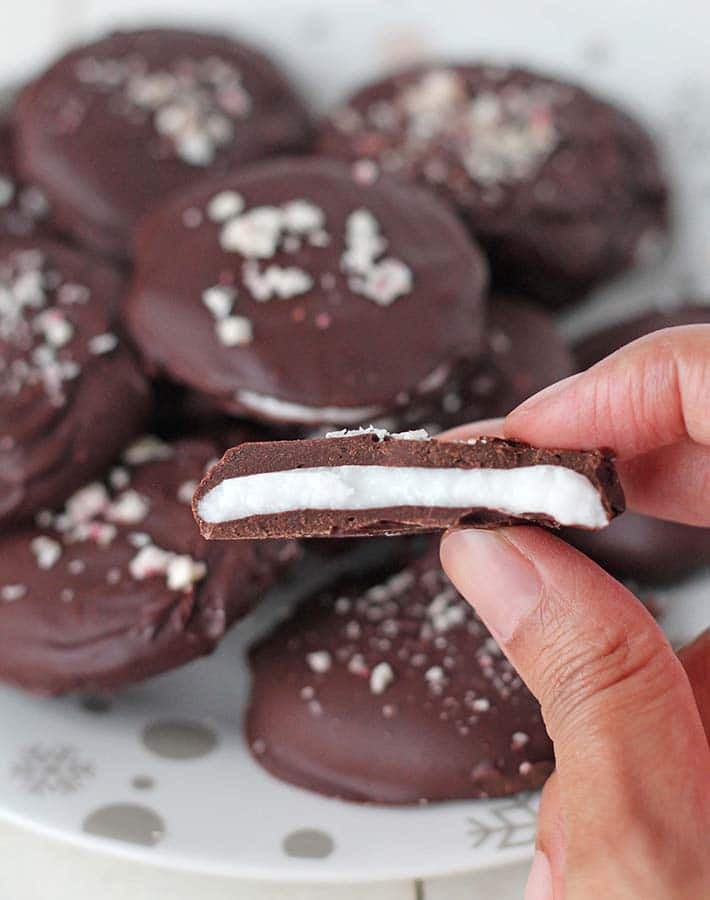 What Kind of Milk Should be Used for this Recipe?
Any type of unsweetened milk will work for this recipe. I use almond milk.
*****
Before you head down to the recipe, I want to thank you for visiting my website, making my recipes, and for all of your kind messages and encouragement over the past four years.
YOU are a huge part of what makes doing this fun and exciting. Thank you.
If you make this recipe, please let me know by commenting below or by sharing a pic with me over on Instagram.
If you like this vegan peppermint patties recipe, you may also like these:
How to Make Vegan Peppermint Patties