Muffins are always quick and easy to bake up each weekend for the week ahead. My carrot coconut muffins have become a recent favourite and have become so loved that they've been on baking repeat for the past few weeks.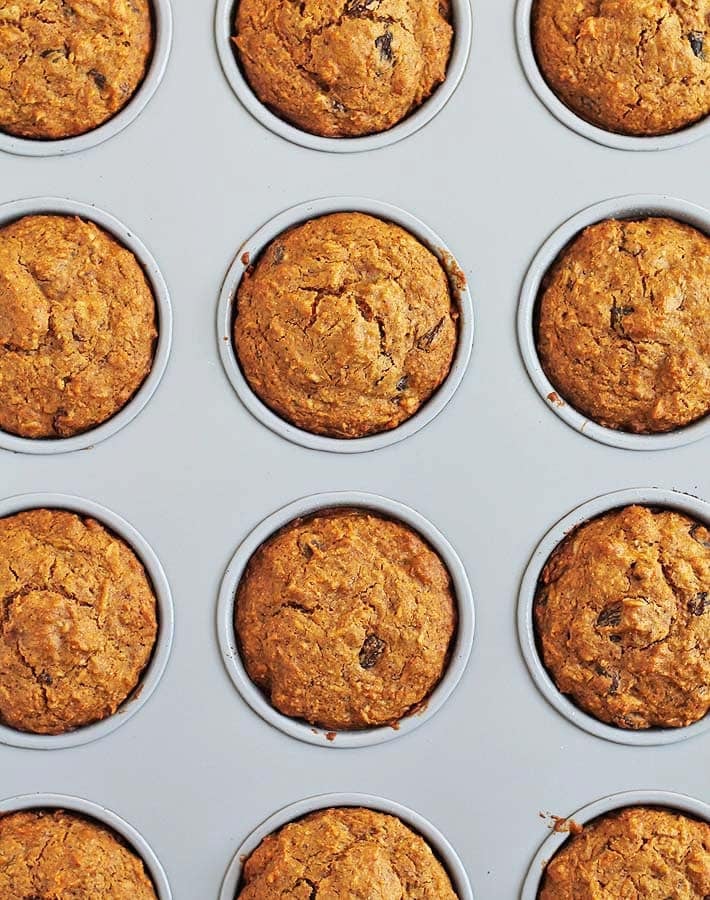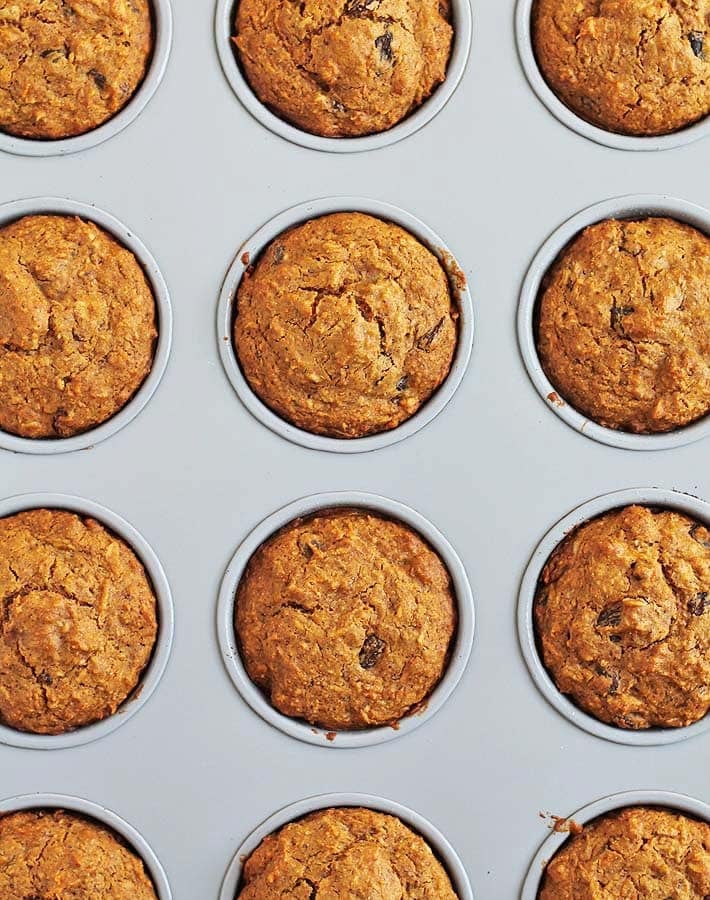 This recipe was pretty easy to develop because it's based on my Morning Glory Muffins recipe. These are kind of the same…but different. These carrot coconut muffins are simpler and don't contain as many add-ins, but they're just as delicious and perfect for school snacks or to enjoy with tea. Or coffee. Or hot chocolate. Or…whatever 🙂
I recently shared my method on how to crack open and use a whole coconut, so if you've tried it and you have fresh shredded coconut waiting to be used, it would work well in this recipe. But if you don't have any, dried, shredded coconut will also work well.
I've said many times how much I love adding raisins to muffins but if raisins are not your thing, feel free to replace them with walnuts. But I do highly recommend raisins. These muffins are not overly sweet, I chose to not add a lot of sugar, so the raisins add a little bit of extra sweetness.
As you can see, the inside of these muffins are soft and fluffy…something you may not expect from a muffin that's vegan and gluten free. But it's absolutely possible to make a vegan, gluten free muffin with this type of texture. You'll have to make them to see for yourself!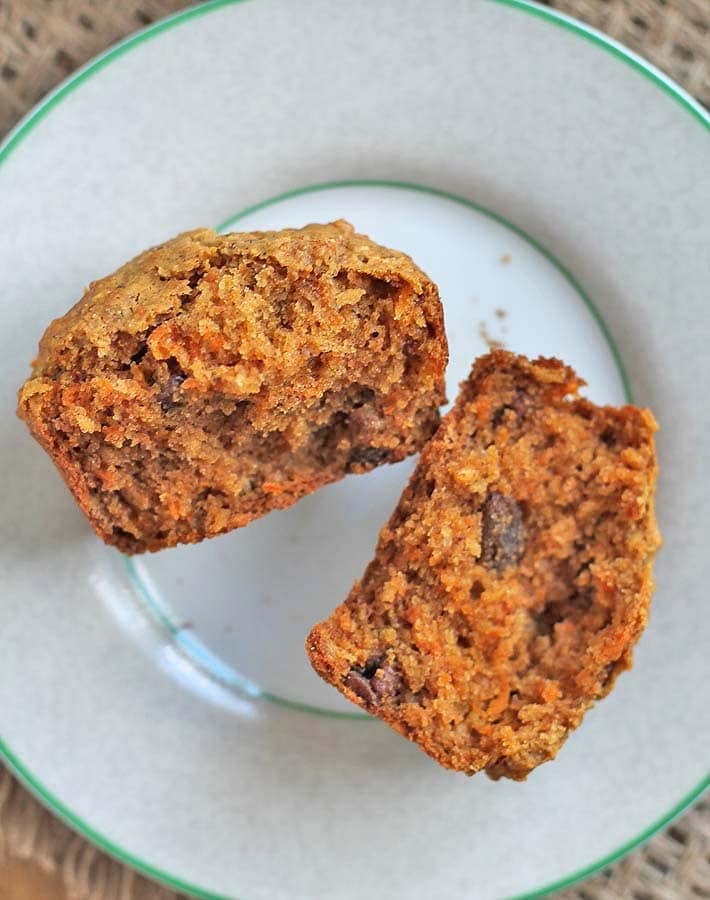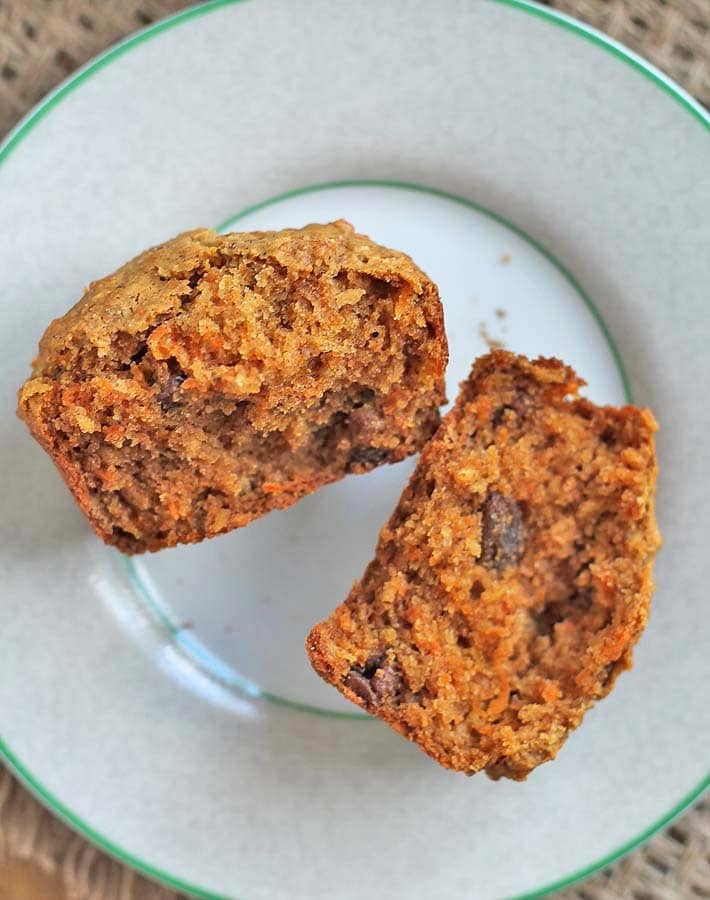 Click here for more vegan gluten free muffin and breakfast recipes and click here to follow my muffin recipe board on Pinterest!
This page contains affiliate links. Click to learn more.
How to Make Carrot Coconut Muffins
Carrot Coconut Muffins
Simple and easy-to-make, these vegan gluten-free carrot coconut muffins are a delicious snack for lunches or for enjoying with tea or coffee.
Course:
Breakfast, Brunch, Dessert, Snack
Cuisine:
Gluten-Free, Vegan
Instructions
Preheat oven to 350°F.

Prepare your flax eggs by whisking together ground flax seeds and water. Set aside to thicken.

Line a muffin tin with liners or generously grease the inside of each cup with coconut oil.

In a medium bowl, whisk together the flour, oats, baking powder, baking soda, salt, ground cinnamon, and

ground nutmeg

.

In a large bowl, mix the flax mixture, coconut oil, vanilla, and applesauce. Stir in coconut sugar until blended.

Slowly add the dry mixture to the wet mixture and stir until combined.

Fold in the shredded coconut, carrots, and raisins until well incorporated.

Divide batter into the 12 muffin cups.

Bake for 18-20 minutes or until toothpick inserted in the middle of the largest muffin comes out clean.
Recipe Notes
It's important to know that all gluten-free flour blends use different ingredients and ratios, so results will always vary when you use different blends. I have never used any other brand of flour to make these muffins (other than Bob's Red Mill), so please know that your results may not be the same as mine if you substitute with a different flour.
Fresh or dried coconut will both work fine in this recipe. Click to learn how to crack open and use a whole coconut.
Nutrition Facts
Carrot Coconut Muffins
Amount Per Serving (1 g)
Calories 190
* Percent Daily Values are based on a 2000 calorie diet.
Save