These fluffy, vegan gluten free carrot ginger muffins are perfect to serve at breakfast, brunch, or at snack time. They're packed with carrots, raisins, and tons of lovely carrot cake flavour!
This page may contain affiliate links. Click to learn more.
When one of my recipes is a success, I'll adapt it into other variations. For example, my easy vegan gluten free waffles was the base for all of my other waffle recipes and I'm also working on some other doughnut recipes based on my baked chocolate doughnuts recipe.
These Carrot Ginger Muffins' mama is my Carrot Coconut Muffins.
Vegan Carrot Ginger Muffins That Come Close to Carrot Cake
I LOVE carrot cake (do you?) but having carrot cake on a regular basis isn't the smartest or most nutritious thing to do (unfortunately!). When I was in college, my friend Lori and I would sometimes just buy a cake and enjoy it over the next few days.
No special occasion needed. Just because we could. (This guy captures what I'm trying to say here very well! ) Ahh, to be in college again!
These gluten free carrot ginger muffins do come close to tasting like carrot cake, but let's be honest, no muffin will ever be carrot cake! They do have carrots, raisins (which I know is a controversial ingredient, but I love them!), and spices in common, so it's the closest to carrot cake we're going to get until the next special occasion.
How Do I Make Carrot and Ginger Muffins?
(The full recipe, ingredients, and directions can be found at the end of this post.)
The first step is grating the carrots and the way you grate the carrots is very important for this recipe to be a success.
You need to grate the carrots on the small shred side of your box grater, as shown below.
Next, you mix the dry ingredients together, mix the wet ingredients together, and then combine the two.
Then, fold in the carrots and raisins, divide the batter into your muffin tin, bake and that's it! After these simple steps, you'll have 12 of the best carrot ginger muffins to enjoy and share.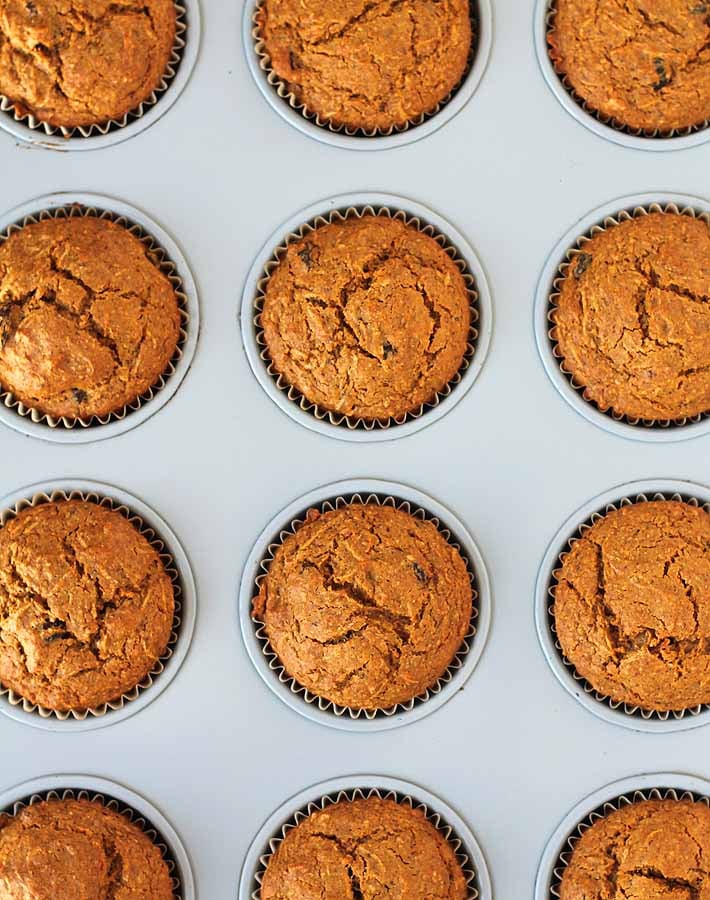 What is the Texture Like In These Carrot Ginger Raisin Muffins?
They're soft, moist, and fluffy, as you can see in the pictures above and below…which isn't always the case with vegan AND gluten free muffins.
I figured out way back (with my vegan gluten free pumpkin spice muffins) how to make vegan gluten free muffins moist, fluffy, and delicious. These are the kind of muffins no one would guess are vegan…or gluten free!
And How Do They Taste?
In addition to being soft and fluffy, they're also perfectly spiced with the ginger, nutmeg, and cinnamon. But the thing that takes these treats over the top is the freshly grated ginger.
I only use one teaspoon of fresh ginger in these carrot and fresh ginger muffins, but feel free to experiment by adding a little more (start with just adding an extra 1/2 tsp) if you want even more of that ginger "zing." A carrot muffin + ginger is the perfect combo.
Are The Raisins Optional?
I know not everyone loves raisins as much as I do! I like using them for the taste and because they add extra natural sweetness to my baked treats. In this case, these carrot ginger muffins on their own are not overly sweet, so the raisins bring them to that perfect level of sweetness.
You can omit them, or replace them with something else (walnuts would be great), but keep what I said above about the sweetness in mind.
If You Make These Muffins…
…share a picture of them with me on Instagram, I'd love to see them! Tag me, @delightfuladventures and use the hashtag #delightfuladventures. I can't wait to see your creation! You can also pin this recipe to your recipe board in Pinterest so others can find it.
If you like these carrot ginger muffins, you may also like these other vegan gluten free muffin recipes:
And if you're new to vegan gluten free baking or if you want to learn how to make your baking better, please read my vegan gluten-free vegan baking tips.
How to Make Carrot Ginger Muffins