Photos for this Easy Vegan Gluten Free Waffles recipe were updated April 2017.

This page contains affiliate links. Click to learn more.
Look no further, this recipe for easy vegan gluten free waffles is exactly what you've been looking for. They're crispy on the outside and soft and fluffy on the inside—just the way waffles should be!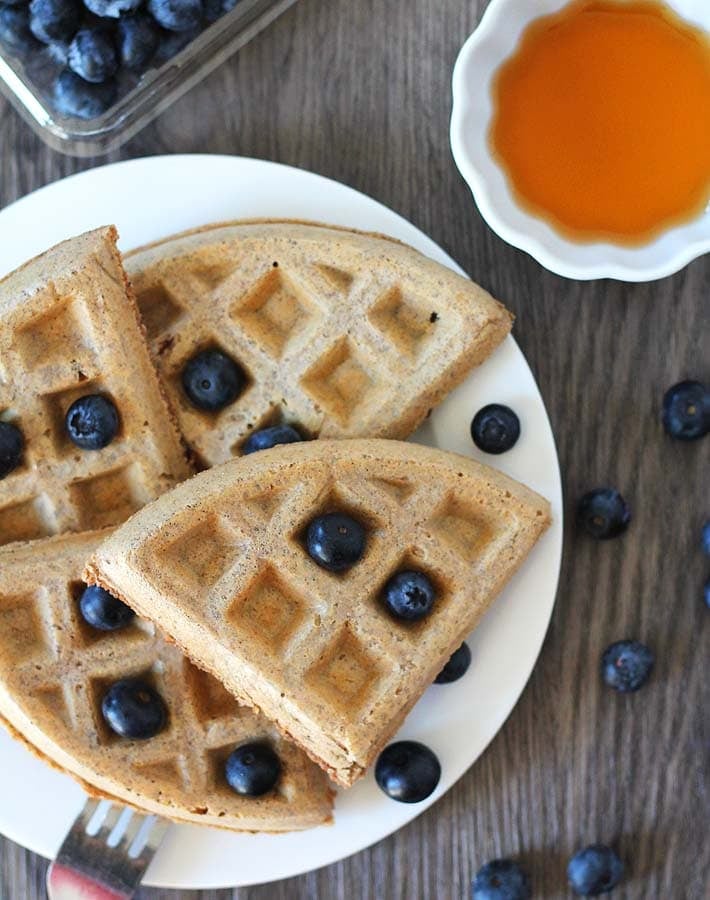 For the longest time, I had been wanting to buy myself a waffle maker but I couldn't find the right one no matter where I looked.
I like to avoid Teflon coated cookware and had not had a problems finding non-Teflon products, but when it came to waffle makers, I wasn't so lucky. They definitely existed, but at the time, in Canada, they were hard to find.
I didn't really want to order from the US…customs, duty, high shipping costs…all things I wanted to avoid. I also didn't want to end up spending a fortune on a simple waffle maker.
But just before this past Christmas, after another fruitless search on Canadian websites and in local stores, I caved and bought from Amazon USA because they had a great deal on my coveted ceramic waffle maker. (EDIT: This is the one I bought for those of you who have asked!)
Since then, I've been on a waffle-making frenzy. My family isn't complaining.
These easy vegan gluten free waffles were the second waffle recipe I developed, the first was for vegan gluten free gingerbread waffles I made on Christmas morning.
(Since then, I've also come up with some more delicious waffle recipes that you can find here!)
This recipe is for plain, good old easy vegan gluten free waffles. They come out crispy on the outside and deliciously fluffy on the inside.
I served these with blueberries and pure maple syrup but you can dress them up however you prefer. Different berries, coconut whip—whatever you like.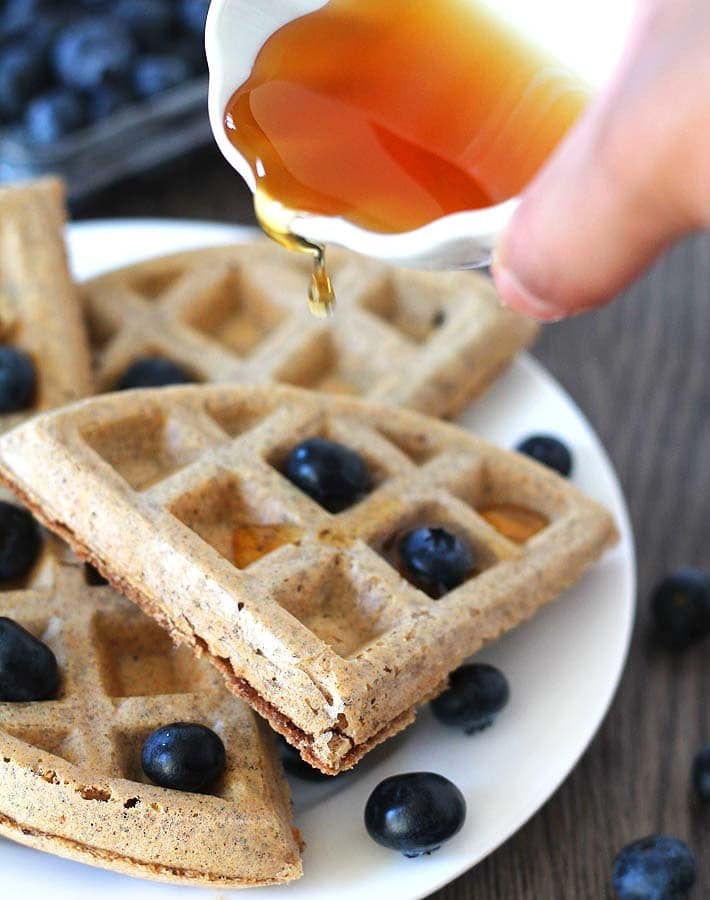 If you're like me, you want to have your family around the table at the same time to enjoy these waffles together. To keep them hot and fluffy on the inside and crispy on the outside while you are finishing the full batch, follow this simple tip to keep your waffles crispy.
A few readers have had not-so-good results when they used a different gluten free all-purpose flour blend instead of the Bob's Red Mill All-Purpose Gluten Free Flour Blend used in this recipe (the one with the red label, not the blue!!). It's important to know that different blends use different ingredients and ratios, so results will always vary if you substitute. I have never used any other brand of flour to make these easy vegan gluten free waffles (other than Bob's Red Mill), so please know that your results may not be the same as mine if ingredients are substituted.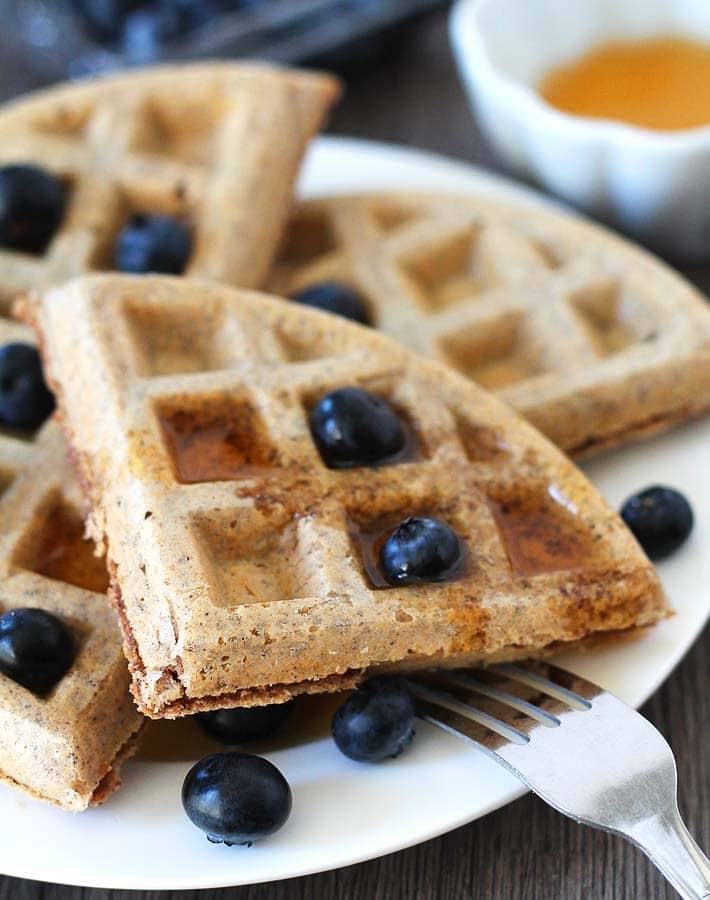 These easy vegan gluten-free waffles also freeze very well. Make a batch on Sunday, freeze, and quickly heat in the toaster, oven, or toaster oven for a quick weekday breakfast.
To enjoy them this way, simply cool the waffles after they've been made, cut into quarters, and freeze in an airtight bag or container.
If you like this easy vegan gluten free waffles recipe, you will probably also like these:
If you make them, please share a picture with me on Instagram! I'm @delightfuladventures over there and my hashtag is #delightfuladventures.
Click here for more delicious breakfast ideas!

How to Make Easy Vegan Gluten Free Waffles