Photos for this Easy Vegan Gluten Free Waffles recipe were updated April 2017.
Look no further, this recipe for easy vegan gluten free waffles is exactly what you've been looking for. They're crispy on the outside and soft and fluffy on the inside—just the way waffles should be!
This page may contain affiliate links. Click to learn more. As an Amazon Associate I earn from qualifying purchases.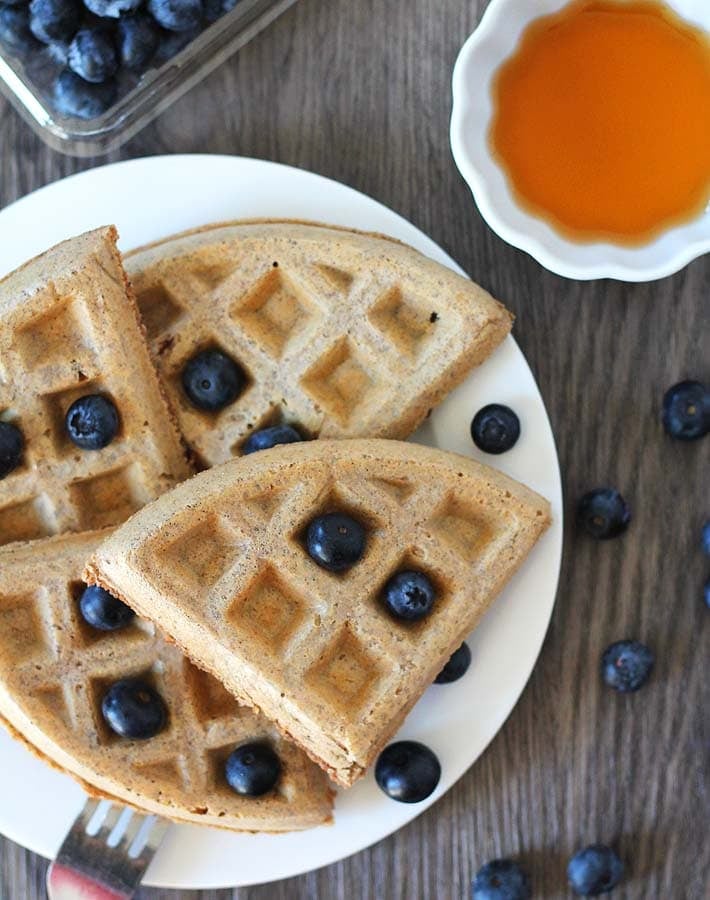 For the longest time, I had been wanting to buy myself a waffle maker but I couldn't find the right one no matter where I looked.
I like to avoid Teflon coated cookware and had not had a problems finding non-Teflon products, but when it came to waffle makers, I wasn't so lucky. They definitely existed, but at the time, in Canada, they were hard to find.
I didn't really want to order from the US…customs, duty, high shipping costs…all things I wanted to avoid. I also didn't want to end up spending a fortune on a simple waffle maker.
But just before this past Christmas, after another fruitless search on Canadian websites and in local stores, I caved and bought from Amazon USA because they had a great deal on my coveted ceramic waffle maker. (EDIT: This is the one I bought (and love!), for those of you who have asked!)
Since then, I've been on a waffle-making frenzy. My family isn't complaining 🙂

These easy vegan gluten free waffles were the second waffle recipe I developed, the first was for vegan gluten free gingerbread waffles I made on Christmas morning.
(Since then, I've also come up with some more delicious waffle recipes that you can find here!)
This recipe is for plain, good old easy vegan gluten free waffles. Despite being egg-free and dairy-free they come out crispy on the outside and deliciously fluffy on the inside, every single time.

Steps for Making Fluffy Vegan Gluten Free Waffles
This waffle recipe is simple to make. You'll first mix together the dry ingredients, then mix together the wet ingredients, combine them and cook them on your waffle iron.
Once you've made your way through all the batter, you'll have 4 crispy, fluffy, delicious waffles everyone is going to love!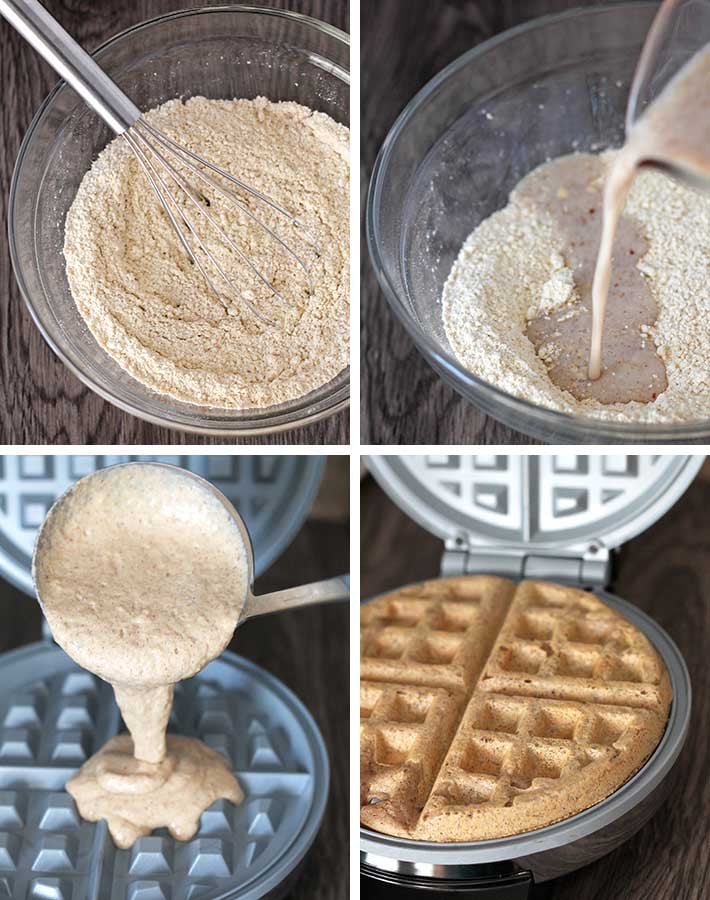 How to Serve Your Gluten-Free Waffles
Serve them the exact way you'd serve any other type of waffles!
I served the waffles in the pictures with blueberries and pure maple syrup but you can dress them up however you prefer. Some ideas: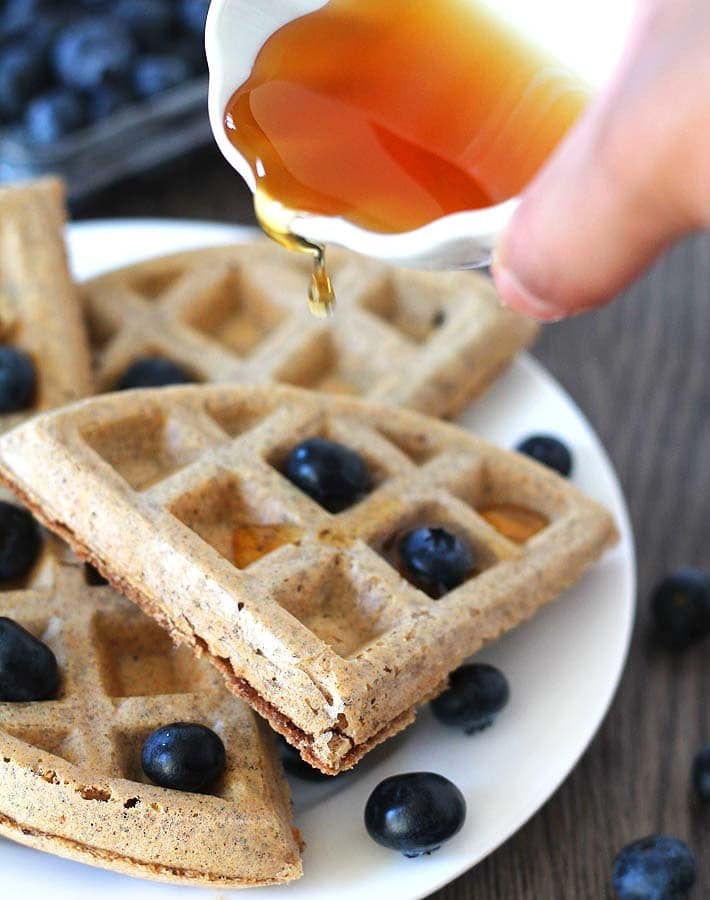 Tips for Making these Waffles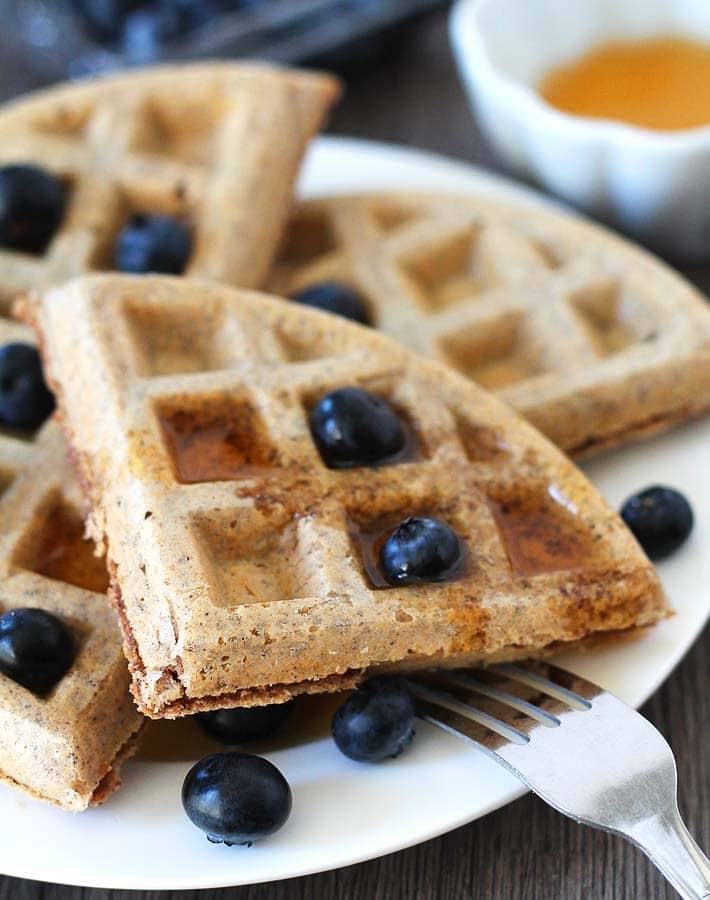 Can I Freeze These Waffles?
Yes! They freeze very well. Make a batch on Sunday, freeze, and quickly heat in the toaster, oven, or toaster oven for a quick weekday breakfast.
To freeze your easy vegan gluten-free waffles, simply cool them after they've been made, cut into quarters, and freeze in an airtight freezer bag or container.
If you like this easy vegan gluten free waffles recipe, you will also like these:
If you make them, please share a picture with me on Instagram! I'm @delightfuladventures over there and my hashtag is #delightfuladventures.
Pin this recipe to your recipe board on Pinterest and click here for more delicious breakfast ideas!

How to Make Easy Vegan Gluten Free Waffles
Print Recipe
Easy Vegan Gluten Free Waffles
Look no further, this recipe for easy vegan gluten free waffles is THE perfect waffle recipe you've been looking for! Crispy on the outside and soft and fluffy inside, just like waffles should be.

Instructions:
Turn on waffle maker to desired temperature setting. Setting will vary depending on your waffle maker and how you prefer your waffles.

Whisk non-dairy milk, coconut oil, vanilla, ground flax seeds, and maple syrup together in a medium-sized bowl, whisking enough to incorporate the flax seeds. Let sit for 5-minutes.

Whisk flour, baking powder, baking soda, cinnamon, nutmeg, and salt together in a large bowl.

Slowly add wet ingredients to the dry ingredients. Mix well until all ingredients are incorporated.

Ladle enough waffle mixture into your waffle maker so the bottom of the waffle maker is filled. Close waffle maker and cook according to your maker's directions.
Recipe Notes:
This recipe makes 4 standard sized round waffles.
Make sure to use room temperature or warm liquid ingredients so the coconut oil does not harden when everything is combined.
These waffles freeze very well, see note above.
This recipe will NOT work with coconut flour.
In the comments section, you will see that a couple readers have had not-so-great results when they used a different gluten free all-purpose flour blend instead of the one I use. It's important to know that different gluten-free flour blends consist of different ingredients and ratios, so results may vary if you use a different blend than what I've used here. I have never used any other brand of flour to make these waffles (other than Bob's Red Mill Gluten Free All Purpose Baking Flour in the red bag, NOT the blue bag!), so please know that your results may not be the same as mine if ingredients are substituted.
Nutrition info is based on 1 of 4 waffles, using the recipe as it is written, without garnishes or syrup, and is only to be used as a rough guide. Click to learn how nutrition info is calculated on this website.
Nutrition Info:
Calories:
381
kcal
|
Carbohydrates:
50
g
|
Protein:
7
g
|
Fat:
19
g
|
Saturated Fat:
12
g
|
Polyunsaturated Fat:
1
g
|
Monounsaturated Fat:
1
g
|
Sodium:
373
mg
|
Potassium:
355
mg
|
Fiber:
8
g
|
Sugar:
6
g
|
Vitamin A:
200
IU
|
Calcium:
240
mg
|
Iron:
2.7
mg
Did You Make This Recipe?
If so, please share a picture with me on Instagram! Tag @delightfuladventures and hashtag #delightfuladventures. I can't wait to see!