You and your family will love these fluffy, light, and delicious gluten-free blueberry pancakes (they're also vegan!) that will surely become a new breakfast and brunch favourite. To make these classic pancakes, all you need is a few simple ingredients and under 30-minutes.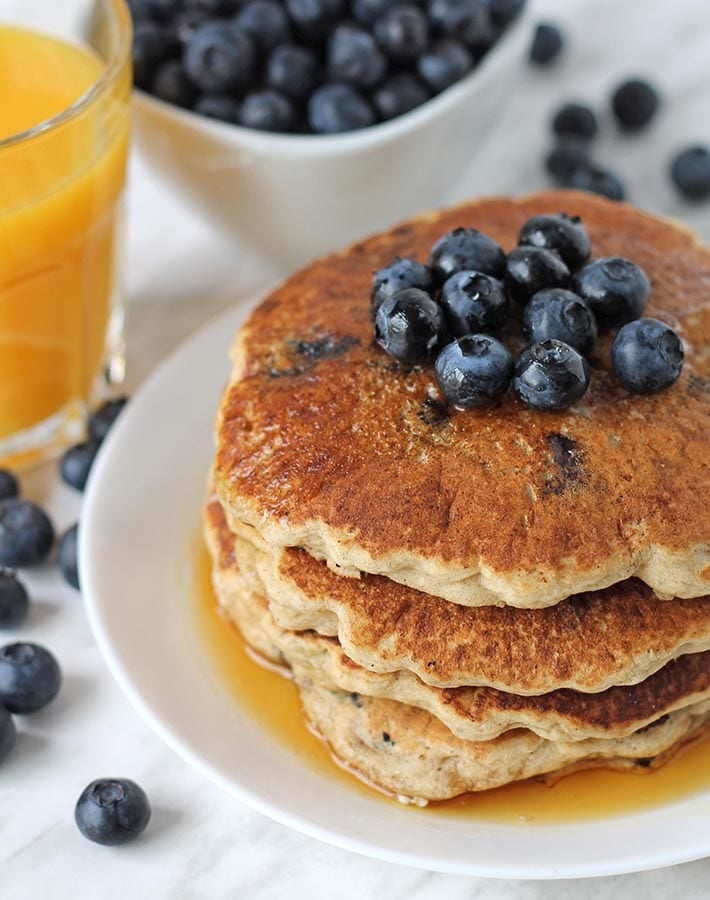 What can be better than starting your day with warm vegan gluten-free blueberry pancakes loaded with fresh berries that give you bursts of blueberry goodness in each bite?
Think about it that question, I'll wait...
Not many other things, right? That's why I'm sharing my best gluten-free blueberry pancake recipe with you, so you can savour that blueberry pancake joy described above.
For this recipe, I adapted my plain vegan gluten-free pancake recipe (oh, and by the way, if you prefer waffles for breakfast, I have recipes for those, too! You can check them all out here.)
Ingredients You'll Need
All that's standing in between you and a stack of fresh, fluffy vegan gluten-free pancakes is gathering a few simple ingredients and setting aside less than 30-minutes.
This easy vegan breakfast recipe is gluten-free, dairy free, wheat free, and egg-free. The maple syrup you see in the picture below is optional, so your pancakes can also be sugar free, if you choose.
What Type of Gluten-Free Flour Should I Use?
For this recipe, I use Bob's Red Mill Gluten-Free All-Purpose Baking Flour (the one with the red label, not the blue label), I haven't tested with any other blends, so I can't guarantee results if you use another gluten-free blend.
How to Make Them
You'll start by mixing the dry ingredients together, then the wet ingredients, and combining the two.
Next, you'll add in the blueberries and mix so they distribute throughout the pancake batter.
Next, you'll heat up your skillet or griddle. Below, I'm using my cast iron skillet that's naturally non-stick.
When making pancakes, I highly recommend a good non-stick pan or griddle because making pancakes that stick, break, and do not flip properly is very frustrating (I know this well from experience!)
If you don't have a non-stick pan or griddle, grease the pan generously in between pancakes to keep the surface non-stick. And if you're looking to get a cast iron skillet, I recommend this one, and if you prefer a griddle so you can cook more than one pancake at once, I own this one and I love it.
I like to use a ladle to pour the batter, but you can use a small measuring cup or a large spoon. You'll know it's time to flip your pancakes once you see bubbles form on top.
As the pancakes finish, place them on a plate and cover until you're ready to serve. You can keep the plate in a warm spot or in a warm oven.
Toppings to Serve Them With
It's totally up to you when it comes to toppings, there are so many choices. My favourites are fresh blueberries and pure maple syrup, as you see in the pictures, but here are some other ideas:
fresh strawberries, raspberries, or blackberries
sliced peaches
coconut yogurt
sliced bananas
blueberry syrup
vegan lemon curd
Can Frozen Blueberries Be Used Instead of Fresh?
They sure can. To use frozen berries, place them on a paper towel lined plate and leave them to thaw. Once thawed, gently pat them dry before folding them into the batter.
Thawing the blueberries ensures the they will cook through and not be partially frozen or cold when the pancake is done. It also helps to prevent your pancake batter from turning blue.
TIP: Feel free to swap out the blueberries for raspberries or strawberries (you can even use more than one!) Just be sure to chop them small, roughly the same size as blueberries, before adding to the batter.
Can I Make the Batter the Night Before and Cook In the Morning?
I get this question a lot for various recipes. Unfortunately, for those of you who love to save time, the answer is no. You cannot fully prepare the batter for this gluten-free blueberry pancakes recipe the night before because the baking powder and baking soda will become inactive and your pancakes will end up flat and gummy.
What you can do is prepare your vegan gluten-free pancake mix by combining all the dry ingredients the night before and storing it in an airtight container.
In the morning, mix the wet ingredients together, add it to the dry ingredients, fold in the blueberries and you'll be all set!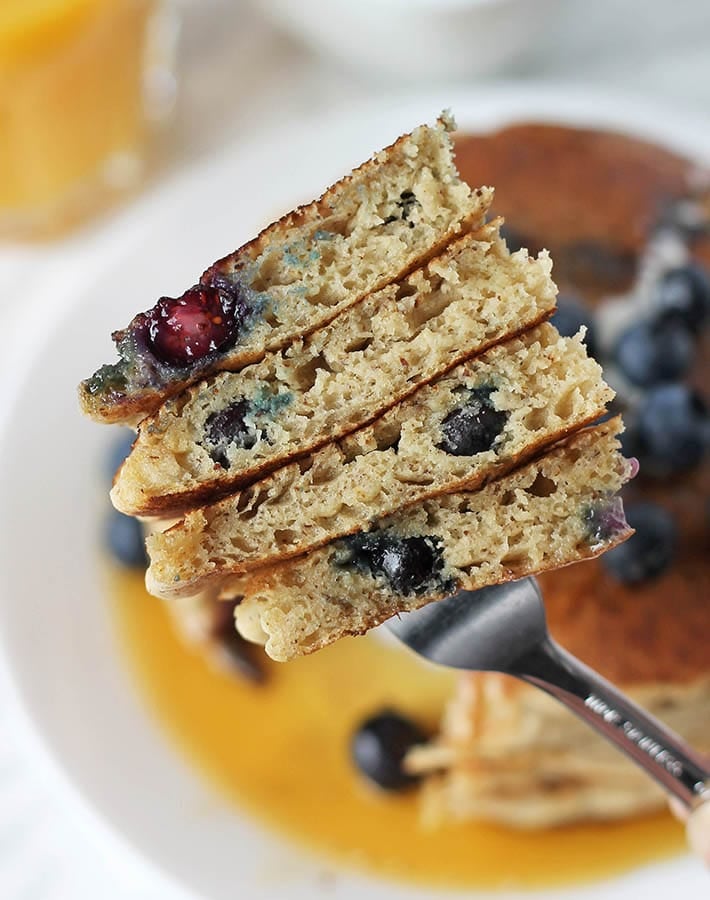 Look at how fluffy the insides of these gluten-free blueberry pancakes are!
Can I Freeze Them?
Yes, you can. With pancakes, I find that they're always best served fresh and warm, right after they're made. But if you want to pre-make them, you can cool them off and then freeze them in between parchment squares so they don't stick together.
To re-heat your gluten-free pancakes, you can thaw them in the refrigerator overnight and then warm up in the microwave. You can also warm them up in your skillet or on the griddle.
Instead of freezing, you can also refrigerate in an airtight container for up to two days, and re-heat when ready.
If you make these fluffy gluten-free pancakes, please leave me a comment and rating below or you can share a pic with me on Instagram. Don't forget to tag me, I'm @delightfuladventures.
If you like this gluten-free vegan pancakes recipe, you may also like these other vegan gluten-free pancakes:
And check out these other gluten-free blueberry recipes.
You can also help me to help others find these easy gluten-free blueberry pancakes by pinning this recipe to your recipe board on Pinterest! You can do that by clicking here.
Gluten-Free Blueberry Pancakes
Fluffy, light, and delicious vegan gluten-free blueberry pancakes that will become a new breakfast and brunch favourite! All you need is a few simple ingredients to make these classic pancakes your entire family will love.
Ingredients:
1 ⅓

cup

unsweetened dairy-free milk

3

tablespoons

oil

1

teaspoon

vanilla extract

2

tablespoons

ground flax seeds

2

tablespoons

pure maple syrup

(optional, use only if you prefer a slightly sweeter pancake)

2

cups

gluten-free flour blend

**see important note about flour below**

1

tablespoon

baking powder

½

teaspoon

baking soda

¼

teaspoon

salt

1 ¼

cups

blueberries

(fresh or frozen may be used, see note below)
Instructions:
Whisk milk, oil, vanilla, ground flax seeds, and maple syrup (if using) together in a medium-sized bowl, whisking enough to incorporate the flax seeds. Let sit for 5-minutes.

Heat pan over medium-high heat for at least 2 minutes.

Whisk flour, baking powder, baking soda, and salt together in a large bowl.

Slowly add wet ingredients to the dry ingredients, mixing well until incorporated.

Ladle about ⅓ cup (or less for smaller pancakes) of the pancake mixture into the center your pan, cooking 1 at a time. If you aren't using a non-stick pan, coat the surface of pan with oil and repeat in between each pancake.

Continue cooking until the batter is done, placing pancakes on a covered oven-safe plate in a warm oven as they finish.
Recipe Notes:
Please read all of the helpful tips and FAQ info above before making this recipe to ensure success.
This recipe makes 8-10 pancakes, depending on how large or small you make them. Calorie count is for 1 of 8 pancakes without toppings and without the optional maple syrup added to the batter.
It's important to know that different gluten-free flour blends use different ingredients and ratios, so results will always vary if you substitute. I have never used any other brand of flour to make this recipe (other than Bob's Red Mill Gluten Free All Purpose Baking Flour (Amazon link) with the red label, NOT the blue label), so please know that your results may not be the same as mine if substitute with another gluten-free flour blend.
Be sure that your baking powder is fresh or it will not get the lift they need while cooking to become fluffy inside. Click here to learn how to test your baking powder for freshness.
This recipe will NOT work with coconut flour.
Frozen blueberries can be used for this recipe if fresh blueberries are not available. Thaw them on a paper towel and pat them dry before folding into the batter. See above for more info.
When I make my pancakes, I use a thick, cast-iron pan. I usually turn mine after about a minute and a half, when the edges start to look dry. Some experimentation may be necessary until you get a feel for it. Everyone's griddle/pan will cook differently.
Nutrition info is based on 1 of 8 pancakes, without garnishes or maple syrup, and is only to be used as a rough guide. Click to learn how nutrition info is calculated on this website.
Nutrition Info:
Serving:
1
pancake
|
Calories:
175
kcal
|
Carbohydrates:
26
g
|
Protein:
4
g
|
Fat:
7
g
|
Saturated Fat:
1
g
|
Polyunsaturated Fat:
1
g
|
Monounsaturated Fat:
4
g
|
Sodium:
183
mg
|
Potassium:
60
mg
|
Fiber:
4
g
|
Sugar:
3
g
|
Vitamin A:
100
IU
|
Vitamin C:
1.7
mg
|
Calcium:
120
mg
|
Iron:
1.3
mg
Did You Make This Recipe?
If so, please share a picture with me on Instagram! Tag @delightfuladventures and hashtag #delightfuladventures. I can't wait to see!