An easy and delicious recipe for banana steel cut oats (it tastes like banana bread!) that can be made either in your Instant Pot / pressure cooker or on the stove top. This is a vegan and gluten-free breakfast everyone will look forward to!
This page may contain affiliate links. Click to learn more.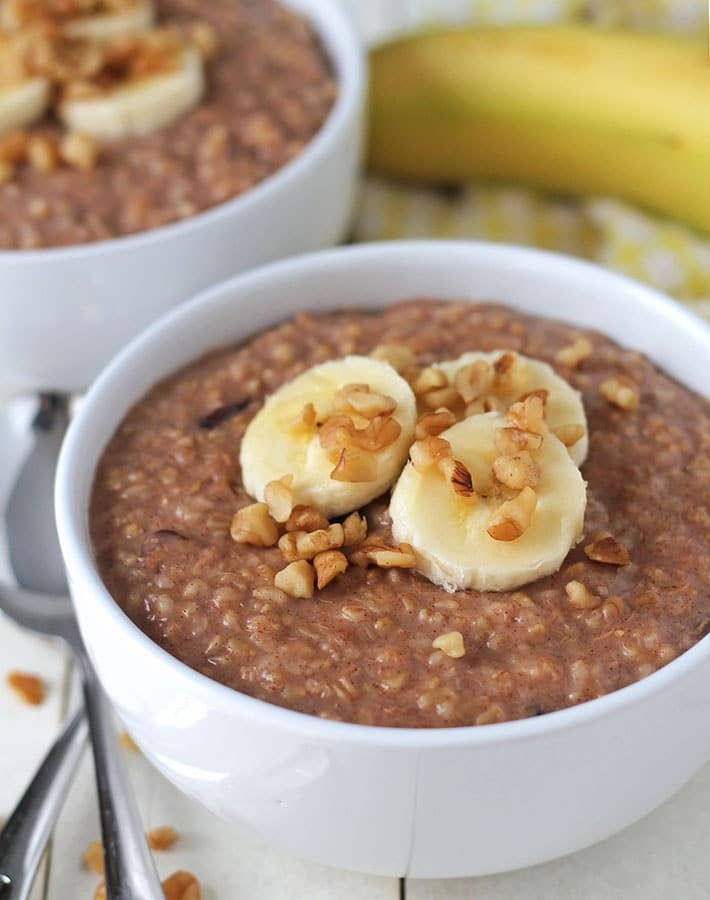 A breakfast that tastes like freshly-baked banana bread? It's true, and I think that's a very good way to start the day, don't you? With just a few ingredients, you can make this warm, filling breakfast that's filled with flavour but is naturally sweetened and contains no oil!
For this Instant Pot steel cut oats recipe, I went back to my pumpkin steel cut oats and my apple spice Instant Pot steel cut oats recipes, made a few tweaks, and came up with this comforting breakfast idea that will have you wanting to stock up on steel cut oats and bananas…it's THAT good!
About the Instant Pot…
So first, before we talk more about this banana steel cut oats recipe, let's discuss the amazing Instant Pot (<- Amazon link) pressure cooker.
The one above is the one I own, it's the 9-in-1 6-quart and I have had it for over a year now. It has become an essential part of my kitchen and I can't imagine not having it since I prepare SO many meals in it (many of which you can find in this post all about Instant Pot Vegan Recipes!).
What I love most about it, and what you will love too, is the set-it-and-forget-it aspect of cooking things in it. There's no stirring, monitoring
, or checking to see if what you're making is done. Plus, cooking in a pressure cooker saves time and energy. I wish I had bought it sooner. And no, I'm not being paid to say any of this, I just love it…A LOT 🙂
I make soups, stews, pasta dishes, desserts, and of course Instant Pot steel cut oats in it. If you're new to the Instant pot and you're looking for some recipes to try, start out with this list of Instant Pot vegan recipes that I put together a while back, or you can check out this list of the best vegan Instant Pot cookbooks.
If you have questions about it, leave them below or send me an email! I rave about my Instant Pot to anyone who will listen 🙂
And of course, you don't need a pressure cooker to make this recipe…
I've got you covered if you don't have one yet by including directions on how to make your banana steel cut oats recipe on the stove.
If you're making this recipe in the Instant Pot, from beginning to end, it will take you roughly 45 minutes. That time includes the time it takes for the pressure cooker to come up to pressure and come down from pressure. Actual cooking time is only 10 minutes.
If you make your vegan steel cut oats on the stove top, it will take you roughly the same amount of time, from beginning to end, but you will have to check on it occasionally to be sure everything is progressing nicely.
Both methods will give you the same end result, so whichever way you go, you're going to end up with the same delicious bowl of banana bread steel cut oats.
If you make this recipe, please let me know in the comments below! Or, feel free to share a pic with me on Instagram 🙂
If you like this vegan steel cut oats recipe, you may also like these:
How to Make Banana Steel Cut Oats