This post, Vegan Snack Ideas for Active Kids, is sponsored by Martin's Apple Chips. Martin's Apple Chips are proudly Canadian, and are made by an Ontario farm family, which I love! I was compensated for my time and as always, all opinions in this post are my own. This page contains affiliate links. Click to learn more.

If you're looking for vegan snacks for kids, then this list will give you some great ideas, PLUS, you'll also find a recipe for an Easy Vegan Yogurt Dip they'll love!
My kids participate in several activities outside of school, but the one we spend the most time with, is basketball.
From the fall, all the way until mid-spring, our weekends, and a few weekday evenings, are all about practices, games, and sometimes, double header games.
If you're familiar with my site, you'll already know that I make a lot of the snacks I send my kids to their activities and to school with, mostly because of a few food allergies we have to deal with.
But there are also a few packaged snacks I like to buy...because I want them to enjoy a variety of things and store-bought stuff is sometimes more fun than my homemade snacks 🙂
Because of the allergies, when I buy snacks from the store, I have to always pay close attention to ingredient lists. The simpler the list, the better.
One of the store bought snacks we all like is Martin's Apple Chips. Not only do my kids like the taste, I love the convenience and the healthy ingredient list. I can't really call it a list because there's just one ingredient in the plain apple chips (their favourite): APPLES!
The plain and cinnamon apple chips are vegan and all of their flavours (they also make chocolaty drizzle and caramel dream!) are peanut-free and gluten-free (and delicious!).
My kids enjoy these as a quick snack before practices and in between games and I also pack them in school lunches, alongside a delicious and easy vegan yogurt dip (find the recipe for it below!).
I hope that by sharing this list of our favourite easy vegan snacks, it will give you some new ideas to use in your home! All of these vegan snacks are also gluten-free. On to the list of snack ideas for active kids!
Vegan Snacks List
One major thing you need in a snack for kids is that it's good for on-the-go. It needs to be portable and not have the potential for making a big mess. This is why muffins are another favourite around here and are made on a regular rotation, based on their requests: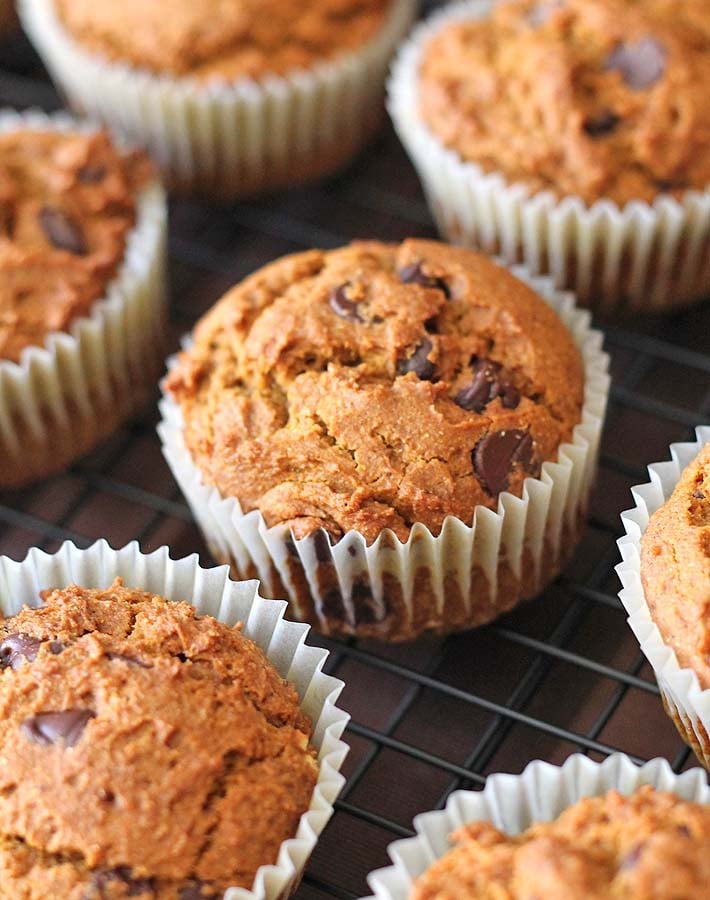 A few other few portable vegan snacks to make include:
In addition to all of the homemade vegan snack ideas above, there is also the easiest of them all: fresh fruit!
Fresh fruit + Martin's Apple Chips tie into the recipe I'm sharing with you today.
Apple chips pair so well with a variety of dips, one of which is this easy vegan yogurt dip. Not only is it great with apple chips, it also works well with any type of fruit!
Click here to pin these easy vegan snack ideas to Pinterest!
Do you have a favourite homemade or store bought snack your kids love? What are your favourite snack ideas for active kids? Let me know about it in the comments, I'm always looking for new things to add to our list!
If you like this list of vegan snacks, you may also like these:
How to Make an Easy Vegan Yogurt Dip for Apple Chips and Fruits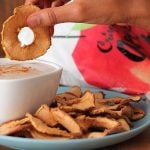 Print Recipe
Easy Vegan Yogurt Dip
A super easy recipe for vegan yogurt dip that pairs perfectly with apple chips or fresh fruit.

Instructions:
Add all ingredients to a small bowl and mix well to combine.


Serve with crispy apple chips or other dehydrated fruits or fresh fruits.

Recipe Notes:
Any type of unsweetened yogurt will work with this recipe. I like unsweetened plain cultured coconut yogurt.
Nutrition info is based on 1 serving (¼ cup) and on the recipe made as it is written. Nutrition info is only to be used as a rough guide. Click to learn how nutrition info is calculated on this website.
Nutrition Info:
Serving:
0.25
cup
|
Calories:
70
kcal
|
Carbohydrates:
11
g
|
Fat:
3
g
|
Saturated Fat:
2
g
|
Sodium:
18
mg
|
Potassium:
3
mg
|
Fiber:
1
g
|
Sugar:
7
g
|
Vitamin C:
0.8
mg
|
Calcium:
10
mg
|
Iron:
0.4
mg
Did You Make This Recipe?
If so, please share a picture with me on Instagram! Tag @delightfuladventures and hashtag #delightfuladventures. I can't wait to see!
Martin's Apple Chips are a great choice if you're looking for snack ideas for active kids and can be found across Canada at retailers like Costco, Starbucks, Sobeys, Winners, Bulk Barn, Farm Boy!