If deep, dark chocolate flavour is what you crave, then these vegan double chocolate chip cookies are a must-make for you! They're rich, gooey, and super easy to make, PLUS, they also happen to be gluten-free (dairy-free + eggless, too!)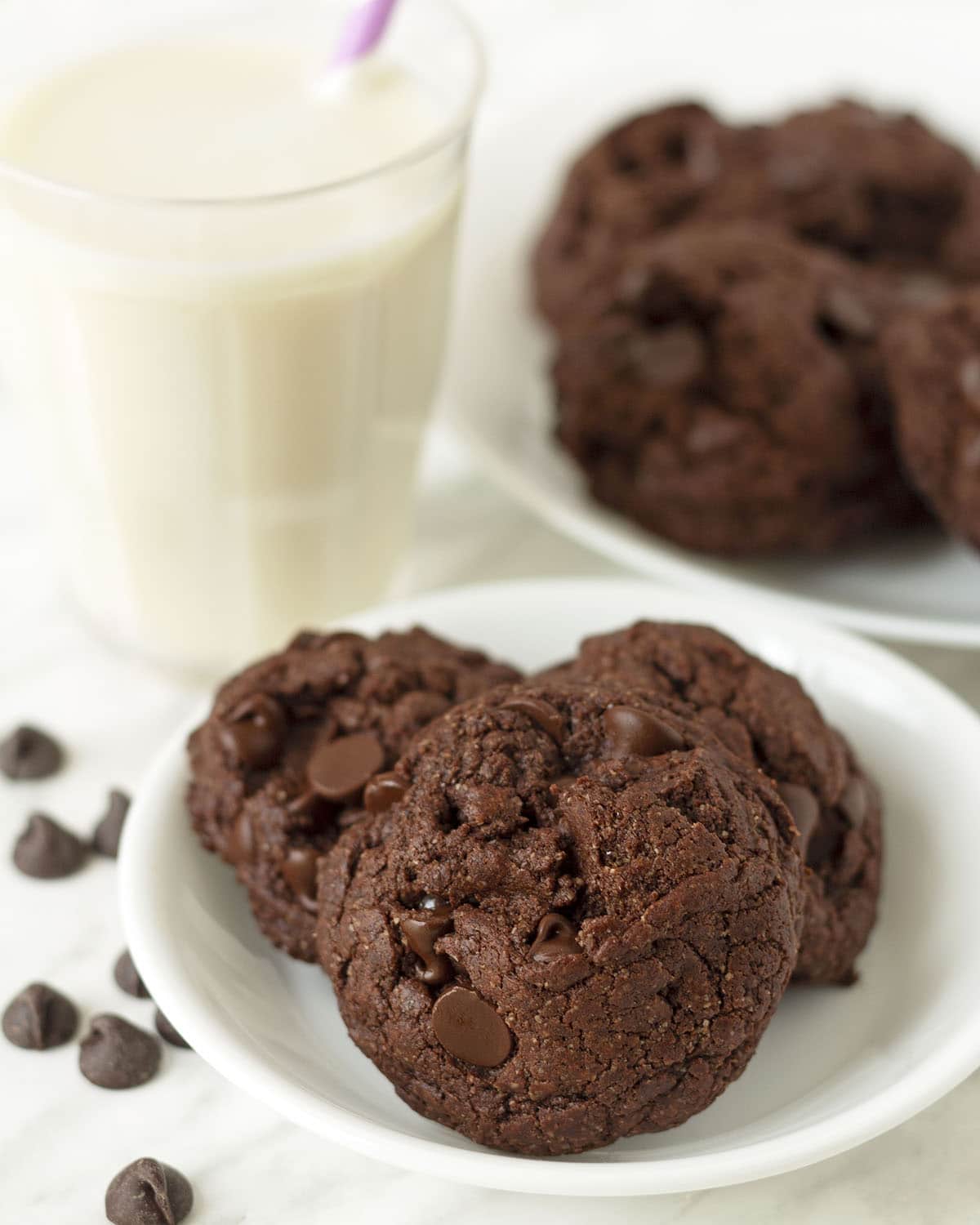 Cookies are a popular treat around here, especially when they're packed with chocolate chips, like these vegan cookie recipes:
(You can see all of my other cookie recipes here!)
This chocolate cookie recipe took about eight (!!!) or so tries to make perfect and I'm so happy to be able to finally share it with you because these are the cookies you make when you want something full of chocolate to satisfy your chocolate cravings.
These vegan double chocolate chip cookies are the best because they're full of rich chocolate flavour, gooey and extra amazing when they're still warm.
So let's get started so you can make your own batch of these easy vegan chocolate cookies...or vegan brownie cookies, vegan brookies, vegan chocolate brownie cookies...whatever you want to call them, you're in for a delicious treat!
Ingredients You'll Need
There are just nine ingredients you'll need for these eggless chocolate cookies (10 if you count the water needed to make the flax egg).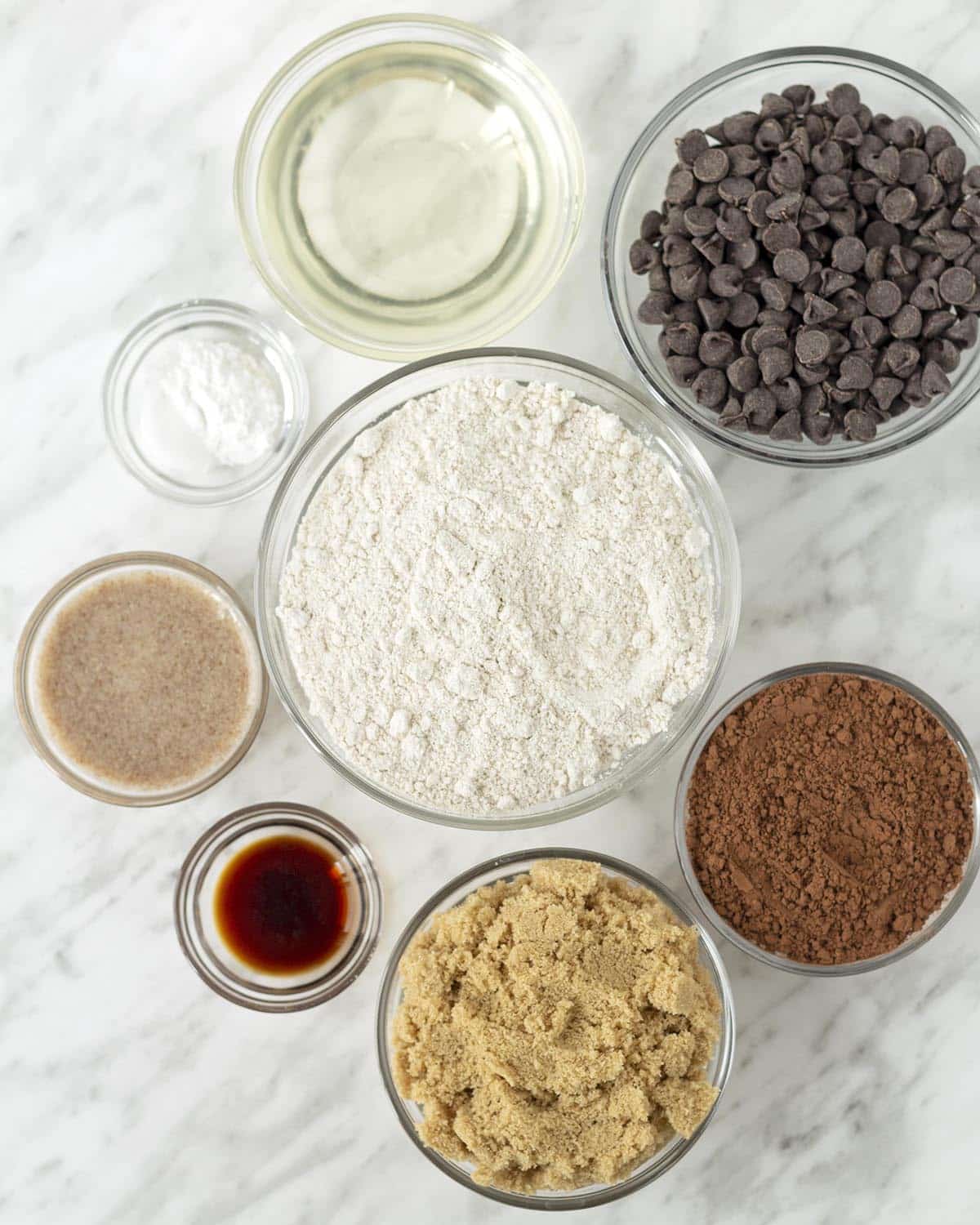 Ingredient and Substitution Notes
Oat Flour - I have not tried substituting this flour with any other flour, so I would stick with oat flour for the best results. If you make your own oat flour, make sure to sift it before measuring/weighing it. Homemade oat flour can contain some larger pieces, you need the oat flour to be very fine for this recipe.
NOTE: When baking, measuring your flour accurately is so important to get the best results, even when using oat flour, I highly recommend using a kitchen scale. Check out my article about how to measure flour correctly before you start.
Coconut Oil - I also tested this recipe with melted vegan butter and the results were just as good. So use your favourite vegan butter if you'd like. Keep in mind that if you use unrefined coconut oil, it will give your cookies a slight coconut flavour, so if that isn't appealing to you, use refined coconut oil.
Cocoa Powder - This ingredient cannot be substituted with any other kind of chocolate. I use Dutch-processed cocoa powder. Cacao powder/natural cocoa powder cannot be used without making other modifications to the recipe.
Flax Eggs - If you can't have flax, a chia egg will work just fine in its place.
Coconut Sugar - In the picture above where I show all of the ingredients, you'll see that I'm using brown sugar. I usually use coconut sugar, but during these times we're living in, coconut sugar has been a little hard to find, so for this batch, brown sugar was used, which works perfectly fine if you can't find coconut sugar. You may want to use a little less of the brown sugar, though, see the recipe notes (found in the recipe card below) for more info about that.
I have not tried making this recipe with white sugar or any liquid sweeteners (like maple syrup or agave) or any sugar alternatives, so I do not know how well they would work.
Chocolate Chips - I always use regular-sized, vegan semi-sweet/dark chocolate chips for this recipe, but you can use mini chocolate chips or you can use chocolate chunks (making them vegan double chocolate chunk cookies, yum!) instead (same measurement/weight for both). You can also add in walnuts to make them even more brownie-like, just replace ⅓ of the chocolate chips with chopped walnuts.
If you don't already have a go-to vegan chocolate chip brand that you keep on hand, read through my article: "Are Chocolate Chips Vegan" to find one.
How to Make Them
(Note: I've outlined the step-by-step on how to make these delicious cookies here, but find the full recipe, ingredients, and directions at the end of this post.)
Follow these five easy steps and before you know it, you'll have a batch of the most irresistible vegan double chocolate cookies you've ever tasted!
1. Start out by mixing all the dry ingredients together.
2. Mix all the wet ingredients together. Add dry mixture to wet mixture and mix until combined.
3. Add the chocolate chips and stir them in until they have all been incorporated into the cookie dough.
4. Using a medium cookie scoop (or a tablespoon) scoop the dough and place each cookie dough ball onto your cookie sheet.
5. Bake! Once the bake time is up, remove them from the oven and let them rest on the cookie sheet for a few minutes before placing them on a cooling rack.
You'll notice that these cookie dough balls don't spread too much, they kind of keep the same dome shape they went into the oven with.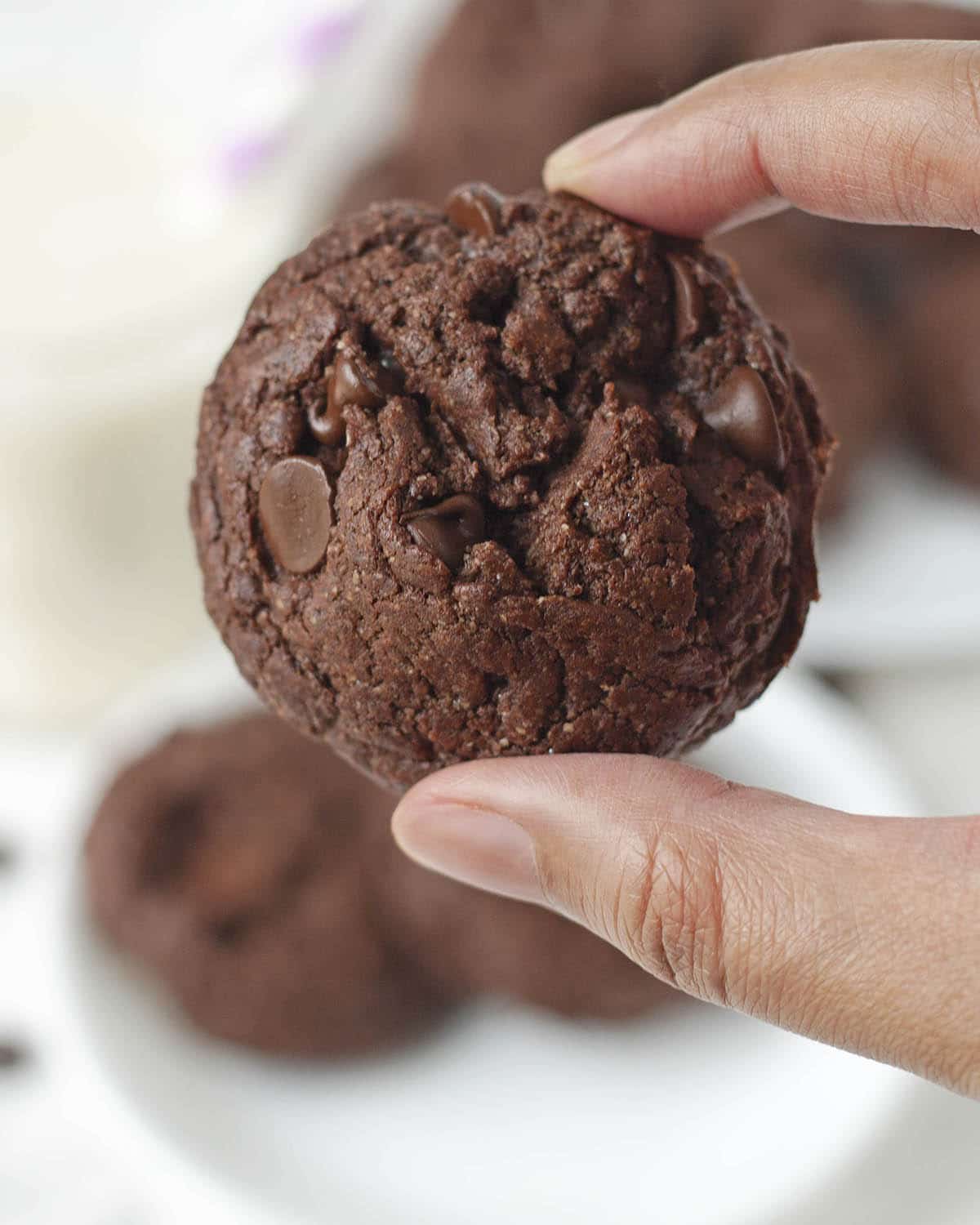 What's the Texture Like?
Imagine a gooey, fudgy brownie, but in cookie form. That's what they're like when they're still warm. Perfection for all chocolate lovers!
When they cool off, they'll still be soft, not as gooey as when they were warm, and a little crisp on the outside. If that sounds like the kind of cookie you'd like to bite into, then get those ingredients out and start baking!
Storing and Freezing
Storing Baked Cookies
When the cookies have cooled completely, place them in an airtight container and store them at room temperature for up to 5 days.
Freezing Baked Cookies
You can bake the cookies and freeze them in an airtight container or in a freezer bag. When you're ready to serve, just place them on a plate, bring to room temperature, and enjoy.
Freezing Unbaked Cookie Dough
The dough can also be frozen for baking later. Just scoop the dough onto a parchment-lined cookie sheet and place the whole cookie sheet in the freezer.
Once completely frozen, place each cookie ball in an airtight freezer-safe bag or container and freeze for up to 2 months. When you're ready to bake them, add about 2 minutes to the baking time, and bake at the same temperature.
Are you new to vegan gluten-free baking? If so, be sure to read all of my vegan gluten free baking tips!
Recipe FAQ
Can Any of the Ingredients be Substituted?
Some can! For all the details, see the "Ingredient and Substitution Notes" section above.
Is Oat Flour Gluten-Free?
Oats are naturally gluten-free, but during processing and even while growing in the fields, they can become cross-contaminated with gluten. To make sure the oat flour and oats you are buying are gluten-free, look for certification on the package.
Are There Vegan Chocolate Chips?
There sure are! But it can be tricky because they may not always be labelled as vegan or they were not intended to be vegan, they just happen to be "accidentally" vegan.

PC Organics bittersweet chocolate chips are vegan and there's also Enjoy Life, and Equal Exchange. For more vegan chocolate chip recommendations, read this article: Are Chocolate Chips Vegan? (These Brands Are!)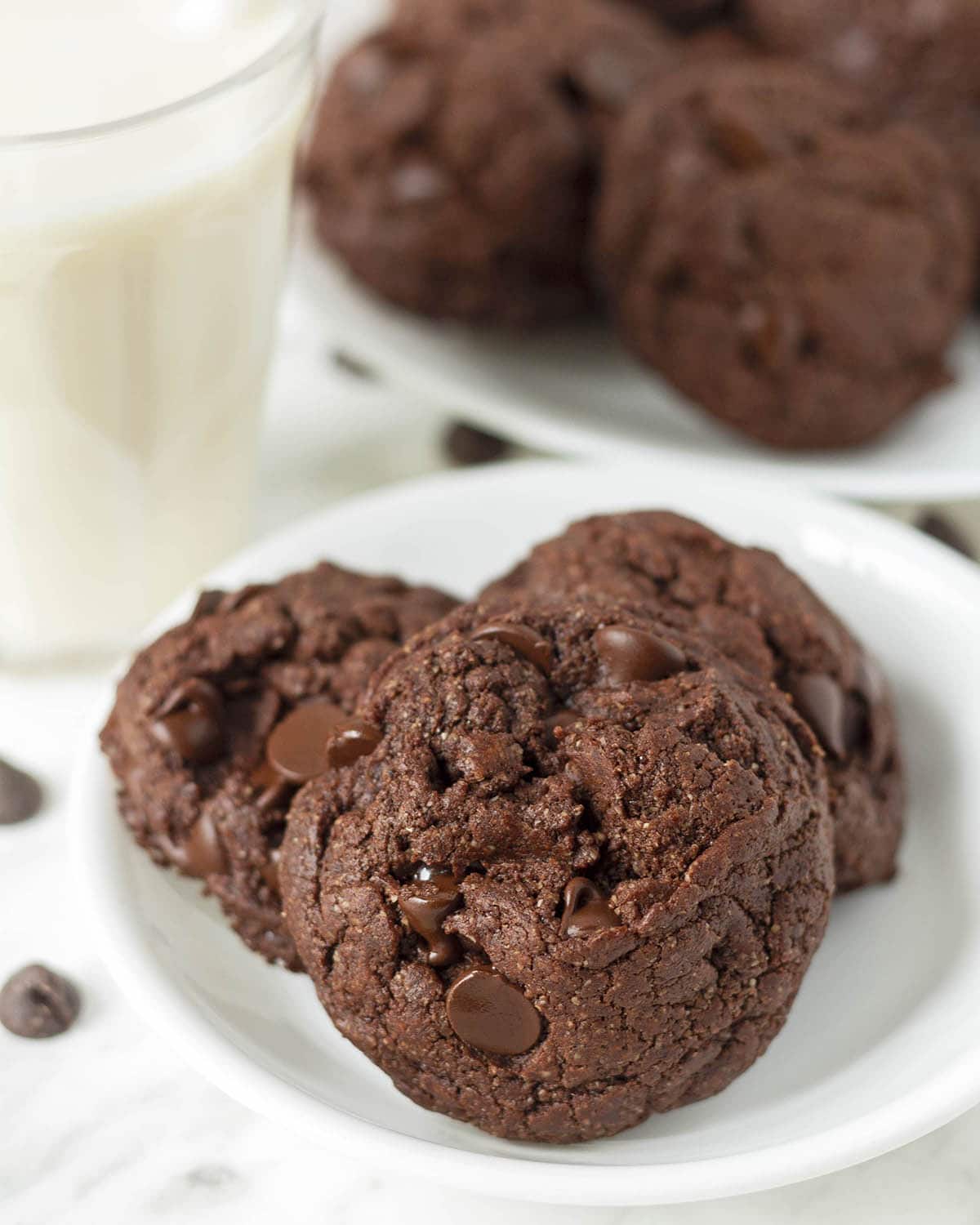 I hope you make these vegan gluten-free chocolate cookies, they've become a new favourite in my home.
Despite the fact that I had to make them so many times to get them right, we definitely did not become tired of them. I may just make them again this weekend!
If you're looking for a vegan gluten-free version of the classic chocolate chip cookies you grew up with, then check out these vegan gluten-free chocolate chip cookies.
If You Make This Recipe...
Let me know by leaving a rating below or by posting a picture on Instagram and tagging me. (I'm @delightfuladventures on Instagram!)
If You Like This Recipe...
...you make like these other vegan chocolate recipes:
Vegan Double Chocolate Chip Cookies
If you're looking for the ultimate, most rich, chocolaty, and soft vegan double chocolate chip cookies, you've found them! This recipe is quick and easy to make, plus they're the best and most tasty vegan chocolate cookies you'll try! These simple vegan cookies also happen to be gluten-free.
Instructions:
Preheat oven to 350°F (177°C).

Prepare your baking sheet(s) by lining with parchment paper (if needed).

Prepare your flax egg by whisking together ground flax seeds and water. Set aside for at least 5 minutes to thicken.

In a small bowl, whisk together the oat flour, cocoa powder, baking powder, and salt. Set aside.

In a medium bowl, whisk the melted coconut oil, coconut sugar, vanilla extract, and flax egg together.

Add dry ingredients to wet ingredients and mix until combined.

Stir in chocolate chips until they have combined with the cookie dough (see image above).

Using a tablespoon (or a medium sized cookie scoop), scoop equal amounts onto the cookie sheet(s). Leave enough space around each cookie, they will only spread a little as they bake. (See image above)

Bake for 9 minutes, don't over bake! (see note below)

Leave cookies on the cookie sheet to cool for about 2 minutes, then remove and place on a cooling rack.
Recipe Notes:
Before making this recipe, please read all of the helpful tips and FAQ above, as well as the notes below.
Calorie count is based on 1 of 24 cookies, which is the amount you will get if you use a tablespoon to scoop them out. If you make them with a medium sized cookie scoop (medium scoops are usually 1.5 tablespoons), you will end up with less cookies. When I make them with a scoop, I get about 20).
If you make your own oat flour like I do, be sure to sift it before using it for this recipe so none of the harder bits remain. Measure the correct amount needed for the recipe using the sifted oat flour. The oat flour needs to be fine for this recipe or the cookies will be too crumbly. If you can't make your own oat flour, I recommend this one.
This recipe will NOT work with coconut flour.
If you use unrefined coconut oil, it will give your cookies a coconut flavour, so if that isn't appealing to you, use refined coconut oil.
Brown sugar can be used in place of the coconut sugar. Brown sugar is slightly sweeter than coconut sugar, so you can drop down to a packed ⅔ cup (133g) if you'd like, or you can stick with the ¾ cup (packed, 150g) if you prefer.
Vegan butter can be used in place of the coconut oil, use the same ½ cup amount of melted butter (1 stick / ½ cup, melted (120ml)).
Cookies may seem under baked when you take out of the oven because they will be very soft (this is why you need to let them sit and settle on the cookie sheet for a couple minutes after taking them out of the oven). Not to worry, they firm up as they cool.
Store leftovers in an airtight container for up to five days.
Inspired by this recipe.
Nutrition info listed below is based on one cookie made using the recipe as written. Nutrition info is only to be used as a rough guide. Click here to learn how nutrition info is calculated on this website.
Nutrition Info:
Serving:
1
cookie
|
Calories:
151
kcal
|
Carbohydrates:
19.3
g
|
Protein:
1.8
g
|
Fat:
8
g
|
Saturated Fat:
5.8
g
|
Monounsaturated Fat:
0.3
g
|
Sodium:
37.4
mg
|
Potassium:
47.4
mg
|
Fiber:
1.9
g
|
Sugar:
10.7
g
|
Vitamin A:
0.1
IU
|
Calcium:
11.4
mg
|
Iron:
1.5
mg
Did You Make This Recipe?
If so, please share a picture with me on Instagram! Tag @delightfuladventures and hashtag #delightfuladventures. I can't wait to see!