Vegan Granola Bars are one of the simplest allergy-friendly snacks you can make, but don't let the simplicity of this recipe make you think they're just basic granola bars, because they're anything but basic.
This page may contain affiliate links. Click to learn more.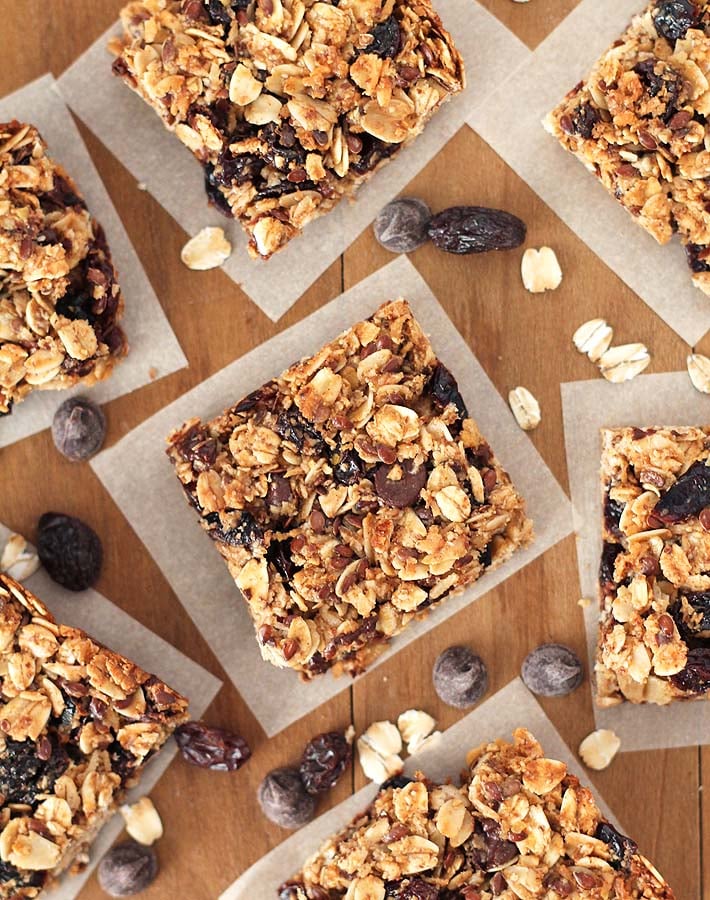 So what makes this recipe for vegan granola bars not basic?
Well, they're gluten-free, nut-free (if you choose), and can be as nutritious as you want them to be since you control what the add-ins will be.
They're a regular on my homemade allergy-friendly school snack rotation, and I think the reason for their popularity (other than being so tasty!) is that they're different every single time I make them.
As mentioned, you control the add-ins that will make your bars unique. So if you want to use all nuts, go for it! All dried fruit? Sure! A mix of the two? No problem.
The combination possibilities are endless. Every time you make these bars, the end result can be different. But always just as delicious.
In the bars pictured here, I used dark chocolate chips, shredded unsweetened coconut, raisins, and cranberries for my add-ins.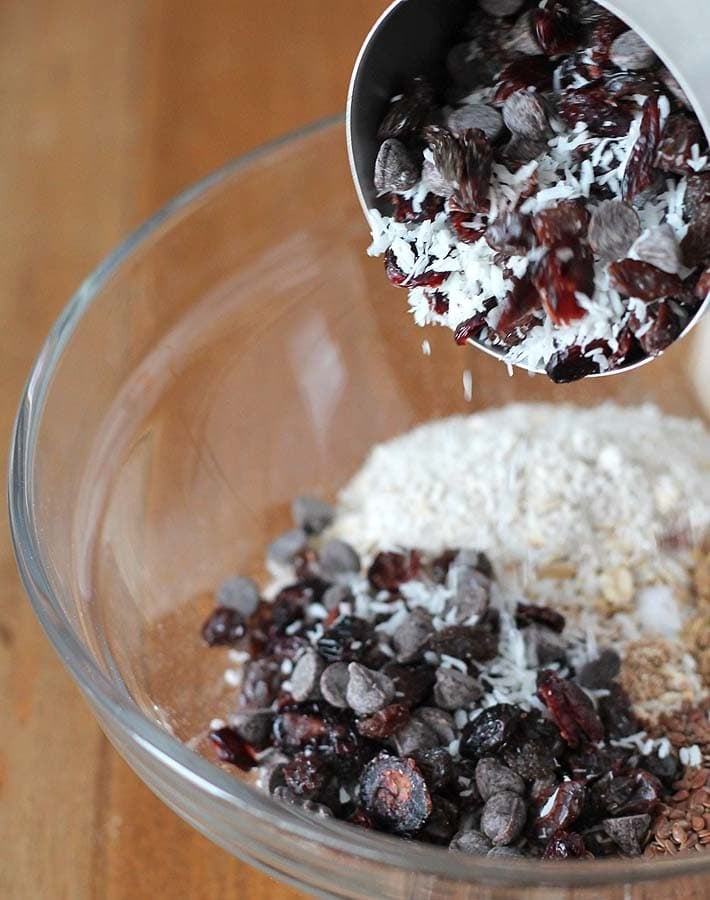 What are some add-in I can ad to my vegan granola bars?
Here are some add-in ideas:
walnuts
pecans
almonds
slivered almonds
dark chocolate chips
dried cranberries
raisins
chopped dried apricots
chopped dried cherries
shredded unsweetened coconut
hemp hearts
chia seeds
sunflower seeds
And those are just a few examples. Whatever you do choose to add in, just make sure the combination equals one cup.
In addition to the add-ins, the recipe includes spices as well as maple syrup, brown rice syrup, and coconut oil as the wet ingredients to sweeten things up a bit and to make everything stick together nicely. (If you aren't familiar with brown rice syrup, read this to learn more about it.)
Because my kids' school is a nut-free school, I save the nut versions for at-home snacks, and the nut-free versions become school snacks.
Once you make a batch of these bars and you see how easy they are (and how fast they're devoured!), I'm pretty sure you'll never got back to buying granola bars at the grocery store again.
Oh, and they're called "bars," but you can cut them into squares like I did in the pictures, if you'd like. It doesn't make any difference to the finished recipe 🙂
If you make these vegan granola bars, tell me in the comments what add-ins you used!
Even better, tag me on Instagram and use the hashtag #delightfuladventures (I'm @delightfuladventures over there!) with a picture of your creation, I'd love to see what you came up with!
If you're looking for more allergy-friendly school snack ideas, check these out:
How to Make Vegan Granola Bars
This Vegan Granola Bars recipe was originally published on February 3, 2015. Images were updated February 2018.