Soft, melty vegan peanut butter chocolate chip cookies...doesn't that sound amazing? Well, it is! These easy flourless peanut butter cookies require just a few simple ingredients and 20-minutes...from start to finish.
You can have one of these tasty, warm, melt-in-your-mouth cookies in your belly in no time!
A little while back, I shared my recipe for vegan almond butter cookies. These cookies are a variation of that recipe, which was an adaptation of my peanut butter oatmeal chocolate chip cookies.
You can't go wrong with any of my my cookie recipes...all of them are simple to make, delicious, vegan + gluten-free, and they take minimal time to prepare.
You can go from an immense cookie craving situation to fixing up that cookie craving in under 30-minutes...with all of those recipes!
It's up to you which cookie you choose to make, but if you love the combo of peanut butter and chocolate, I'd like to recommend these crave-worthy and super easy vegan gluten free peanut butter chocolate chip cookies that I think may just become one of your new favourites!
Are you new to vegan gluten-free baking? If so, be sure to read all of my vegan gluten-free baking tips!
Ingredients You'll Need
All you need is seven ingredients. Two of them (the water and ground flax seeds) will combine to make a flax egg (click here to learn all about flax eggs).
How to Make Them
(Note: I've outlined the step-by-step here, but find the full recipe, ingredients, and directions at the end of this post.)
The first step towards making some of the best vegan gluten free peanut butter cookies you've ever had is mixing all of the ingredients together.
Add all of the ingredients (except the chocolate chips) to a bowl, mix, add in the chocolate chips, and mix again until they're evenly distributed in the dough.
You'll notice from the picture below that the peanut butter you'll need is the runny kind that needs to be stirred and has just has one ingredient in the list: roasted peanuts.
Make sure that the peanut butter you use has no other added ingredients like salt, sugar, or oil.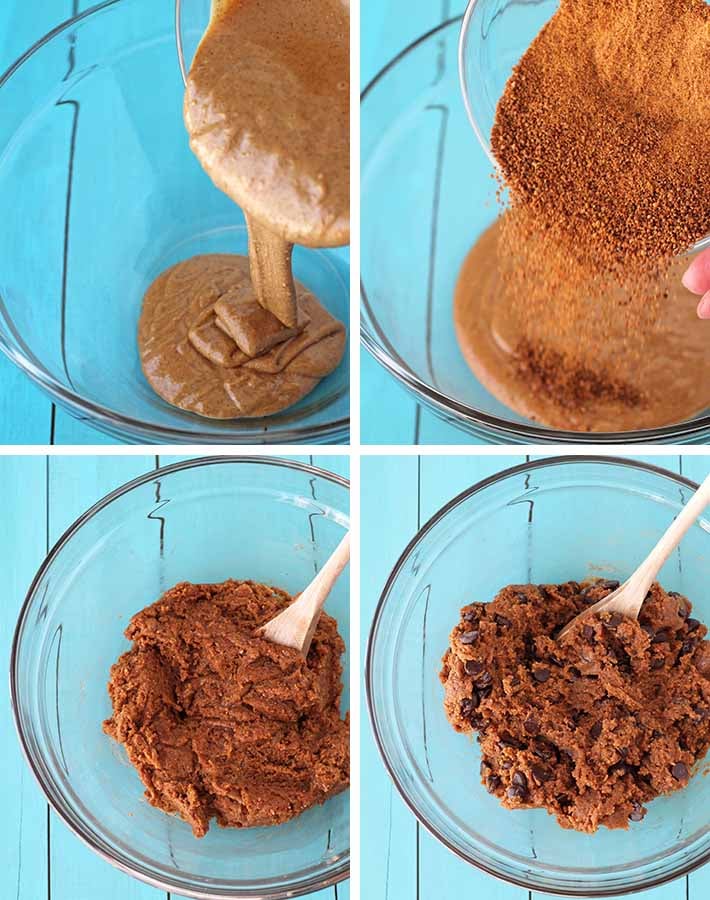 The next step is to scoop out your cookie dough using a spoon or a medium cookie scoop (this is the one I own, love, and use A LOT!) onto your cookie sheet.
Next, flatten each cookie ball slightly. Then bake, and after a few minutes, you'll have a batch of soft, chewy cookies that will likely disappear faster than you expect!
After taking them out of the oven, you'll need to let them sit and cool for a bit before eating or they'll crumble apart, so be patient.
(And if you're looking for a durable, high-quality cookie sheet, I recommend the one I'm using in the picture below, you can check it out here on Amazon.)
Recipe Variation
If you're running low on chocolate chips or you just don't feel like adding them, plain peanut butter cookies are also pretty amazing, so if you want to omit the chocolate, feel free to do so.
The result will be just as good, just not as chocolaty 🙂
If you're making them plain, after scooping out the cookie dough onto your cookie sheet, you can take a fork and press in the classic peanut butter cookie criss-cross marks, if you'd like.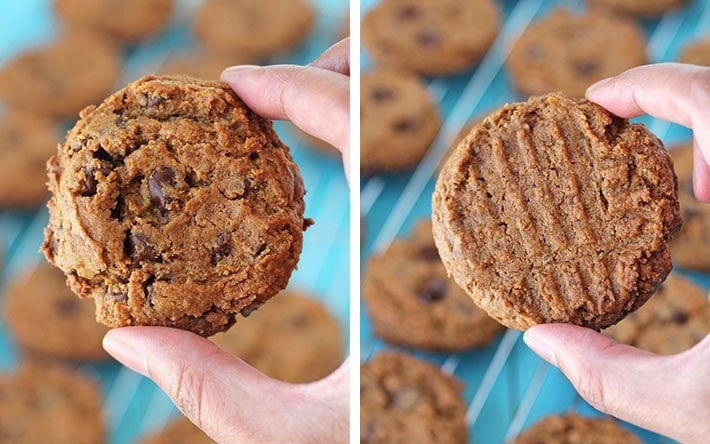 Recipe FAQ
What Kind of Sugar Should Be Used?
I use coconut sugar in most of my recipes, including this one, but if you don't have coconut sugar, brown sugar can be used instead. A liquid sweetener will not work in this recipe.
Which Chocolate Chips Are Vegan?

PC Organics bittersweet chocolate chips are vegan and there's also Enjoy Life, and Equal Exchange. For more vegan chocolate chip recommendations, read this article: Are Chocolate Chips Vegan? (These Brands Are!)
Can The Cookie Dough be Made Ahead and Frozen?
Yes! The dough can be frozen for baking later. Just scoop the dough onto a parchment-lined cookie sheet and place the whole cookie sheet in the freezer. Once completely frozen, place each cookie ball in an airtight freezer-safe bag or container and freeze for up to 2 months. When you're ready to bake them, add about 2 minutes onto the baking time, the same temperature.
How Should They Be Stored?
When the cookies have cooled completely, place them in an airtight container and store at room temperature for up to 5 days.
What's the Texture Like?
Every time I make any of my flourless nut butter cookie recipes, I'm always amazed by the texture. Despite not having any flour or eggs, they hold together nicely and they look like cookies that have flour in them.
And the answer to the question: "can I make peanut butter cookies without eggs" is a definite yes! No eggs are needed for this recipe. This recipe uses a vegan flax egg, the texture is unaffected, and you won't miss a thing.
All that to say, the texture is delicate, slightly crumbly, and these cookies melt in your mouth. And because there's no flour, the peanut butter flavour is very prominent. Mixed with the chocolate, they taste like a peanut butter cup. Mmm...so good.
And as you know, I always share a peek of what the inside of my vegan gluten-free treats look like, so there's never any mystery over what to expect: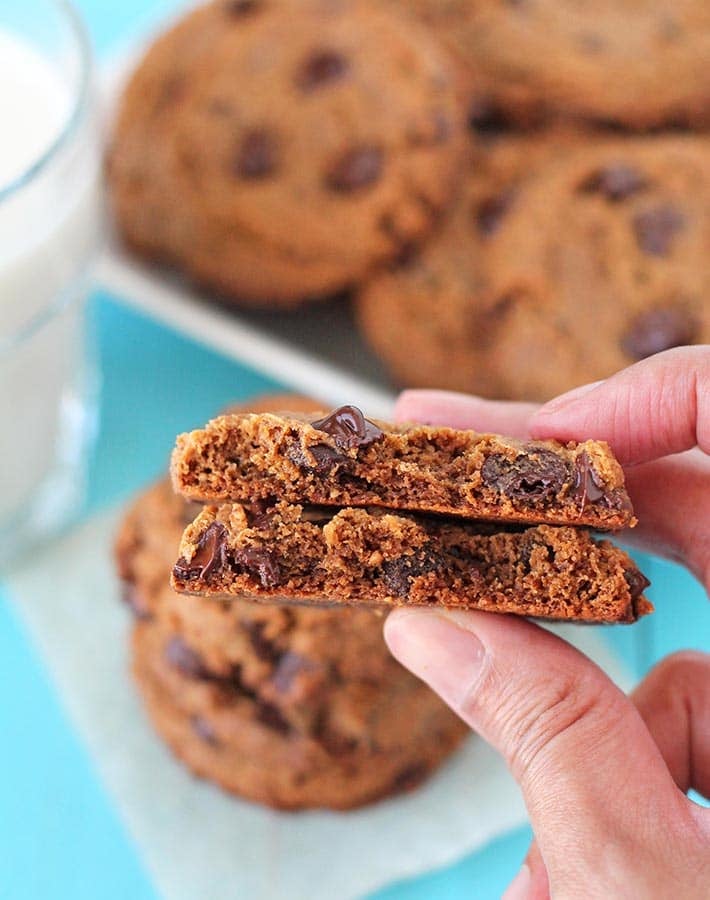 Whether you choose to use coconut sugar, brown sugar, or add chocolate chips (or not), these egg-free, dairy-free, no flour, super easy and quick vegan peanut butter chocolate chip cookie recipe (wow, that was a mouthful!) will turn out perfectly every time (as long as you follow the recipe exactly as it's written!).
I hope they become a new fave in your home (like it is in mine!)
If You Make Them...
...please let me know by leaving a comment below or by posting a pic and tagging me on Instagram.
You can also help me to help others find this easy vegan peanut butter cookie recipe by pinning it to your recipe board on Pinterest! You can do that by clicking here.
And If You Like This Recipe...
...you may also like these:
Vegan Peanut Butter Chocolate Chip Cookies
Soft and chewy easy vegan peanut butter chocolate chip cookies that are flourless, gluten-free, require only SEVEN simple ingredients, plus, they take only 20-minutes, from start to finish!
Instructions:
Preheat oven to 350°F (177°C).


Prepare your baking sheet(s) by lining with parchment paper, if needed.


Prepare your flax egg by whisking together ground flax seeds and water. Set aside to thicken.

In a medium bowl, add peanut butter, coconut sugar, baking soda, vanilla extract, and flax egg. Mix until all ingredients have combined.


Add chocolate chips and mix to combine.


Flatten each cookie slightly. Leave enough space around each cookie, they will spread as they bake.

Bake for 10 minutes, don't over bake!


Leave cookies on the cookie sheet to cool for about 15 minutes, then remove and place on a cooling rack.
Recipe Notes:
Please read all of the helpful tips and info above before making this recipe to make sure your cookies turn out perfectly.
This recipe will make 22 cookies if you use a tablespoon to scoop them out. If you scoop them with a medium sized cookie scoop, (medium scoops are usually 1.5 tablespoons), you will end up with about 16 cookies.
I have only tried making this recipe with natural peanut butter, the type that only has ONE ingredient: roasted peanuts (the type you have to stir to combine the oil with the peanut butter and contains no extras on the ingredient list like no added oil, salt, or sugar (or anything else!). If you use a different type of peanut butter, your results may be different than mine.
I also tested this recipe with brown sugar and the results were great, but I found that the version with coconut sugar produced a slightly chewier cookie.
The cookies may seem under baked when you take out of the oven because they'll be very soft. Not to worry, they firm up as they cool. Be sure to leave them to cool on the cookie sheet for at least 15 minutes before transferring to your cooling rack. If you remove them too quickly, they will fall apart.
Nutrition info listed below is based on one of 22 cookies and the recipe made as written, with chocolate chips. Nutrition info is only to be used as a rough guide. Click here to learn how nutrition info is calculated on this website.
Nutrition Info:
Serving:
1
cookie
|
Calories:
122
kcal
|
Carbohydrates:
9
g
|
Protein:
4
g
|
Fat:
7
g
|
Saturated Fat:
2
g
|
Sodium:
59
mg
|
Potassium:
3
mg
|
Fiber:
1
g
|
Sugar:
6
g
|
Calcium:
20
mg
|
Iron:
1.1
mg
Did You Make This Recipe?
If so, please share a picture with me on Instagram! Tag @delightfuladventures and hashtag #delightfuladventures. I can't wait to see!