Bananas and blueberries come together in these easy vegan gluten-free banana blueberry muffins that are moist, delicious, and bursting with plump, juicy berries.
Yes, it's 100% possible to make soft, fluffy, moist, and tasty muffins that are dairy-free, wheat-free, refined sugar free, AND egg-free! This recipe will show you how, so keep reading.
You really can't go wrong with well-made banana muffin and you can't go wrong with a perfect blueberry muffin either, so why not combine the two to make the ultimate vegan gluten free muffin?
That's exactly what I've done with this recipe!
I've taken my recipe for banana muffins and my recipe for blueberry muffins as the base for this recipe, made a few small changes and here we have gluten-free banana blueberry muffins.
What you're going to love about this recipe is that they are so very easy to make, they're perfect for snacks, lunch boxes, or even a quick breakfast, AND they're so delicious (of course!). So let's walk you through the steps on how to make them.
Ingredients You'll Need
All the ingredients you're going to need to make these gluten free blueberry banana muffins can be seen in the picture below.
That's gluten-free flour at the top, and flax eggs in the top right, I couldn't get the whole bowls to fit in the picture 🙂
Something to note, my pureed bananas look a little dark in the picture below, that's because I used bananas that were once frozen.
You can either use fresh bananas that are overripe and have never been frozen, or you can use overripe bananas that were frozen and thawed for this recipe.
(Click the following link to read more about what to do with overripe bananas and how I freeze them for later use.)
How to Make Them
(Note: I've outlined the step-by-step here, but find the full recipe, ingredients, and directions at the end of this post.)
Once you've gathered everything to make these muffins, you'll combine the wet ingredients in one bowl, combine the dry ingredients in another bowl, mix both together and then fold in the blueberries.
(Fresh or frozen blueberries can be used in this recipe, see info about this below).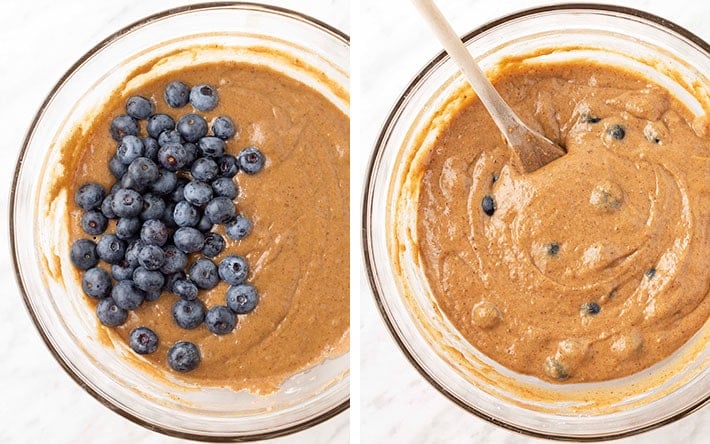 After that, scoop the batter into your prepared muffin pan and bake. Note that you can use either a spoon or a scoop to divide the batter into the muffin cups.
I like using a scoop because it's quicker and easier to divide the batter, this is one I'm using in the picture below.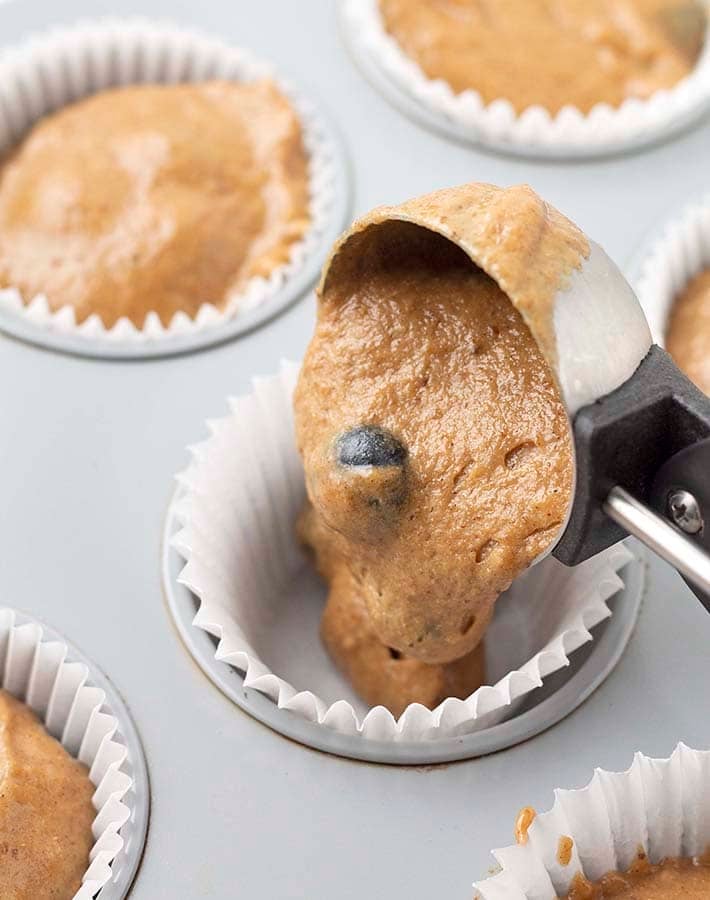 After your muffins are done, remove them from the oven and let them sit for a few minutes in the pan and then place them all on a cooling rack.
Serve them warm of save them for later!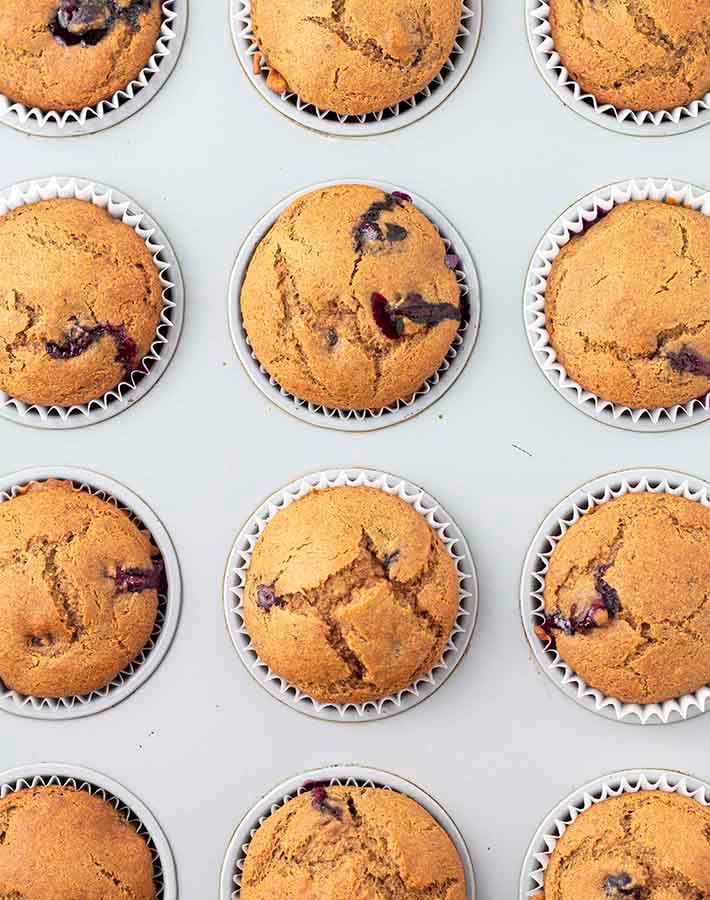 Can Frozen Blueberries Be Used?
Yes, frozen berries can be used if you cannot find them fresh. But there is an extra step you'll have to take if you're using frozen berries:
Place your frozen berries on a paper towel lined plate and leave them to thaw. Once thawed, gently pat them dry before folding into the batter.
Doing this step will help to prevent your delicious vegan gluten-free banana blueberry muffins from turning blue.
Can I Use a Different Gluten-Free Flour Blend?
To make these banana blueberry muffins gluten free, a gluten-free flour blend must be used. I've only tested this recipe using Bob's Red Mill Gluten-Free All-Purpose Baking Flour (Amazon Link) (the one in the red package that does not contain xanthan gum, not their gluten free flour in the blue package).
If you do decide to use a substitute gluten-free flour blend, proceed with caution since I'm not sure if the particular flour you use will work well.
Can The Oil Be Left Out to Make Them Oil-Free?
You can replace the oil with unsweetened plain applesauce, but note that your muffins will be drier and not as moist.
If using applesauce, I recommend not using regular muffin wrappers (like I do in the pictures).
Since the recipe will have no oil, you won't be able to remove the wrappers easily and the muffins will stick to them.
You can either bake them directly in a high-quality non-stick muffin pan, in silicone muffin cups, or in parchment paper liners, which are all naturally non-stick.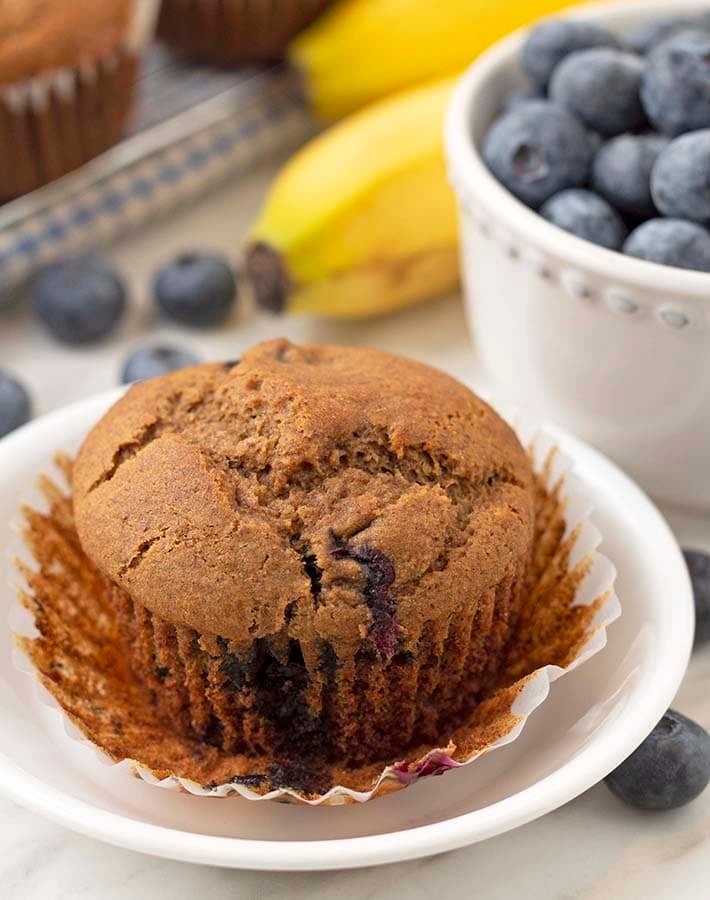 How Long Will They Keep?
I find that vegan gluten free muffins tend to deteriorate a little quicker than muffins made with wheat flour. And since these muffins contain blueberries, they'll go bad a little quicker because of the moisture from the berries.
The muffins will hold up well for about two days at room temperature in an airtight container, but if you have leftovers that are going to last longer than that, I suggest storing them in the refrigerator (in an airtight container) and bringing to room temperature or warming up before serving.
Can They Be Frozen?
Yes, fully cool your gluten free banana and blueberry muffins, wrap them up individually so they're airtight, and then store them in an airtight freezer-safe container.
When you're ready for them, thaw at room temperature and serve. Just before serving, you can also warm them up a bit in the microwave, if you'd like.
And before you go down to the recipe, you may be wondering if these are soft and fluffy, because they are vegan AND gluten-free…
They absolutely are, take a look: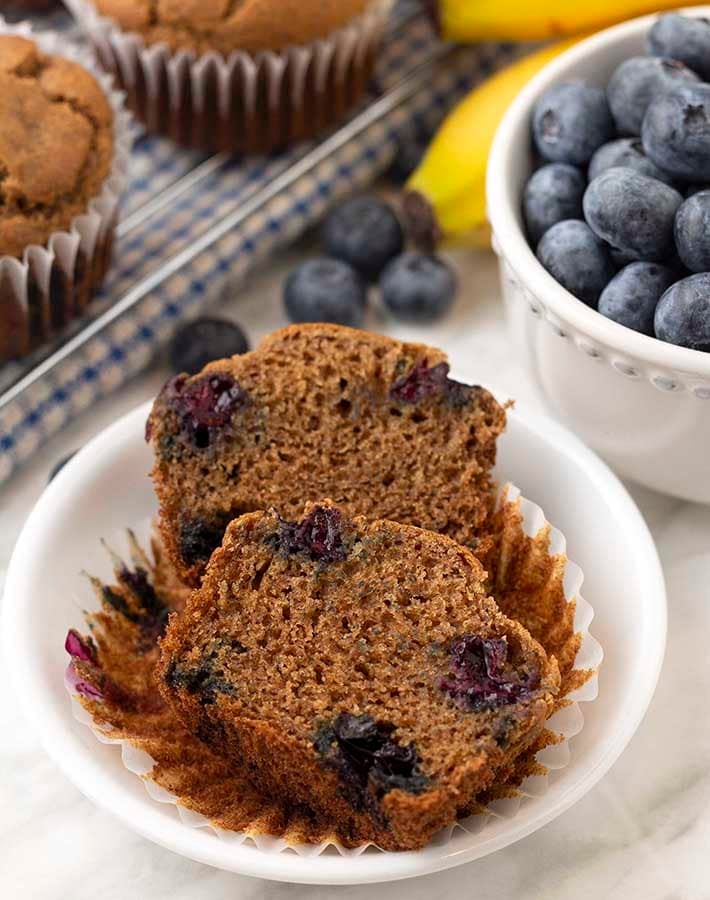 Did You Make This Recipe?
If so, please leave me a comment and recipe rating below or you can share a pic with me on Instagram and tag me, I'm @delightfuladventures over there.
You can also help me to help others find this vegan blueberry banana muffins recipe by pinning it to your food / recipes board on Pinterest! CLICK HERE TO PIN IT NOW!
If you like this recipe, you may also like these vegan banana recipes:
And you may also like these other muffin recipes!
How to Make Gluten-Free Blueberry Banana Muffins