Crispy on the outside, soft and fluffy on the inside, these vegan sweet potato waffles will make a delicious addition to your vegan breakfast or brunch table, not to mention, they're packed with amazing flavour from warm spices and a hidden veggie. Everyone will polish off these gluten free sweet potato waffles...and maybe even ask for seconds!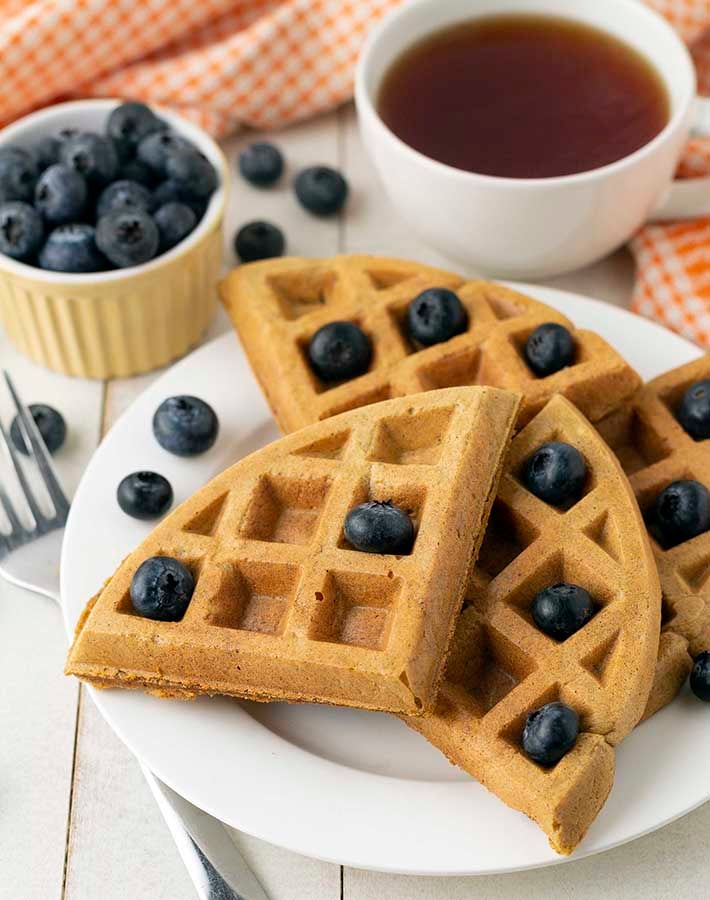 Adding sweet potatoes to your sweet and savoury recipes is a great idea for many reasons. Two of those reasons are adding moistness to your baked goods and for adding a little natural sweetness to your recipes (these waffles contain no added sugar or sweetener!).
If you haven't baked or cooked with sweet potatoes yet, you need to try it!
And after you make these waffles and you want to use this ingredient even more, browse though my other easy vegan sweet potato recipes, all of which are also amazingly delicious and easy to make:
So let's get started with all the details you need to know before making your own batch of these perfect gluten free waffles.
Ingredients for Gluten Free Sweet Potato Waffles
The ingredients are simple, they can all be seen in the picture below.
For the sweet potato, this is a great way to use up leftover mashed sweet potatoes or whole sweet potatoes (just make sure they had nothing added to them).
You can also just prepare some in your Instant Pot by following these directions, or you can bake them especially for this recipe.
What Kind of Gluten-Free Flour Should Be Used?
I've only tested this recipe with one particular gluten free flour blend (this one), so if you use another gluten-free flour blend, your result may not be the same as mine. (And please don't use coconut flour, that won't work).
I have had readers make my waffle recipes successfully with other blends, so it is possible, I just haven't personally tried them all to give you solid info on how each of them will work. I wish I could try all of the blends for you, but as you can imagine, that isn't really possible 🙂
For some important tips for making sure your vegan gluten free recipes always work, read my helpful tips here.
Can Pumpkin or Butternut Squash be Used Instead of Sweet Potatoes?
Yes, but if you want to make pumpkin waffles instead of sweet potato waffles, I have a separate recipe that's similar to this one, you can find it here.
And if you don't have sweet potato but have butternut squash, you can cook and puree it and use it for this recipe, but I would add a little maple syrup (1-2 tablespoons) to the wet ingredient mix since butternut squash does not have the same natural sweetness as sweet potatoes do.
How to Make Vegan Gluten Free Sweet Potato Waffles
(Note: I've outlined the step-by-step for this easy vegan sweet potato waffle recipe here, but find the full recipe, ingredients, and directions at the end of this post.)
Just like all of my other waffle recipes, this recipe starts out the same (and ends the same...with a delicious plate of waffles!).
Mix the dry ingredients together, mix the wet ingredients, and then combine the two mixtures.
What Should the Batter Consistency be Like?
The batter will be thick, but still runny enough to spread on its own in your waffle maker when you ladle it in. To get an idea, see the picture below.
It should NOT be as thick as cookie dough, and it should NOT be runny like water.
If you follow the recipe exactly as written and use the same gluten free flour blend I recommend, your batter will be the correct consistency and look like this:
After all of your waffles have been made in your waffle iron, they're ready to serve your hungry family!
Note: While you cook your waffles, keep the rest warm by following this tip.
What to Put on Top of Sweet Potato Waffles
Real maple syrup is a must, but if you want to take things a little further, try one or more of the following:
fresh berries
sliced bananas
toasted walnuts or pecans or chopped maple roasted almonds
yogurt
almond butter
powdered sugar
more cinnamon
Can I Make These Ahead and Freeze Them?
Yes! Cool them completely, cut into quarters, and freeze. When ready, heat in your toaster, oven, or toaster oven.
Can the Batter be Made In Advance and Cooked Later?
No, because the baking powder will become inactive and your waffles won't rise and become fluffy on the inside.
If you're looking to save time, you can combine all the dry ingredients in advance and then store it in an airtight container.
When you're ready to prepare the waffles, mix the wet ingredients together, add it to the dry ingredients and you'll be ready to go.
What's the Texture Like?
Some may hear "gluten free vegan sweet potato waffles" and think they'll be gummy, or hard, or have some weird texture that's far from what a waffle should be like. But that can't be further from the truth.
These waffles are just like any other amazing waffle you've ever had if you follow the recipe. Crispy on the outside, soft and fluffy on the inside. Waffle perfection.
Take a look at this picture to see what I mean: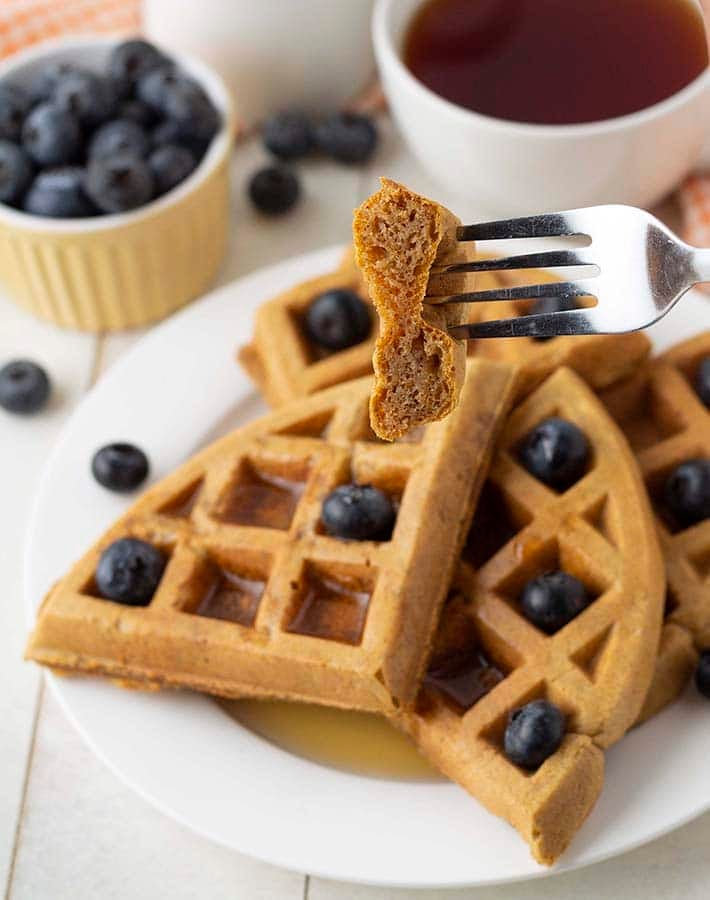 Can These Be Made As Pancakes Instead of Waffles?
I have not tried using this batter to make pancakes, but if you want to make sweet potato pancakes instead, I have a recipes for those, too and you can find it here.
I hope you love this recipe and that it becomes a new favourite. If you have any questions that I did not cover, feel free to ask, and if you make it, please leave a comment and rating below.
Before you head to the recipe, here are a few other easy vegan gluten free breakfast and brunch recipes you may like:
You can also help me to help others find this easy sweet potato waffles recipe by pinning this post to your recipe board on Pinterest! CLICK HERE TO PIN IT NOW!

How to Make Vegan Sweet Potato Waffles
Vegan Sweet Potato Waffles
Crispy on the outside, soft and fluffy on the inside, these gluten free sweet potato waffles will have everyone polishing off this easy vegan breakfast (or brunch!) treat. These eggless sweet potato waffles are easy to make and are delicious!
Instructions:
Turn oven on to "warm" setting or to 200°F (93°C) to keep your finished waffles warm and crispy (full directions for this tip can be found here).

Turn waffle maker on to desired temperature setting. Setting will vary depending on your waffle maker.

Whisk almond milk, coconut oil, vanilla extract, ground flax seeds, and sweet potato together in a medium-sized bowl, whisking enough to incorporate the flax seeds. Let sit for 5-minutes.

Whisk flour, baking powder, baking soda, cinnamon, ginger, nutmeg, and salt together in a large bowl.

Slowly add wet ingredients to the dry ingredients, mix well.

Ladle enough waffle mixture into your waffle maker so the bottom of the waffle maker is filled. Close waffle maker and cook according to your maker's directions. Repeat until all batter has been used.
Recipe Notes:
Please read all of the helpful tips and FAQ above before making this recipe.
This recipe makes 4 standard sized round waffles.
These waffles freeze very well. Simply cool them after they've been made, cut into quarters, and freeze. When ready, heat in your toaster, oven, or toaster oven.
It's important to know that different gluten-free flour blends use different ingredients and ratios, so results will always vary when you use different blends. I have never used any other brand of flour to make these waffles (other than Bob's Red Mill, the one with the red label, not the blue, the one you see in that link), so please know that your results may not be the same as mine if ingredients are substituted.
This recipe will NOT work with coconut flour.
Nutrition info is based on 1 of 4 waffles without syrup or any other garnishes. Info is only to be used as a rough guide. Click to learn how nutrition info is calculated on this website.
Nutrition Info:
Serving:
1
waffle
|
Calories:
340
kcal
|
Carbohydrates:
51
g
|
Protein:
7.6
g
|
Fat:
13.7
g
|
Saturated Fat:
9.1
g
|
Monounsaturated Fat:
1
g
|
Sodium:
588.7
mg
|
Potassium:
344.3
mg
|
Fiber:
7.2
g
|
Sugar:
3.8
g
|
Vitamin A:
5064
IU
|
Vitamin C:
3.9
mg
|
Calcium:
288
mg
|
Iron:
2.81
mg
Did You Make This Recipe?
If so, please share a picture with me on Instagram! Tag @delightfuladventures and hashtag #delightfuladventures. I can't wait to see!