A recipe for easy raspberry sauce that can be used as a dessert topping. All you need is four ingredients and 20-minutes to make this sweet, tangy, raspberry treat!
This page may contain affiliate links. Click to learn more.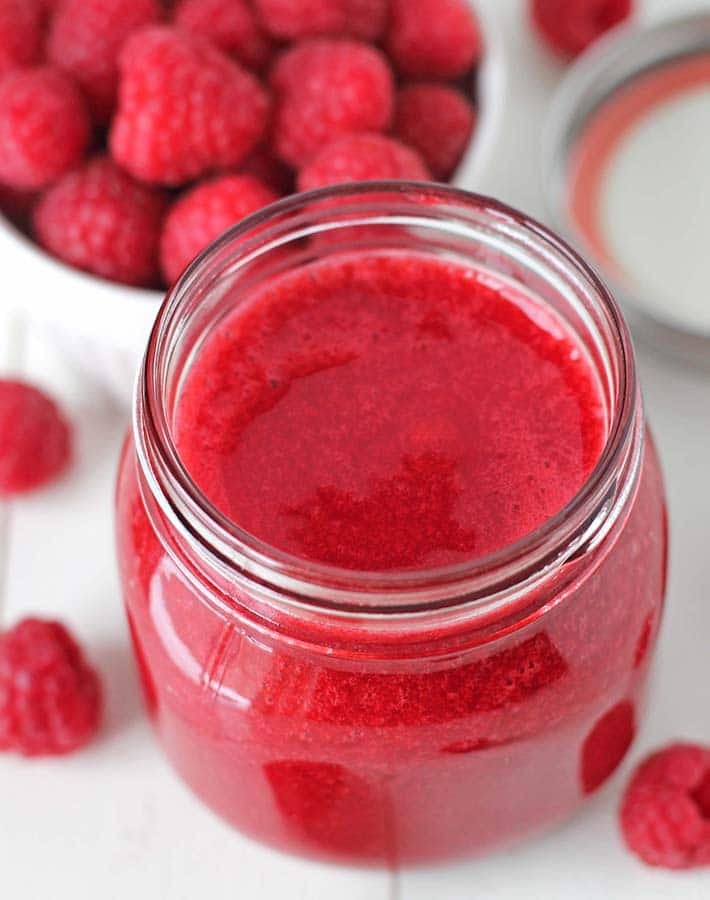 If you've never had raspberry sauce, you must make this recipe and then drizzle it over every dessert you come into contact with! Okay, maybe not every dessert, there are things it won't go well with, but there's very little.
I recently had lunch at one of my favourite restaurants here in Ottawa, Pure Kitchen, and one of the desserts we ordered was a mini chocolate tart with raspberry sauce. One taste of that raspberry sauce and I was reminded of how much I love it and how easy it is to make.
Raspberry Sauce Ingredients
This recipe requires just four ingredients:
fresh or thawed frozen raspberries
sugar
water
lemon Juice
That's it!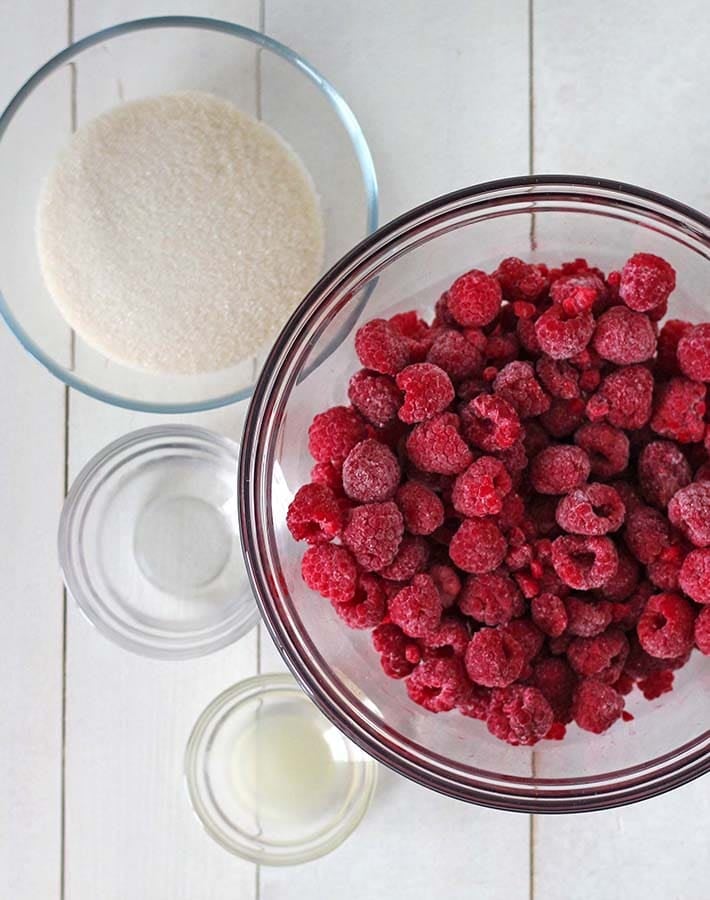 This raspberry puree is a little different from other raspberry puree recipes because it is no boil. You do not have to boil the raspberries to reduce the water which would give you a thicker raspberry sauce.
Some recipes also call for corn syrup or cornstarch to thicken the sauce, but this is a raspberry sauce without cornstarch or corn syrup. I wanted the ingredients to be simple and for the recipe to be quick and easy.
Because there's no boiling and no cornstarch required, this simple raspberry sauce recipe will give you a result that's a little thinner than some raspberry sauces, but the taste is perfect. It also makes the recipe a little less labour intensive and your tart raspberry sauce will be ready in just 20-minutes!
How Do You Make Raspberry Sauce?
The full recipe and detailed instructions can be found at the bottom of this post but I recommend reading all of the Q&A and looking at the pictures that outline the steps.
As mentioned, this recipe is EASY. I've included pictures of each step below so you can see everything being done.
First, you need to dissolve the sugar so no crystals remain.
Then, you'll add the raspberries, sugar mixture, and lemon juice to a blender or food processor and pulse.
Next, since this is a seedless raspberry sauce recipe, you'll need to separate the sauce from the seeds. You'll do this by adding the raspberry puree to a sieve and straining the sauce into a bowl. This will take about 5-minutes.
Once all of the sauce has been extracted, discard the seeds and pour the sauce into a jar for storing.
How Do You Make Raspberry Sauce with Frozen Raspberries?
For this recipe, I used frozen raspberries, but fresh raspberries can also be used. (It's cheaper to make this recipe with frozen raspberries!)
All you need to do is place the frozen berries in a bowl and allow them to thaw; you don't want to use berries that are still frozen for this recipe. Once they have thawed, pour out any excess liquid that was released.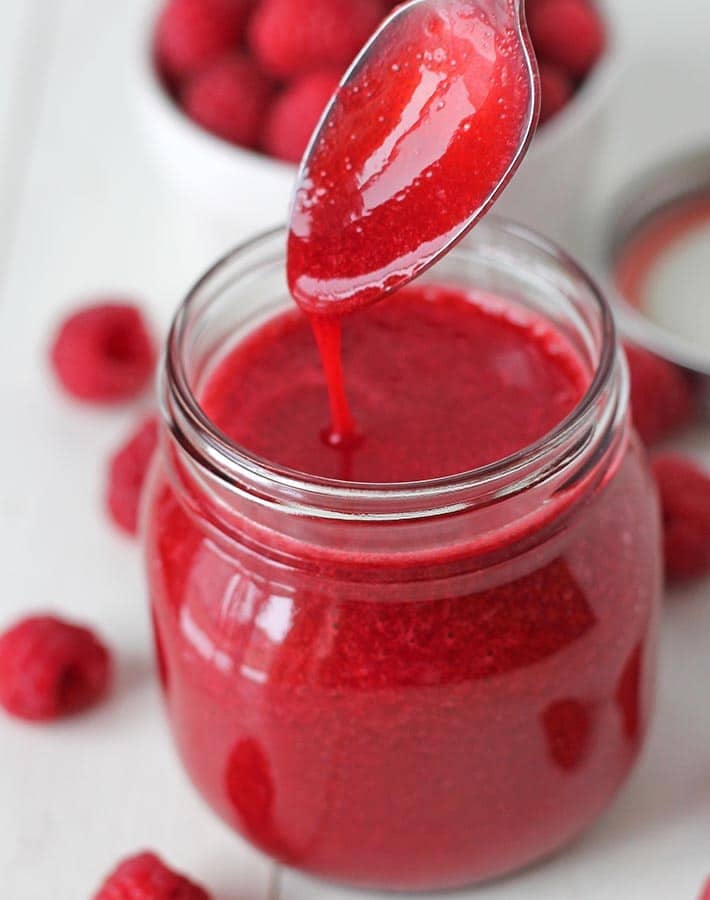 How Do You Use Raspberry Sauce?
Ahh, there are so many ways!
My favourite way is on dark chocolate desserts because chocolate and raspberries is a flavour match made in heaven.
It can also be enjoyed on:
How Long Does Raspberry Sauce Last in the Fridge?
It will last about 5-7 days. If you think you won't use the entire batch during that time frame, it's best to freeze the leftovers so nothing goes to waste.
Can Raspberry Sauce be Frozen?
It sure can! Since the sauce will not last very long in the refrigerator (see above), you may need to freeze the sauce. I like to pour the sauce into ice cube trays and freeze. Once frozen, remove the cubes and place them in an airtight container or freezer bag.
Frozen raspberry sauce will keep in the freezer for up to four months.
If you make this recipe, please share a pic on Instagram with me!
If you like this recipe, you may also like these:
How to Make Easy Raspberry Sauce