Back when I started experimenting with turning my favourite recipes into plant-based and/or gluten free versions, this recipe for easy vegan gluten free pancakes was one of the first I came up with. Come to think of it, it may have actually be the first! This was quite a few years ago and since then, the recipe has not changed at all. I make these pancakes often and they have become one of the most requested things to eat here at breakfast (and sometimes a weekend lunch or weeknight supper…breakfast for dinner is the best, isn't it?)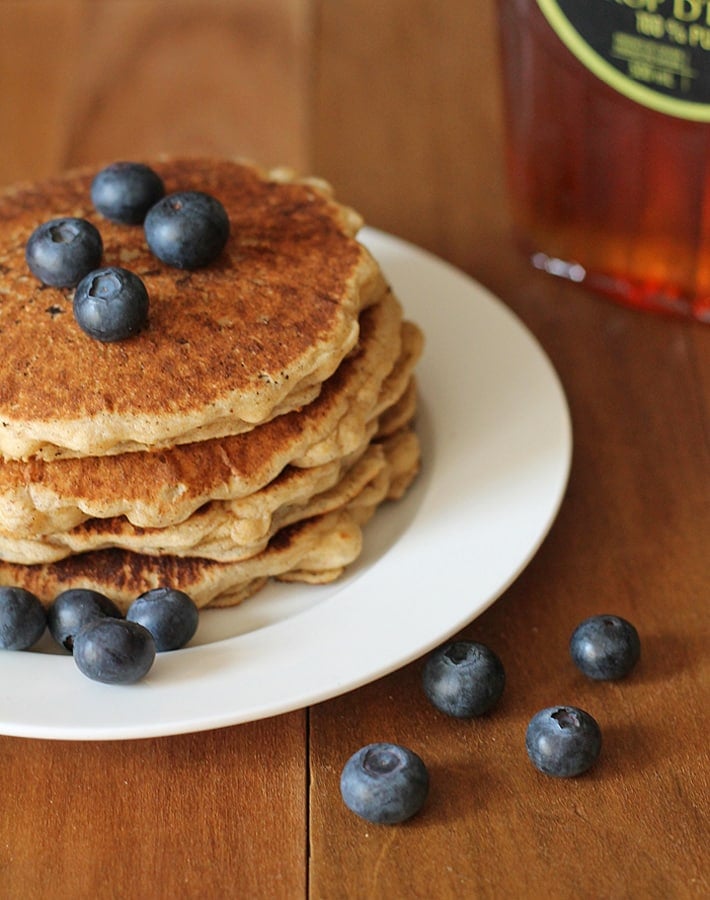 I took these shots almost 4-months ago but held on to them. If you follow me on Instagram, you would have seen a sneak peek. (BTW, are you following me on Instagram yet? If you don't, come follow and say hi!)
I held on to the shots because I thought, "hmm…this is *just* a pancake recipe. Does the internet really need another pancake recipe?" And the answer is YES. It does. Because these easy vegan gluten free pancakes are special. They are everything you would expect a pancake to be, but maybe NOT what you would expect a vegan AND gluten free pancake to be. They are light, fluffy, and they're delicious.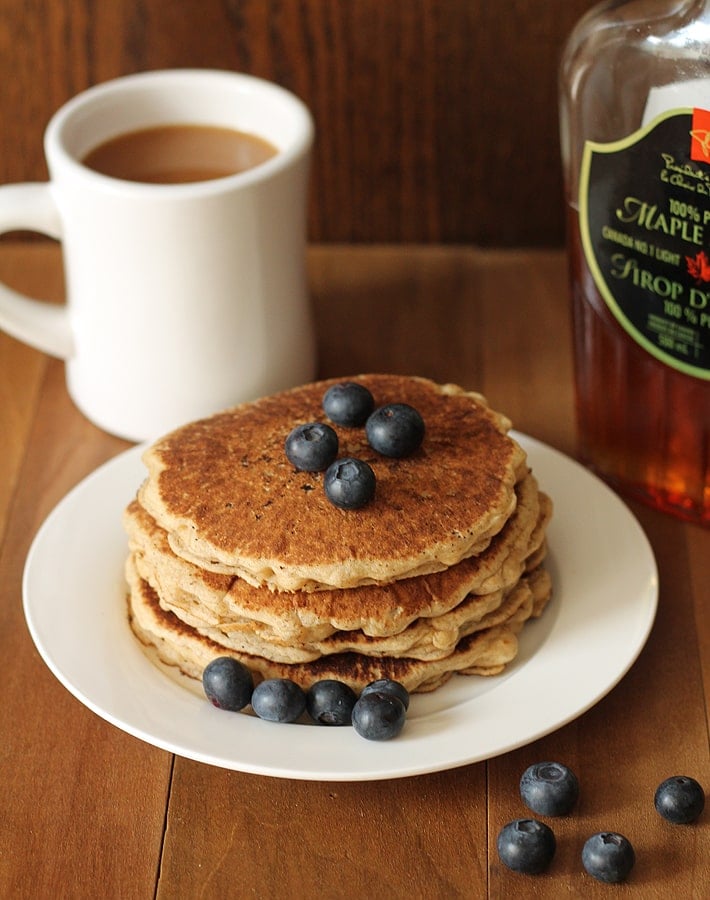 When I serve them, pure maple syrup is a must but if I have some fresh berries on hand, they pair really well together. Sliced bananas are nice too. If you want to make your pancakes extra special, try topping them with some coconut whip. Mmm…
Fun fact: I actually used this pancake recipe as the starting point for my easy vegan gluten free waffles. I tinkered with this recipe a little bit and after a few tries, those waffles came to be and they are perfection. Then, that waffle recipe served as the base for all my other waffle recipes. Funny how developing recipes work! (how many times did I just say recipe? 😉 )When you find something that works, stick with it. Use it as a base and make small adjustments to suit whatever new thing you're trying to come up with.
Now on to my next creation…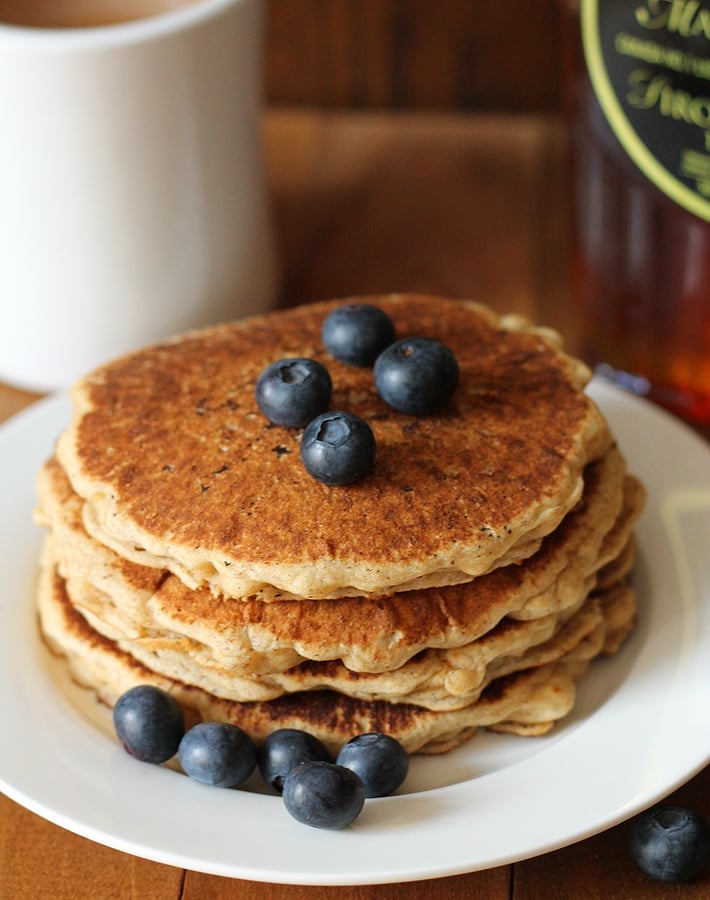 Be sure to check out my other delicious vegan breakfast recipe ideas!
This page contains affiliate links. Click to learn more.
How to Make Easy Vegan Gluten Free Pancakes
Easy Vegan Gluten Free Pancakes
Your search for easy vegan gluten free pancakes has ended! These pancakes are delicious, fluffy and will become your new perfect go-to pancake recipe!
Cuisine:
Gluten-Free, Vegan
Instructions
Whisk milk, oil, vanilla, ground flax seeds, and maple syrup (if using) together in a medium-sized bowl, whisking enough to incorporate the flax seeds. Let sit for 5-minutes.

Heat pan over medium-high heat for at least 2 minutes.

Whisk flour, baking powder, baking soda, cinnamon and salt together in a large bowl.

Slowly add wet ingredients to the dry ingredients, mixing well until incorporated.

Lightly coat surface of pan with a very small amount of oil. Ladle about 1/3 cup (or less for smaller pancakes) of the pancake mixture into the center your pan, cooking 1 at a time.

Turn when ready.

Continue cooking until the batter is done, placing pancakes on a covered oven-safe plate in the oven as they finish to keep them warm.
Recipe Notes
This recipe makes 8-10 pancakes, depending on how large or small you make them. Calorie count is for 1 of 8 pancakes without toppings and without the optional maple syrup added to the batter.
When I make my pancakes, I use a thick, cast-iron pan. I usually turn mine after about a minute and a half, when the edges start to look dry. Some experimentation may be necessary until you get a feel for it. Everyone's griddle/pan will cook differently.
It's important to know that all gluten-free flour blends use different ingredients and ratios, so results will always vary when you use different blends. I have never used any other brand of flour to make these pancakes (other than Bob's Red Mill), so please know that your results may not be the same as mine if you substitute with a different flour.